Tattoos are now part of the norm today. It is so common that you can see anyone has it left and right. Gone are the days when people link tattoos to wrongdoings and other negative stuff. It is now seen as an artistic symbol, which has a lot of meaning, depending on the image. It is also used to express one's self.
Avid fans, like that of Kobe Bryant's, had his face tattooed on their skin after his demise. Others also etched their favorite band, brands, and other names tattooed on their skin.
Aside from its symbol, tattoos are also becoming a fashion trend. So, you will often see it worn by many celebrities today. From actors to musicians, a star's body ink can range from little to large. But have you ever wondered what those tattoos mean?
To their credit, some celebrities don't get tattoos for just the sake of getting it. Some of them have deeper meanings. Each tattoo has its own unique story.
So, here is the list of celebrities who have unique tattoos and their corresponding meanings.
Angelina Jolie | Forearm Tattoo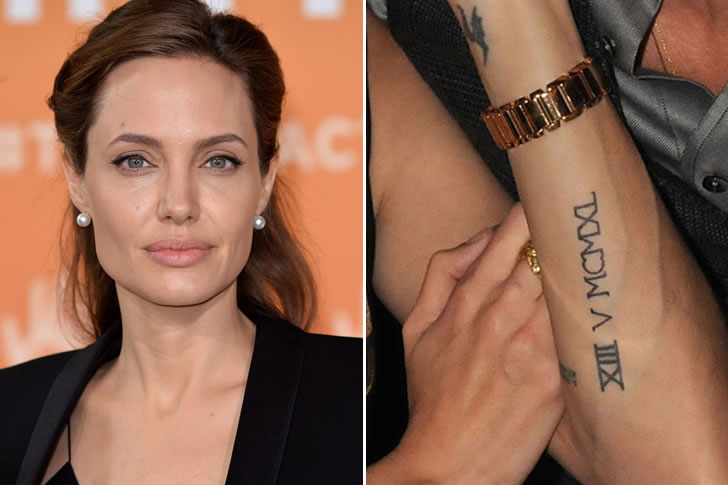 Angelina Jolie has a total of 16 tattoos all over her body, but the most distinct one is on her forearm. It bears the Roman numerals XII V MCMXL, which means 13/5/1940, and commemorates Winston Churchill's iconic speech. It is the time when the British statesman said he had nothing to offer but "blood, toil, tears, and sweat."
It looks Jolie is very fond of this phrase. She also has the same words, "toils and tears," tattooed on her elbow. Other tattoos that the 45-year-old sports include an Arabic script which means "determination" on her elbow. Furthermore, she has a tribal dragon tattoo on her upper left arm, which is now covered-up. The Maleficent actress also has coordinates on her upper arm; initials on her wrist; cross, Latin on her hip; writing on her upper back; Khmer on her shoulder blade, and many more. We wonder how much she has spent on her credit card with these tattoos.
Selena Gomez | Wrist Tattoo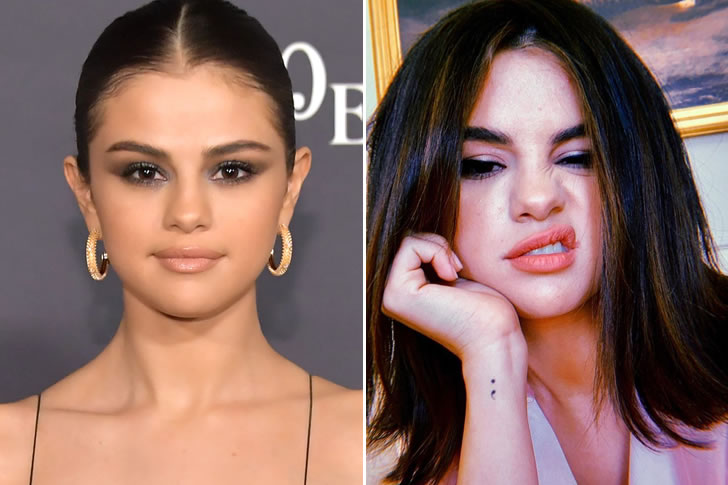 Selena Gomez has a semicolon tattoo on her wrist. For those who don't know, a semicolon tattoo is part of Project Semicolon, which spreads awareness about suicide and mental health. The ink is part of the show 13 Reasons Why, which she produced. One of the TV series' main stars also got the same tattoo. However, this image has an emotional meaning behind it, which a lot find it very cool. Just like the semicolon, what they are trying to say is that their life story is not finished yet.
Gomez has been receiving enormous credits for her advocacy on mental health. She has been openly talking about this issue to remove the stigma that comes with it. Also, she has been spreading awareness on every platform she has, including her show.
Sarah Hyland | Right Ear Tattoo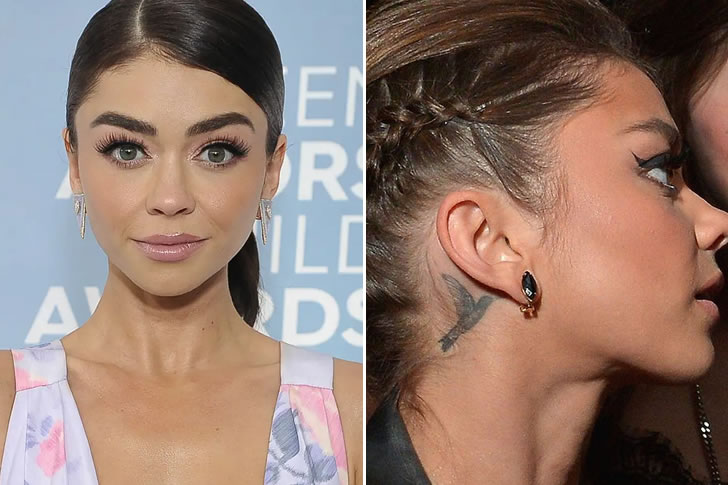 Sarah Hyland has a hummingbird tattoo behind her right ear. The ink was delicately placed there by the famed tattooist, Dr. Woo, in 2014. The 29-year-old star was very proud of her new tat that she quickly shared it on Instagram and relayed the real meaning behind the beautiful image.
She said hummingbird might small, but it could travel great distances to a certain degree. It could carry joy and lightness of being as well as independence and resilience. This little animal could also lift negative energy from someone's life and show the perfect combination of "playfulness and endurance." She then thanked Woo for giving her a tattoo that always reminds her and whispers "sweet nothings" into her ear.
Hilary Duff | Wrist Tattoo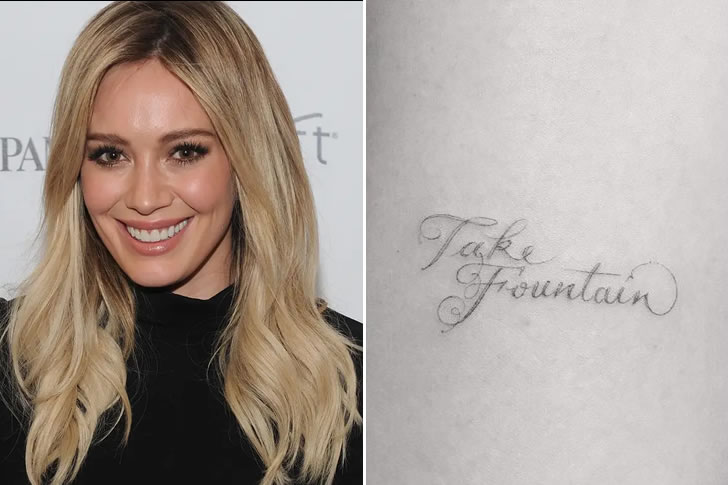 Hilary Duff has several tattoos on her wrist, and one of them is inspired by the late actress Bette Davis. The 33-year-old star chose the words "Take Fountain" to be etched on her skin, which came from one of Davis' most notable quotes.
In an interview on The Tonight Show, host Johnny Carson asked Davis the best method to break into Hollywood. At the time, she simply replied, "take fountain." So, what was the meaning of it? The actress pertained to the Fountain Avenue road in Los Angeles, California, known as a shortcut to avoid traffic. Now, we wonder the degree of pain Duff had to endure for her other tattoos on the wrist, like a sun, a tiny red heart, her eldest son's name, Luca, and a wishbone.
Jessica Alba | Wrist Tattoo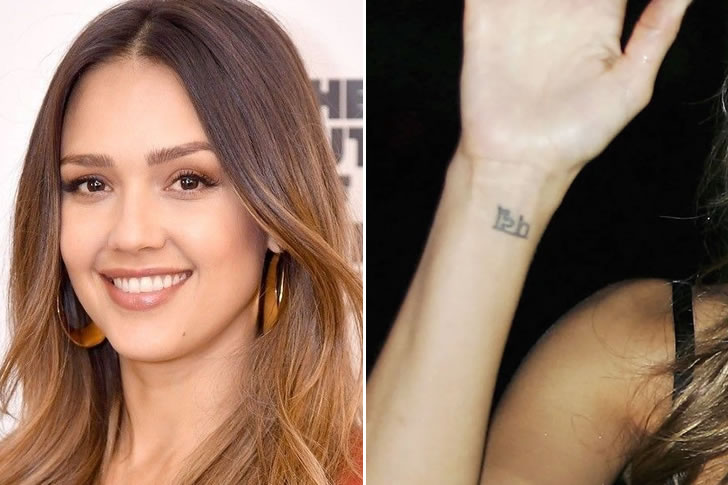 Just like other celebrities, Jessica Alba also has several tattoos on her body, and one of them is on her wrist. She had tattooed a Sanskrit word, which meant "lotus" after a breakup. Although the actress didn't reveal her ink's real meaning, the lotus flower stands as a symbol of purity, enlightenment, and self-generation. However, its real meaning depends on the culture, but getting it after a breakup may mean rebirth.
Other tattoos that Alba has are a flower on her neck, a rose on her shoulder and a bow on her hip. She got her flower neck tattoo with her mom and aunt. We suspect that Alba has a high degree of pain tolerance, given how many tattoos she has on her.
Gisele Bündchen | Wrist Tattoo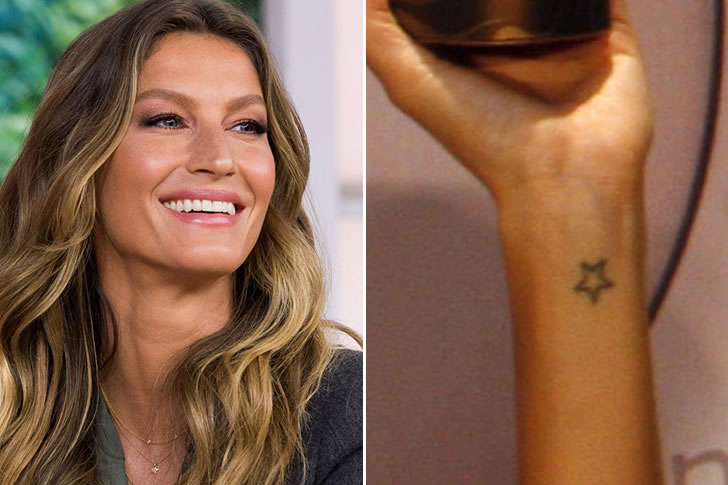 Compared to other stars, Gisele Bündchen only has a couple of tattoos, and one of them is in honor of her late grandmother. Tom Brady's wife loves her nana so much she had a small crooked star tattooed on her wrist. Why crooked? The 40-year-old model explained it was a shooting star for her grandmother.
Her nana died when she was young. When she first moved to New York, starting to pay her mortgage there, she noticed there were no stars in the sky. So, to remind her of her grandma, Bündchen drew a star on her wrist and kept it there for a month. She then had someone draw it permanently; that's why it was a little crooked. However, the businesswoman didn't mind the minor flaw. What's important for her is that it helps to remember her grandmother. The tattoo has been on Bündchen's skin for more than a decade.
Beyoncé | Finger Tattoos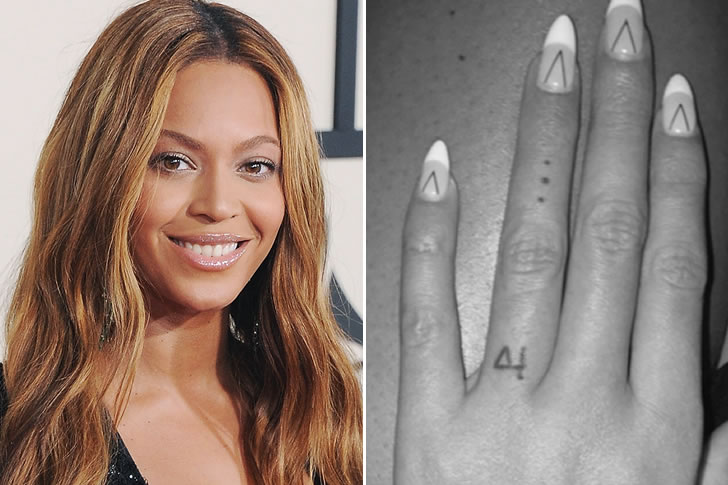 Beyoncé has tattoos on her knuckles – Roman numeral, dots, and initial symbol. She used to have an IV tattoo on her finger, which she had altered. She covered the red tattoo with black ink, and slightly had the design changed. From "IV," it now looks like 4, which is her lucky number, and the letter J, which stands for the initials of his husband, Jay-Z. The number four also has many meanings for the couple. It also stands for their birthdays, which falls on the fourth of September and December.
She also has three little dots on her left ring finger representing her three kids, Blue Ivy, Rumi, and Sir Carter. The tattoo subtly has a color difference to some degree. The blue ink in the middle represents Blue Ivy, while the black dots at the top and bottom are the twins.
Olivia Wilde | Arm Tattoos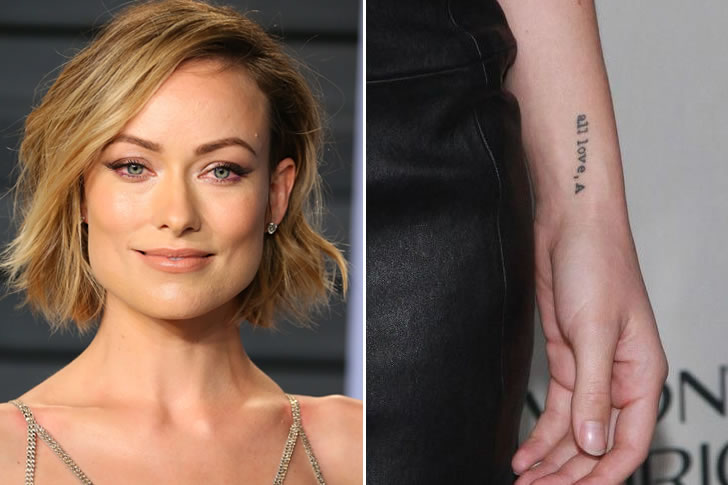 Olivia Wilde has two tattoos on her different arms. On one arm is a galaxy constellation in black ink, mostly covering her right forearm. This was done by the celebrity tattoo artist, Dr. Woo, in Los Angeles. The tattoo is said to be a tribute to the birthday of her son, Otis Sudeikis.
The other tattoo on her left forearm says, "all love, A," using a typewriter font. According to Wilde, she had this tattoo as an honor to her late uncle, Alexander Cockburn. He was a very dear friend to the actress, and the tattoo was the last credited phrase that he wrote for her. The words reminded her to love everyone just like her uncle did when he was still alive.
Lucy Hale | Wrist Tattoo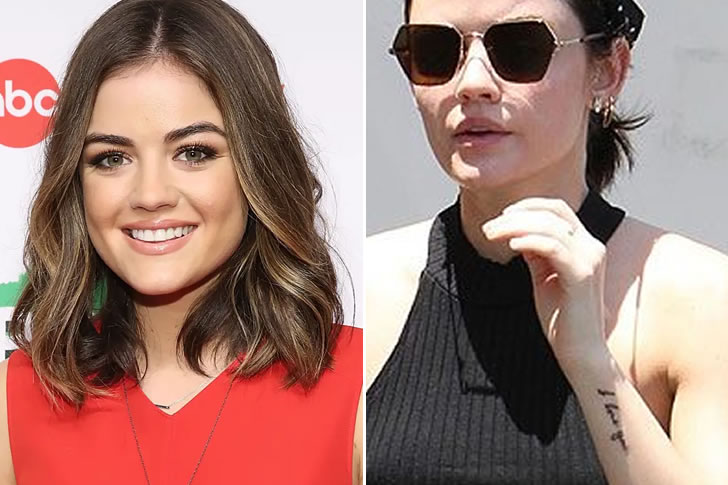 Lucy Hale has a ton of tattoos all over her body, but one of them has a very emotional meaning. Her wrist tattoo, which she shares with her sister, Maggie Hale, reads, "I love you." Surely, we don't have to explain its meaning, as it says the degree of sisterly love the two have for each other.
In a post on Instagram, Lucy explained nothing could prove their sisterly bond more than getting a matching permanent tattoo together. After years of wanting their grandmother's writing, they finally had it etched on their skin. Lucy revealed their grandmother was their most favorite person in the world, and although she was gone, she was now a part of them. Aside from this phrase, she also shared a sun tattoo with Maggie, which honored their nana.
Sam Smith | Finger Tattoo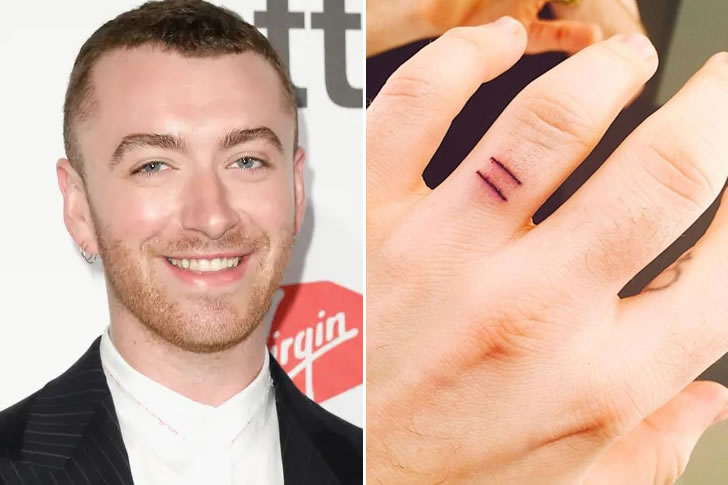 Sam Smith has a number of tattoos on her body, but these parallel lines on her finger will quickly get everyone's attention. It is said to be a replica of a tattoo found on the body of a mummy. However, it has a deeper degree of meaning that he explained.
First, he revealed this tattoo is inspired by one of the oldest tattoos found on a mummified body, buried alone in the ice in a post on Instagram. He then said the meaning behind this symbol was pretty self-explanatory. The image showed his views on gay marriage and equality for all. The equal sign meant equality, and that was something that he wanted all to have. Smith proudly shared the photo of his tattoo, along with his other inks.