Actors have the skill of transforming from one character to another. That means they can also look a lot different from what they really like in real life. With the help of their glam team—from altering the color of their hair and the way they dress—these actors prove that they have stellar and effective acting skills.
DAENERYS TARGARYEN VS. EMILIA CLARKE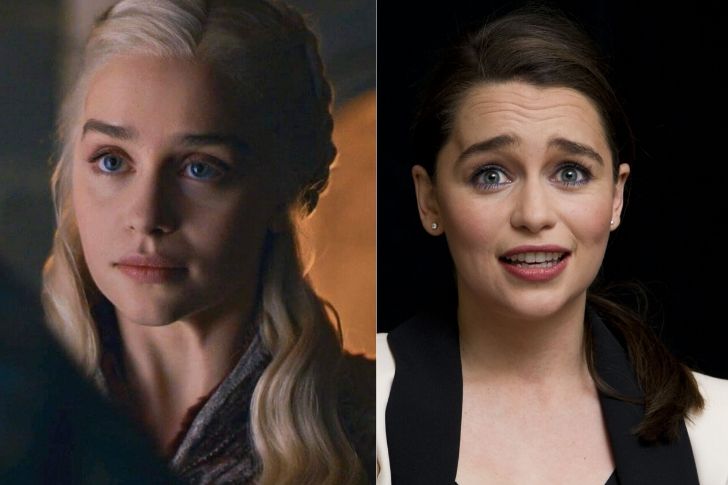 British actress Emilia Clarke is one of the most beloved cast in the hit HBO television Game of Thrones. While she has portrayed effective movie and TV roles prior to GOT, such as in Me Before You and Last Christmas, her role as Mother of Dragons Daenerys Targaryen is said to be her greatest performance yet. From the real-life look of Emilia, a short-haired brunette, she takes on the role donning long, waist-length white tresses. She pulled off that innocent yet strong woman in the series, transforming from a hopeless Targaryen daughter to a certain degree of a fearless and intimidating queen. Emilia's real-life look is also far different in terms of make-up. She would take on red shade for her lips and rarely use bronze for her face. To top of it all, Emilia often has a bubbly, smiling face with a positive vibe, a far look you rarely see from the tough Khaleesi who is always on her poker face.
THE TRAMP" VS. CHARLIE CHAPLIN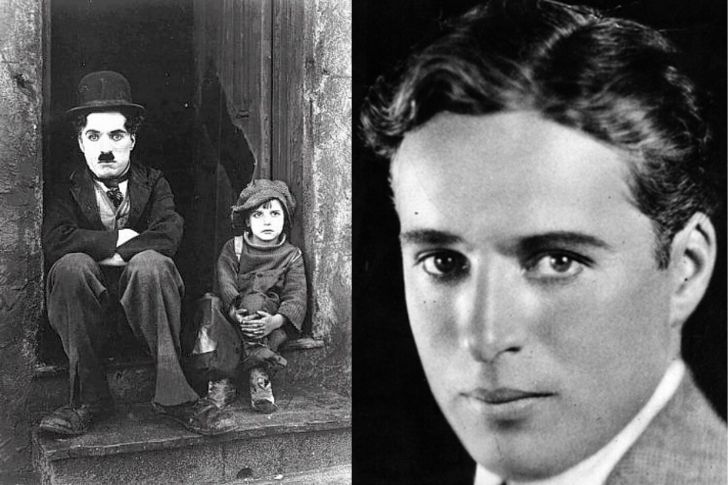 British actor Charlie Chaplin's greatest role is The Tramp. He is behind the heavy mustache and eyeliner, partnered with his trademark goofy walk. In fact, he will always be remembered by The Tramp's look. The silent actor effectively portrayed this role who debuted in Kid Auto Races at Venice and in the movie Mabel's Strange Predicament. After reaching a degree of so much popularity through the years of silent performance, the character retired in the film Modern Times. In real life, Charlie Chaplain is far different in terms of look. The silent actor, considered as one of the most important figures in the history of film, does not have that thick mustache. When not donning The Tramp's suit, hat, and cane, Charlie Chaplain looks different. Without the thick eyeliner, goofy eyes, and protruding teeth, Charlie maintains a shaved face.
DAISY MASON VS. SOPHIE MCSHERA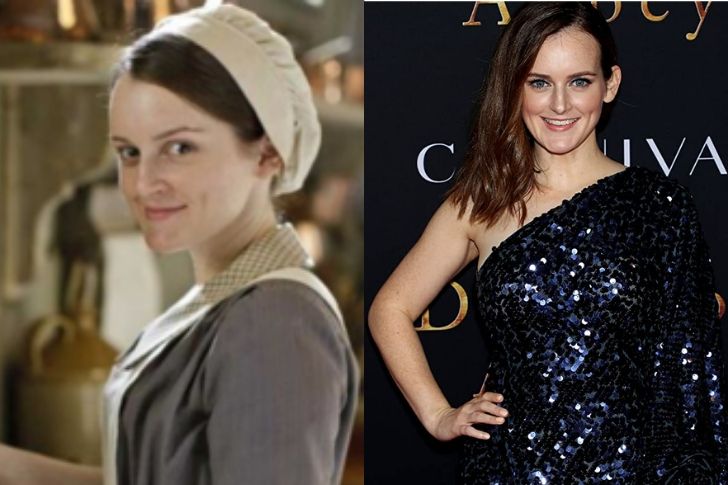 Everyone loves Sophie McShera's role as Daisy Mason in Downton Abbey. Daisy Mason is an assistant cook and widow of William Mason. A former kitchen maid in the show, Daisy is often seen wearing plain and light-colored clothes with a white apron and kitchen cap to complete her look. With her charming smile and down to earth personality, Daisy is a well-loved character. But the actress behind it, although equally charming and beautiful, is very different in terms of look. Sophie is often seen in red carpets and casual outings with her hair left perfectly flowing down her shoulders.  She wears the same smile but more confident under different shades of make-ups that complement her distinct looks through making investments on elegant clothes.
KITTY SANCHEZ VS. JUDY GREER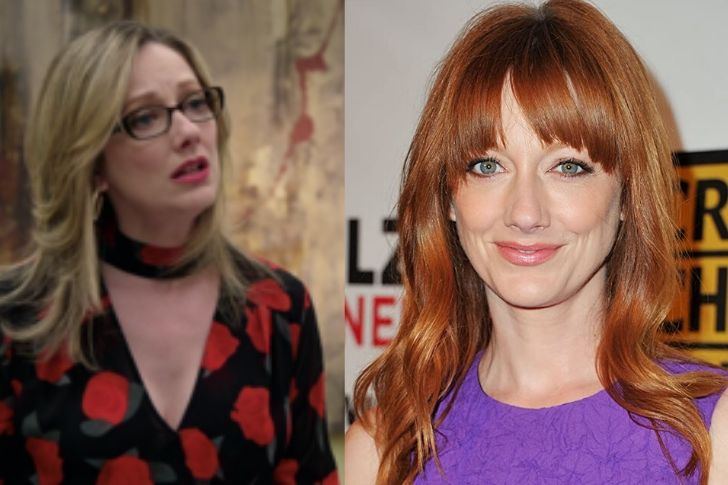 Arrested Development cast member Judy Greer plays the role of Kitty Sanchez, the once-loyal personal assistant of George Bluth. But when things went downhill for the family business and its employees, with the Bluth family facing bankruptcy and horrors of investment fraud, Kitty also had to leave the company. Kitty is known for her personality of flashing people and often gets blown up by stress or when she is provoked. Judy Greer, on the other hand, is one woman who is so composed and fine. Unlike Kitty who has her hair everywhere when not tied in a bun, topped with a large frame of eyeglasses, Judy wears her perfect tresses down.
ICHABOD CRANE VS. TOM MISON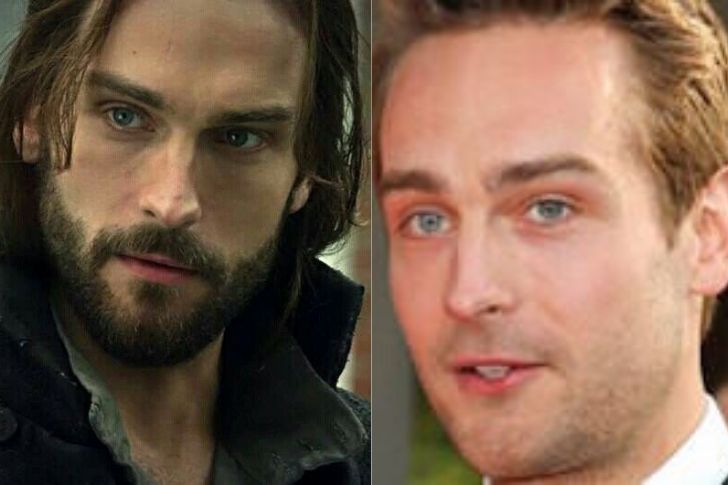 Supernatural gothic television series Sleepy Hollow star Ichabod Crane is portrayed as a heavily bearded Oxford history professor who died and reawakens in modern-day. He has semi-long hair parted perfectly in the center. In some of his scenes, he wears thick glasses and messy hair, donning a degree of suspense and creepiness at the same time.  Ichabod is very much different from the actor who portrays his character, Tom Mison. In real life, he is seen with a very much clean face and wears his hair just as it is—no wigs needed. Although he now opts to grow his beard, he is still unrecognizable as Ichabod during red carpets as Tom looks way younger in real life than the role he portrays.
WORF VS. MICHAEL DORN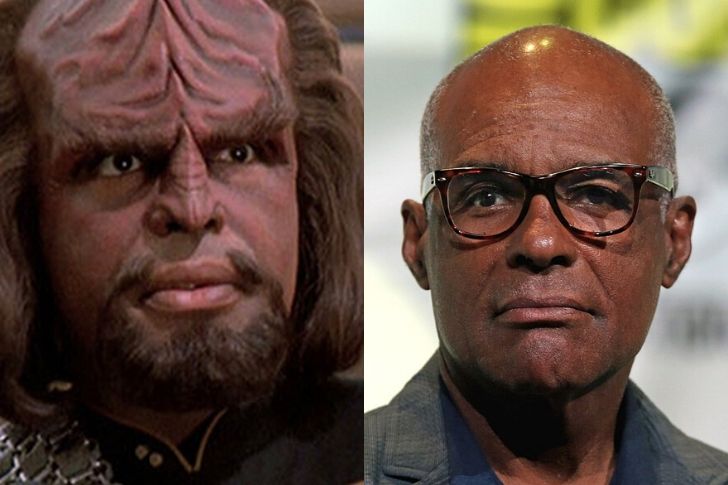 The Star Trek: The Next Generation fictional character Worf is one of the well-loved guys in Star Trek. Although his character looks like he is always serious and is ready to pick up a fight, Worf is one jolly fellow that many Star Trek fans love. Worf's character wears heavy prosthetics make-up and suits that the actor behind it is totally unrecognizable. Michael Dorn, the man behind the character, says he has been donning the prosthetics makeup every day for the past 15 years. Without make-up and fake hair, the guy always flashes his smile while on the red carpet and looks more approachable. We must give credit to his friendly aura. He wears glasses in times which even more proves how he can look very different from the role he is known for.
TIFFANY "PENNSATUCKY" DOGGETT VS. TARYN MANNING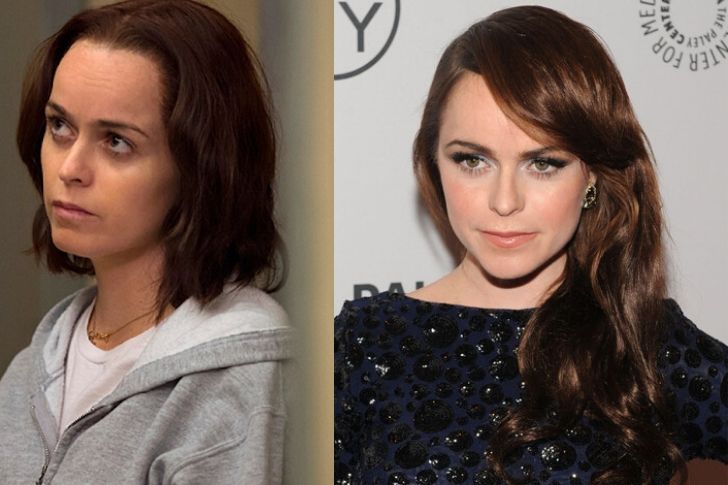 Tiffany Doggett is the main antagonist for the first season of Netflix's Orange Is the New Black. The small dark brown-haired girl has terrible teeth and several tattoos sprawled in her body. In season two, Tiffany gets a fund from the government to have her teeth operation. She eventually grows her bob into long hair. The actress behind the role is Taryn Manning, who is far different in terms of looks. The actress need not undergo any oral surgery as she can flash her smile with a certain degree of confidence and elegance. She is also into experimenting with hair colors and does not just confine herself in brown color. She has donned blonde and pink hair color in the past, which she loves to pair with a dark shade of lipstick.
JERRI BLANK VS. AMY SEDARIS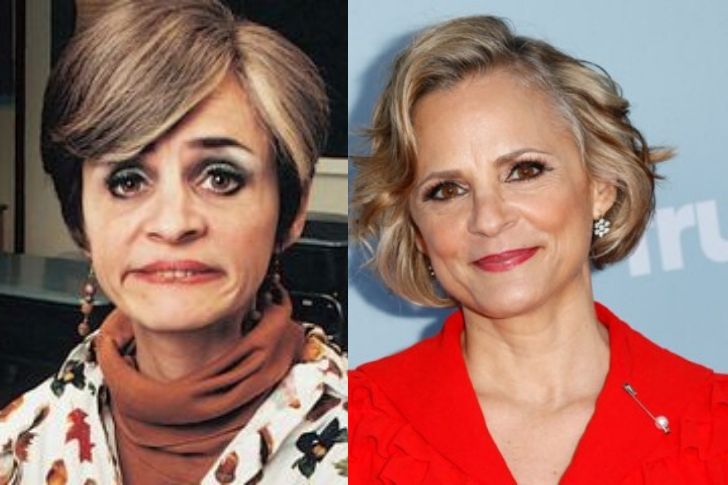 The 46-year-old Jerri Blank is a fictional character in Strangers with Candy television series in 1999, the protagonist whose life went downhill when she ran away from her adoptive parents. Jerri traded her life in high school and went to support her drug habit by prostitution. In a bid to start her life anew, Jerri went back to high school. She wore heavy eyeshadows and goofy clothes. She also likes making silly facial expressions and a golden short wig. On the other hand, Amy Sedaris is far better in terms of looking young. Now 59 years old, the critically-acclaimed actress seems like she did not age a bit. She wears her blonde looks up to her shoulders and looks youthful without wearing heavy make-up. Her beauty should be given credit to her facial routine and vibrant personality.
BLANCA FLORES VS. LAURA GÓMEZ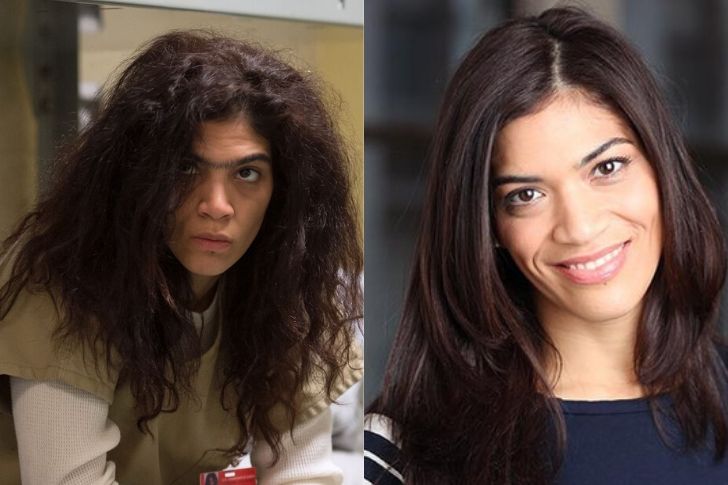 Orange Is the New Black is known for turning its cast members into unrecognizably different characters. Just like with Laura Gomez who definitely pulled off a different look with her portrayal of Blanca Flores. The Netflix fictional character has big, messy hair that looked like it has not been combed in years. She has thick eyebrows and has a hunch stance. Good thing that in Season 5, Blanca was given a full makeover.  On the other hand, Laura has long, dark brown locks that are definitely cared for by a trusted salon. She is a combination of sexy and sultry with her smokey eyes and killer smile, with her Dominican genes taking the credit.
CERSEI LANNISTER VS. LENA HEADEY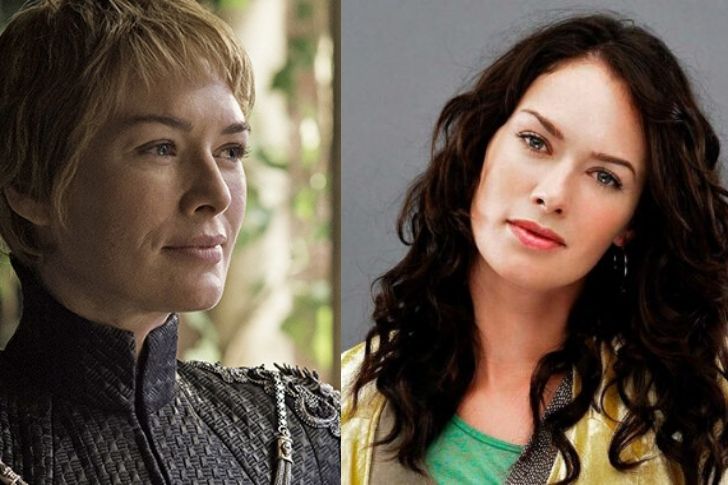 Cersei Lannister is one of the most hated characters in Game of Thrones, with her wicked and evil personality taking all the credit. She is undeniably beautiful and immaculately regal in the entire HBO show, with her golden long tresses flowing down her waist and nude but classy make-up completing her evil look. Cast member Lena Headey who plays the antagonist role looks completely different but equally beautiful. The English actress can even pass as a supermodel with her height and distinct features. Her real-life hair color is dark brown. Lena loves to amp up her red carpet look with shades of outfits other than the usual dark colors for GOT and loves playing with different shades of make-up that would highlight her features, especially her green eyes. Moreover, Lena is known for her tattoos sprawled in her back and arms.