Tattoos are now part of the norm today. It is so common that you can see anyone has it left and right. Gone are the days when people link tattoos to wrongdoings and other negative stuff. It is now seen as an artistic symbol, which has a lot of meaning, depending on the image. It is also used to express one's self.
Avid fans, like that of Kobe Bryant's, had his face tattooed on their skin after his demise. Others also etched their favorite band, brands, and other names tattooed on their skin.
Aside from its symbol, tattoos are also becoming a fashion trend. So, you will often see it worn by many celebrities today. From actors to musicians, a star's body ink can range from little to large. But have you ever wondered what those tattoos mean?
To their credit, some celebrities don't get tattoos for just the sake of getting it. Some of them have deeper meanings. Each tattoo has its own unique story.
So, here is the list of celebrities who have unique tattoos and their corresponding meanings.
Angelina Jolie | Forearm Tattoo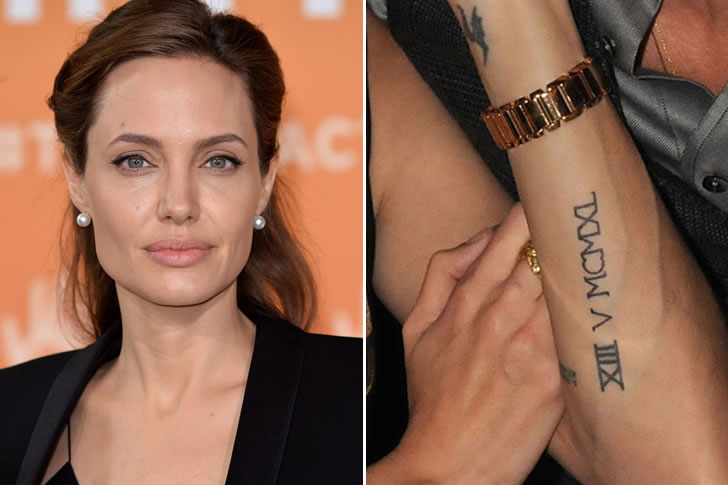 Angelina Jolie has a total of 16 tattoos all over her body, but the most distinct one is on her forearm. It bears the Roman numerals XII V MCMXL, which means 13/5/1940, and commemorates Winston Churchill's iconic speech. It is the time when the British statesman said he had nothing to offer but "blood, toil, tears, and sweat."
It looks Jolie is very fond of this phrase. She also has the same words, "toils and tears," tattooed on her elbow. Other tattoos that the 45-year-old sports include an Arabic script which means "determination" on her elbow. Furthermore, she has a tribal dragon tattoo on her upper left arm, which is now covered-up. The Maleficent actress also has coordinates on her upper arm; initials on her wrist; cross, Latin on her hip; writing on her upper back; Khmer on her shoulder blade, and many more. We wonder how much she has spent on her credit card with these tattoos.
Selena Gomez | Wrist Tattoo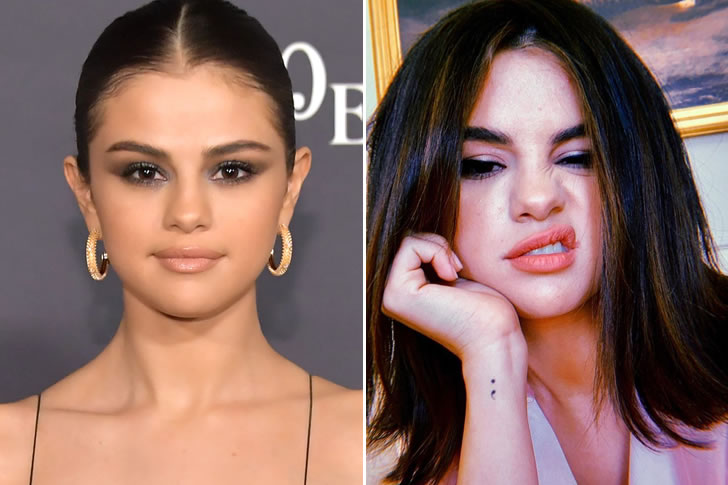 Selena Gomez has a semicolon tattoo on her wrist. For those who don't know, a semicolon tattoo is part of Project Semicolon, which spreads awareness about suicide and mental health. The ink is part of the show 13 Reasons Why, which she produced. One of the TV series' main stars also got the same tattoo. However, this image has an emotional meaning behind it, which a lot find it very cool. Just like the semicolon, what they are trying to say is that their life story is not finished yet.
Gomez has been receiving enormous credits for her advocacy on mental health. She has been openly talking about this issue to remove the stigma that comes with it. Also, she has been spreading awareness on every platform she has, including her show.
Sarah Hyland | Right Ear Tattoo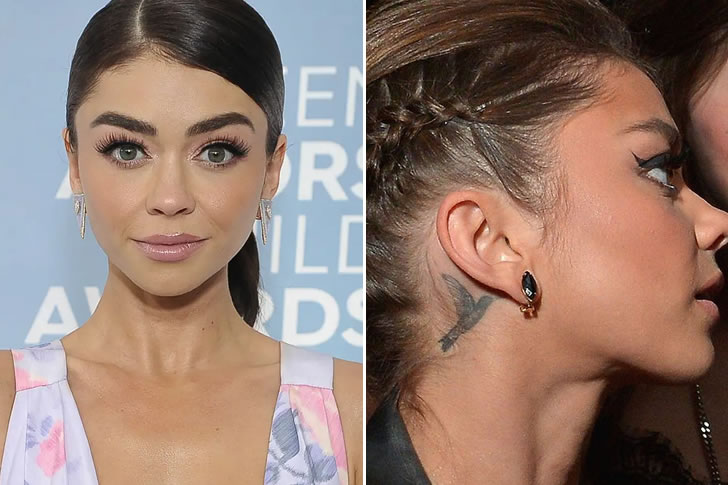 Sarah Hyland has a hummingbird tattoo behind her right ear. The ink was delicately placed there by the famed tattooist, Dr. Woo, in 2014. The 29-year-old star was very proud of her new tat that she quickly shared it on Instagram and relayed the real meaning behind the beautiful image.
She said hummingbird might small, but it could travel great distances to a certain degree. It could carry joy and lightness of being as well as independence and resilience. This little animal could also lift negative energy from someone's life and show the perfect combination of "playfulness and endurance." She then thanked Woo for giving her a tattoo that always reminds her and whispers "sweet nothings" into her ear.
Hilary Duff | Wrist Tattoo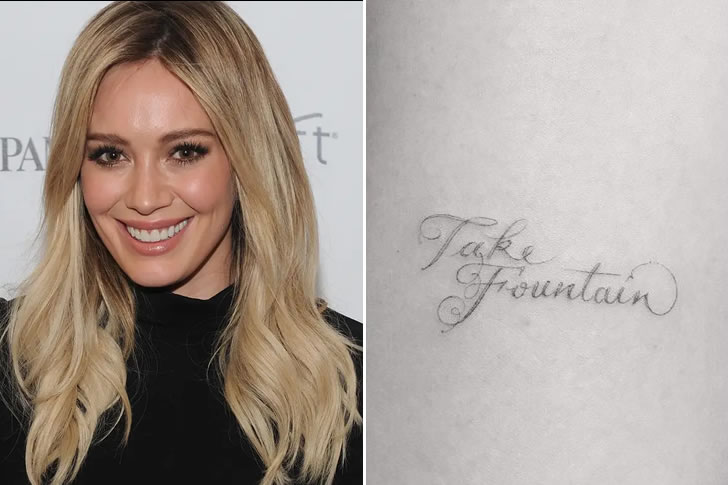 Hilary Duff has several tattoos on her wrist, and one of them is inspired by the late actress Bette Davis. The 33-year-old star chose the words "Take Fountain" to be etched on her skin, which came from one of Davis' most notable quotes.
In an interview on The Tonight Show, host Johnny Carson asked Davis the best method to break into Hollywood. At the time, she simply replied, "take fountain." So, what was the meaning of it? The actress pertained to the Fountain Avenue road in Los Angeles, California, known as a shortcut to avoid traffic. Now, we wonder the degree of pain Duff had to endure for her other tattoos on the wrist, like a sun, a tiny red heart, her eldest son's name, Luca, and a wishbone.
Jessica Alba | Wrist Tattoo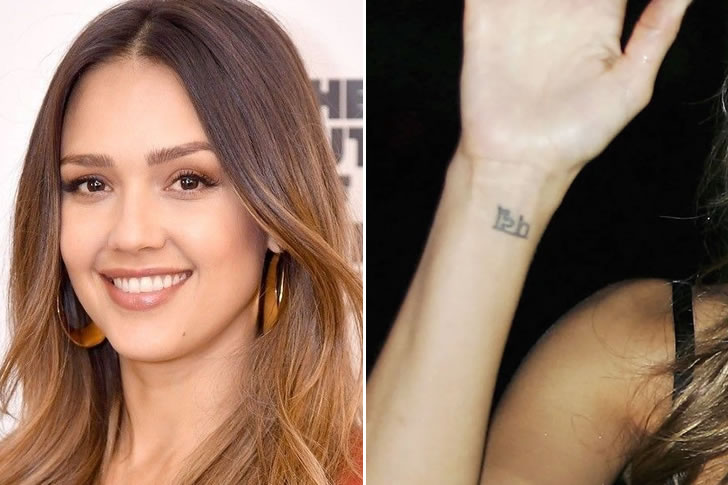 Just like other celebrities, Jessica Alba also has several tattoos on her body, and one of them is on her wrist. She had tattooed a Sanskrit word, which meant "lotus" after a breakup. Although the actress didn't reveal her ink's real meaning, the lotus flower stands as a symbol of purity, enlightenment, and self-generation. However, its real meaning depends on the culture, but getting it after a breakup may mean rebirth.
Other tattoos that Alba has are a flower on her neck, a rose on her shoulder and a bow on her hip. She got her flower neck tattoo with her mom and aunt. We suspect that Alba has a high degree of pain tolerance, given how many tattoos she has on her.
Gisele Bündchen | Wrist Tattoo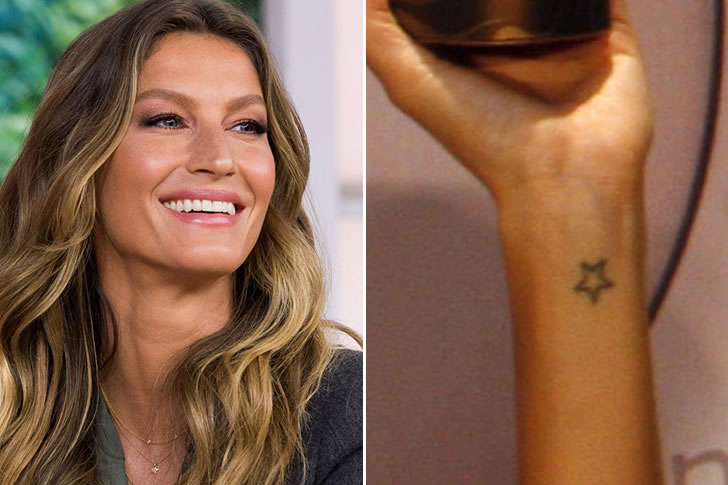 Compared to other stars, Gisele Bündchen only has a couple of tattoos, and one of them is in honor of her late grandmother. Tom Brady's wife loves her nana so much she had a small crooked star tattooed on her wrist. Why crooked? The 40-year-old model explained it was a shooting star for her grandmother.
Her nana died when she was young. When she first moved to New York, starting to pay her mortgage there, she noticed there were no stars in the sky. So, to remind her of her grandma, Bündchen drew a star on her wrist and kept it there for a month. She then had someone draw it permanently; that's why it was a little crooked. However, the businesswoman didn't mind the minor flaw. What's important for her is that it helps to remember her grandmother. The tattoo has been on Bündchen's skin for more than a decade.
Beyoncé | Finger Tattoos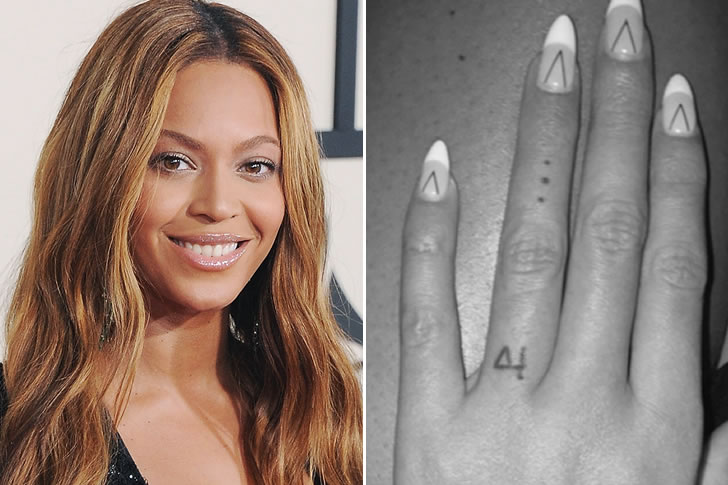 Beyoncé has tattoos on her knuckles – Roman numeral, dots, and initial symbol. She used to have an IV tattoo on her finger, which she had altered. She covered the red tattoo with black ink, and slightly had the design changed. From "IV," it now looks like 4, which is her lucky number, and the letter J, which stands for the initials of his husband, Jay-Z. The number four also has many meanings for the couple. It also stands for their birthdays, which falls on the fourth of September and December.
She also has three little dots on her left ring finger representing her three kids, Blue Ivy, Rumi, and Sir Carter. The tattoo subtly has a color difference to some degree. The blue ink in the middle represents Blue Ivy, while the black dots at the top and bottom are the twins.
Olivia Wilde | Arm Tattoos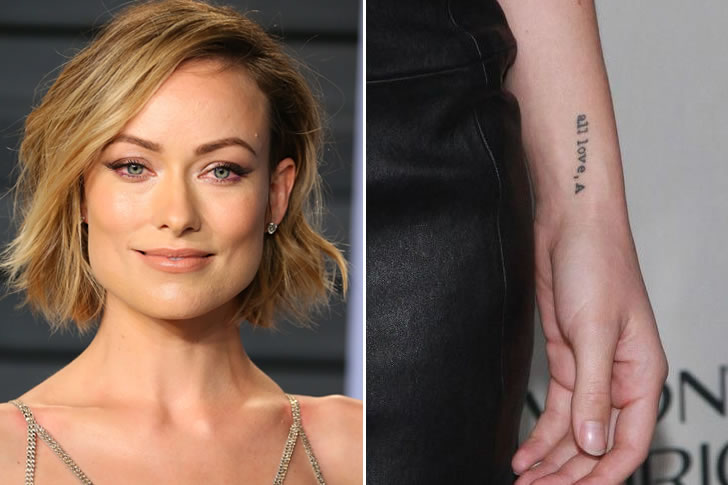 Olivia Wilde has two tattoos on her different arms. On one arm is a galaxy constellation in black ink, mostly covering her right forearm. This was done by the celebrity tattoo artist, Dr. Woo, in Los Angeles. The tattoo is said to be a tribute to the birthday of her son, Otis Sudeikis.
The other tattoo on her left forearm says, "all love, A," using a typewriter font. According to Wilde, she had this tattoo as an honor to her late uncle, Alexander Cockburn. He was a very dear friend to the actress, and the tattoo was the last credited phrase that he wrote for her. The words reminded her to love everyone just like her uncle did when he was still alive.
Lucy Hale | Wrist Tattoo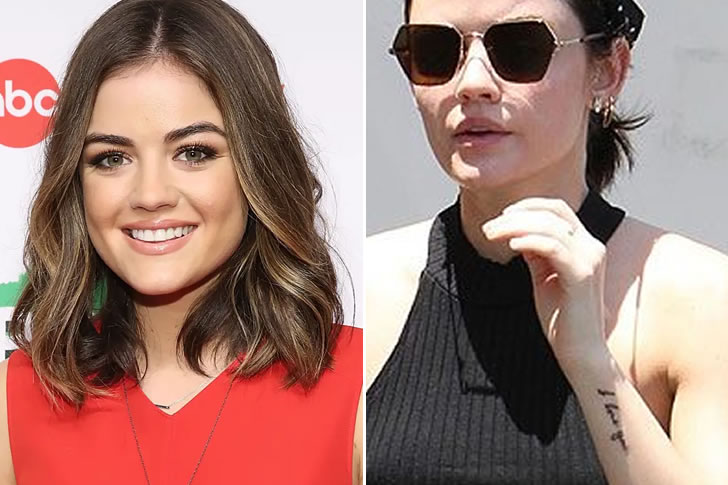 Lucy Hale has a ton of tattoos all over her body, but one of them has a very emotional meaning. Her wrist tattoo, which she shares with her sister, Maggie Hale, reads, "I love you." Surely, we don't have to explain its meaning, as it says the degree of sisterly love the two have for each other.
In a post on Instagram, Lucy explained nothing could prove their sisterly bond more than getting a matching permanent tattoo together. After years of wanting their grandmother's writing, they finally had it etched on their skin. Lucy revealed their grandmother was their most favorite person in the world, and although she was gone, she was now a part of them. Aside from this phrase, she also shared a sun tattoo with Maggie, which honored their nana.
Sam Smith | Finger Tattoo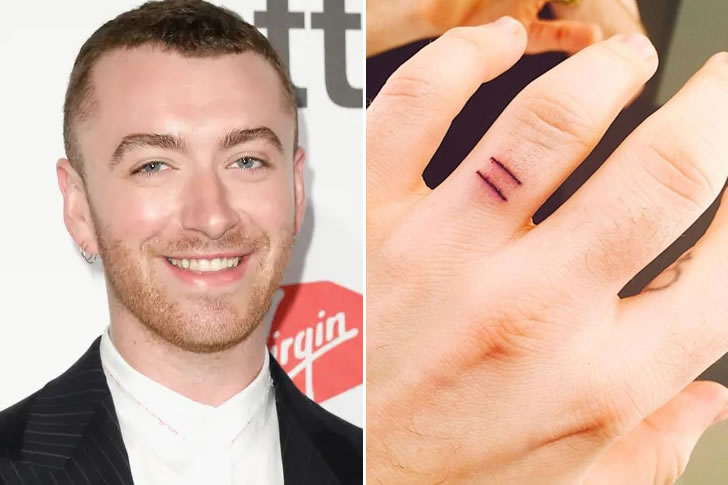 Sam Smith has a number of tattoos on her body, but these parallel lines on her finger will quickly get everyone's attention. It is said to be a replica of a tattoo found on the body of a mummy. However, it has a deeper degree of meaning that he explained.
First, he revealed this tattoo is inspired by one of the oldest tattoos found on a mummified body, buried alone in the ice in a post on Instagram. He then said the meaning behind this symbol was pretty self-explanatory. The image showed his views on gay marriage and equality for all. The equal sign meant equality, and that was something that he wanted all to have. Smith proudly shared the photo of his tattoo, along with his other inks.
Billie Lourd | Ankle Tattoo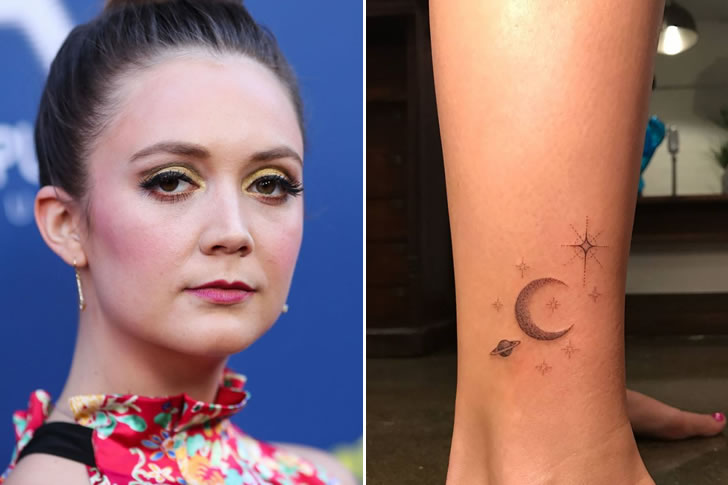 Billie Lourd chose to have a tattoo like that of her late mother, Carrie Fisher. On October 21, which was also Fisher's supposed 61st birthday, the 28-year-old star paid tribute to her mom by getting the said tattoo. She had a planet, a moon, six little stars, and one big star etched on her ankle, where her mom's tattoo was also placed – on that Fisher's was in purple and blue colors while hers was in black.
Lourd also used the space-inspired tattoo to celebrate Fisher's birthday. In a post on Instagram, she tagged the celebrity tattoo artist Dr. Woo, who also shared the photo on his own page. Aside from this post, she also shared a photo collage of Fisher's old pictures and greeted her with a happy birthday. It has been years since Fisher has been gone, but the degree of love Lourd has for her is still the same.
Emma Stone | Wrist Tattoo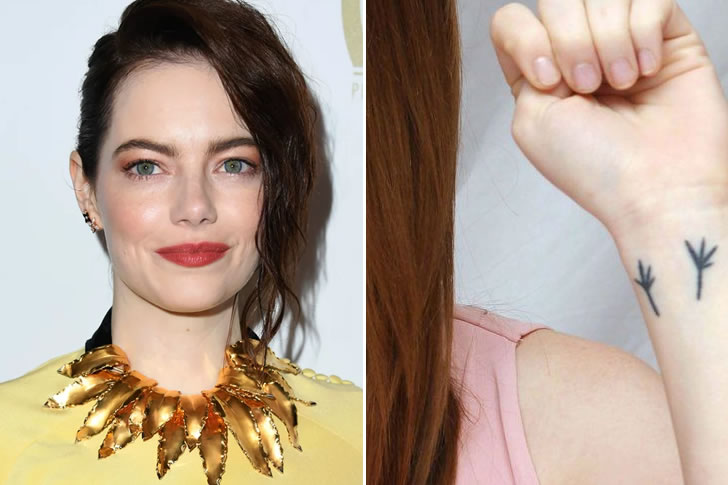 After learning that her mother, Krista Stone, was already cancer-free, Emma Stone bravely wrote a letter to the music icon Paul McCartney to ask him to draw an image of two little Blackbird feet to celebrate the news. In an interview, the 31-year-old star revealed Blackbird is the favorite song of her and her mom, so she chose this image to be etched on her wrist.
So, why did she ask McCartney to draw the bird's feet? Blackbird is a famous The Beatles song, released in 1968. As he wrote this melody, Stone thought of asking him to draw its image to make it more meaningful. To his credit, McCartney obeyed and sent her his drawing immediately. Now, it is tattooed on her skin.
Nicole Richie | Wrist Tattoo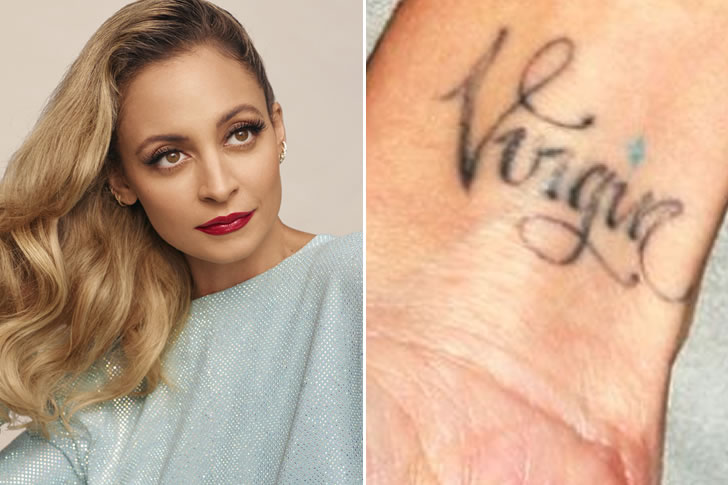 Getting a tattoo is permanent, so one must be very sure of choosing a design and what to etch on their skin. Take it from Nicole Richie herself. The 39-year-old reality star has a wrist tattoo that she now regrets. The ink in question is the word "virgin," and Richie got it because her zodiac is Virgo.
In an interview, she said she found the tattoo "embarrassing and desperate." She got the tattoo when she was only 16 years old. At the time, she wanted to be different, so she decided to put the word virgin, thinking it was the sign for Virgo. As she regretted having this body art to a certain degree, she wanted to alter its design by adding letters "I" and "A" to make it read like Virginia. However, she felt stuck, knowing no one would believe she's from this state.
Dax Shepard | Finger Tattoo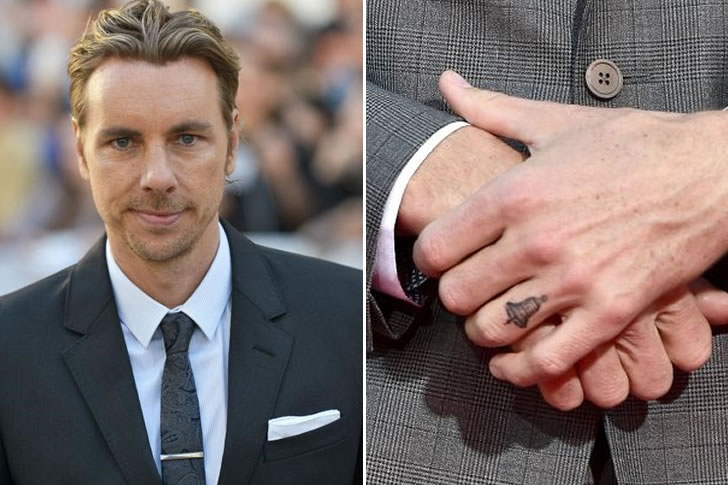 Dax Shepard got a tattoo on his ring finger after he tied the knot with Kristen Bell in 2013. Instead of the traditional wedding ring, the 45-year-old actor decided to have a bell etched on his ring finger. He explained he is not fond of wearing jewelry, but he felt obliged to warn everyone that he was already married, albeit the band.
So, instead of using his investment money on buying a band, he found it more fitting to have a tattoo. As his wife's last name was "Bell," he thought it was an object that he could etch on his skin that symbolized the actress. The ink also had little letters, like her initial, K, L, and D, that also represented their daughter, Lincoln.
Amanda Seyfried | Foot Tattoo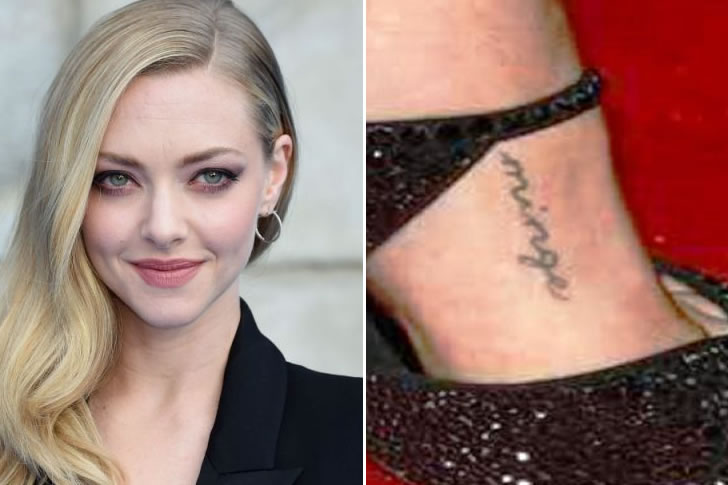 Amanda Seyfriend had a matching tattoo with her Mamma Mia co-stars that read, "Minge." It was the term of endearment of the movie's characters that they decided to etch it on their skin. However, it had a different meaning in England but had no meaning in the US, where she spent most of her time.
With its tacky meaning, some credit Seyfried's tattoo as "filthy." So, why did they choose this? The 34-year-old actress explained Colin Firth used to say this word on their movie set, while Rachel McDowell told her what it actually meant. Now that the term was on her foot, she would heartily laugh whenever she would see it. Also, she wanted to know what it felt like having a tattoo, although she was not a fan of it.
Ariana Grande | Ear Tattoo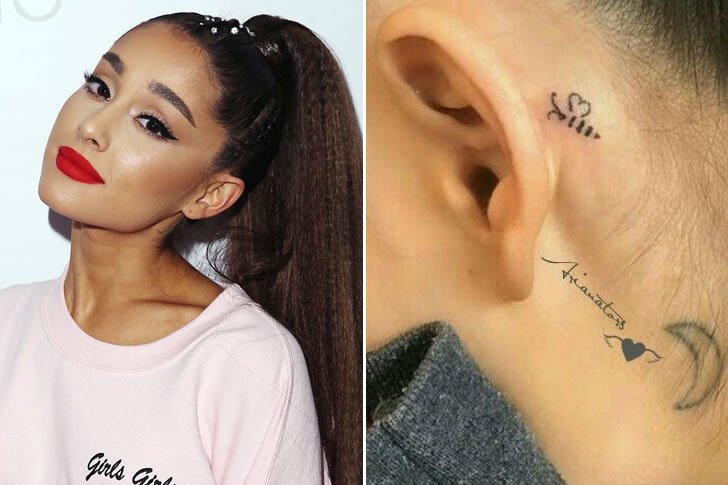 Ariana Grande has a bee tattoo behind her left ear. The 27-year-old star chose to have this image etched on her skin to honor the 2017 bombing victims that tragically happened at her concert. A couple of days after the tragic incident occurred in Manchester, the pop star showed her new tattoo to the public in a post on Twitter.
She captioned the snap with the word "forever," although she did not explain this word's meaning. The bee holds a historical symbol in Manchester, dating back to the Industrial Revolution when the factories were called "beehives" because of the degree of the people's busy productivity. This bee is just one of the several tattoos Grande has on her whole body.
Blake Shelton | Arm Tattoo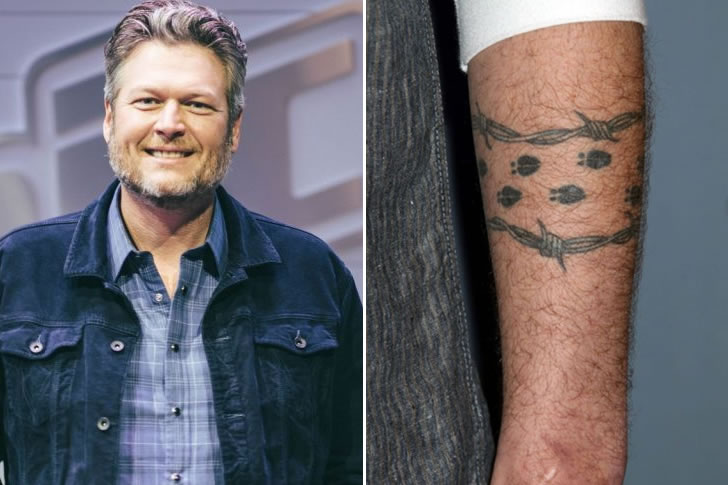 Blake Shelton has a deer track tattooed on his arm. However, it is often mistaken as ladybugs. In an interview with Adam Levine, the Maroon 5 singer mocked the 44-year-old country singer for having a tattoo of ladybugs on his arm. Later, Shelton explained he actually wanted to have a tattoo of deer tracks, but he wasn't sober when he got it.
The tattoo artist didn't know how to draw a deer track, so he drew him one. Sadly, Shelton also didn't know how to create one as well, so he just did what he thought it would like. He was the one who drew the tattoo on his own arm, although he ended up calling it "crap." Shelton even tried to fix the tattoo by adding more ink onto it through drawing additional barbed wires. We've got to give his ingenuity some credit, don't you think?
Lily Collins | Foot Tattoo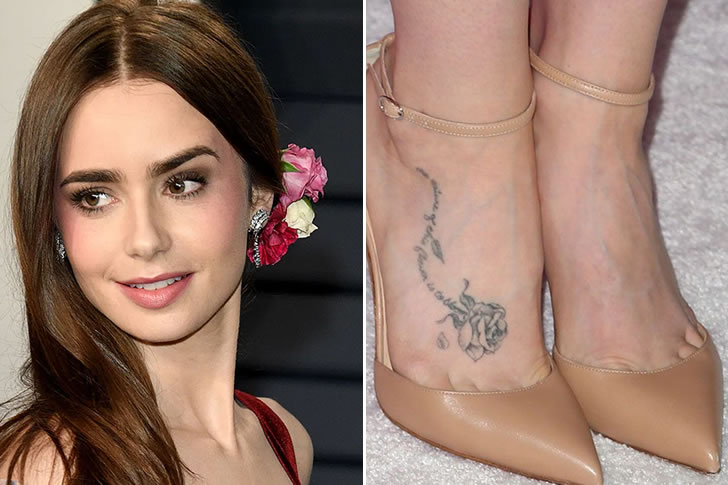 Lilly Collins has several tattoos on her body, and that includes a flower tattoo on her foot. This body art has wordings that are strategically placed to look like the stem of a rose. The phrase says that the "nature of this flower is to bloom," a quote from Alice Walker that also features a leaf. In a post, Collins revealed that she would look down at her foot every time she would walk or run to remind her that everyone should grow, be tested, and challenged.
Other tattoos that Collins has are a crown, wings tattoo on her wrist, writing on her upper back, and a dandelion, fairy, writing on her side. Collins revealed that some of her inks are fairy-tale-inspired, like her fairy tattoo, sitting on a crescent moon while blowing a dandelion into the wind. Collins uses her body as her investment for everything art-related.
Harry Styles | Arm Tattoo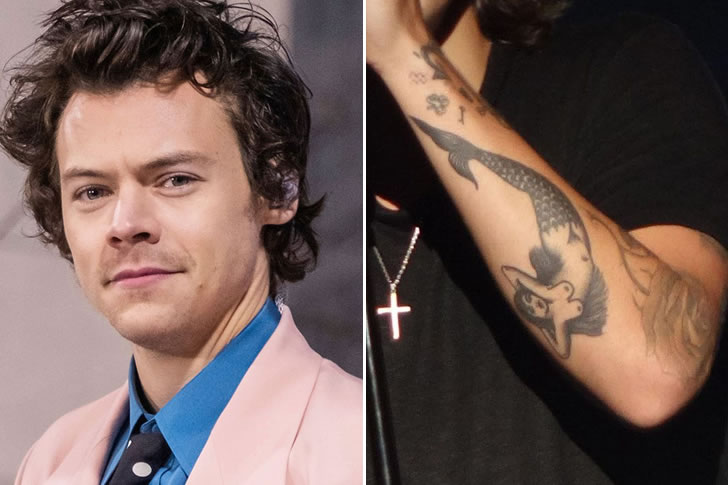 Harry Styles has several tattoos on his body, which he started getting when he was only 18 years old. Now that he is 26, he has spent a significant amount of investment money on his skin, including a mermaid tattoo on his arm. However, compared to other people, who want their body arts to be perfect, Styles' ink seemed imperfect. Why?
He told his fan he wanted to show everyone that they should love themselves no matter what, and they should never strive for perfection. Nobody is perfect, anyway. Styles has over 40 tattoos all over his body. His left arm alone has several tattoos, like a huge heart, a liquor bottle with the words, "you booze, you lose,"; a bible, and the letter A to honor his mother, Anne Twist.
Sophie Turner | Arm Tattoo

Sophie Turner rose to prominence when she played the role of Sansa Stark in the iconic HBO TV series, Game of Thrones. She was part of the show from start to finish, from 2011-2019, so it was a significant part of her. To honor the series, she had the House Stark sigil, a dire wolf, tattooed on her arm with the words, "The Pack Survives," which was also a nod to her character's family.
With the long time that she had spent on the series, Turner had built a profound degree of connection to the show. The phrase was part of the infamous line the Starks said whenever there was a war coming. Aside from Turner, her co-stars, Maisie Williams and Emilia Clarke, also had GoT tattoos etched on their bodies.
Neil Patrick Harris | Ankle Tattoo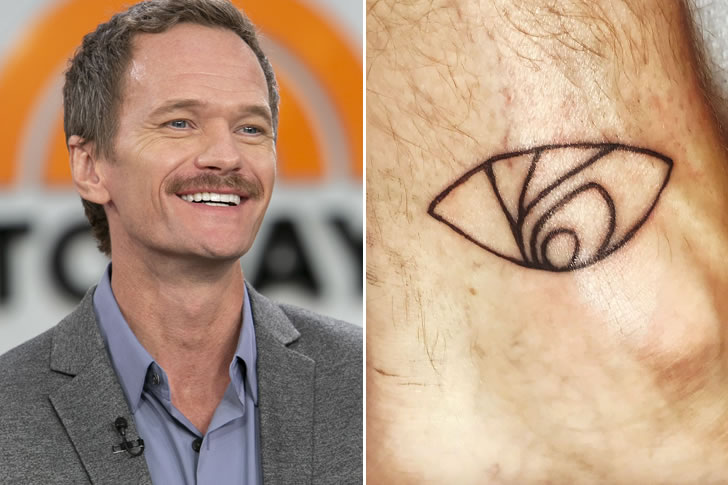 Neil Patrick Harris made a mark in playing his role as Count Olaf in the TV series, A Series of Unfortunate Events. To honor his two-season character, the 47-year-old star had a part of his role's body tattooed, specifically the eye, on his ankle.
Upon the announcement of the show's second season, Harris celebrated the event by getting a tattoo. So even before the series began, he was already wearing Count Olaf's eye. Compared to the fake tattoo that the famed comedian had in the first season, this one looked much more spot on. Well, the things Harris does for his shows are quite unprecedented. This even gives him credit for being one of the most respected and well-liked actors of today.
Sasha Pieterse | Finger Tattoo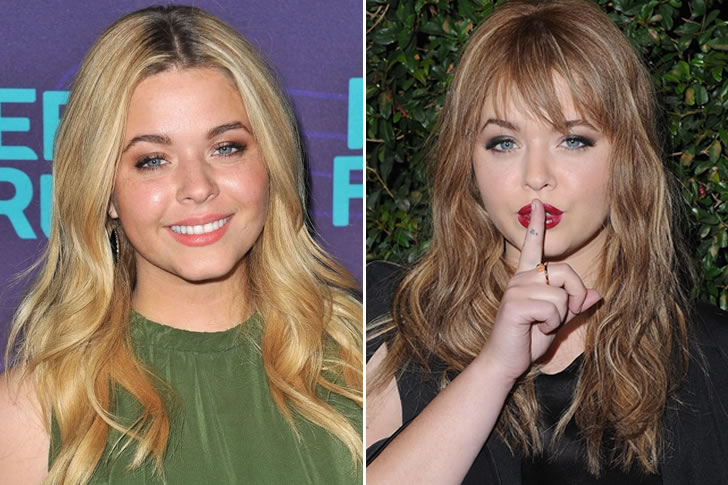 Just like other artists who have formed a deep connection to their respective shows, Sasha Pieterse also had the first initial of her character's name tattooed on her finger. The 24-year-old star played the role of Alison DiLaurentis on Pretty Little Liars for seven seasons, so she had the letter "A" etched on her skin.
But, Pieterse is not the only one who did it. Her co-stars, Lucy Hale, Shay Mitchell, Troian Bellisario, Ashley Benson, and Janel Parrish, also did the same. They all have matching tattoos of their characters' initial, honoring the show that made them famous. When PLL officially ended, Pieterse spent her investment money on another tattoo. She had a beautiful flower tattooed on her arm with stems tied together in a cute bow.
Demi Lovato | Arm Tattoo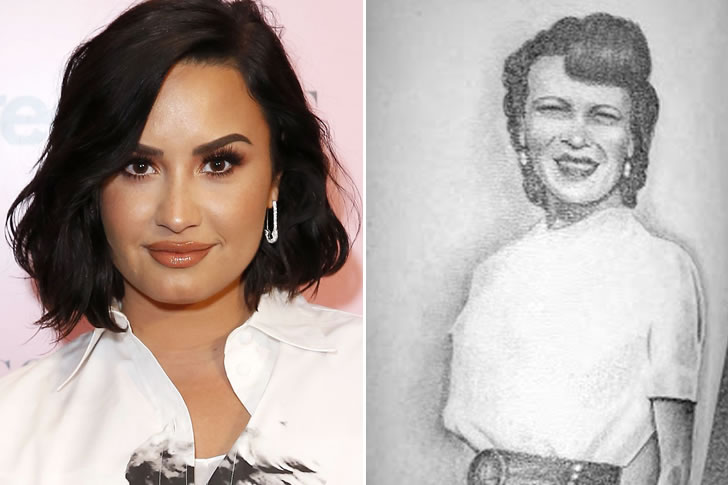 Demi Lovato makes her body her own canvas, putting several tattoos etched on her skin, and each one of them has a deep meaning. She has a couple of inks on her forearm, including a single letter "T." According to the 28-year-old star herself, the T stands for the name of her late friend, Thomas Trussell III. In a post on Instagram, she gave credits to her tats, saying T is for Tommy.
Another body art on her left forearm is for her grandmother, Sue Hart. The tattoo in question is an image of her nana, whom Demi wants to stay young forever on her skin. In another Instagram post, Lovato said the portrait showed her 26-year-old grandma, which she got when she was at the same age.
Selena Gomez | Neck Tattoo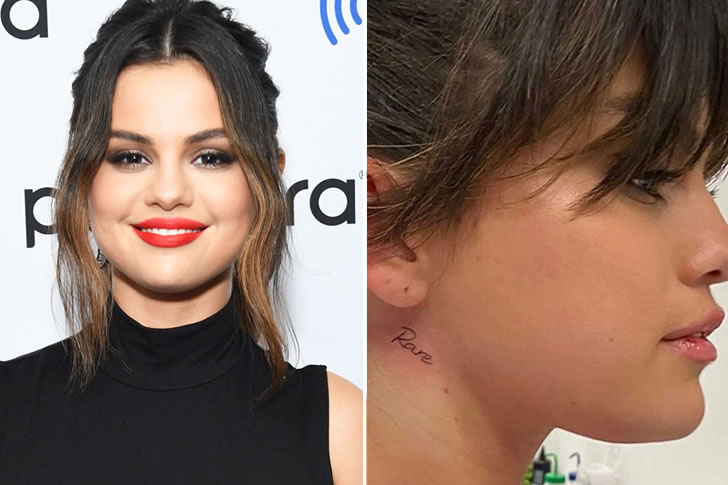 Selena Gomez has several inks on her body, honoring everything that she has gone through in life. And to celebrate her album, Rare, the 28-year-old star had the word "rare" tattooed on her neck in cursive. The pop star sensation had the ink done by the go-to celebrity artist, Bang Bang. She might have used her credit card to get this, and it was worth it.
Her tattoo and album have a lot of something to say about Gomez and her experiences in life. In total, she has over 14 tattoos, and it all holds a special meaning about her friendship, music, and faith. She has body art on her arms, legs, fingers, side, ankle, back of her ear, and even foot from head to toe.
Cara Delevingne | Hand Tattoo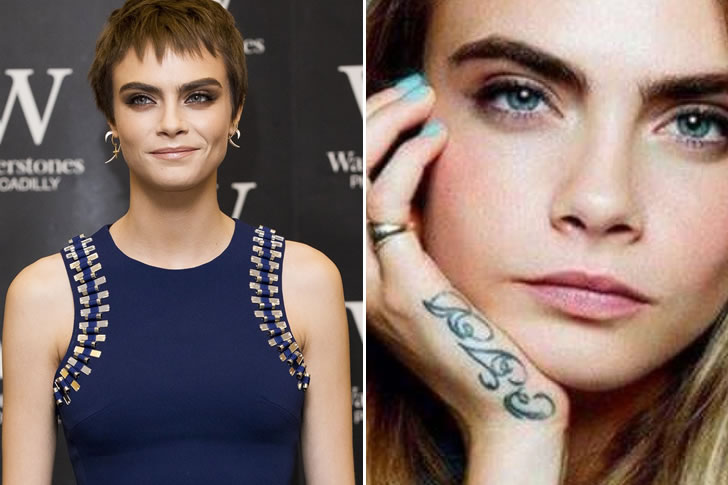 Cara Delevingne has several tattoos on her hand. One of those is the initials of her real name, CJD, which stands for Cara Jocelyn Delevingne. It is placed on the outside of her right hand, where everyone can easily see.
Aside from this, she also has an outline of a red heart tattooed on her left hand's pinky finger. This one is made by Bang Bang, who gets credit for being the celebrity go-to tattoo artist. These are just some of Delevingne's tattoos, which are spread all over her body. She also has ink on her nape, different fingers, wrist, arm, inside, behind, and on the side of her ear, head, sides, and even on her toe.
Joe Jonas | Ring Tattoo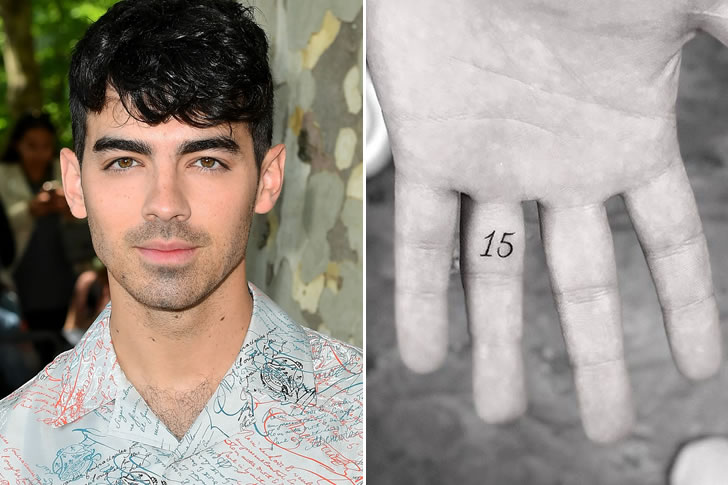 Joe Jonas has a total of 16 tattoos all over his body. One of the most distinctive ones the number 15 tattoo on the back of his ring finger. The 31-year-old star has surely made a significant investment in these tattoos, especially this one made by the tattoo artist Mr. Keith. The numeral 15 has a very emotional meaning. It represents his engagement date to his now-wife, Sophie Turner, which was on October 15, 2017.
This is just one of the too many tattoos Jonas has. He also has tattoos on his arms, like a knot of two ropes, a West African Adrinka symbol tattoo, and a cake by the ocean. Jonas also had a triangle with a hand tattooed on his skin, a circular phrase, the persistence of memory logo, and his grandfather's portrait.
Lady Gaga | Arm Tattoo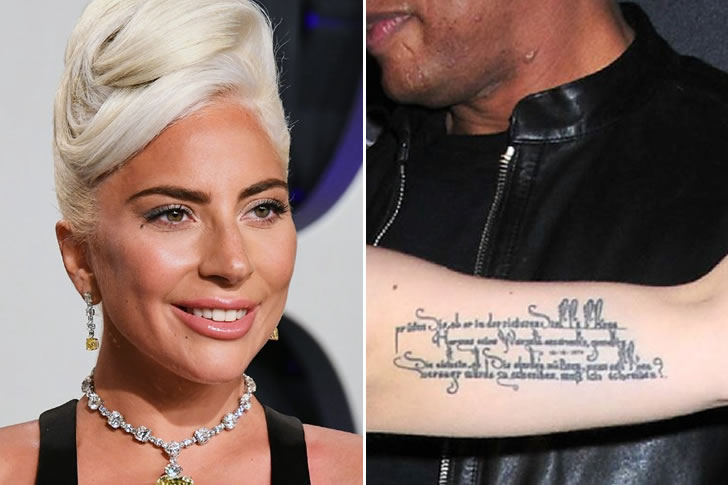 This list will never be complete without Lady Gaga. The eccentric pop star has a lot of tattoos all over her body, but it all had to be on the left side of her body. The 34-year-old star promised her father, Joe Germanotta, that she would keep one side of her body clean and, in her own words, "slightly normal." In total, she has 24 tats, and several of them are on her arms.
She started to have a tattoo when she was only 17. She might have had the simplest tattoo then, or else she might have opted for a money loan for the big and complicated ones. Since at that time, she did not yet have a big music career that rakes in a fortune. Each of her tattoos has a deeper meaning, like a German quote from Rainer Maria Rilke's Letters to a Young Poet on the inside of her left arm.
Dakota Johnson | Arm Tattoo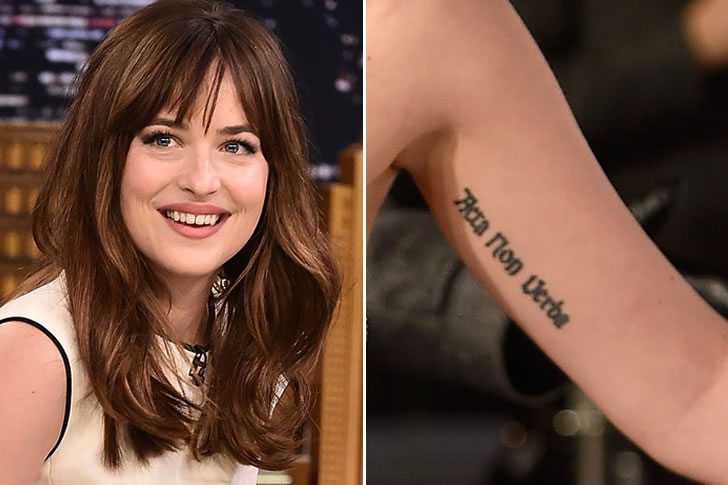 Dakota Johnson also joins the tattoo trend. She has several inks on her body, and one of the most noticeable ones is insider her left arm. The tattoo in question is a Latin phrase that reads, "Acta non-verbal," which means "actions, not words." This phrase gets credit for being the motto of the US Merchant Marine Academy. Although it seems to be for the marines, it can also be applied to life in general.
She also had her favorite word, "tender," tattooed on her right arm. The etching was so subtle you would barely even notice it. Besides, it is a flower tattoo created by the celebrity tattoo artist Dr. Woo and inspired by the Austrian painter Egon Schiele.
Brooklyn Beckham | Arm Tattoo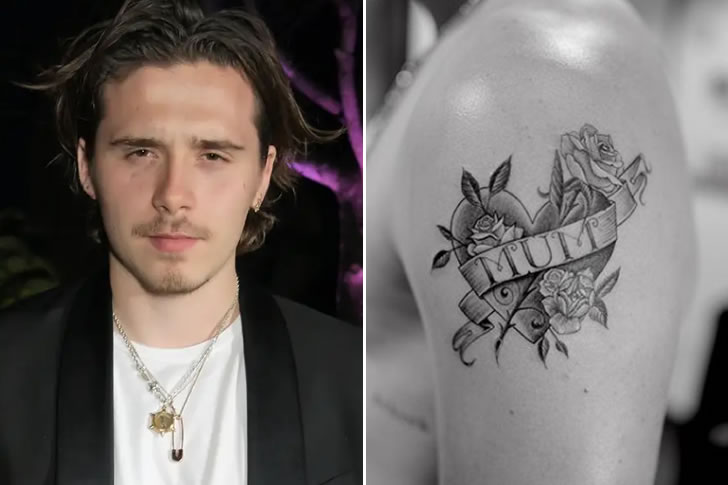 Brooklyn Beckham is also known for his love of tattoos. He has several tats on his arms alone, like a heart tattoo with a few roses inside, wrapped in a banner with the word "mom." The celebrity kid got this tattoo as a tribute to his mother, Victoria Beckham, whom he adores so much.
The 21-year-old star is also known for his love of photography. So, it is no surprise that he also has a camera tattoo. As someone who makes an investment in this equipment, getting it on his skin is not an issue at all. Brooklyn's other arm tattoos are a delicate ship, a simple heart outline, another complicated compass, a phrase, number and word tattoo, and an anchor with the word "dad" for his father, David Beckham, among others.
You've Reached The End