Actors have the skill of transforming from one character to another. That means they can also look a lot different from what they really like in real life. With the help of their glam team—from altering the color of their hair and the way they dress—these actors prove that they have stellar and effective acting skills.
DAENERYS TARGARYEN VS. EMILIA CLARKE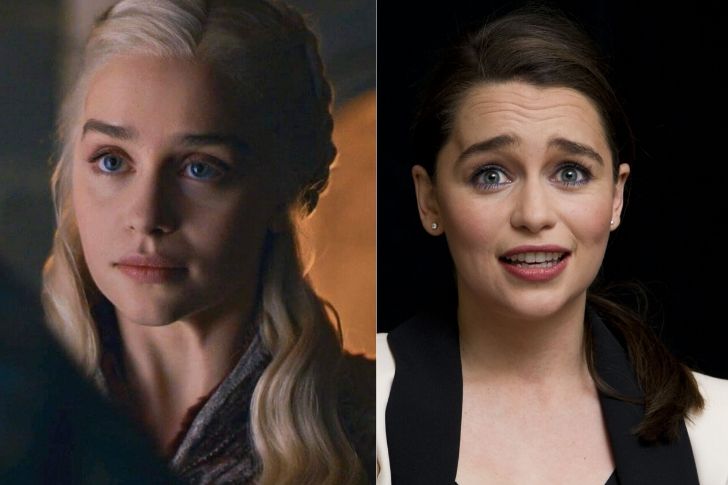 British actress Emilia Clarke is one of the most beloved cast in the hit HBO television Game of Thrones. While she has portrayed effective movie and TV roles prior to GOT, such as in Me Before You and Last Christmas, her role as Mother of Dragons Daenerys Targaryen is said to be her greatest performance yet. From the real-life look of Emilia, a short-haired brunette, she takes on the role donning long, waist-length white tresses. She pulled off that innocent yet strong woman in the series, transforming from a hopeless Targaryen daughter to a certain degree of a fearless and intimidating queen. Emilia's real-life look is also far different in terms of make-up. She would take on red shade for her lips and rarely use bronze for her face. To top of it all, Emilia often has a bubbly, smiling face with a positive vibe, a far look you rarely see from the tough Khaleesi who is always on her poker face.
THE TRAMP" VS. CHARLIE CHAPLIN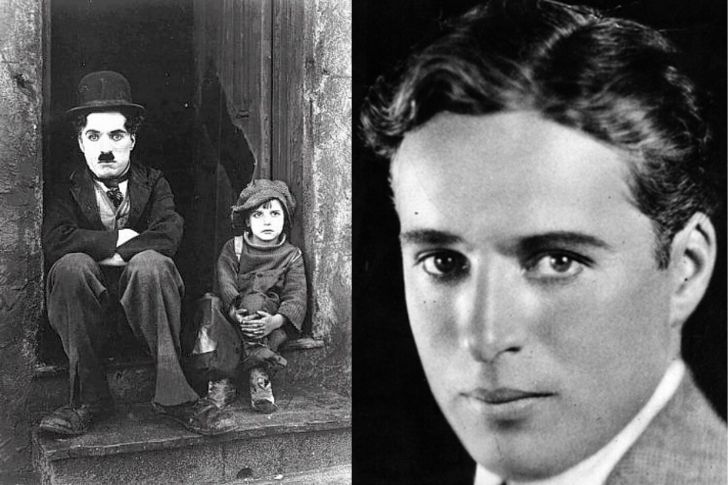 British actor Charlie Chaplin's greatest role is The Tramp. He is behind the heavy mustache and eyeliner, partnered with his trademark goofy walk. In fact, he will always be remembered by The Tramp's look. The silent actor effectively portrayed this role who debuted in Kid Auto Races at Venice and in the movie Mabel's Strange Predicament. After reaching a degree of so much popularity through the years of silent performance, the character retired in the film Modern Times. In real life, Charlie Chaplain is far different in terms of look. The silent actor, considered as one of the most important figures in the history of film, does not have that thick mustache. When not donning The Tramp's suit, hat, and cane, Charlie Chaplain looks different. Without the thick eyeliner, goofy eyes, and protruding teeth, Charlie maintains a shaved face.
DAISY MASON VS. SOPHIE MCSHERA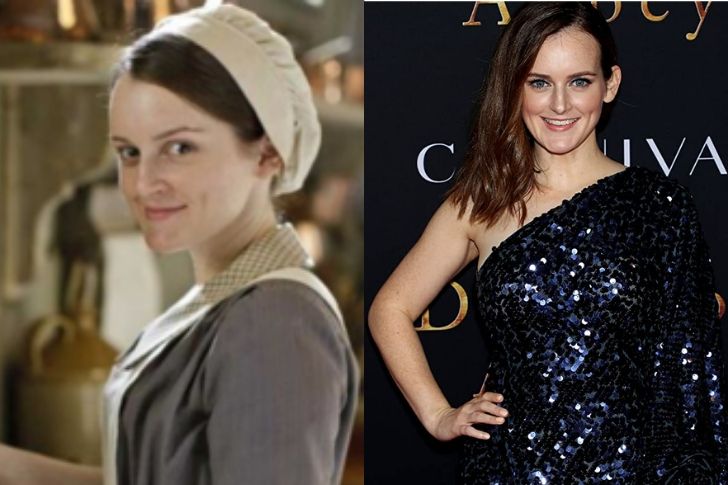 Everyone loves Sophie McShera's role as Daisy Mason in Downton Abbey. Daisy Mason is an assistant cook and widow of William Mason. A former kitchen maid in the show, Daisy is often seen wearing plain and light-colored clothes with a white apron and kitchen cap to complete her look. With her charming smile and down to earth personality, Daisy is a well-loved character. But the actress behind it, although equally charming and beautiful, is very different in terms of look. Sophie is often seen in red carpets and casual outings with her hair left perfectly flowing down her shoulders.  She wears the same smile but more confident under different shades of make-ups that complement her distinct looks through making investments on elegant clothes.
KITTY SANCHEZ VS. JUDY GREER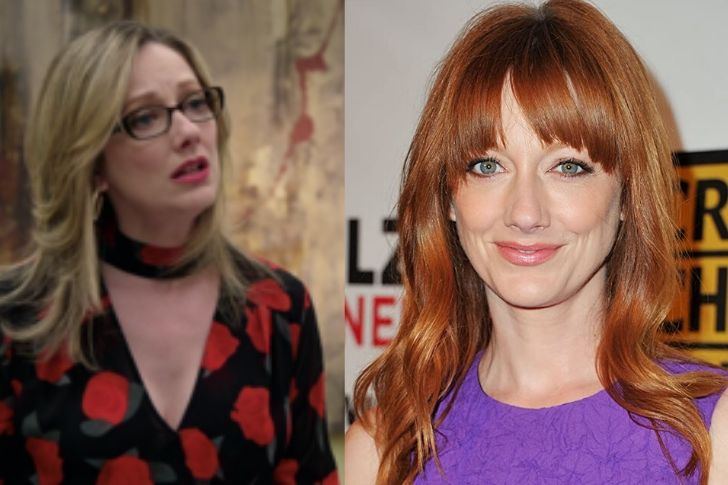 Arrested Development cast member Judy Greer plays the role of Kitty Sanchez, the once-loyal personal assistant of George Bluth. But when things went downhill for the family business and its employees, with the Bluth family facing bankruptcy and horrors of investment fraud, Kitty also had to leave the company. Kitty is known for her personality of flashing people and often gets blown up by stress or when she is provoked. Judy Greer, on the other hand, is one woman who is so composed and fine. Unlike Kitty who has her hair everywhere when not tied in a bun, topped with a large frame of eyeglasses, Judy wears her perfect tresses down.
ICHABOD CRANE VS. TOM MISON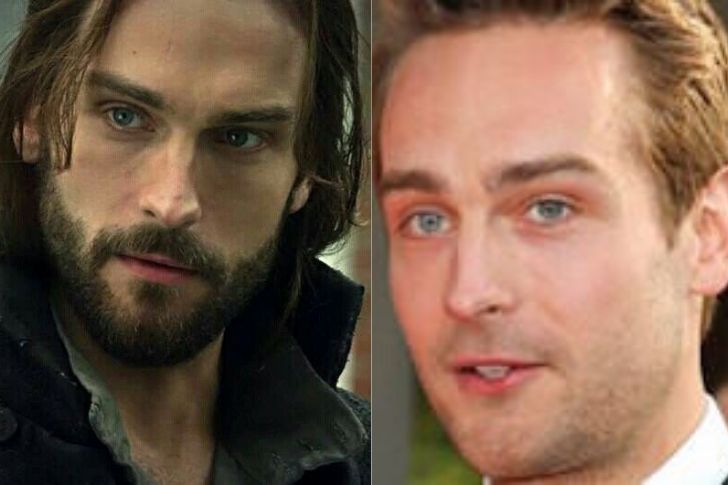 Supernatural gothic television series Sleepy Hollow star Ichabod Crane is portrayed as a heavily bearded Oxford history professor who died and reawakens in modern-day. He has semi-long hair parted perfectly in the center. In some of his scenes, he wears thick glasses and messy hair, donning a degree of suspense and creepiness at the same time.  Ichabod is very much different from the actor who portrays his character, Tom Mison. In real life, he is seen with a very much clean face and wears his hair just as it is—no wigs needed. Although he now opts to grow his beard, he is still unrecognizable as Ichabod during red carpets as Tom looks way younger in real life than the role he portrays.
WORF VS. MICHAEL DORN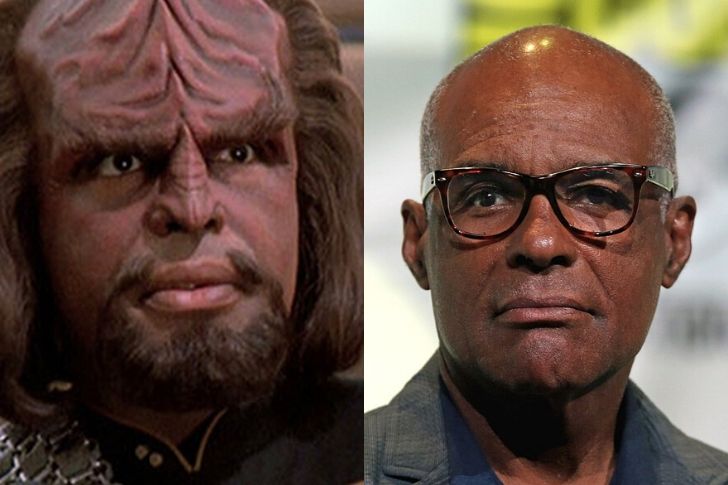 The Star Trek: The Next Generation fictional character Worf is one of the well-loved guys in Star Trek. Although his character looks like he is always serious and is ready to pick up a fight, Worf is one jolly fellow that many Star Trek fans love. Worf's character wears heavy prosthetics make-up and suits that the actor behind it is totally unrecognizable. Michael Dorn, the man behind the character, says he has been donning the prosthetics makeup every day for the past 15 years. Without make-up and fake hair, the guy always flashes his smile while on the red carpet and looks more approachable. We must give credit to his friendly aura. He wears glasses in times which even more proves how he can look very different from the role he is known for.
TIFFANY "PENNSATUCKY" DOGGETT VS. TARYN MANNING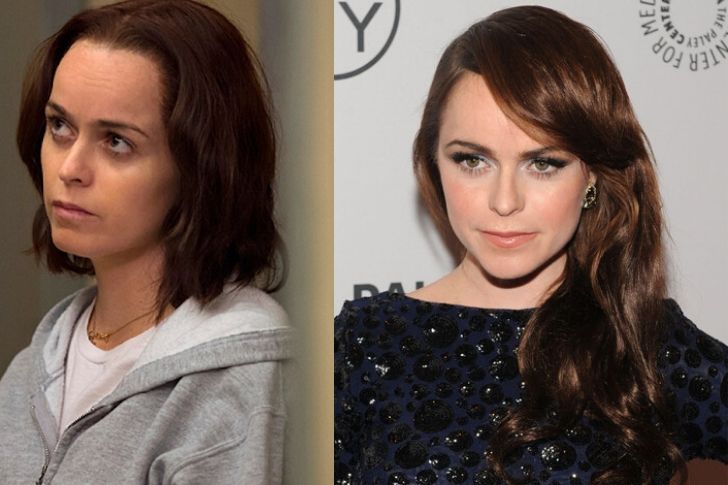 Tiffany Doggett is the main antagonist for the first season of Netflix's Orange Is the New Black. The small dark brown-haired girl has terrible teeth and several tattoos sprawled in her body. In season two, Tiffany gets a fund from the government to have her teeth operation. She eventually grows her bob into long hair. The actress behind the role is Taryn Manning, who is far different in terms of looks. The actress need not undergo any oral surgery as she can flash her smile with a certain degree of confidence and elegance. She is also into experimenting with hair colors and does not just confine herself in brown color. She has donned blonde and pink hair color in the past, which she loves to pair with a dark shade of lipstick.
JERRI BLANK VS. AMY SEDARIS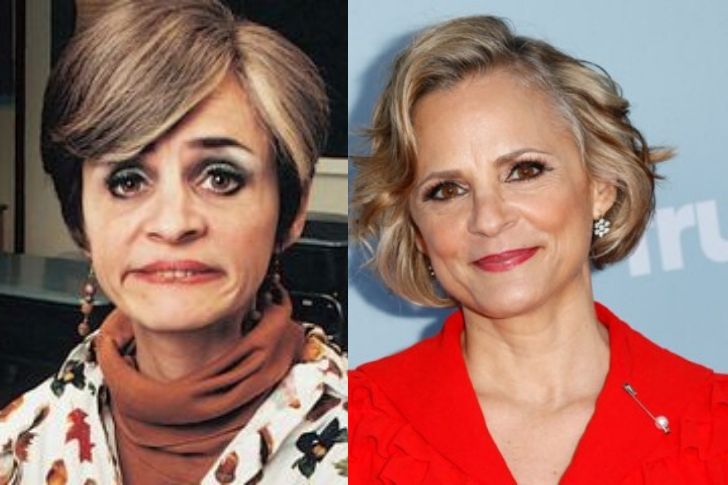 The 46-year-old Jerri Blank is a fictional character in Strangers with Candy television series in 1999, the protagonist whose life went downhill when she ran away from her adoptive parents. Jerri traded her life in high school and went to support her drug habit by prostitution. In a bid to start her life anew, Jerri went back to high school. She wore heavy eyeshadows and goofy clothes. She also likes making silly facial expressions and a golden short wig. On the other hand, Amy Sedaris is far better in terms of looking young. Now 59 years old, the critically-acclaimed actress seems like she did not age a bit. She wears her blonde looks up to her shoulders and looks youthful without wearing heavy make-up. Her beauty should be given credit to her facial routine and vibrant personality.
BLANCA FLORES VS. LAURA GÓMEZ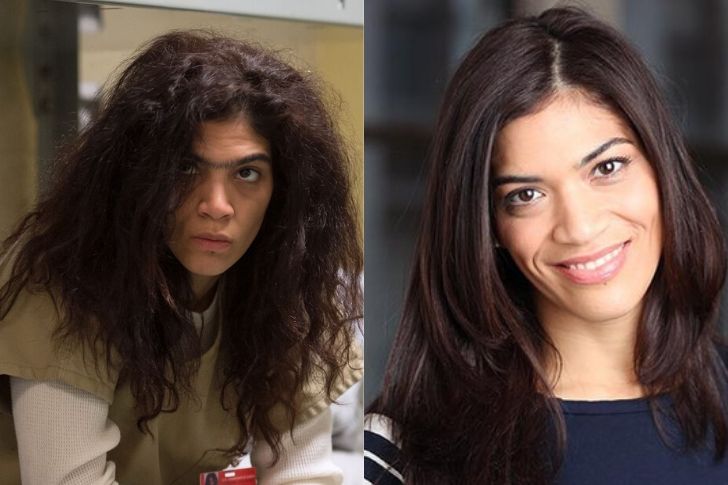 Orange Is the New Black is known for turning its cast members into unrecognizably different characters. Just like with Laura Gomez who definitely pulled off a different look with her portrayal of Blanca Flores. The Netflix fictional character has big, messy hair that looked like it has not been combed in years. She has thick eyebrows and has a hunch stance. Good thing that in Season 5, Blanca was given a full makeover.  On the other hand, Laura has long, dark brown locks that are definitely cared for by a trusted salon. She is a combination of sexy and sultry with her smokey eyes and killer smile, with her Dominican genes taking the credit.
CERSEI LANNISTER VS. LENA HEADEY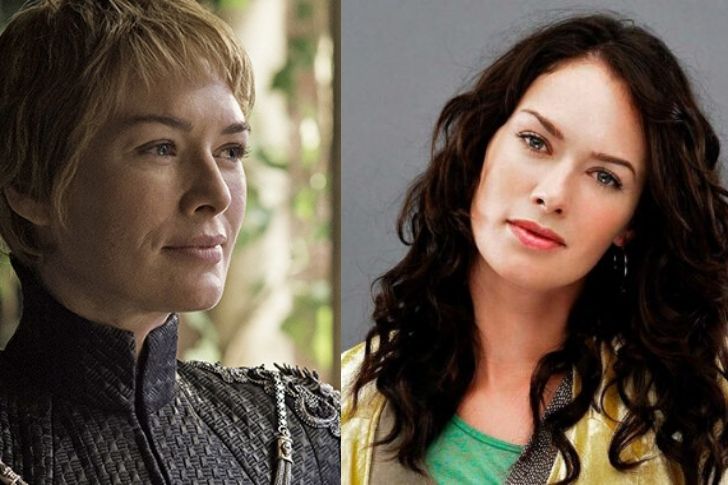 Cersei Lannister is one of the most hated characters in Game of Thrones, with her wicked and evil personality taking all the credit. She is undeniably beautiful and immaculately regal in the entire HBO show, with her golden long tresses flowing down her waist and nude but classy make-up completing her evil look. Cast member Lena Headey who plays the antagonist role looks completely different but equally beautiful. The English actress can even pass as a supermodel with her height and distinct features. Her real-life hair color is dark brown. Lena loves to amp up her red carpet look with shades of outfits other than the usual dark colors for GOT and loves playing with different shades of make-up that would highlight her features, especially her green eyes. Moreover, Lena is known for her tattoos sprawled in her back and arms.
SUZANNE WARREN VS. UZO ADUBA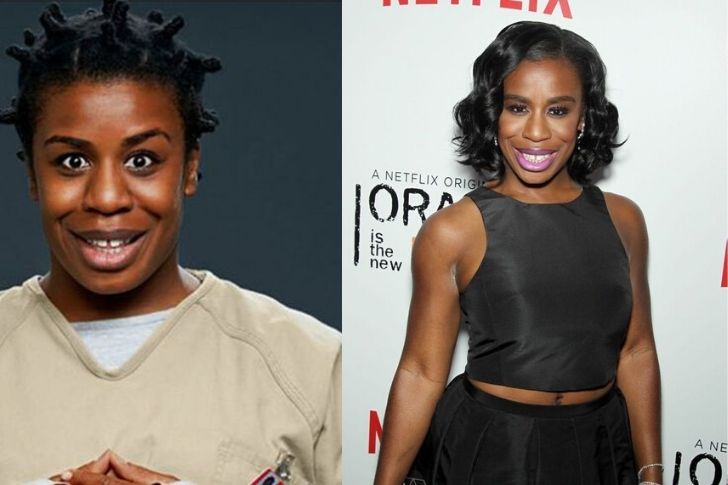 Orange Is the New Black character Suzanne Warren, also known as Crazy Eye, wears her hair in Bantu knots. Although she is intelligent, she cannot fully express her own emotions due to her mental illness. She was dubbed as Crazy Eyes because of her big, bulging eyes. Uzo Aduba, the actress who effectively played the role, can be sent in red carpets with her dark perfect hair flowing down her shoulders and scarlet lips. There are moments when she wears her hair in a natural kinky form or have it straightened in some outings. She wears the degree of confidence that Suzanne was deprived of, and she certainly knows how to dress up well—either for casual interviews or red carpets.
GILLY VS. HANNAH MURRAY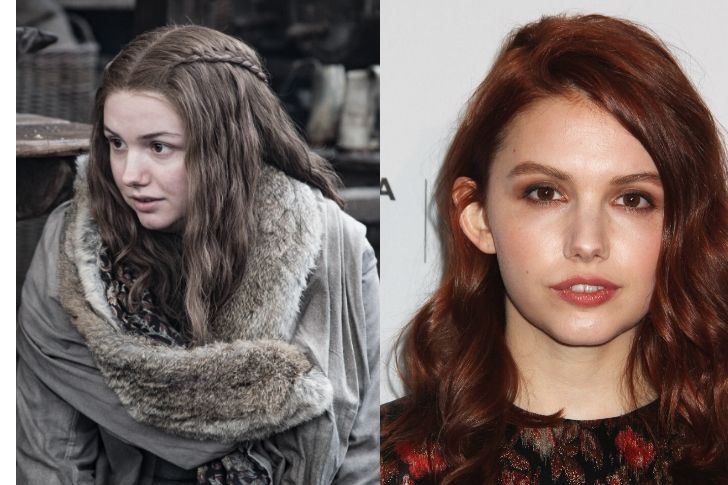 Gilly is one of the characters in Game of Thrones who is well-loved because of her innocent beauty. She was first seen in GOT as a daughter who gets maltreated and had to bear a child at such a young age. Unlike fellow lady characters who get to have their own handmaid and wears elegant dresses, Gilly only wears old, baggy winter clothes. Her hair, although long and beautiful, is not kept well maintained just like what Daenerys, Cersei, and Sansa Stark enjoy. Hannah Murray, the actress behind the role, lives her life totally different from that of Gilly in many different degrees. She has a hair color of light brown and brown eyes, which she compliments by wearing elegant ensembles during red carpet events.
QUARK VS. ARMIN SHIMERMAN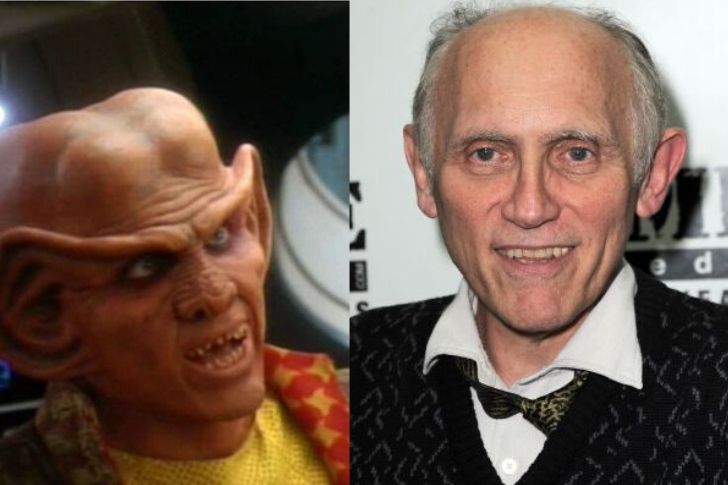 Another Star Trek: Deep Space Nine's fictional character Quark, a member of extraterrestrial race Ferengi, is undoubtedly different from the actor behind it. A funny character that he is, Quark dons heavy prosthetics and make-up in a darker shade. He also has those pointed teeth and a crooked nose. This is an investment in the time and effort that he has to make for the effective portrayal of the role. In real life, actor Armin Shimerman is way far from his role. The voice actor wears semi-bald white hair and grows his beard and mustache as he ages. His eyes and teeth are far from the character he depicts although his degree of witty personality is just the same.
KHAL DROGO VS. JASON MOMOA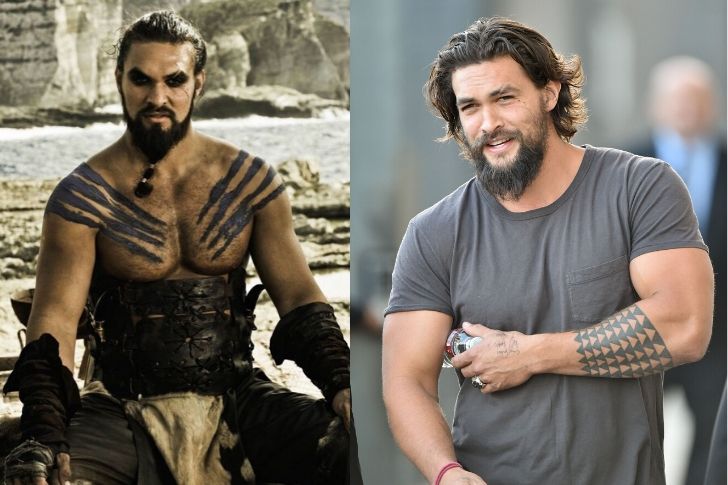 One of the favorite characters in HBO's Game of Thrones is Daenerys Targaryen's husband Khal Drogo. He was known for his bid body etched with heavy tattoos, thick eyeliner, long hair, and beard. Although he was killed off early in the fantasy series, Khal will always be remembered as the strong Dothraki chieftain whom the Mother of Dragons loved. On the other hand, its actor Jason Momoa is different in his real-life look. Jason maintains a shoulder level hair in a black and gold shade. Compared to Khal's fiery look, Jason has an approachable and friendly personality, topped with quirky antics and funny facial expressions. However, both have the same characteristics and have the same degree of hotness thanks to their tall built and perfectly toned bodies.
PEPPER VS. NAOMI GROSSMAN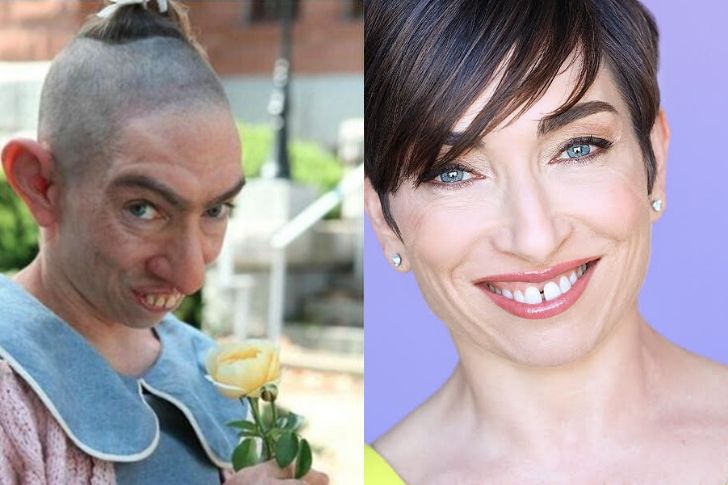 Pepper is a known fictional character in American Horror Story played by Naomi Grossman. In the show, Pepper is a freak show character who is innocently playful. She is always seen with a flower, a girlish bow and a knot placed in her bald head. Naomi played an effective role as she undoubtedly was unrecognizable, with credits going to her skillful make-up artists.  In real life, Naomi is cheerful and has a smiling face, donning black sleek hair and blue eyes. Her performance as Pepper earned her a nomination for Outstanding Best Actress in the Emmy Awards and landed more acting projects.
LADY EDITH VS. LAURA CARMICHAEL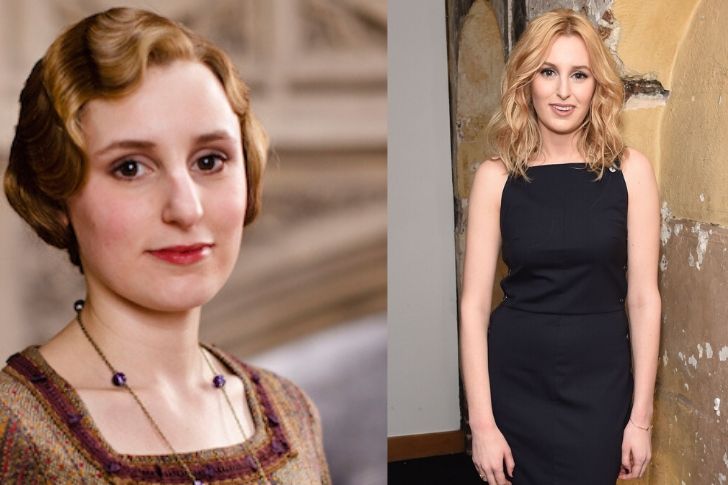 Downton Abbey star Laura Carmichael can turn into a whole new personality with her transformation as Lady Edith Crawley. As the character, Laura is the Marchioness of Hexham and a lead antagonist in the US-UK produced television series. She wears exquisite fashion including Edwardian gowns, Parisian dresses, and beaded and sequined ensembles paired with a feathered hat, that is reminiscent of the glitz of the '20s. Her accessories are also eye-candy, from her headband, armbands, and long necklaces, topped with a fur shawl, with the credit going to their ever efficient wardrobe team. Laura, on the other hand, is an epitome of modern-day beauty. She looks every inch of a star with her blonde hair flowing down her shoulders and looks younger than her on-screen counterpart. She need not have exquisite accessories as she is most beautiful with a simple yet stunning ensemble when she is on the red carpet.
MARCIA CLARK VS. SARAH PAULSON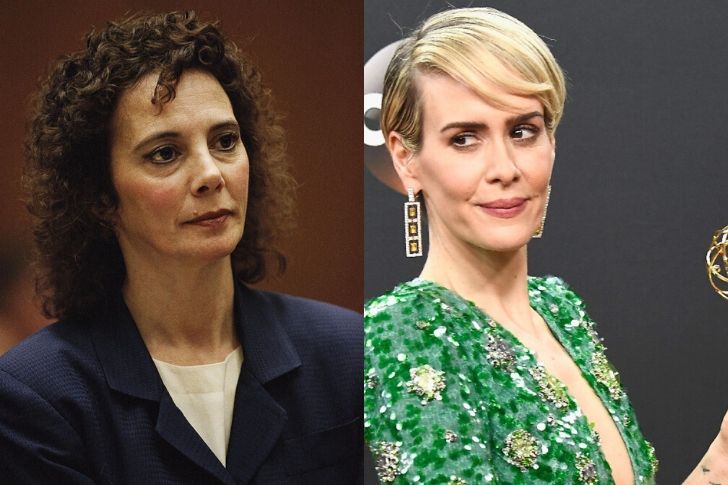 Ocean's 8 actress Sarah Paulson was given credit for her outstanding performance as Marcia Clark, who is O.J Simpson's lead prosecutor in American Crime Story season 1. There she had to transform as the tough '90s lawyer, who was portrayed with chain-smoking habits and a distinctly unique short perm. She was later on awarded for her effective and noteworthy performance. Sarah Paulson, on the other hand, wears a pixie golden cut in real life, just like in her role in Bird Box. Sometimes she loves sleek while there are instances, she wanted to keep it curly for her red carpet appearances.
OFWARREN VS. MADELINE BREWER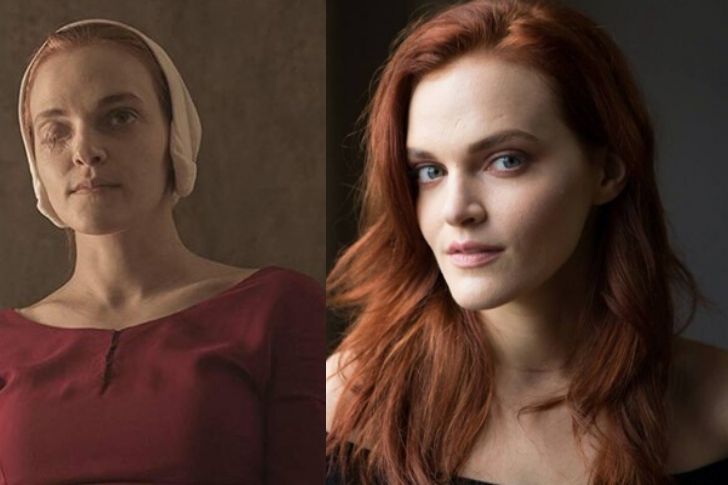 Madeline Brewer's portrayal of her character Ofwarren, or Janine Lindo, in Hulu's dystopian drama The Handmaid's Tale is totally effective to a different degree. In terms of looks, Madeline pulled it off as a handmaid wearing a maroon hooded dress and white hat. Ofwarren became half-blind because of her usage of harsh and forbidden language. Her character went from being timid to rebellious. On the other hand, Madeline looks far different. She wears copper blond hair and matches perfectly with her blue eyes. During red carpets, Madeline can be seen showing off her sleek tresses while wearing ensembles that reveal her curves.
ELEVEN VS. MILLIE BOBBY BROWN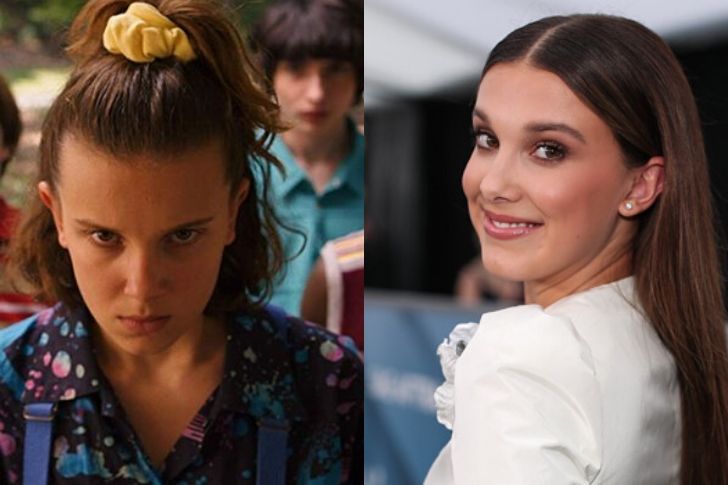 Millie Bobby Brown's fame started with her iconic Eleven portrayal for Stranger Things. The onset of Stranger Things features Eleven as the short-haired girl but fans saw her evolve into a teenager who starts to wear outfits in colorful shades. We love how she turned from wearing dark clothes to retro-style looks fans are digging. In the show, Eleven is set to be 14-year-old, which is close to Millie's real age. In the red carpet, Millie looks all grown up for a 16-year-old rising star, as credit goes to her fast-growing body. She currently dons waist-length blonde hair and looks regal in deep shades of natural make-up. Compared to her colorful ensembles in the Netflix show, Millie is often seen wearing attire in black, white, and brown which makes her far different from Eleven's playful get-up.
STEVE URKEL VS. JALEEL WHITE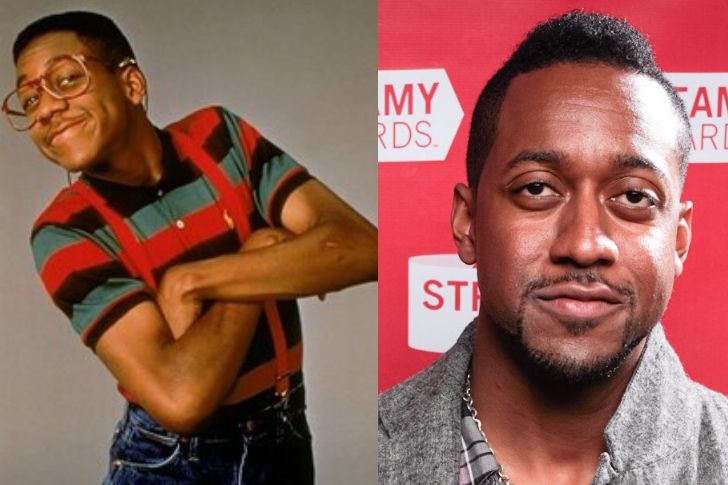 Fan-favorite Steven Quincy Urkel from ABC's sitcom Family Matters started as a guest and then became one of the main protagonists of the hit show. He is known for his nerd look, with thick eyeglasses, high pants with suspenders, and multi-colored cardigans. He tends to irk his neighbors with his high-pitched voice. Actor Jaleel White takes the credit for his character's rise from being a guest to be the main man in the show. Steve Urkel was supposedly intended for a one-time appearance only. But due to the positive comments from the audiences, Jaleel White became a regular cast member. With his fictional character look, Jaleel White is definitely far different from him. The actor and comedian look more serious in real life, with his spot-on facial hair and a black suit he always wears.
DWIGHT SCHRUTE VS. RAINN WILSON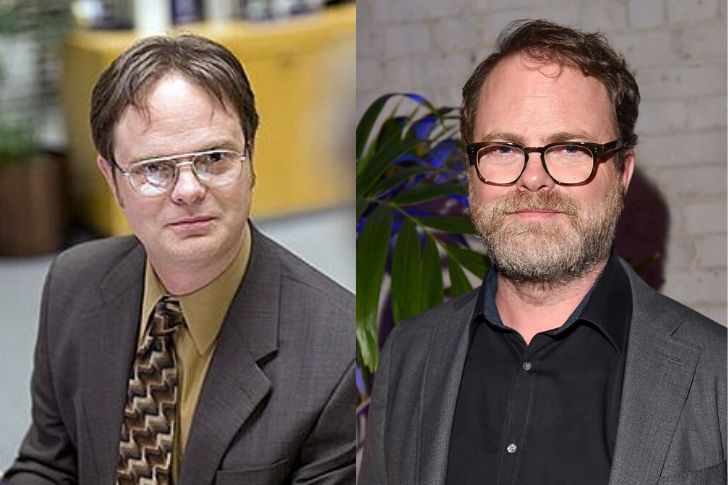 Fans of the hit comedy show The Office will always know one of its lead characters Dwight Kurt Schrute III, a salesman and the assistant to the regional manager at a paper distribution company. He is known for his aviator glasses, hair parted in the center, and his sideburns. He maintains a certain degree of neatness with growing his beard and mustache and is always organized on things. He even gets irritated with officemates who are cluttered and messy at work, which working people can relate to. Rainn Wilson, who earned three consecutive Emmy Award nominations for Outstanding Supporting Actor in a Comedy Series for his superb performance, is way different in terms of looks. Rainn is always sporting his growing beard and mustache, which are now white due to his age.
DETECTIVE SGT. ELLIE MILLER VS. OLIVIA COLMAN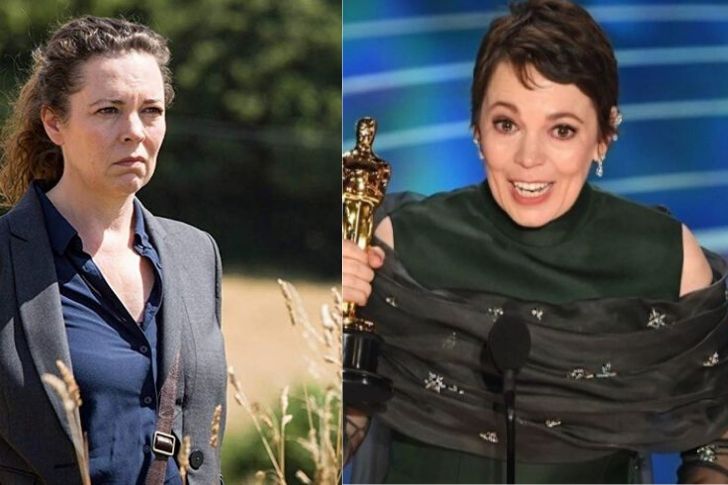 Broadchurch character Detective Sgt. Ellie Miller's personality was initially a soft-hearted one. But after certain things did not go well for her and the people around her, she began to develop into someone tough. She needed to reach a degree when she needed to be strong for herself. Detective Ellie is known to have that curly, brunette bob, with minimal make-up on. In reality, Olivia Colman dons her short white hair in her latest outings, proving even further that she is far different from her critically-acclaimed role in the hit show. She loves to wear make-up that suits her ensemble, often flashing her pearly whites and youthful glow.
STEPHEN BONNET VS. ED SPELEERS
English actor Ed Speelers often had roles that looked closely similar to his real-life appearance, such as his role in Downton Abbey. However, Ed totally nailed his performance as a pirate, smuggler, and sometimes, he reaches the degree where he had to be a murderer in Outlander as Stephen Bonnet. In his antagonist role, Ed Speelers had to sport a long stringy hair wig in dark grey shade. He also had to be put on a distinct scratch mark on his left eye. In reality, Ed does not look like a pirate or worst, even a murderer. In fact, he has this innocent look thanks to his pair of deep blue eyes and cleanly shaved face.
QUEEN VICTORIA VS. JENNA COLEMAN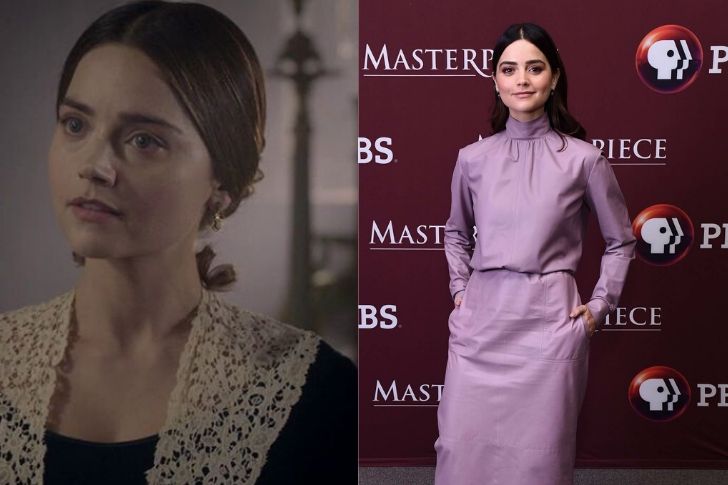 Jenna Coleman's role as Queen Victoria in the ITV historical drama series Victoria perfectly cements her acting prowess. In the television series, Jenna plays the well-loved Queen Victoria. Queen Victoria is every inch a regal queen with neatly tied hair parted in the middle, with the crown on top. The Royal Highness wears elegant clothes and fine accessories that make her even more beautiful. Jenna, meanwhile, still looks like a modern-day queen in reality, but without the crown and the ball gowns. Jenna loves to wear her brunette hair down and shows off her distinct facial features with natural make-up. Although she does not wear heavy gowns in real life, Jenna still makes heads turn with her red-carpet appearances sans all the grandiose Queen Victoria has always shown with. Jenna admits that playing the role of the Queen of England has parted her away from her previous working-class degree role in Emmerdale.
ALEX DUNPHY VS ARIEL WINTER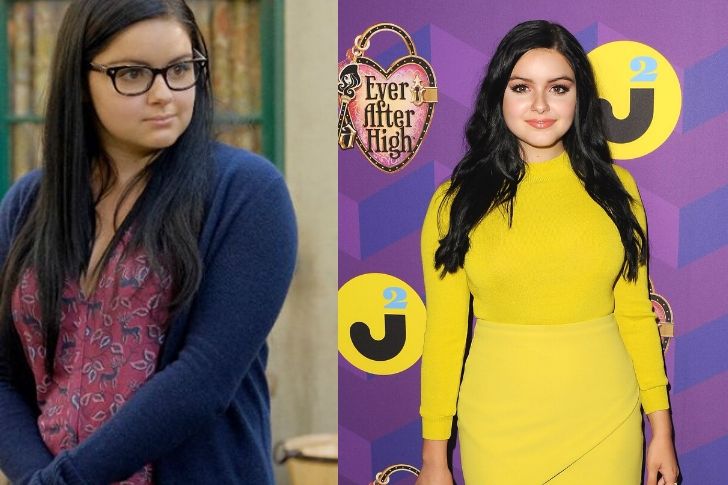 Who wouldn't know the middle child of Claire and Phil Dunphy in the sitcom Modern Family? Alex Dunphy, who is said to be the cleverest among their three kids, has definitely grown up in front of the TV screen with almost 11 seasons of airing since 2009. But not many know that Alex Dunphy's black glasses and boring casual clothes will never be seen in real life being worn by its actress Ariel Winter. Now at age 22, Ariel is known to hit red carpet premieres with her distinct fashion sense, showing off her curves and beautiful face sans the thick glasses. Ariel also loves to experiment with the color of her hair, unlike Alex Dunphy, who was still in the degree of innocence and would settle with her thick, black waist-length tresses. Ariel has been seen with golden and black hair in different cuts throughout the years.
ROGER MACKENZIE WAKEFIELD VS RICHARD RANKIN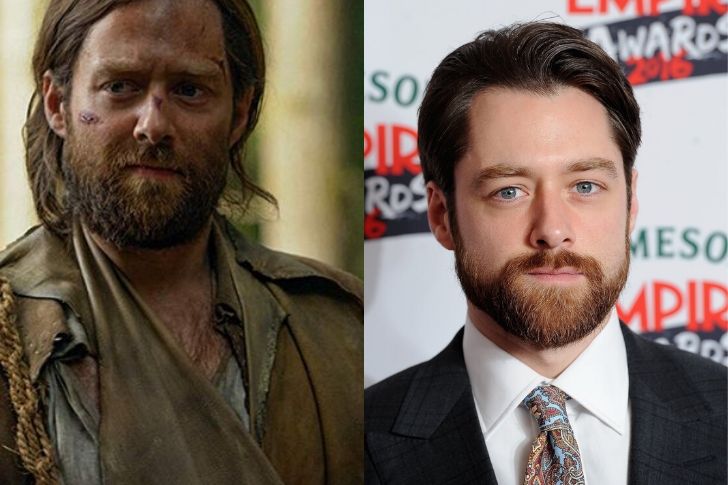 Outlander character Roger Mackenzie Wakefield has gone from being good looking to wearing long unkempt golden hair. Unlike his previous television and movie roles where he can show off his distinct good looks, his real face is barely recognizable in this show. He has a few scratches and his entire body would look very tired, as shown in his tattered clothes. But of course, despite this, we must give credit to his superb acting skills, which did not wane even in years. But the Scottish actor Richard Rankin, on the other hand, is always seen with a nicely trimmed beard. He also looks way younger than his TV counterpart.
RUTH LANGMORE VS. JULIE GARDNER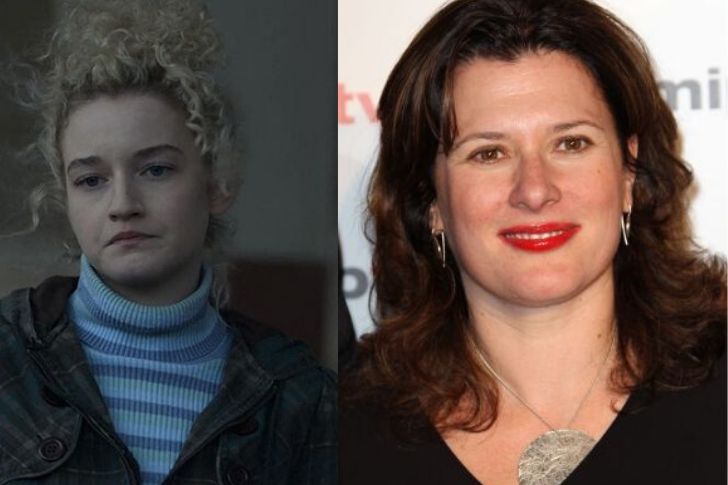 Julie Gardner played the role of Ruth Langmore in Ozark, a tough, a young girl known for her blonde curls. She has a nasty personality and can be violent when she is provoked.  She was born a poor girl and had to experience the deaths of her beloved ones, which contributed to a certain degree of hate to people. Julie Gardner, when seen in press conferences, usually sports straight hair. While every fan loves her curly blonde lock, she also had to wear a blonde hair color to cover her real brunette hair.  She does love rocking colorful ensembles, which are a tad far from Julie's usual get-ups in dark, dull colors.
WALTER WHITE VS. BRYAN CRANSTON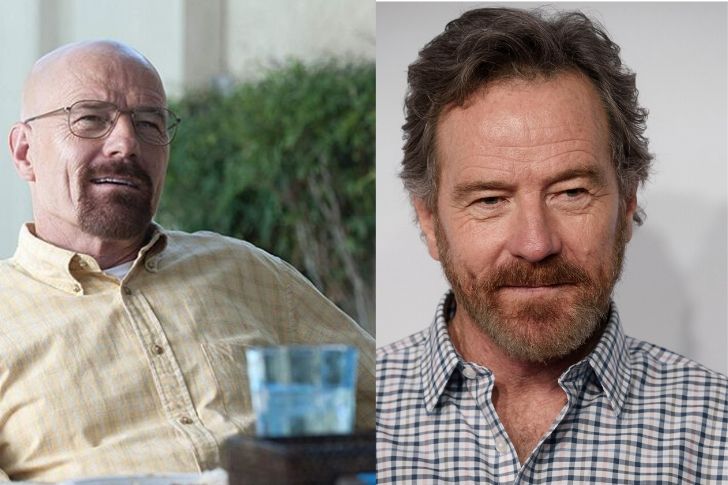 AMC's Breaking Bad lead character Walter White, who has gone from being cancer-stricken to a meth dealer to pay his personal loans and medical bills, had undergone different looks in the hit TV show. From being a cancer patient and a prisoner, he became a drug dealer with former student Jesse Pinkman. He sported a bald cap, goatee, and reading glasses throughout his stint as a successful drug dealer. Bryan Cranston, the actor who takes on the role, is seen on every Breaking Bad press briefing with his clean face and hair growing in grey, definitely far from what fans have been used to in the award-winning series' episodes.
GIANNI VERSACE VS. ÉDGAR RAMÍREZ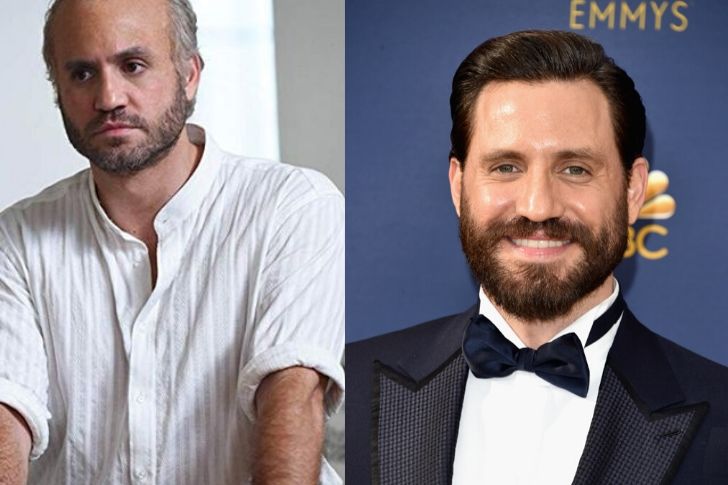 The late fashion designer Gianni Versace was played by Édgar Ramírez in the crime anthology season 2 of FX's The American Crime Story. Depicting the assassination of the fashion icon, Edgar had to don his colorful designer clothes with his growing white hair while imitating the lavish lifestyle he had once lived. In real life, Edgar is far from any degree of the fashion designer's taste in looks and clothes. Edgar has thick black hair, unlike his Gianni's graying hair. He also loves to grow his thick beard and mustache when he is out of the duty of his role as Gianni.
BETTY SUAREZ VS. AMERICA FERRERA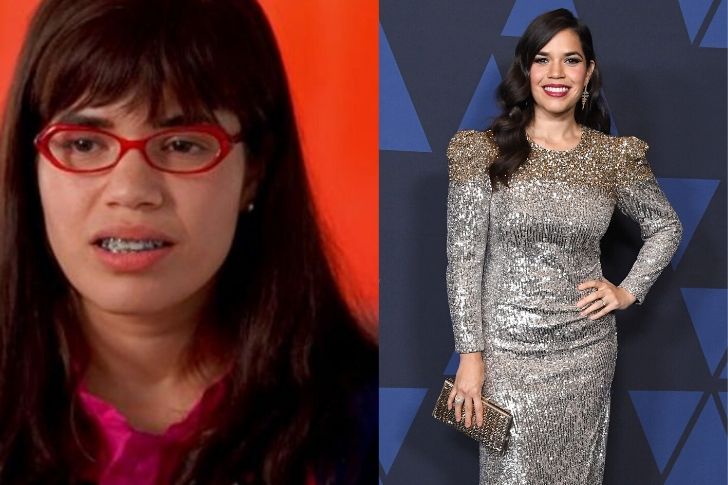 America Ferrera rose to fame for her iconic role as the hard-working and optimistic working girl Betty Suarez in Ugly Betty. As she takes on the role, America had to embrace wearing artificial braces, thick red glasses, unshaped eyebrows, and bangs. In reality, America looks way different. For one, she is not a fan of wearing thick-framed eyeglasses. She would wear her hair in various styles and cuts and is never afraid to experiment in clothes for her outing, usually revealing her sexy curves. She gives credit to her religious exercise routines, which keep her body fit and toned.
LEONARD HOFSTADTER VS. JOHNNY GALECKI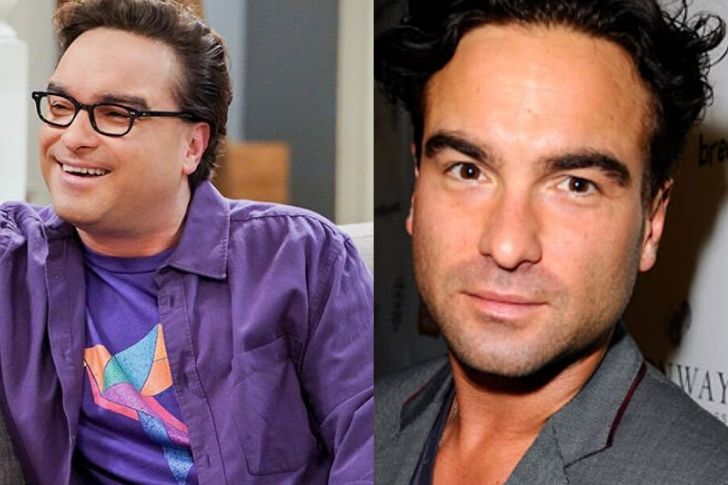 Who wouldn't know Dr. Sheldon Cooper's best friend Leonard Hofstadter in the hit CBS sitcom The Big Bang Theory? The experiential physicist that he is, Leonard is always seen wearing thick-framed black eyeglasses while dropping comical yet intelligent insights during episodes. He does not intend to grow any facial hair and is always wearing his wig to hide the actor's real-life hair. Johnny Galecki's physical appearance, meanwhile, is really far different. In fact, the two may not even have similarities even to a certain degree. Johnny loves to have his facial hair grow thick. His hair is black and curly and is always all over the place.
QUEEN ELIZABETH II VS. CLAIRE FOY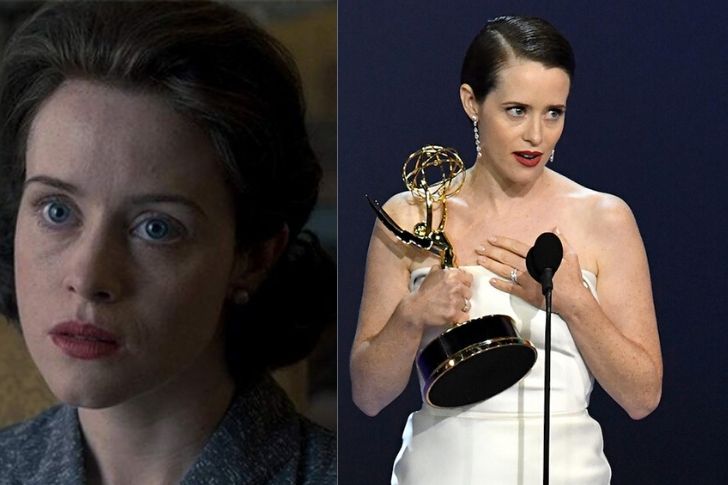 Season of the Witch actress Claire Foy played the role of Queen Elizabeth in the first two seasons of The Crown. She portrayed the role as the young Queen, imitating some iconic photographs of the real Queen Elizabeth with elegant dresses and accessories, topped with the exquisite crown, with the credit going to their skillful wardrobe production.  Although she was eventually replaced by Academy Award winner Olivia Colman, Claire still can be a queen in her own right when she hit the red carpet. Claire is always seen with her scarlet lips complementing her deep blue eyes and always wearing her black hair short.
LORD VARYS VS. CONLETH HILL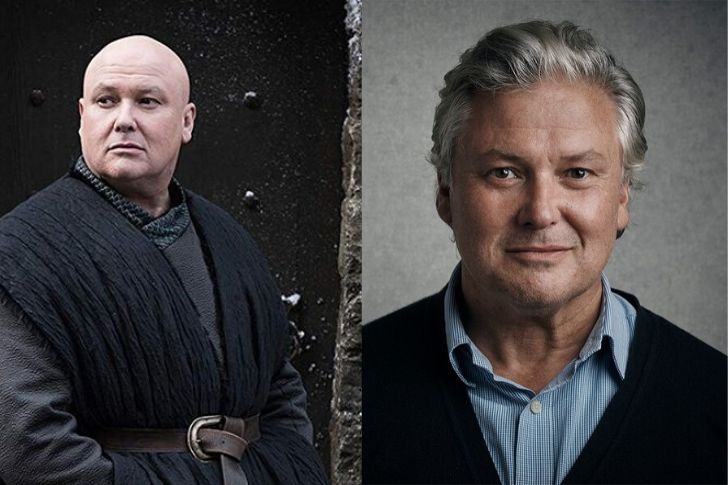 Lord Varys of the Game of Thrones can be recalled as the bald character who was dubbed as the Master of Whisperers. He was once hated for his personality, often a traitor to whomever side he is currently for the sake of his survival. His skill in being a manipulator takes the credit for his effective role. Often wearing a poker face, not a single hair can be seen in Lord Varys' face. On the other hand, its actor Conleth Hill is a man who loves growing facial hair. He looks far from his character, with his white beard and mustache. Conleth can also be seen smiling and cracking up jokes, unlike his GOT counterpart.
JOHN ADAMS VS. PAUL GIAMATTI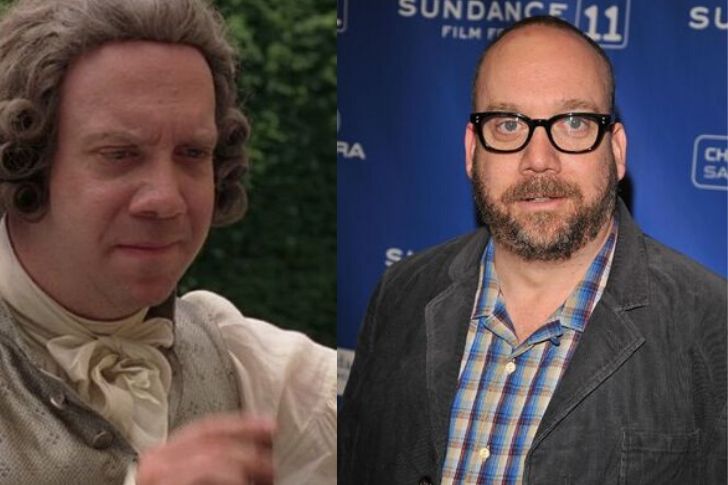 The actor donned an impressive wig to play one of America's founding fathers for the miniseries, John Adams, which made him almost unrecognizable. Paul Giamatti impressed many fans of miniseries John Adams, where he plays as the main man in the lavish production seven-part miniseries. His character is based on the biography of John Adams, who was an American statesman, attorney, diplomat, writer, and a Founding Father. He was unrecognizable because of his colonial wig and attire which is far from his typical look in real life. Paul is usually seen with his growing mustache and semi-bald hair.
MIDGE MAISEL VS. RACHEL BROSNAHAN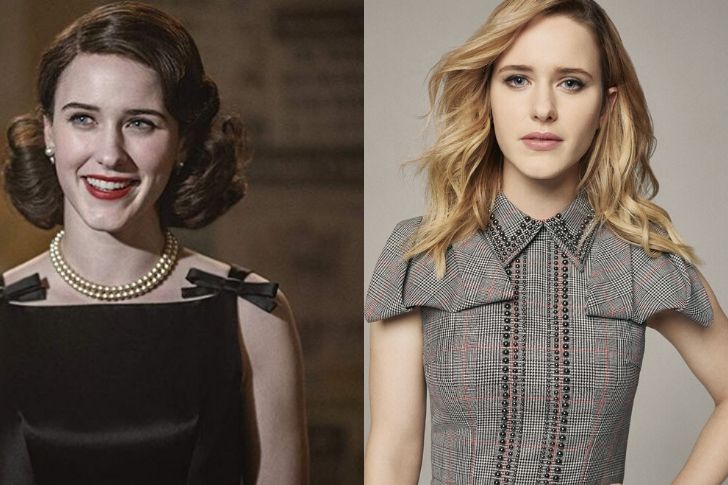 Rachel Brosnahan's role as Midge Maisel in the comedy-drama The Marvelous Mrs. Maisel not only gave her the opportunity to show off her comedic wit but her ability to transform to another unrecognizable look.
The series, which takes part in the late 1950s, features the elegant life of Mrs. Maisel until she discovers a hidden talent of doing a superb degree of stand-up comedy performances. She is often seen with her classic look in vintage dresses, scarlet lips, and her curled pageboy brunette hairstyle. Rachel Brosnahan had to opt for a wig to cover her natural blonde hair, for which she often ties in a messy bun or ponytail.
PEGGY OLSEN VS. ELIZABETH MOSS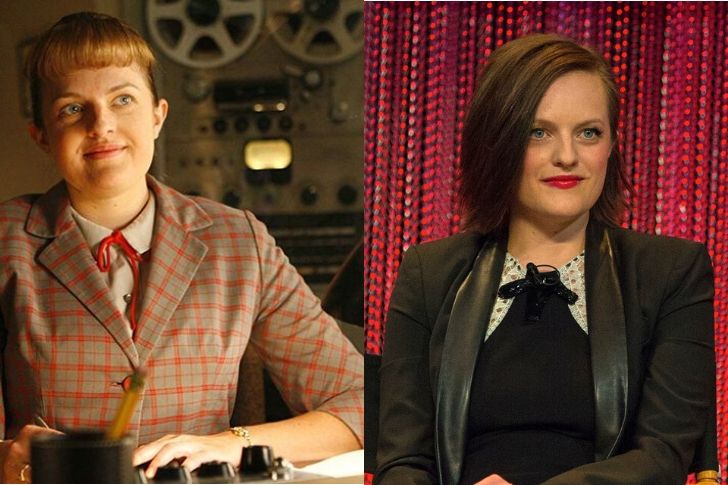 Mad Men is a 2007 TV series aired on AMC set in the 1960s which highlighted the ins and outs of the advertising industry. It revolves around the life of a creative director and his advertising agency. Peggy Olsen is the secretary in the advertising agency whose goal is to give insurance to clients the good reputation they wanted. Peggy Olsen had that red-hair pageboy cut and wore a colorful 1960s retro outfit. On the other hand, award-winning actress, who was dubbed as the "Queen of Peak TV," Elizabeth Moss had natural blonde hair which she compliments with red lipstick for most of her public appearances.
DOROTA VS. ZUZANNA SZADKOWSKI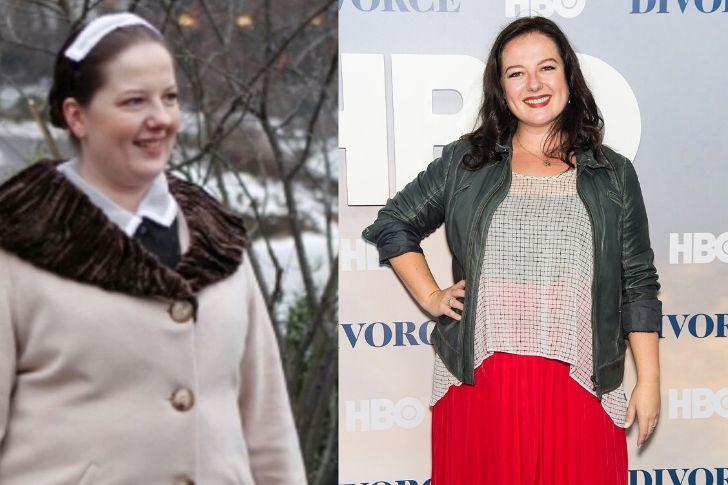 Dorota Kishlovsky is a fictional character in the Gossip Girl TV adaptation. The well-loved yet often weird maid of Blair Waldorf. Dorota is always seen wearing her maid uniform, with hair tied in a neat bun, topped with a headband, who is always beside Blair, giving the insurance of a good listener. She only wore minimal make-up in her scenes. Meanwhile, Zuzanna Szadkowski, the Polish-American actress behind the character, is truly different in real life. She is usually seen with her black tresses worn down, showing its soft curls. Zuzanna also loves to hit the red carpet with ensembles other than black. She has been seen in various shades that complement her voluptuous curve and youthful face.
PRINCESS MARGARET VS. VANESSA KIRBY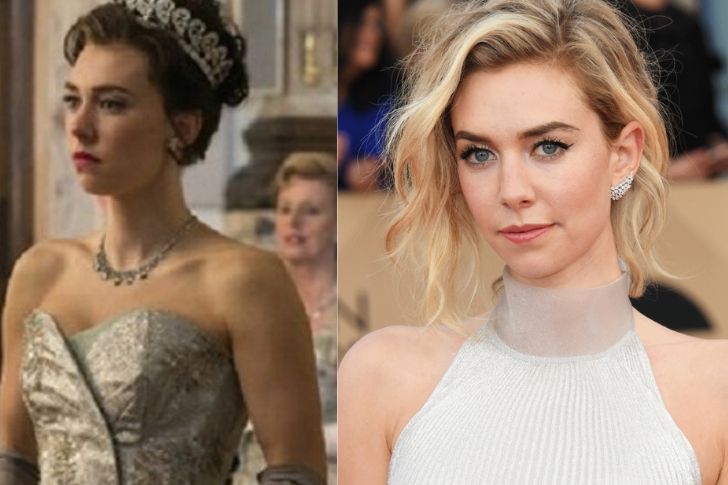 For Vanessa Kirby to have an effective portrayal of Princess Margaret, Queen Elizabeth's younger sister in the first two seasons of The Crown, she had to dye her blonde hair with brown to achieve the princess' nice tresses. This acting gig is truly an investment to her growing acting portfolio.
Unlike her previous roles in movies such as Mission Impossible and Fast & the Furious where Vanessa still looks like herself in real life, she had to shift from wearing modern-day get up to 70's and 80's gowns, complete with hats and other elegant accessories. She is far different from her real-life look, featuring her sexy and distinct features. In her Princess Margaret look, she has to put on light but classy makeup, accentuating her deep eyes and charming look.
FLETCHER VS. HUGH GRANT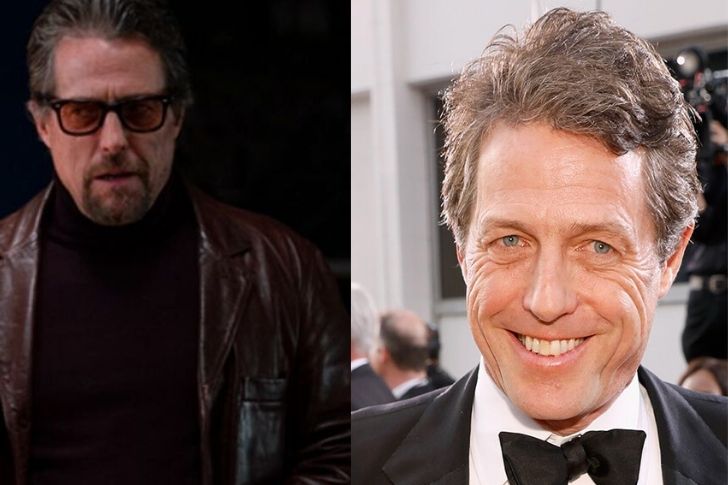 Hugh Grant has always been known throughout his career as the leading man to romantic comedy. He has appeared in Notting Hill with Julia Roberts, as well as in the Four Weddings and a Funeral and Love Actually. While he is known for his rom-com characters, many fans were impressed with his performance in Guy Ritchie's The Gentlemen as Fletcher to which he has shown an immense degree of action and comedy skills. He plays as a greedy private investigator and aspiring screenwriter who tries to do blackmailing. In his look for the movie, Hugh Grant wore a leather jacket with a fur hood, dark sunglasses, and a bearded face, truly far from his clean look.
ROBERT KARDASHIAN VS. DAVID SCHWIMMER
David Schwimmer played Robert Kardashian in the American Crime Story season 1 where it launched the portrayal of the O.J Simpson murder trial. David had to look like the American attorney, businessman, and father of famous Kardashian sisters. David managed to effectively imitate Kardashian's look, from the way his graying hair was combed upwards to his mannerisms. But in real life, David is totally different from the role he portrayed. David grows his beard and mustache and dons a black hair. He is also younger-looking sans the degree of heavy and serious face he had shown in the FX series.
You've Reached The End