With the amount of money celebrities make from starring in movies or by simply making appearances, it's only fair that people get curious as to what they're buying with all that cash. Some celebrities splurge on clothes, on traveling, and on luxury cars—but there are also those who put their money where it makes the most sense: real estate. In this list, we'll take a look at the homes your favorite celebrities are investing in and if they're making sound choices. From grand mansions to big city apartments, here's a look into the luxurious life of Hollywood's elite.
STEVEN SPIELBERG – $15 MILLION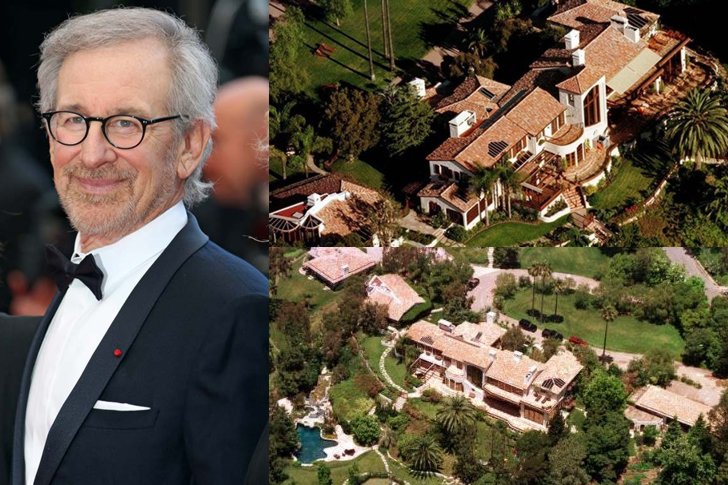 Steven Spielberg was born in Cincinnati, USA, and is a well-known American director and screenwriter. He has made great achievements in film and has won many honors including the Golden Globe Award for Lifetime Achievement. His name resonates with many, given that his films have become a huge part of people's childhoods and lives. Who can forget E.T.? His work doesn't just hit the right emotional chords, but most are also critically acclaimed and have won him plenty of awards throughout his career.
With all the money he's made from directing, you can expect his home to reflect that success. The $15-million property rests within 145,000 square feet of land. It is surrounded by nature and is close to a state park! Formerly owned by Bobby Vinton, he probably didn't need to get a loan to acquire this lush residence.
WILL SMITH – $42 MILLION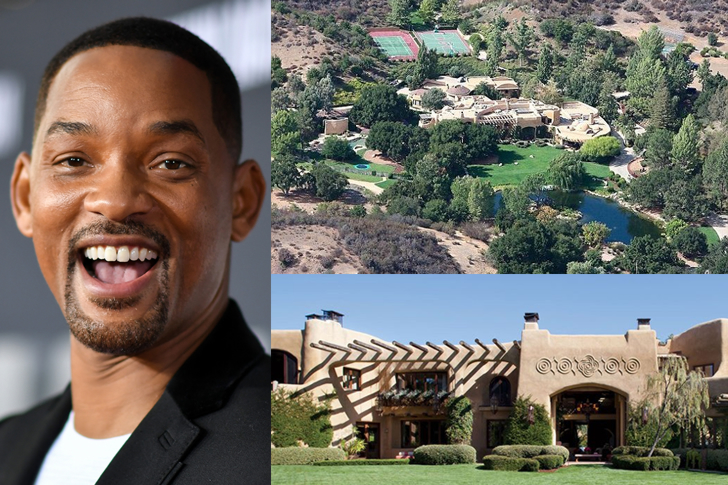 Will Smith was born on September 25, 1968, in Philadelphia, Pennsylvania. He is an American actor, producer, and hip-hop singer. Will Smith has high achievements in film and music. He has been nominated for many Oscars and won 4 Grammy trophies. If before, Will had struggles with getting bank loans, we're sure that's all a thing of the past now. Aside from films, he is also an accomplished rapper and producer further adding to his total net worth.
When it comes to his home, however, it's all about the family. Fans know just how close the Smiths are so seeing Will put investments towards a sizable property that's big enough for his brood isn't at all surprising. The $42-million residence is located in Calabasas and features their massive mansion, tennis and basketball courts, a recording studio, a meditation lounge, and their very own golf course.
BILL GATES – $147.5 MILLION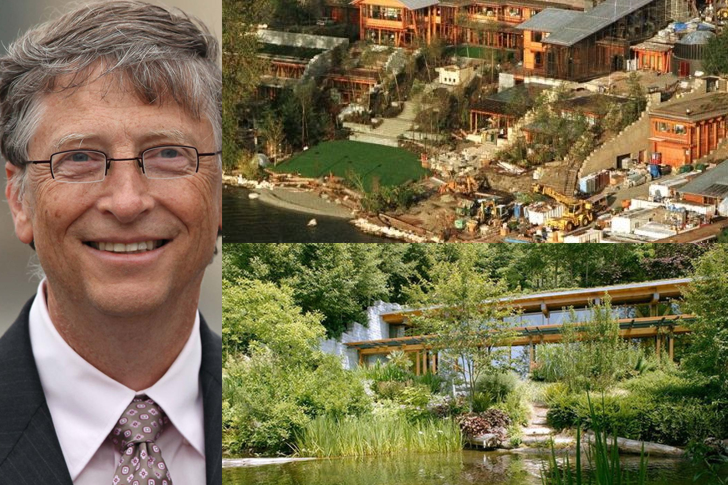 You may not know who the hottest entertainment star is, but you must know who Bill Gates is. Bill Gates was born on October 28, 1955. Many of his titles include a capitalist, investor, software engineer, and philanthropist. If you're among the world's wealthiest, where would you live? The answer could be just about anywhere your heart desires, but in Bill's case, he chose a $147.5-million palatial home in Washington.
The property covers 66,000 square feet of land and is also home to his personal library, a massive storehouse that contains $3 million worth of manuscripts, as well as 2 hidden bookcases. The library alone will require excellent home security systems to make sure that his prized possessions remain safe. Perhaps the real highlight here is all the nature embracing the property— making for a relaxing view whenever he looks out the windows.
SNOOP DOGG – $1.995 MILLION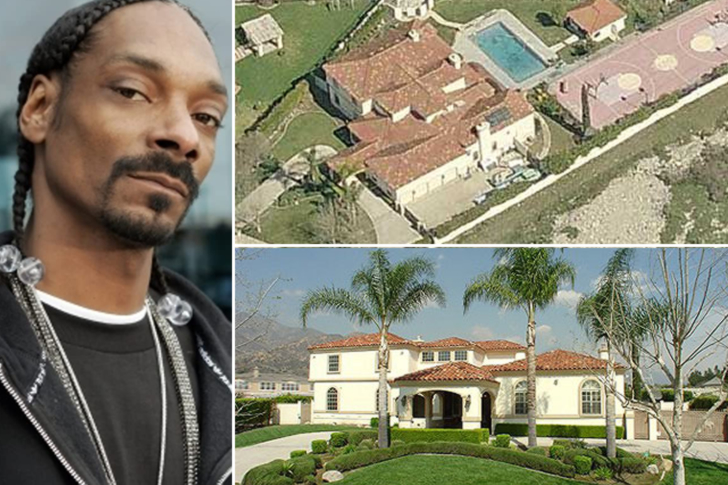 Snoop Dogg's well-deserved status in the hip-hop world can be described by the godfather, he is a good singer and an excellent producer. The Next Episode he collaborated with Dr. Dre is regarded as a classic by the rap world. The famous rapper Snoop Dogg is known for living such a lavish lifestyle. By the looks of this real estate investment, we can say he's a millionaire.
This 6527-square-foot property is located in Claremont , California. It has eight bedrooms, five and a half bathrooms, marble floors, and a grand staircase. He reportedly bought this property for $660,000 in 1994 and listed it on the market for $1,995,000. Other amenities include a swimming pool, an outdoor tennis court, a basketball court, a spa, and a home theater room. We think it's befitting for someone with a net worth of $150 million.
TAYLOR SWIFT – $17 MILLION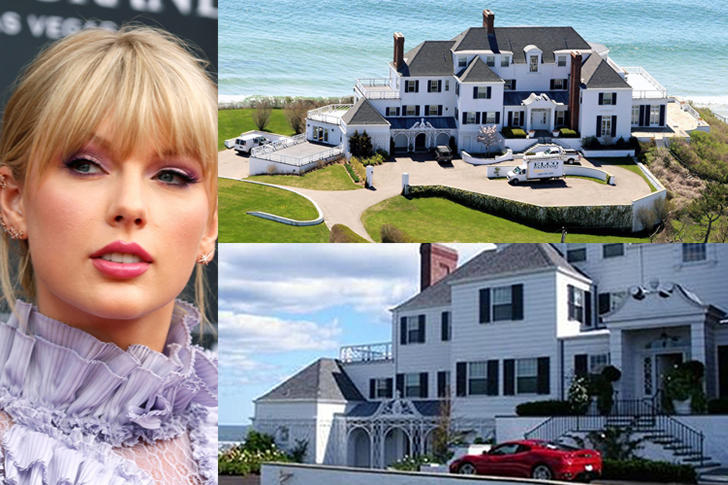 Singer's good voice always makes ordinary people particularly envious, Taylor Swift's voice seems to be a trait that many singers envy. Her songs rarely use advanced technology for sound modification, and her unique sweet voice has attracted a large number of loyal fans. At 30 years old, Taylor has certainly accomplished a lot both in her career and personal life.
A good example of which is the number of real estate properties she now owns, with reports saying her portfolio of mansions and penthouses currently amount to $81 million. That's some brilliant investment planning! On this list, however, we're featuring her Rhode Island beach house. The waterfront property is a stunning 11,000-square-foot residence and as grand as they come. White-washed wood exterior panels do give it a country yet elegant feel. It has 8 bedrooms, ensuring that her many friends always have somewhere to stay.
NOVAK DJOKOVIC – $15 MILLION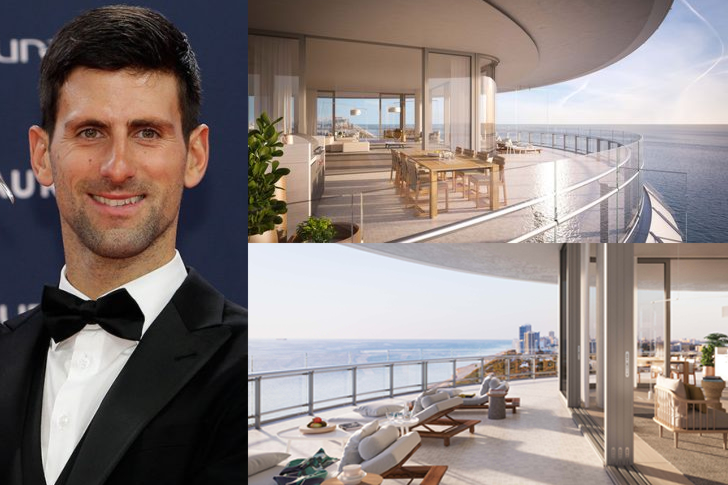 Novak Djokovic, born on May 22, 1987, was destined to be called a hero by Serbia. During his tennis career, he has created many firsts. For example, he is the first tennis grand slam singles champion in Serbia, the first Olympic tennis medalist and the first tennis player to reach the world's number one throne. athlete. When it comes to expensive homes, athletes tend to dominate the lists as well. After all, they can easily earn millions every season and that's aside from any endorsement money they might earn.
The same goes for one of our favorite tennis players. A good example would be Novak's ultra-sleek 4,140-square-foot property in Miami. Not only is it in a prime spot in the city, but it also has clear ocean views from its terrace. Novak's need for serenity is well-provided for as well. He need not leave home because everything is under one roofing: pools, a spa, a gym, and even an outdoor Fugo bar!
BEYONCE AND JAY Z- $45 MILLION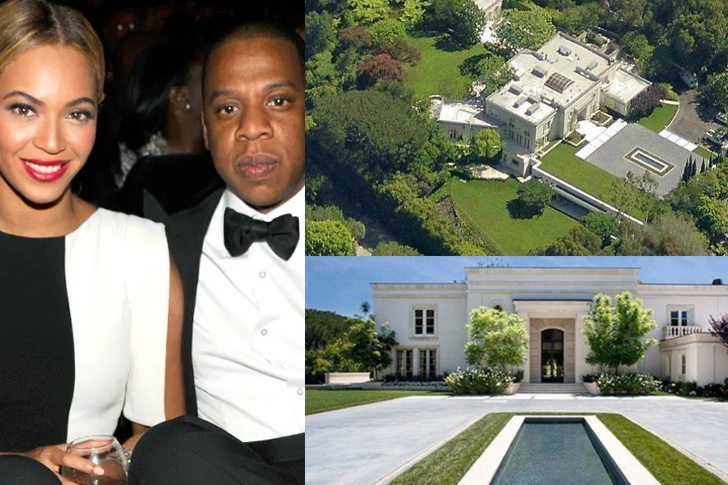 Beyonce, born on September 4, 1981, is a singer, songwriter, music producer, dancer and actor. Beyonce showed great talent when she was young, and her group Destiny's Child became one of the world's best-selling girl groups. Beyonce and Jay Z are music's golden couple for many different reasons. First, there's the fact that they're both very successful artists—going on sold-out tours and selling albums by the millions. Then there's them literally dripping in gold. Beyonce and Jay are known for their opulent lifestyle.
Mansions, private jets, designer clothing, and expensive vacations—you name it, they have it. This is why their $45-million home isn't at all surprising, but still impressive. It comes with 123 rooms in total, an aquarium, its own home theatre, a nightclub, a bowling alley, and swimming pools. They probably have an excellent home security system as well!
ELLEN DEGENERES – $27 MILLION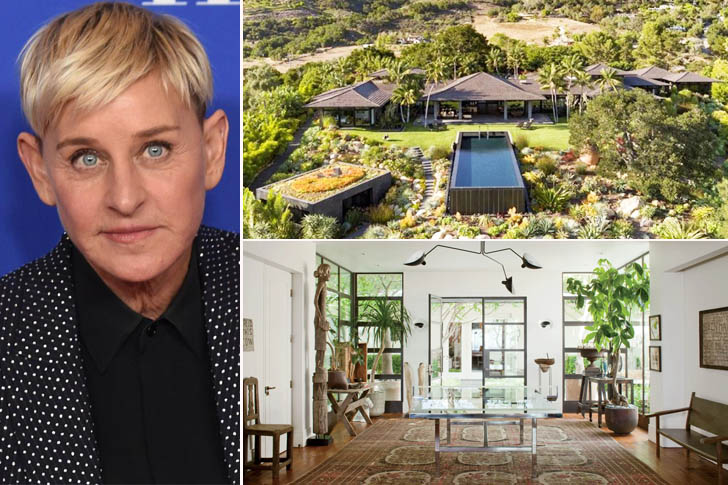 Have you ever been attracted by Ellen DeGeneres' beautiful eyes? Ellen DeGeneres, born on January 26, 1958, has French, British, German and Irish descent. Ellen DeGeneres along with her wife, Portia de Rossi, has been known for making real estate investments.
They are into buying and selling their homes, including this $27-million mansion that they purchased, located in Montecito, California. The sprawling 8,188-square foot house sits on 8.24 acres of land. It also has a vacant lot should the couple wish to build anything according to their liking. The home features five beds, a cabana that can also work as a gym, another guest house with two beds, and a basalt pebble infinity pool that overlooks the ocean. DeGeneres bought this home with her business manager, Harley J. Neuman, listed as her trustee. Neuman, too, has been the registered trustee on most of her real estate holdings, including other properties that she owns.
TINA TURNER – $1.4 MILLION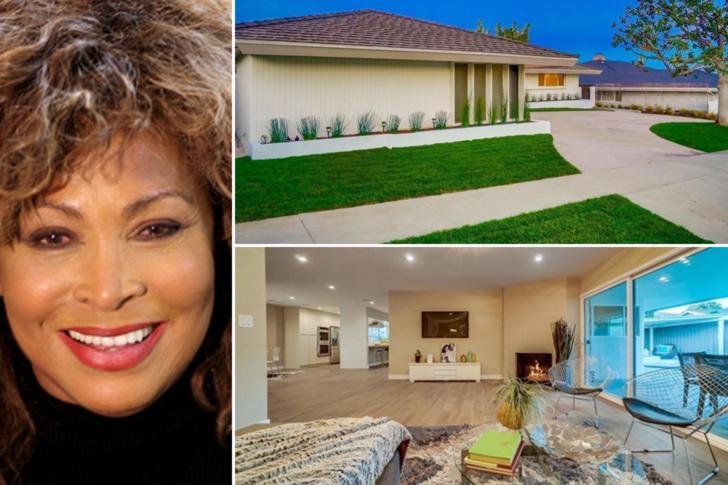 Tina Turner is a very popular singer and actress back in her glory days. She's recognized as one of the best selling record artists of all time and was named The Queen of Rock 'n' Roll. In 1958, Tina Turner started her singing career. In 1960, her single A Fool in Love caused a sensation when it was released. After that, the continuous release of songs led to the trend of the time, and until today, her songs are still being sung. It is interesting that Tina Turner acquired Swiss citizenship and renounced American citizenship in 2013.
This time, we'll feature her former home with ex-husband Ike Turner. This 3,000-square-foot investment is located in Los Angeles and was remodeled to look like this beauty. It boasts four bedrooms, five bathrooms, a walk-in closet, a fireplace, a cabana, and a custom pool. It has a midcentury modern vibe but it was originally built in 1956. Turner decided to list it on the market for $1.4 million.
GEORGE LUCAS – $100 MILLION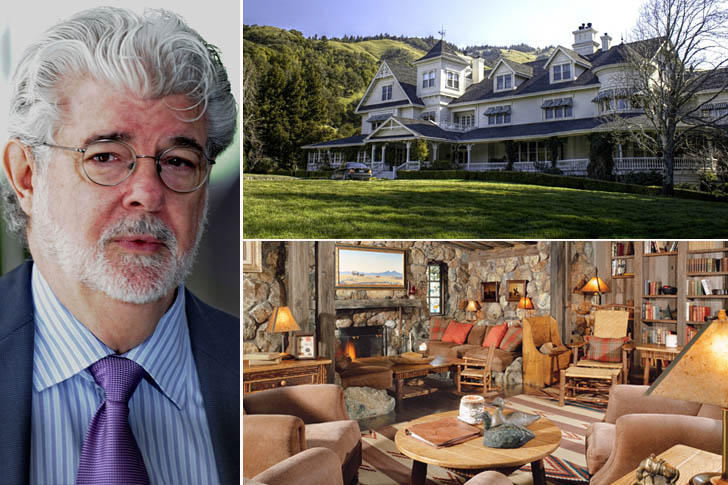 George Lucas is not only a famous director, producer, and screenwriter, he is an important promoter of the New Hollywood movement and established the new trend of American cinema in the 20th century from form to theme. George Lucas is the genius mind behind the long-running movie franchise, Star Wars. So, you will surely understand why he bought the Skywalker Ranch, which reportedly cost about $100 million in 1974. Well, Skywalker is the surname of one of the most famous and iconic characters in the movie, Luke Skywalker. The sprawling property has 4,700 acres of land.
He might not have needed a money loan to have this place renovated and updated over the years to make it his own, given his vast wealth. However, until today, details about this property remain under lock and key. Visitors who want to see the place need to be invited. If they luckily get in, it is prohibited to take photos inside. Even Ronald Reagan himself was not allowed to see the place.
BETTY WHITE – $2.5 MILLION, CARMEL, CALIFORNIA
Betty White has not only created many classic characters, but her admiration also includes her compassion and compassion for animals. She has been active in many animal protection organizations since the 1970s. In 2008 alone, Betty White donated nearly $100,000 to the zoo. In a 2011 poll, Betty White was considered the most popular and trusted celebrity among Americans. Even more than many politicians at the time.
Betty White has owned this home since 1981. Her husband and game show host, Allen Ludden, sadly passed away only 3 days after the home was completed. In 2015, White shared some pictures of her home on Instagram and her abode is every bit as sunny and welcoming as we had hoped. She also gave a tour of her home showing off her antique furniture and gorgeously unmatched kitchen. The average home in her neighborhood costs around $2.5 Million, so we can be sure Betty's is worth much more!
MARK ZUCKERBERG – $7 MILLION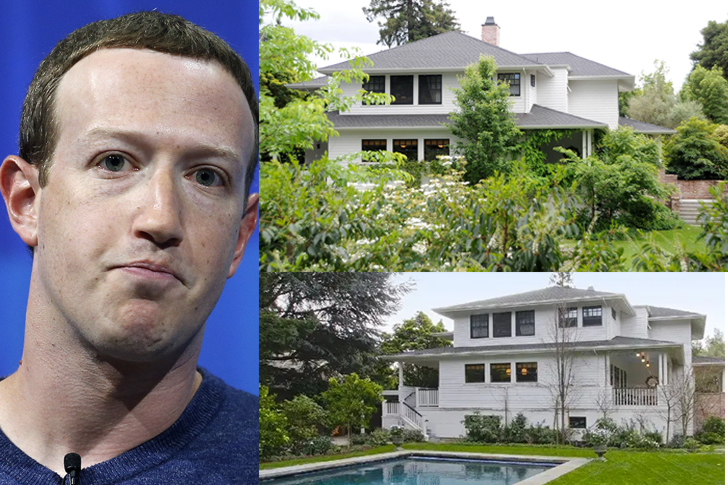 Have you used Facebook? Do you like to use Facebook to share the feeling of life anytime, anywhere? If you like Facebook, then you must have heard Mark Zuckerberg's name. Mark Zuckerberg was born on May 14, 1984. He has shown extraordinary programming talent during his middle school period. The CEO and his family have weathered quite a number of controversies in recent years, but we cannot deny that they are living in utmost comfort and luxury.
Just take their $7-million home in Palo Alto for example. Mark renovated the property before going ahead and purchasing the neighboring houses—a total of 4 other properties! Their land spans a total of 17,000 square feet, providing more than enough space and probably privacy. With his net worth, even if he opted to expand his property further, he wouldn't even need personal loans to get it done. The man has enough cash to buy the neighborhood if he wanted to!
CHER – $45 MILLION
Do you remember Cher? Cher, born on May 20, 1946, was in an unbeaten position as the "goddess of pop" during his 60-year career. From music to movies, Cher continues to break new styles and constantly refresh the audience's perception of popularity. With a career as successful as hers, one that spans decades and transcends trends, you can be certain that she's made more than enough investment money to shell out for luxuries.
One of those personal indulgences includes her $45-million Malibu mansion—which looks more like a palace if you ask us. It is decorated with artifacts from all over the world, including gorgeous Moroccan rugs and an imported Mexican fireplace. If she does plan on retiring soon, this will serve as the perfect sanctuary for the singer. Though, we can't imagine Hollywood without Cher—so let's hope she doesn't retire soon.
CELINE DION – $28 MILLION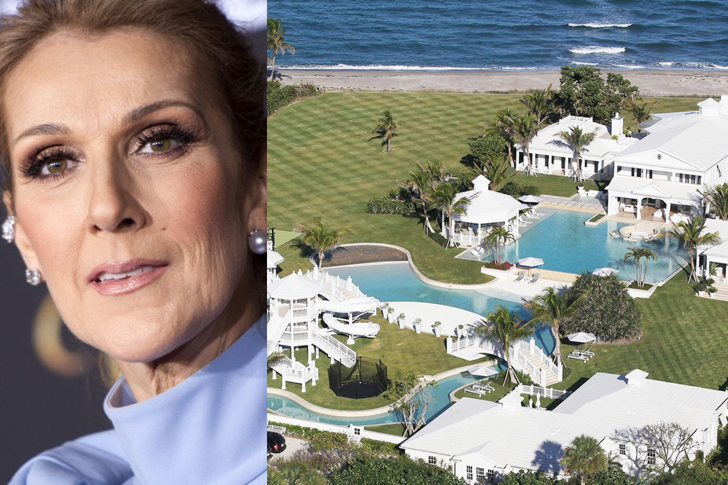 Have you heard Celine Dion's song? Have you ever been moved to tears when you hear these songs in the dead of night? Celine Dion's voice is regarded as one of the most influential voices in pop music. When it comes to doing things at a grand scale, Celine Dion certainly does it right.
Just take the waterpark mansion she and late husband, René Angélil, purchased together. It comes with 13 bedrooms and panoramic views of the ocean. The décor is Bahamian-inspired, lending a relaxing resort vibe to the whole place. But the real deal-clinchers here would have to be the waterslides, the man-made river, and its waterpark-sized pools. This property has since changed hands, so we wonder—did their investment pay off? She originally listed it on the market for $72 million and eventually sold it for $28 million.
HALLE BERRY – $3.8 MILLION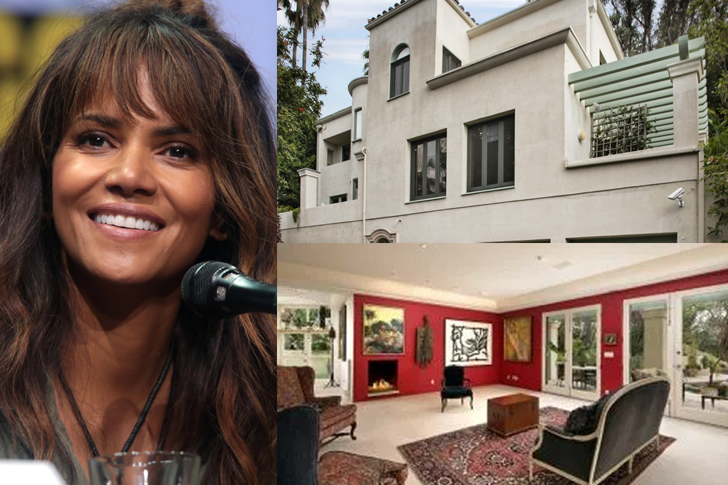 Born on August 14, 1966, Halle Berry started his career in a beauty contest. With her beautiful face and figure, she won the runner-up in the Miss America pageant. In 1986, Halle Berry won sixth place in the Miss World Contest. Halle Berry began to show strong will in acting in 1989 and shined in the 1992 comedy Boomerang.
This is one property that requires extra home security systems. Just last year, someone tried to fraudulently sell off the $3.8 Hollywood Hills mansion formerly owned by the actress. He was spotted trespassing and ran off after the house's caretakers tried to approach him. Fortunately for the actress, this scam was nipped right in the bud and that she no longer lives in it. It was built in 1935, and it comes with 5 bedrooms and 4 bathrooms, as well as an outdoor pool with a spacious lounging area. The property covers 4,889 square feet and features Mediterranean-inspired architecture. Before Halle, this residence once belonged to another actor, Frankie Muniz.
JANET JACKSON – $2.8 MILLION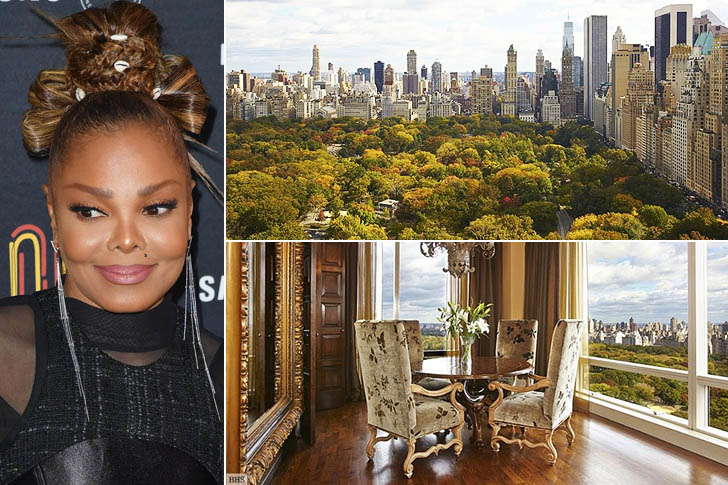 If you want to understand the trend of popular music, you might as well pay attention to Janet Jackson. Since Janet Jackson was active in the music scene in 1973, she has always been an indicator of popular culture. Janet Jackson made a significant investment when she bought a unit on the Trump International Hotel and Tower in 1998 for $2.8 million. After she purchased this property, she put her Midtown pied-a-terre for rent for $35,000 a month, joining in the slew of celebrities who had their homes leased.
Meanwhile, the 54-year-old star's condo unit had a lot to boast. It featured 2,093 square feet of living space with three beds and a 28 feet long, L-shaped living and dining room. It had floor-to-ceiling windows throughout the property that gave it natural lighting, which also gave her a good view of Fifth Avenue and Central Park South. Although its kitchen was relatively small, it was well-equipped with all the things needed to prepare a decent meal.
DIANA ROSS – $39.5 MILLION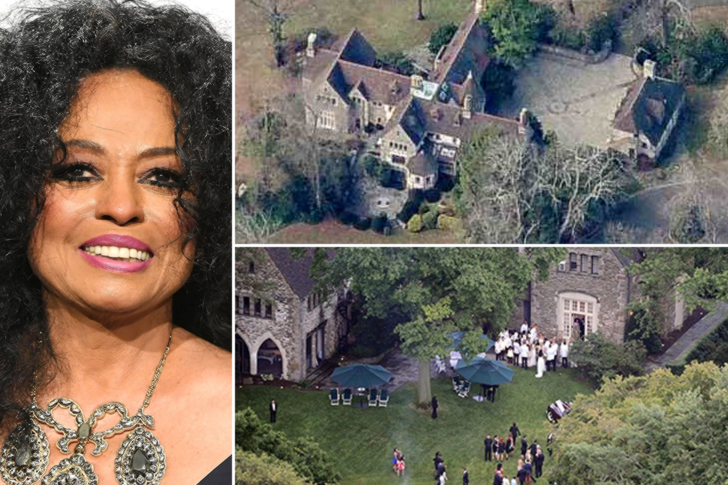 Diana Ross is definitely a legendary actress who cannot be forgotten. Diana Ross was born in Detroit on March 26, 1944. The girlhood of Diana Ross became famous for being the home of the music group The Supremes, which is also known as one of the best-selling girl groups in the world. Diana Ross is a music legend who is the voice behind the hit songs Stop! In the Name of Love, and I'm Coming Out.
With a net worth of $250 million, we can say she owns many properties and this includes her primary residence in Greenwich, Connecticut. The 12,562-square-foot waterfront mansion was actually put on sale in 2007 for $39.5 million. But until now, the house is still unsold. Ross bought this French-style mansion from actor Frank Gorshin. It boasts 11 bedrooms, 10 baths, a spiral staircase, a family room, a wine cellar, a bowling alley, a swimming pool, a spa, and many more!
PLACIDO DOMINGO – UNDISCLOSED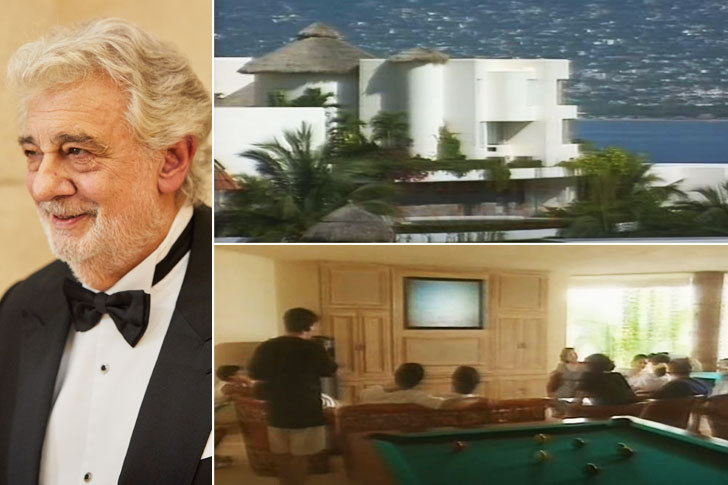 Placido Domingo is the world's three major tenors in the second half of the 20th century. His singing voice is clear and strong. Placido Domingo's name may not ring a lot of bells in people's minds, but he is one of the most accomplished figures in the Opera industry. His portfolio of performances includes being an opera singer, conductor, and arts administrator. His career scope encompasses the whole of Western Europe, making him a staple figure in the European opera scene.
Although not much is known about his private home life, we know that he owns a vast property in Acapulco, Mexico, which he shares with his family. In a documentary video published twelve years ago, the property can be seen to have its own tennis court and a gorgeous pool overlooking the ocean. However, the exact value of this tropical paradise is undisclosed, but we're sure that it has seen some renovations with the help of some good home finance investments.
RIHANNA – $22 MILLION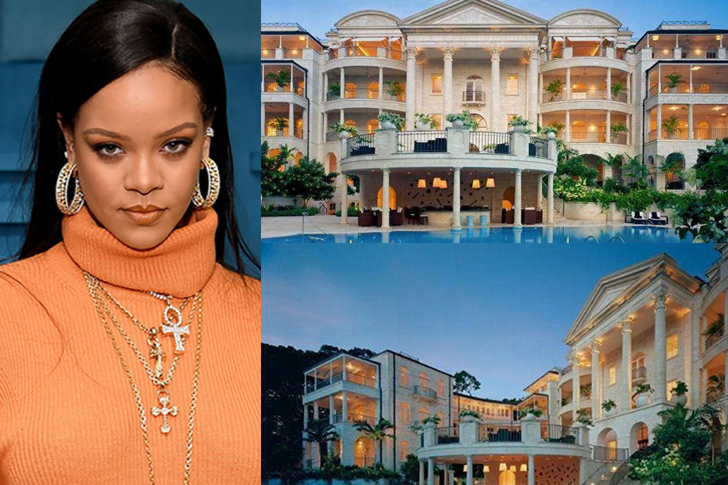 On February 20, 1988, Rihanna was born in St. Michael, Barbados. As a female singer with more than 250 million records sold worldwide, Rihanna deserves to be one of the best-selling artists of all time. From humble roots, Rihanna has managed to build herself an empire. From music to fashion, to fragrances, to even publishing—it seems the singer can do it all and be successful at the same time.
All of that means she has very little time for rest, so whenever she wants a bit of escape, Rihanna doesn't have to look far from home. Her mansion in Barbados is her own personal sanctuary. The property overlooks the beautiful Caribbean Sea and has 5 bedrooms, direct beach access, infinity pools, a gym, a spa, and even a yacht dock. Needless to say, it's worth every investment she's made.
JEFF BEZOS – $13 MILLION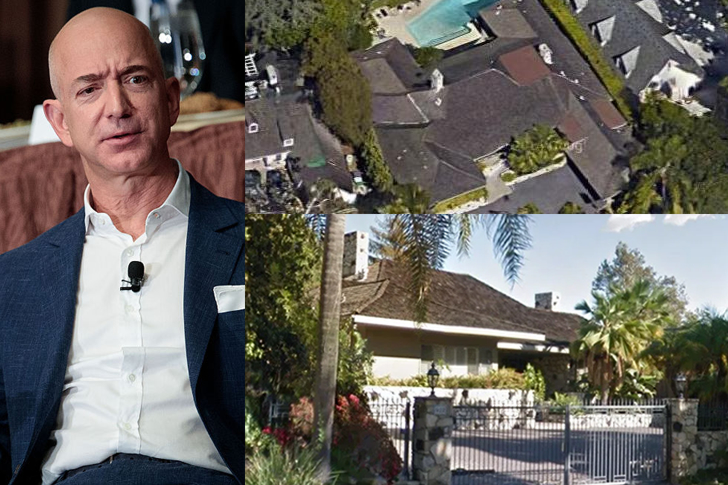 Haven't you heard the name of Jeff Bezos? He is the founder, CEO, and president of Amazon, the business empire. Jeff Bezos, born in 1964, has electrical engineering and computer science. The prototype of Amazon was created in 1994. Amazon started as an online bookstore. Now it has expanded its business to high-end areas such as e-commerce products and artificial intelligence. He is Amazon's head honcho and currently one of the richest men in the world, but did you know that Jeff Bezos lives in a particularly humble home?
The investor, entrepreneur, and known philanthropist first bought his mansion for $13 million—hardly making a dent to his credit in the process. In buying the property, however, he was able to extend his residence by combining both homes. How? He already owns the house next door. That's some excellent planning on his part and given his net worth? It was an easy one to execute as well, that's for sure.
PRISCILLA PRESLEY – $30 MILLION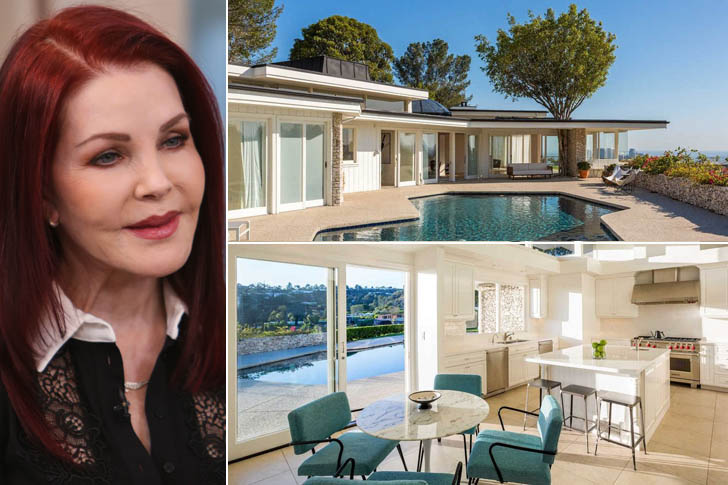 Although many Hollywood stars run their own brands or invest, there are really few stars who can achieve great commercial success like Priscilla Presley. Elvis and Priscilla Presley's former home is now up on the market for a whopping $30 million. If you think this is such a huge amount for an investment, just consider that you are buying a piece of Hollywood history.
Here's where the King of Rock and Roll and his beautiful wife used to live. This is also the property the ex-couple first bought after they got married in 1967. The Beverly Hills mansion is undeniably stunning, located on the street known for being the "Billionaire's Row." It has 5,400 square feet of living space, sprawling on 1.18 acres of land. As the home of a king, you can expect it to have the best and unique features, like a lot of outdoor space, a pool, a spa, and everything about the old Hollywood glamour you can imagine.
ELTON JOHN – $32.6 MILLION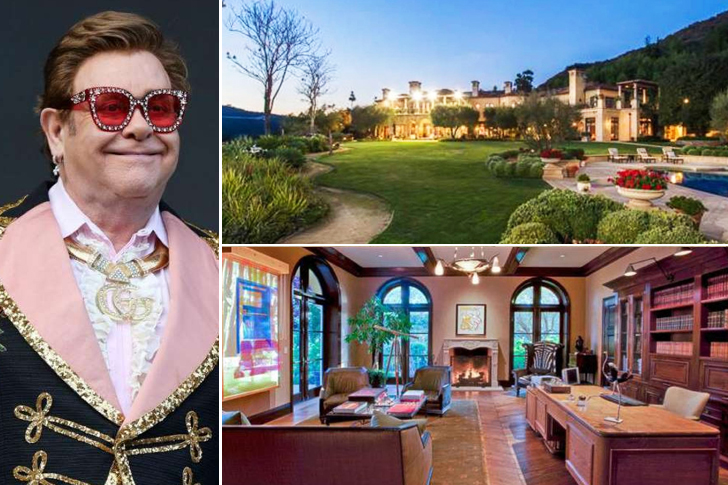 Elton John was born on March 25, 1947. When he was young, his family was very generous. His father was a flying lieutenant of the Royal Air Force. Although his father's expectation was for Elton John to engage in banking and other industries, his pursuit of music made Elton John step onto the music stage without hesitation.
Elton John owns several properties in different countries, and it includes a house in Beverly Hills. Located in the exclusive 90210 zip code, his home boasts ten beds, 22 baths, and 24,260 square feet living space. Constructed in 2001, it has its own screening room, a wine cellar, a game room, and a gym. Elton bought the 20-acre house with his partner, David Furnish, from the Guess co-founder Armand Marciano. It had the original price of $63 million in 2011, but the iconic singer managed to buy it at a lower rate of $32.6 million in 2015.
TOM SELLECK – $5 MILLION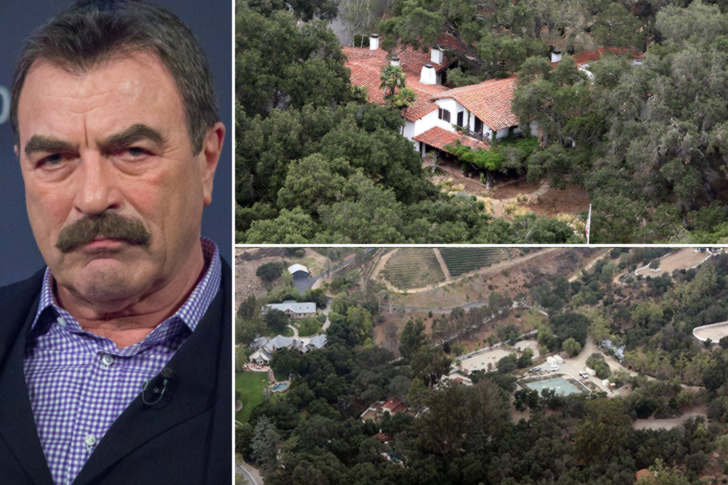 Tom Selleck, born on January 29, 1945, is a famous American actor and film producer. Tom Selleck first appeared in a TV series in The Dating Game, and soon after he appeared in a Pepsi commercial. From 1967 to 1973, Tom Selleck served in the army. Tom Selleck likes guns and outdoor sports. These hobbies have helped him shape the role of a cowboy. Tom Selleck has got it all: a loving wife, beautiful kids, and this incredible property.
The 75-year-old actor bought this Spanish colonial-style home in 1988 for $5 million. It was reportedly built back in the 1930s and until this day, it houses more than 1,500 native trees and a working avocado farm which he maintains himself. The ranch has eight bedrooms, a swimming pool, a three-hole putting course, a tennis court, stables, and more. The 65-acre ranch is one of Selleck's most loved investments. In an interview with People magazine, he said, "My relationships and my ranch keep me sane."
CAMERON DIAZ – $4.25 MILLION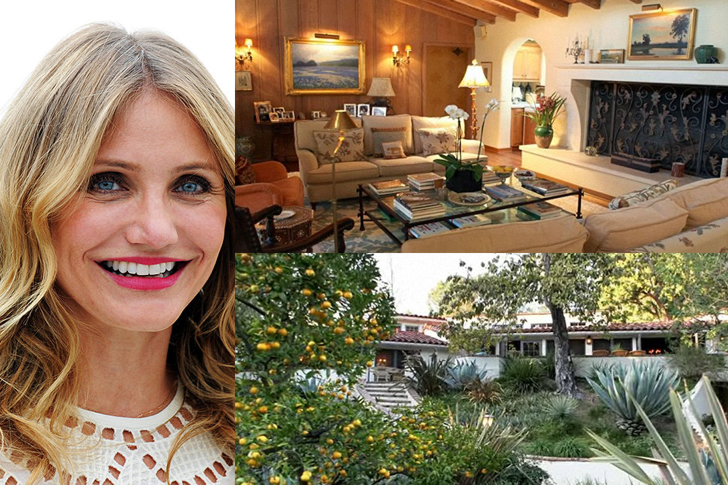 Cameron Diaz deserves to be one of America's best-selling actors. In 2013, she was voted as one of the highest-paid actors in Hollywood, the United States over the age of 40. Cameron Diaz, who was still in high school, was dug to sign a model contract. At the age of 21, she shot with Jim Carry in The Mask. Now that Cameron's a mother, it is completely understandable for her to want all the privacy in the world—hence her semi-retirement from the industry.
That doesn't mean she's going to go bankrupt though! Her net worth, coupled with that of her husband's, is certainly more than enough to allow their small family to live comfortably for years to come. The Beverly Hills mansion they live in had plenty of renovations prior to her giving birth. Aside from babyproofing, they probably also amped up the security. After all, one can never be too careful, especially now that they have a newborn!
FLOYD MAYWEATHER – $25 MILLION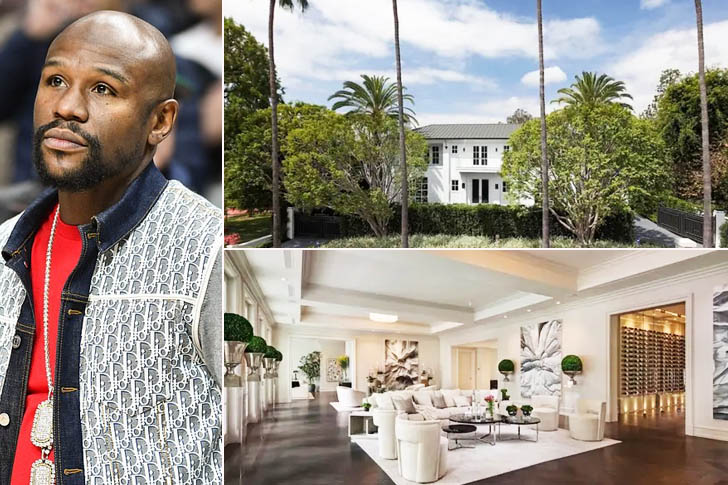 Floyd Mayweather mainly participated in the competition from 1996 to 2015 and then participated in a singles comeback in 2017. During his career, he mainly won 15 world championships. Floyd Mayweather is one who likes to live grand and splurge on expensive things. If you're a guy who managed to defeat renowned boxers like Conor McGregor and Manny Pacquiao, not to mention winning huge bucks from it, you will definitely treat yourself with luxuries – like this $25 million home in Los Angeles.
Surely, this doesn't leave a dent in Mayweather's bank account. Aside from its huge price, it also comes with gigantic features, such as a wine rack that can fit 225 bottles, protected by several glass doors. The house also features a massive kitchen and an elegant dining room, accentuated with huge windows and a floor-to-ceiling mirror to give it natural lighting. While Floyd has all the funds to pay for his probably massive electricity bill, he can definitely save on lights.
PRINCE HARRY AND MEGHAN MARKLE – $14 MILLION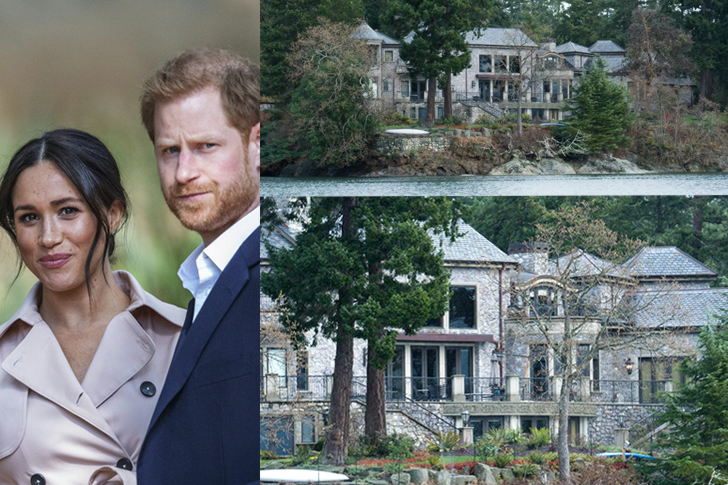 Compared to Prince Harry, who had lived under public attention since he was a child, the situation of Meghan Markle made the public more curious. Meghan Markle, born in Los Angeles, California, the USA in 1981, was an actress. Her blogs on food, fashion, travel, and inspirational women have given her a large number of fans. Prince Harry may have decided to leave his royal days behind, but that doesn't mean he's about to start slumming it out.
Together with Meghan and their child, the new family is moving into a palatial home in Vancouver Island. The neighborhood they're moving into provides ample privacy, allowing both to start anew and live a more normal life. The property might appear foreboding from the outside, but it comes with a lot of cozy creature comforts. There's a pizza oven, a wine tasting room, a game room, and is furnished with an imported French fireplace. All worthy investments for the former royals, we think.
BRITNEY SPEARS – $9 MILLION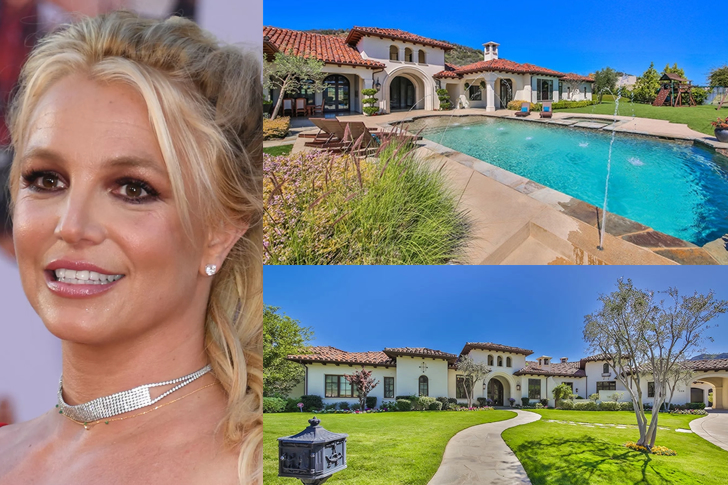 As a pop music princess, Britney Spears has sold more than 100 million records worldwide, including 70 million records sold in the United States alone. Forbes reported that Britney Spears was the highest-paid female musician in 2002 and 2012. She may be in the spotlight less these days, but that doesn't mean Britney has stopped making money.
With countless chart-toppers that are still well-loved, even by today's younger generation, those royalties will keep on coming. Of course, that's aside from the fact that she's also made her fortune through various business ventures—from fragrances to clothing, this savvy businesswoman has tried it all. No wonder she makes more than $20 million annually! Her home in California reflects the singer's lavish tastes. From a media-gaming room to outdoor pools—there's plenty to see and do. It really is a wise investment on her part.
SEAN HANNITY – $8.5 MILLION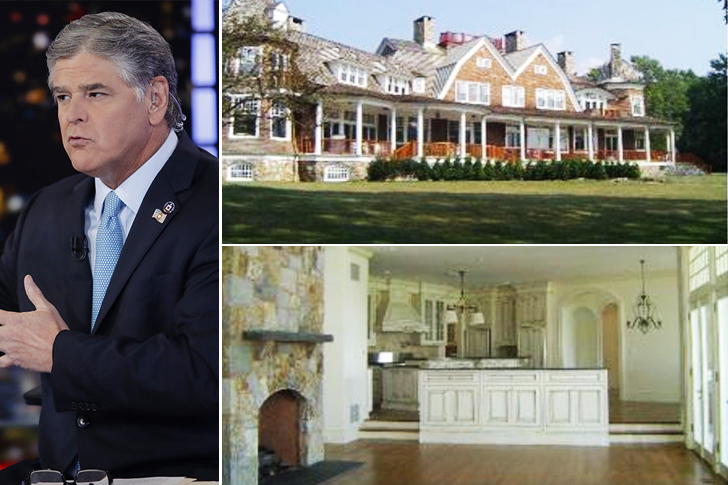 Sean Hannity, 58, is now an American talk show host and political commentator. His first talk radio show was in 1989. After serving several TV stations one after another, Sean Hannity found his own style. He also began to walk from the radio to the TV screen.
Sean Hannity bought his lavish home in Nassau County on New York's Long Island for a whopping $8.5 million in 2008. It is a two-story mansion built-in 2002, featuring some great amenities, like seven fireplaces, a swimming pool, a tennis court, and its own private dock on the nearby lake. The house boasts seven bedrooms, eight and a half baths, and a sizeable 1,369-square-foot basement. In total, it has 11,400 square feet living space. It features several windows that give the house natural light, which is one way for Sean to save electricity. It also gives them a good view of the lake and the backyard that will somehow make them relaxed.
SERENA WILLIAMS – $525K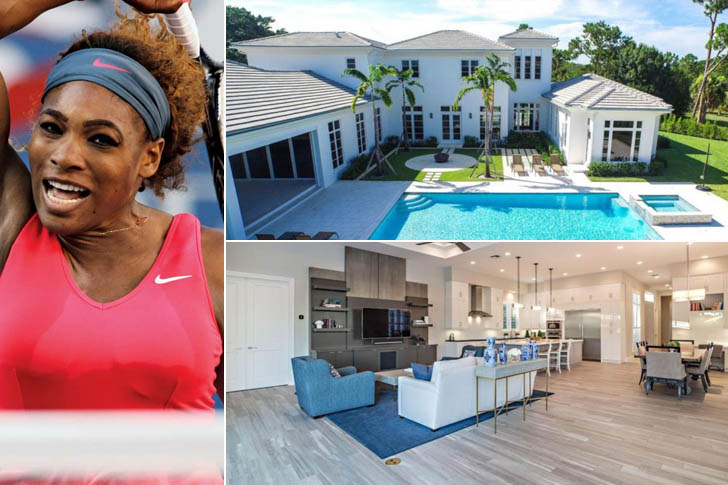 Serena Williams was born in Saginaw, Michigan on September 26, 1981. The first professional event Serena Williams participated in was The Tournoi de Québec in 1995, but at that time, her skills were still immature. When the time came to 1998, Serena Williams' talent and training results began to show. Serena Williams, her husband, Alexis Ohanian, and her daughter, Olympia, are mostly spending their time together at her Palm Beach Garden home in Florida.
The luxury home boasts 7,323 square feet of living space with clay-tile roofing and a cabana pool. As she co-owns this house with her sister, Venus Williams, also known as a great tennis player, it is no surprise that the home features a tennis court. The two have owned this property for more than two decades. Serene bought this house for $525,000 in 1998. After two years, she has built her dream house here, which has undoubtedly increased its value. Serena is one of the world's highest-paid athletes, which helps her make this lavish home for her family.
JENNIFER HUDSON – $2.795 MILLION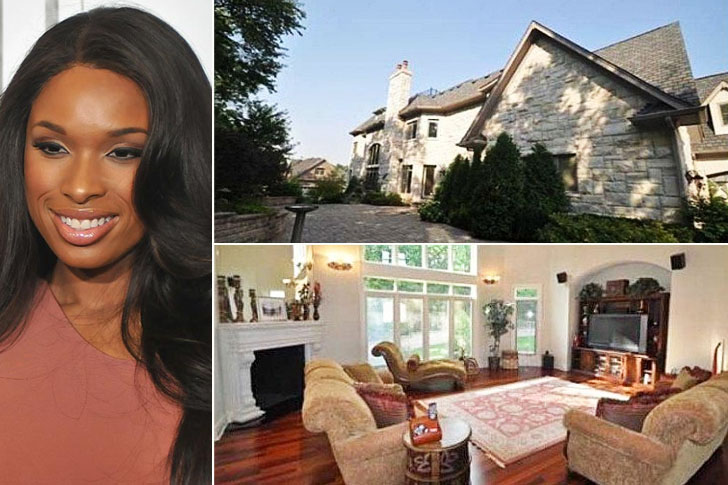 Jennifer Hudson is a well-known singer, actor, and philanthropist. In 2004, Jennifer Hudson was shortlisted for the third season of American Idol. Although she only achieved seventh place, she was more successful than other players in subsequent development. In addition to the development of music, Jennifer Hudson has achieved great success in film and television drama.
Jennifer Hudson returned to her hometown of Illinois by buying a 12,000-square-foot mansion in suburban Burr Ridge for $2.795 million. The 38-year-old star got a 33% discount from the house's original price of $4.2 million. The house boasts six bedrooms and seven baths with a castle-like appeal due to its massiveness. It is described to be a majestic estate, which was custom built in 2007. The home featured a spiral, floating staircase, two laundry rooms, and an in-house screening theatre. It also had Brazilian cherry flooring all throughout the house, which was said to be a significant change from her simple roots on Chicago's South Side.
MATT LAUER – $36.5 MILLION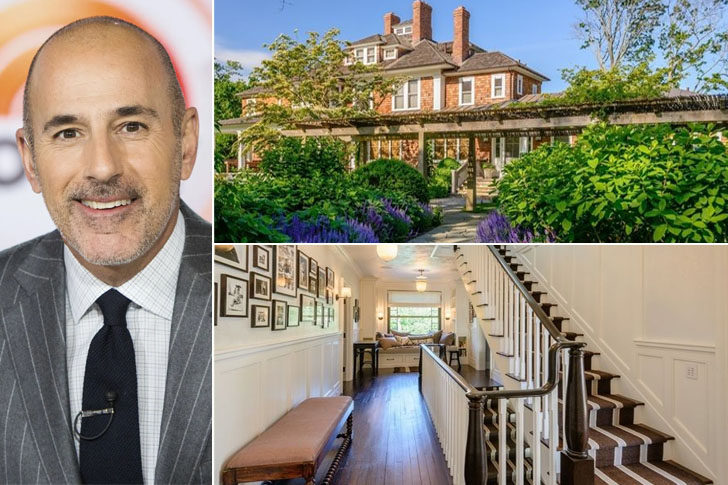 The Today's Show former co-host Matt Lauer definitely did not shy away from the massive price tag of his North Haven home when he purchased it back in 2016. The jaw-dropping property was once home to actor Richard Gere and was put on the market for a staggering $36.5 million and was later found by its new owner, Matt Lauer.
The property has several luxury features that make its asking price easier to fathom. For one, the property (also known as the Strongheart Manor) is enclosed within a 6.3 acres wide land with 14,000 square feet worth of living space and was built in 1902. This 12 bedroom, 12 bath home also features two separate guest houses, a gorgeous pool, a top-notch home security system, and its very own deepwater dock with a mini-island. If that's not living like a celebrity, I don't know what is.
STEVE HARVEY – $15 MILLION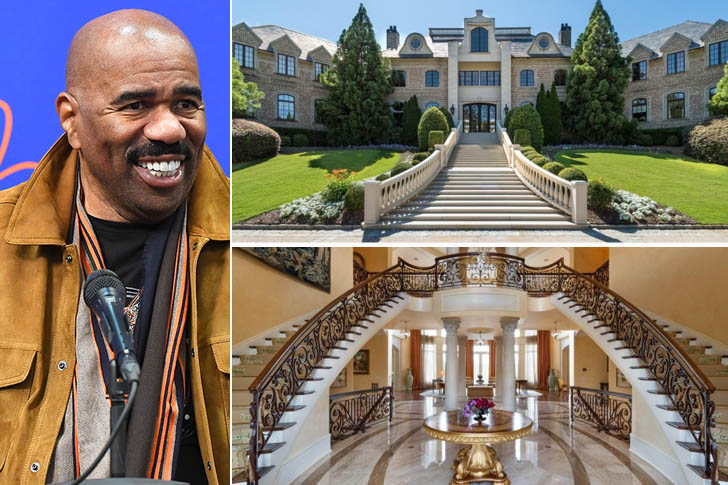 63-year-old Steve Harvey is not only a successful comedian and TV host. Beginning in 2017, Steve Harvey founded Steve Harvey Global, and since then began his business expansion. Steve Harvey shelled out a whopping $15 million to buy Tyler Perry's mansion in Atlanta this May 2020. The media mogul's former house is definitely a sprawling one with its 34,688 square feet of living space.
With its behemoth size, it is only befitting that it also has lavish features. It has 17 acres of "perfectly manicured grounds," which unquestionably comes with a hefty mortgage. It has a 70,000-gallon infinity-edge pool, several guests' and caretakers' rooms, a spa, a high-tech security apparatus, and a lot more. Aside from this, Harvey has several properties in different states, like California, Chicago, Georgia, and Texas. However, compared to these four, his new home in Atlanta is a sure-fire stunner.
O.J. SIMPSON – $1.8 MILLION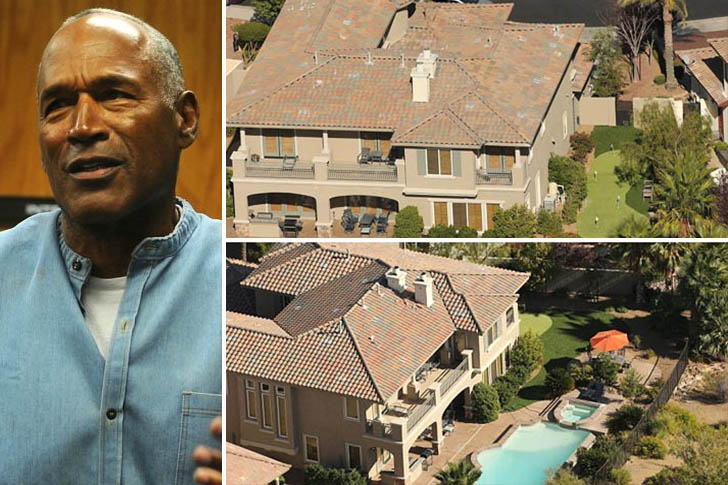 Former NFL superstar O.J. Simpson is now living humbly in his $1.8 million Las Vegas home. Although it is a far cry from his former mansion, this one still has many features that can be bragged. He may be living solo, so the 5,000 square feet living space that the house has is more than enough for the ex-football player. It also has a mini-golf course so that he will never get bored when he has nothing to do. He can even hone his golfing talent here. Everything in this cozy house looks so perfect.
Fortunately, Simpson still has some money left from former investments, despite all the financial turmoil he has encountered. He is now living off from his NFL and Screen Actors Guild pension, thanks to his former work. Evidently, he has everything he needs to last a lifetime.
ALYSSA MILAN – $1.5 MILLION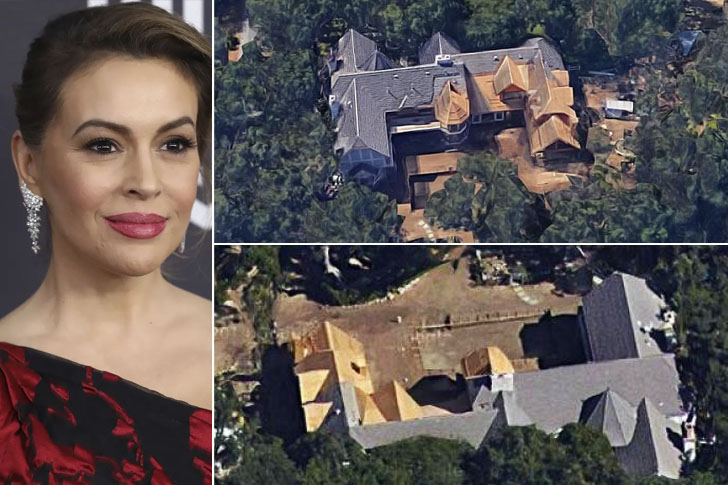 Actress turned activist, Alyssa Milano is Hollywood's most recognizable faces with a career spanning 36 years. The actress first started her career in the early 80s as a child star and has since evolved into an A-list Hollywood celebrity. Although she is only 47 years old now, her screen career has lasted from 1980 to the present, a total of 40 years. With a successful career under her belt, it's only fitting that Milano splurges on a lavish California mansion with the help of proper home finance.
The actress currently resides in a $1.5 million home situated in Bell Canyon, California. The property has some of the finest amenities, including an expansive lot complete with its very own equestrian facility. Not a lot of celebs can put that on their home resume. The actress currently lives there with her husband and two children, along with some farm animals.
DIANE SAWYER – $4.6 MILLION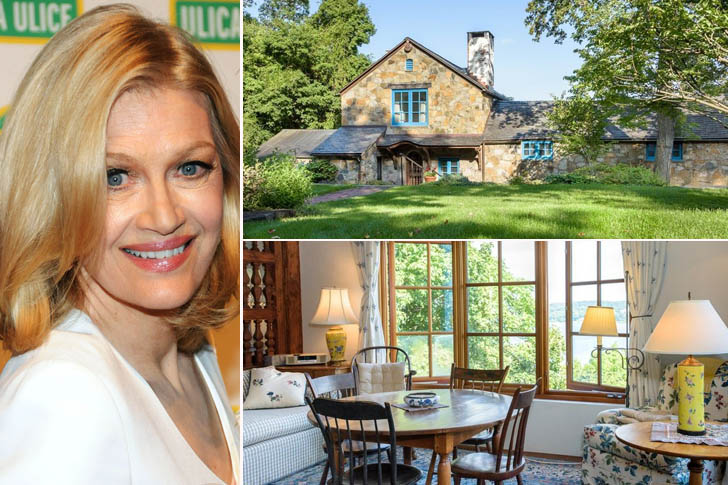 Diane Sawyer's former house in New York will take you to France's suburb without leaving the comfort of your own home. If there is something that the 74-year-old star's abode has something to boast off, it is its stone walls and majestic view of the Atlantic Ocean. Initially built in 1925, the house is still carrying its original features, making it look like a classic country home, complete with an old wooden fence.
Indeed, Sawyer has enjoyed its 2,708 square feet of living space, built into the cliffs of the Palisades. Despite the location, the TV broadcast journalist definitely made sure of its home security when she was still living there with her late husband. It also has four fireplaces and hewn beams that give it a touch of rustic nature inside. Reportedly, the abode is on the market for $4.6 million.
JEREMY RENNER – $25 MILLION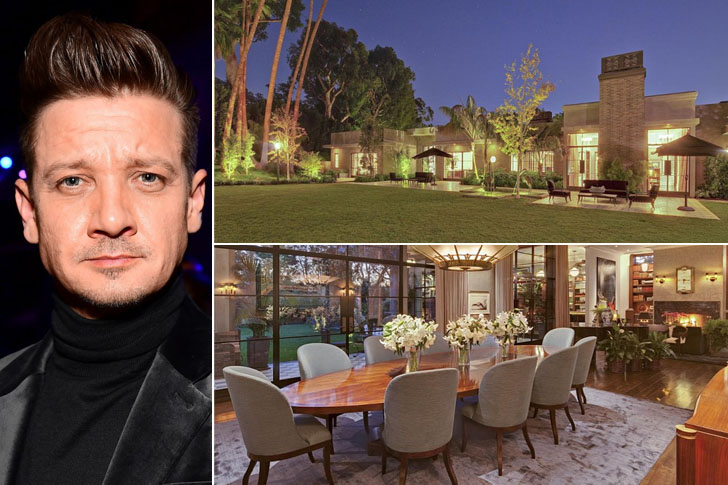 Jeremy Renner may have earned his fame through acting, but the Bourne Legacy and Avengers superstar also has a knack for flipping houses. That's right, the actor also ventures into the industry of home transformation and has a business based in Nevada. And since he is in the business of improving homes, it's only fitting that he lives in a lavish one himself.
Just like any other A-list celebrities, Renner also has multiple properties that are given credit to his name. One of those properties is his $25 million former Los Angeles home. The property features a well-designed gate with its own security system, which spills into a sprawling contemporary mansion with an entryway lined with cobblestones. The property also boasts six bedrooms, an indoor theater, and multiple fancy sculptures. Renner, without a doubt, knows where to put his investment money.
BRAD PITT – $1.7 MILLION, LOS ANGELES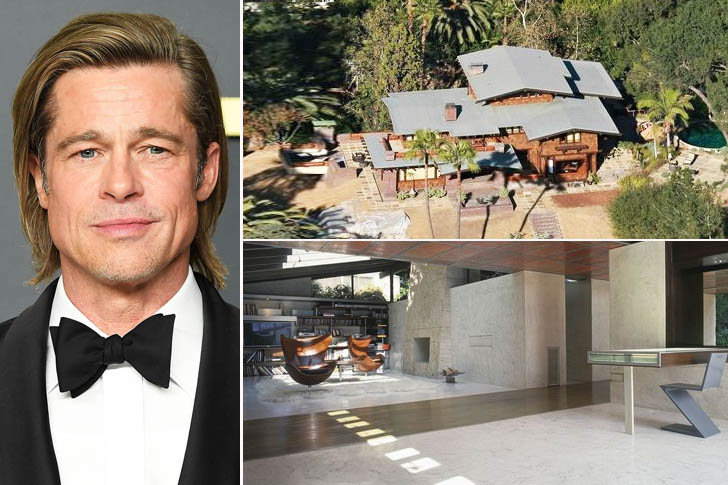 Brad Pitt is known as one of the most attractive people in the world. After starring in the movie Thelma & Louise in 1991, Brad Pitt brought a number of classic movies. Brad Pitt has a massive real estate portfolio, as he casually makes investments in buying and selling homes. His primary residence is located in the Los Feliz neighborhood, although he also owns other properties in New Orleans, Hollywood Hills, and France. Rumor has it that he owns a house in the Lake of Missouri as well.
Pitt bought his Los Feliz property for $1.7 million from the Elvira actress Cassandra Peterson. It has 5,338 square feet of living space, which features a giant main house. Over the years, he has made this property a huge one by adding four smaller properties. His main home features six beds, seven baths, and a large outdoor swimming pool and a private tennis pavilion.
ADELE – $9.5 MILLION, BEVERLY HILLS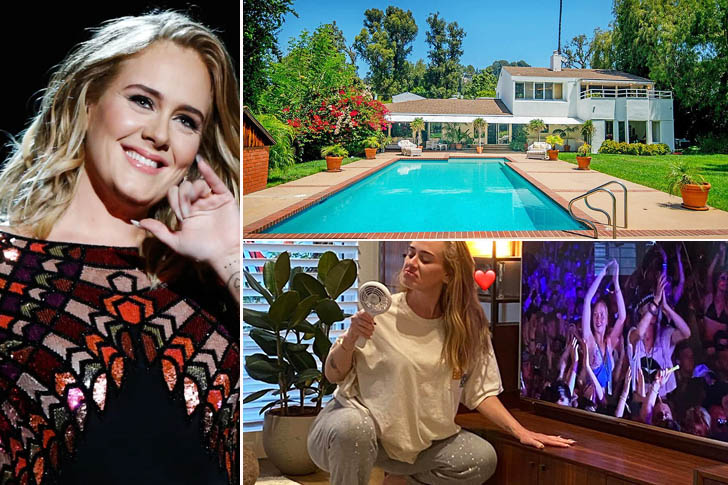 When they heard that Adele was about to release a new album, the cheers of the fans even exceeded the sound of car horns. Success in her career has brought her huge wealth. Adele owns several properties in the UK and the US. This includes the £7.7 million or about $9.5 million, a mansion in Beverly Hills, where she currently lives with her son Angelo. Knowing that Beverly Hills is the home of many celebrities, Adele is now neighbors with Katy Perry, Cameron Diaz, and Nicole Richie, among others.
The 32-year-old star often shares a glimpse of her house on her social media posts. When she posted a snap for her birthday in May, she showed how her house looked from the outside. The home has a white wooden exterior with a border filled with shrubs that lined the patio area. On the inside, her living room has a neutral color scheme with cream walls paired with dark wooden flooring.
GEORGE CLOONEY – $10 MILLION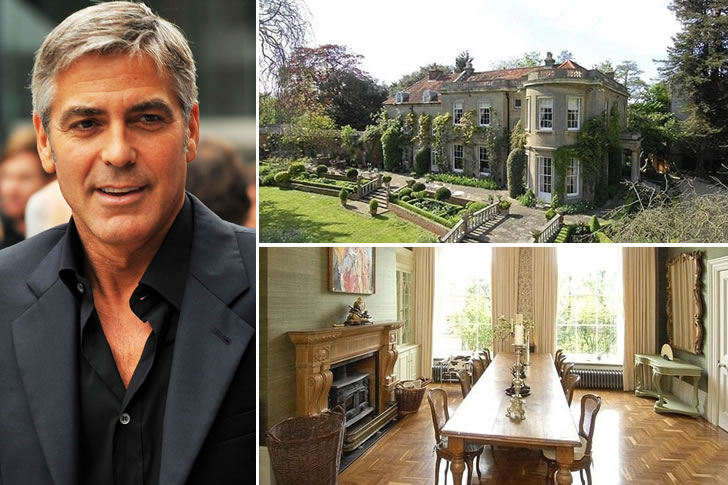 George Clooney and his lawyer wife, Amal Clooney, have been known for being notoriously private. Despite being public figures, they love to live their lives, along with their twins Alexander and Ella, away from the spotlight. No wonder they choose to live in the remote British countryside.
Although the couple's home is quite provincial, it is still not that far away from the city. Anyhow, owning a $10-million manor, they surely have everything they need here. After they moved in, they quickly gave their new home a facelift, adding their own private cinema, a new pool house, and a grand terrace. Some of its most outstanding features are its lush and green land, while the house itself is wrapped in vines and surrounded by English landscaping. In this beautiful and quiet environment, fans hope that George Clooney can create new works as soon as possible.
MILA KUNIS – $14 MILLION
Mila Kunis and her husband, Ashton Kutcher, are now selling their Coldwater Canyon home for $14 million. By its looks, the couple now turns in to major investors, investing in real estate. This house was their first primary home and the first marital property that they ever purchased.
The house is situated in the neighborhood of Beverly Hills Post Office and within the guard-gated community of Hidden Valley, where home security is a must. For now, they are staying in their Carpinteria mansion while they are waiting for the construction of their new modern mega estate to be completed. As for the home itself? They chose a laidback beach house, with 3 bedrooms and 4 bathrooms. The residence comes with a huge 7,351-square-foot lawn, more than enough room for their growing family. We say they made a good choice with this one; it's a comfortable home, but with enough investments towards future growth.
JARED LETO – $2.05 MILLION, HOLLYWOOD HILLS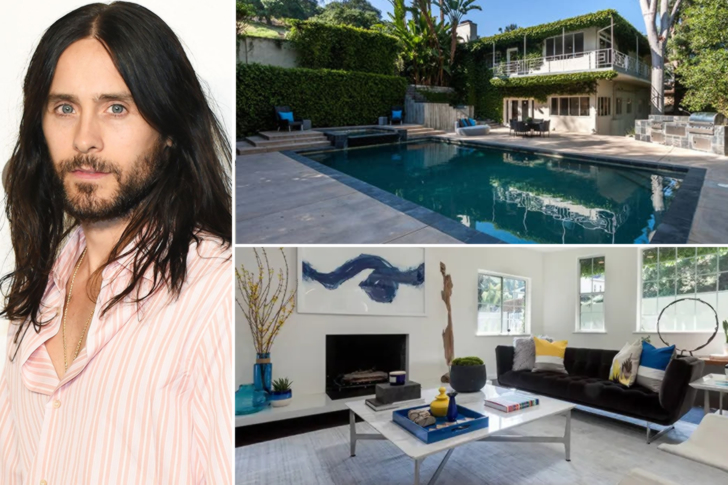 Jared Leto put his Hollywood Hills on the market for $2.05 million. It has 4,021 square feet of living space, featuring four beds and three and a half baths. Built-in 1955, it boasts of a master bedroom, two connected guest beds, a kitchen, a dining room, and a living room with a fireplace on the first floor.
The lower level has a second master bedroom with a huge space for the walk-in closet. It also comes with a family room, a recording studio, a storage space, and a second kitchen. Sitting on a .29-acre lot, it also has excellent outdoor features, like a courtyard, a fenced patio, a two-car garage, a concrete terrace with a swimming pool, a spa, complete with tropical landscaping, fire pit, built-in barbecue grill, and probably with a unique home security system. Everything in this house looks perfect.
CHRIS HEMSWORTH – $20 MILLION, BYRON BAY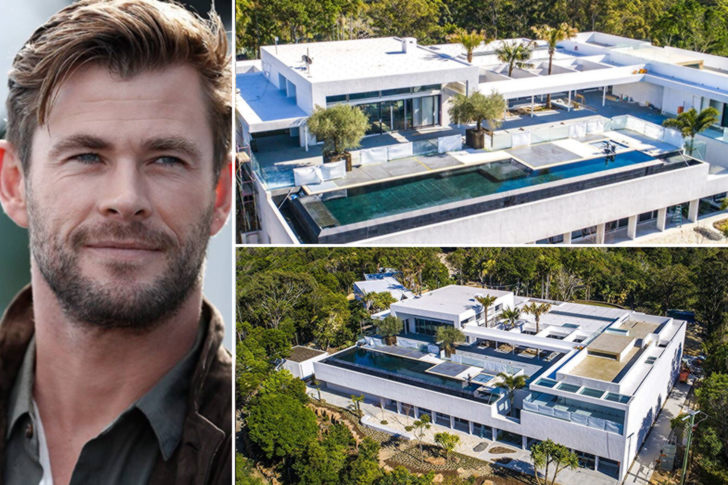 Chris Hemsworth chose to live in his beautiful hometown of Australia to be with his wife, Elsa Pataky, and their kids. Called a mega-mansion, his house is big enough to create its own street. After undergoing significant renovations, the place now screams of modernity. It is filled with a lot of luxurious pieces.
With a house like this, it is no surprise that it costs a whopping $20 million. The couple chose this home over their previous place with eight beds, carrying a Balinese-style resort. Today, it seems like they own the whole of Bali with the size and degree of their house. Although it only has six beds, it comes with a giant wall mural, a personal gym, a spa, a media room, a game roof, a rooftop infinity pool, and a built-in fire pit perfect for Chris and his family.
PIERCE BROSNAN –  $18.7 MILLION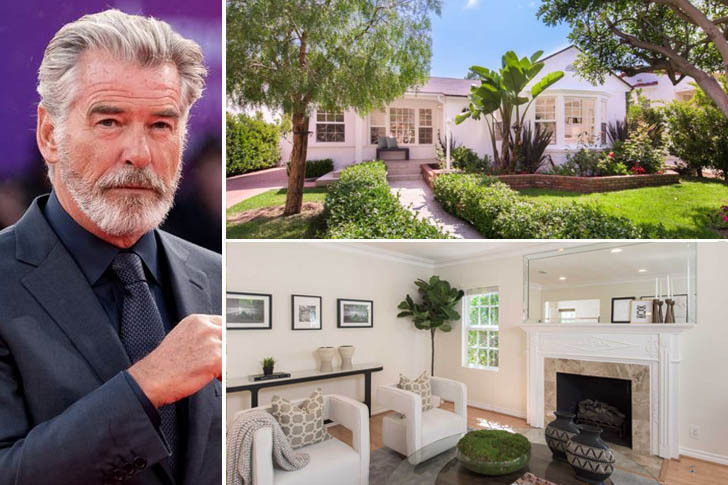 Sure, you know Pierce Brosnan as one of the most iconic actors in Hollywood today. But aside side from being in front of the camera, he is also working behind it as a film producer. He also fights for nature as an environmental activist. From 1982 to 1987, he began to show his prowess because of his role as Remington Steele. The 67-year-old actor became known to many for being the fifth actor to play the legendary character of the secret agent James Bond in the Bond film series from 1995 to 2002.
Jumping from one movie to another, he became one of the most sought-after stars in the industry, amassing him a huge net worth to buy himself an investment worth his every penny. He bought himself a 6,000-square foot house in Malibu worth $18.7 million, carrying a Mediterranean style with handmade tiles sophisticated design.
ROBERT DOWNEY JR. –  $11.9 MILLION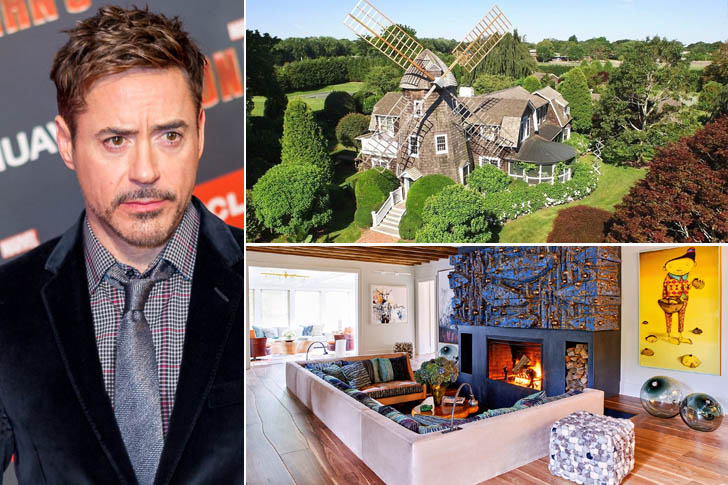 Who doesn't know Robert Downey Jr.? With the success of Marvel Cinematic Universe films, from Iron Man to The Avengers, even young kids surely know him as Tony Stark, the alter ego of everyone's most favorite superhero, Iron Man. To some degree, his career went from critical to ultra-successful. No matter what he has gone through in life, Downey rose on his own two feet again and experienced a resurgence of commercial success despite being in middle age.
As one of the most successful, sought-after, and beloved actors in Hollywood, it only fits that he lives in a luxurious home located in the East Hamptons. Also called the Edward DeRose Windmill Cottage, Downey and his wife, Susan Downey, bought this property for a whopping $11.9 million. It boasts seven beds, a windmill, pool, library, tennis court and two-bedroom guest house.
OPRAH WINFREY – $50 MILLION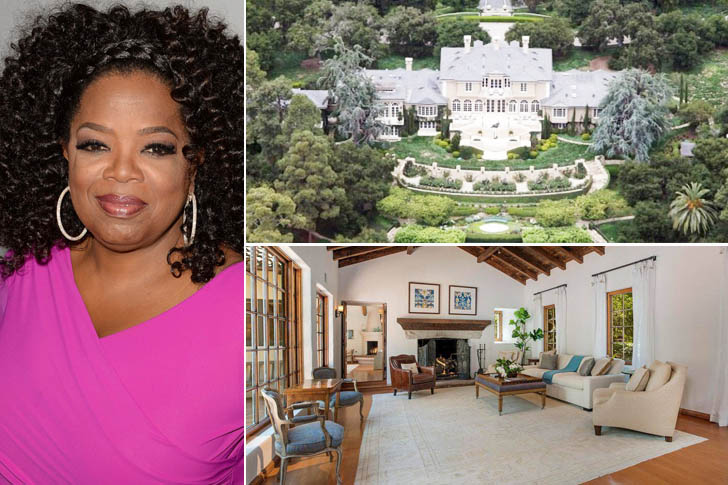 Media mogul Oprah Winfrey has a lot to her name. Although she mostly gets credit for being a talk show host, she is also a TV producer, author, occasional actress, and philanthropist. With her fame and success, she no longer needs to introduction as people automatically know her. She is also one of the world's wealthiest people, with a net worth of around $3 billion. So, where does she mostly invest with this enormous amount of money?
Well, she has an impressive real estate portfolio, including a massive home in California with a stagger tag price of $50 million. It is one of the most significant properties that she has with a living space measuring 23,000 square feet, sitting on over 40 acres of land. With the renovation and other additions, like design and more, Forbes estimated it to be worth $165 million.
RON HOWARD – $27.5 MILLION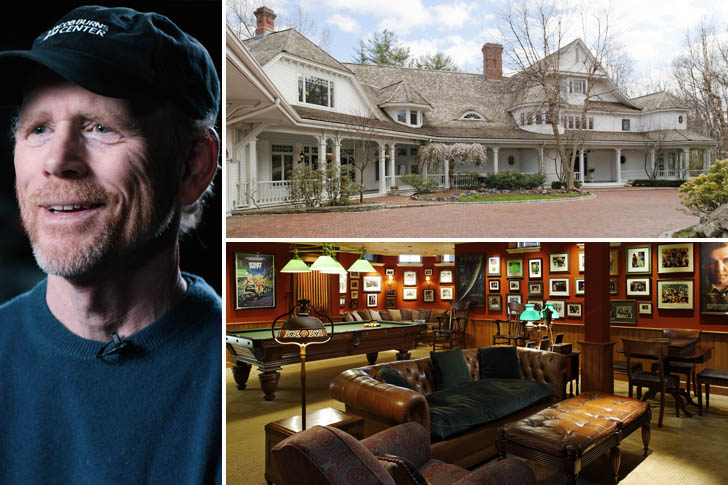 Ron Howard is one of the most respected figures in Hollywood. He is not only a beloved actor but also an award-winning director. You may be familiar with some of his masterpieces, like Cocoon, Apollo 13, A Beautiful Mind, and Rush, among others. With a huge net worth to his name, it is only fitting that Howard is also living in the most lavish home there is.
However, he decided to put it on the market for a whopping $27.5 million. Located in Greenwich, Connecticut, the house lies on the enclave known as Conyers Farm. If there is anything that Howard's former property can boast of, it is its breathtaking, panoramic views of Converse Lake. It also has a warm, welcoming degree of vibe that will make you feel you are at home when you enter this gorgeous house.
DWYANE WADE – $6 Million, California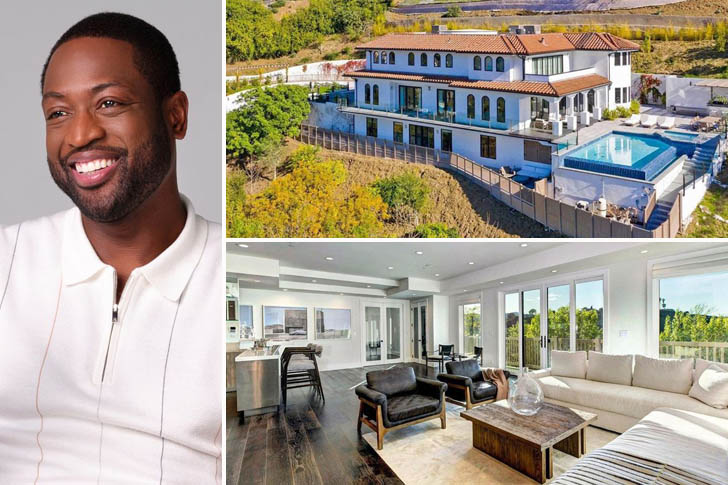 Dwyane Wade is one of the most famous NBA superstars there is. He played for different popular teams during his colorful NBA career, like in Miami Heat, Cleveland Cavaliers, and Chicago Bulls. He even got credit for earning the NBA All-Star title 13 times. He indeed has a huge net worth to his name with these feats, so buying a $6 million California home is no biggie for him. With a living space of 8,650 square feet, he has all the areas that he needs to display his trophies and awards.
The Sherman Oaks house also carries a modern style. It has five beds, nine baths, and an elevator of its own so that Wade and his family will never get tired going back and forth. It also features a spiral staircase, a wellness room, a wine cellar, and a cinema room.
Michael Strahan – $17 Million, Los Angeles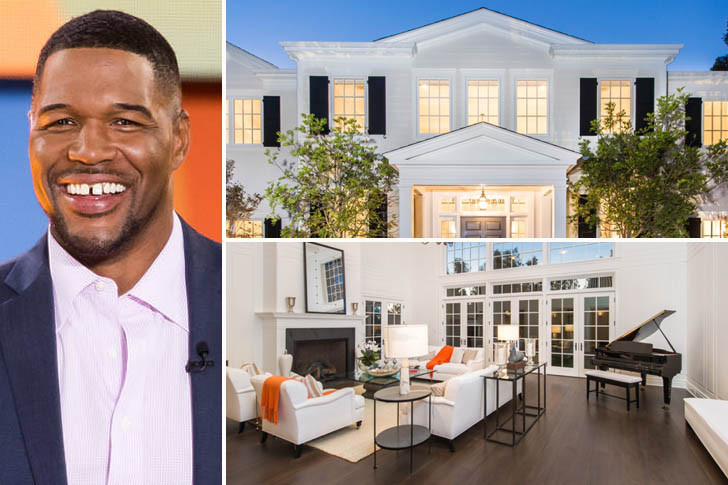 Michael Strahan opts to have a home with a traditional style, located in Los Angeles. With a whopping price of $17 million, the house boasts 15,600 square feet of living space with nine beds and 14 baths. It has a lot of features to brag about, like its 20-foot ceilings, French doors, formal dining room, sitting room, butler's pantry, and a chef's kitchen with its own dining and living rooms.
Just like any other celebrity homes, it has a state-of-the-art home theatre with a 15-foot screen, complete with 20 leather seats. Indeed, his kids will love the game room with its billiards and poker table. For Michael, he can take advantage of the home gym with its own bathroom and massage table, a walk-in safe, and a wine cellar. Thinking about the degree of tiredness the TV host may feel going back and forth in the three-story home, he installed a private elevator inside.
TIGER WOODS – $54.5 MILLION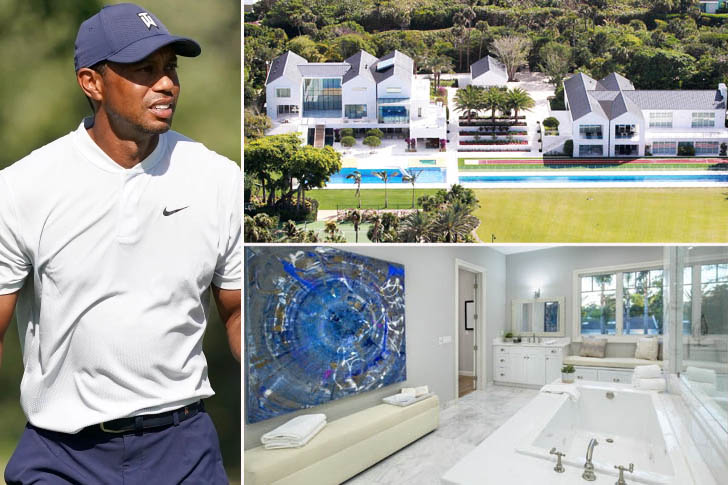 Tiger Woods, the holder of many golf records and recognized as one of the world's strongest professional golfers, likes what kind of house? Tiger Woods' Jupiter Island home is custom-made according to his own liking. With its $54.5 million price tag, you can expect it to be as sprawling and as lavish as it can get.
True enough, it has 10,000 square feet of living space. As a sportsman, you can expect it to feature different sports activities features, like four putting greens with bunkers, a putting studio, a running track, a basketball and tennis court in one, and a 60-feet diving and a 100-feet lap pool. What more can you ask for? Well, that is not all. It also has a boathouse and a spa of its own. Surely, Woods does not have to go out of his house and spend on gas to experience these amenities.
LAURA INGRAHAM – $3.3 MILLION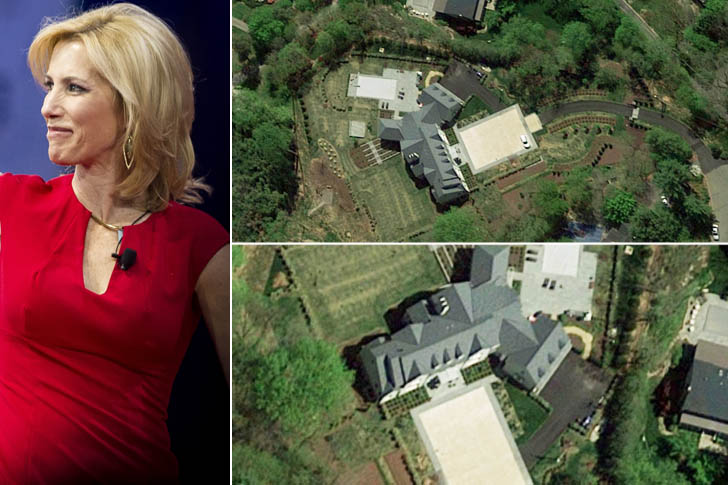 Laura Ingraham has been active on the screen for 20 years. Do you know what her favorite house is? Laura Ingraham surely enjoys peace and serenity in her new house, located on the quiet street of Mclean, Virginia. In 1960, the two-story home was first built. It features five beds and five and a half baths.
It has 7,869 square feet of living space, sprawling on its 2.1 acres of land, covered with lush landscape. It has a massive driveway in the front and a spacious patio at the back, where Ingraham and her three kids can play and or just about do any outdoor activities. It also has a massive swimming pool that they can enjoy in. Certainly, this place also comes with a unique home security system to keep the family safe. In 2014, the house was last purchased for $1.6 million, but it now had a $3.3 million value.
KEIRA KNIGHTLEY – $6 MILLION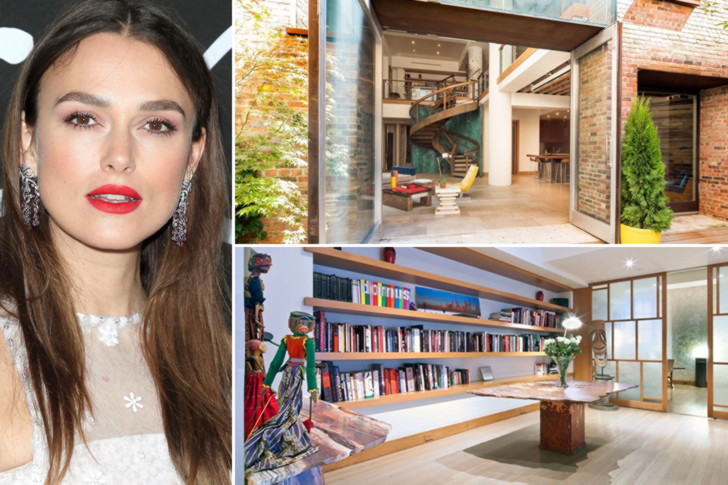 Keira Knightley was born in 1985. She began to be active on the screen in 1993 and has been active for 27 years. Keira Knightley just sold her New York City home for $6 million. Located in the trendy TriBeCa neighborhood, the house boasts two floors, three beds, and two and a half baths, sprawling on 3,820 square feet of living space.
The house carries a modern style with geometric wooden accents. Amid the modernity, Keira added a rustic feature with the floral wallpaper in the master bedroom paired with rustic woods that gives it a warm feeling to a certain degree. There is also a lot of space inside and outside the apartment that the new owner can fill with anything. It has 23 feet ceilings and a private patio that is about 900 square feet wide that they can surely enjoy to chill in.
SEAN CONNERY – UNKNOWN, BAHAMAS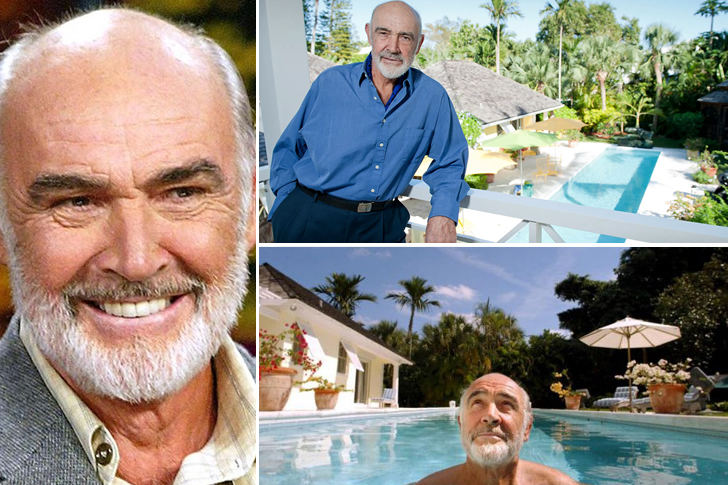 Sean Conney is a British national treasure. Sean Conney left a huge legacy in the entertainment world that every aspiring actor dreams of living up to. They could try to follow in his footsteps and make a big name in the industry, but being as famous as him is another question. Connery successfully made a mark as the first actor who took on the role of the equally iconic fictional character of James Bond from 1962 to 1983.
With a lot of movie credits to his name, including the Indiana Jones movie series and The Rock, among others, he eventually retired from acting. He spent the remaining days of his life in a beautiful house in the Bahamas, along with his family. Although the exact price of his wonderful villa was not revealed, it is speculated to be worth millions of dollars.
MARIAH CAREY – $5.5 MILLION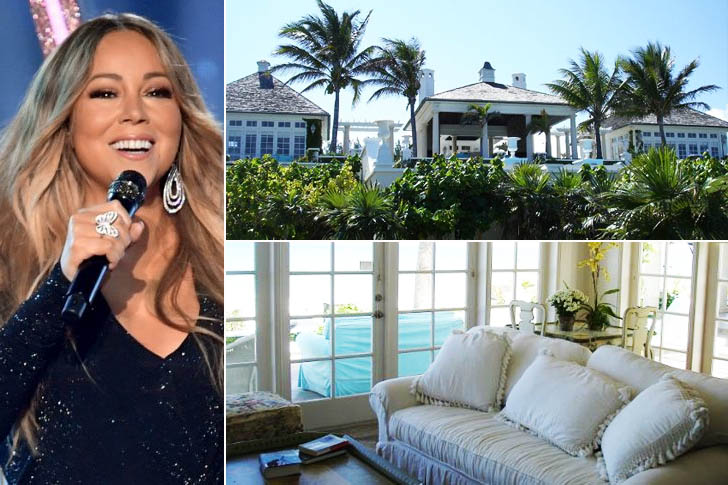 Mariah Carey listed her private island in the Bahamas for $5.5 million. It looked like the Songbird Supreme wanted to forget all the house's bad memories after tying the knot with her ex-husband, Nick Cannon, here in 2008. The property had a lot to boast. Despite its huge price, it would definitely be worth it for the new owner, knowing a superstar previously owned it.
It features 4,000 square feet of living space with three beds and three baths, located on the exclusive Windermere Island that could only be accessed through a private helicopter and authorized boats. Hence, the keeper had to spend more on gas to get here, but we think the beautiful views of the oceanfront would make up for it. It also had its own 40 feet swimming pool, in case the new owner isn't a fan of the beach.
TOM HANKS – $17.5 MILLION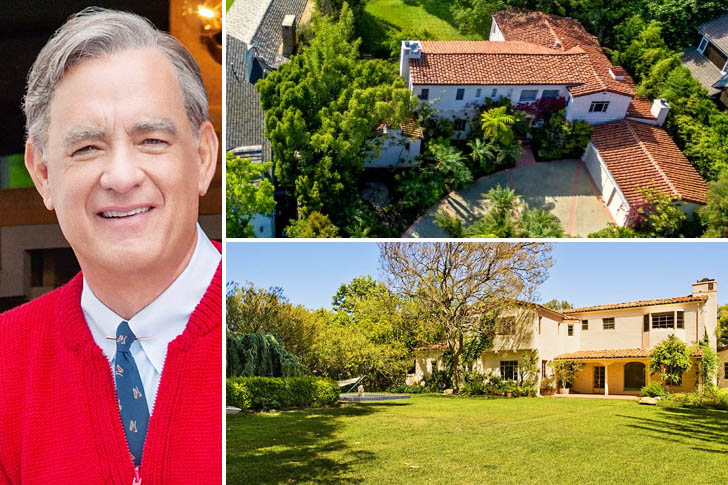 In 2017, news emerged Tom Hanks that had sold his two homes in the Pacific Palisades for a whopping $17.5 million. Initially, the award-winning actor and his wife, Rita Wilson, wanted to sell their houses for the price of $18 million instead. However, they didn't get any offer when they put it on the market in 2016; they then decided to sell it for a lesser price.
After they reduced their price by half a million, they were bombarded with many offers. Well, aside from being the former house of A-list actors, it also has a lot of features to boast. To its credit, the house has four beds, carrying a Spanish style mansion that seems to be almost everyone's dream home. The other house has seven beds and six and a half baths and was built in 1957.
EVA MENDES – $1.27 MILLION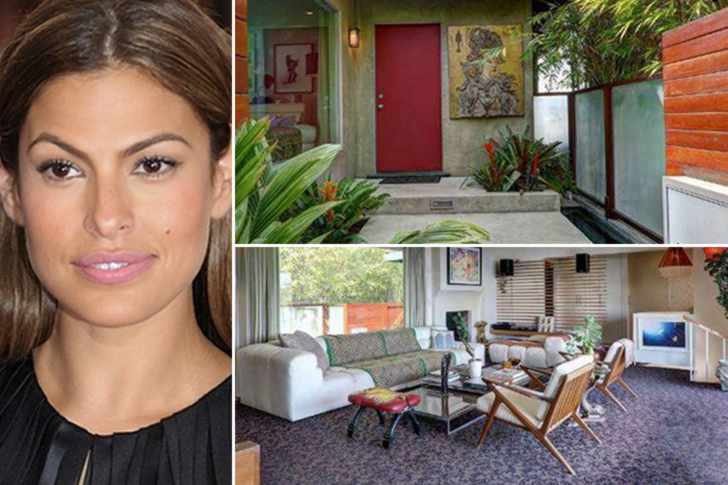 Eva Mendes hasn't acted for a long time, but her fans are still waiting for her to come back. Eva Mendes put the house she used to share with her then-boyfriend Ryan Gosling on the market for a modest $1.27 million. The home shows how cool the couple is with its unique features and amenities, from the décor they probably bought with their credit cards to distinctive art pieces.
The house carries a bohemian style and features three beds, two baths, an outdoor shower, a cedar hot tub, an entertaining deck, and a chicken coop. The couple may be following an organic and sustainable living, harvesting their own food from their vegetable and fruit boxes. It also comes with lounges, a piano, and a vast outdoor area where they can chill with friends or after a hard day's work. It also features stunning views of Los Angeles that they can enjoy.
JEFF FRANKLIN – $20.2 MILLION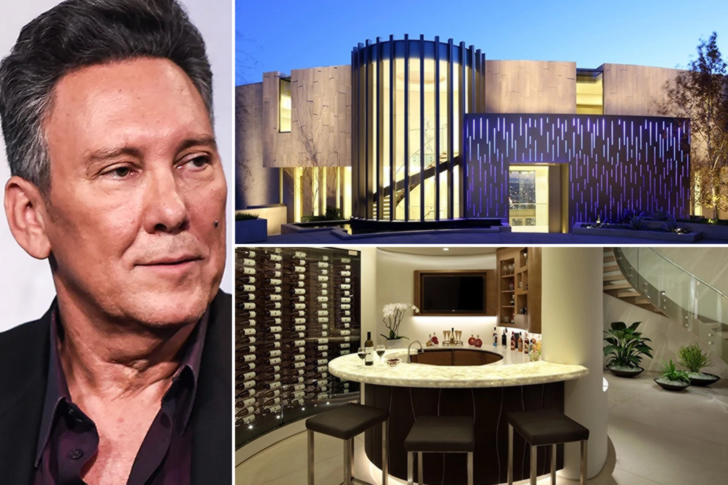 What are the homes of those famous directors? Jeff Franklin, the creator, writer, and producer of Full House bought the house he featured in the hit 1990s sitcom. He did not mind paying $20.2 million to buy the most-photographed home in San Francisco that became famously known as the house of the Tanner family. Give the man credit; he probably fell in love with this home after working on the show for decades.
However, rumors have it he first acquired the house for $1.9 million in 1988 and paid another $4 million to make sure it will be sold to him. Well, $20.2 million can still be considered modest compared to its original price tag of $38 million. It has 4,908 square feet of living space with five beds and six and a half baths, sprawling on a .48-acre of land.
DJ KHALED – $5.99 MILLION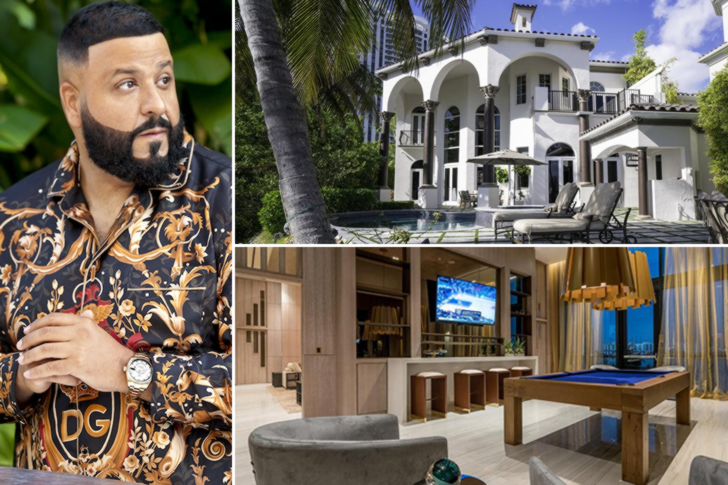 DJ Khaled has served as a host since 1998 and has made great progress in music later. DJ Khaled started in 1998 and has been active for 22 years. DJ Khaled's Miami mansion has been sitting on the market since 2018. Hence, he already cut its price by $600,000 for the second time in a row, bringing it down to $5.99 million. It was initially listed for $7.99 million. The house has a lot to boast about. It has 6,697 square feet of living space, located in the gated community of Island Estates in the suburb of Aventura, where the new owner can be sure of its home security.
Khaled bought the house for $3.84 million in 2015. Aside from that, he also spent $2.5 million for renovation, giving it a Mediterranean style. It features five beds, seven baths, and a lot of luxurious things, like a 14-karat gold chandelier adorned with Swarovski crystals.
ELLE MACPHERSON – $8.1 MILLION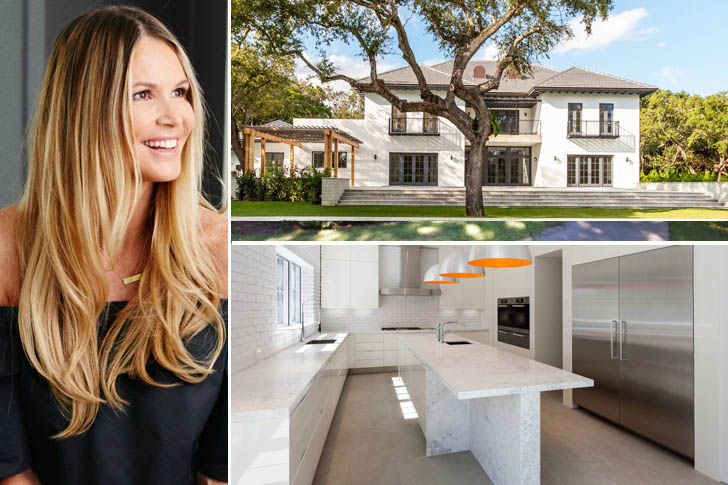 What style of house does supermodel Elle Macpherson like? Her house is astonishing. Elle Macpherson bought the former home of Erick Malka, the co-founder, and chief executive of the Art Shaving, in Coral Gables, Florida, for $8.1 million. Designed by Chad Oppenheim, the lavish house is worth every penny with its unique features and amenities. It has seven beds and six and a half baths, sprawling on 8,314 square feet of living space and sitting on 1.71 acres of land.
The pretty house carries elegant interiors of European flair with its own library. Also, it has a saltwater swimming pool right in the middle of the property. It also has access to tennis courts and a private boat mooring. Macpherson spent her investment money on this property, thanks to her hard work as a model back in the early 1980s.
MICHAEL CERA – $2.4 MILLION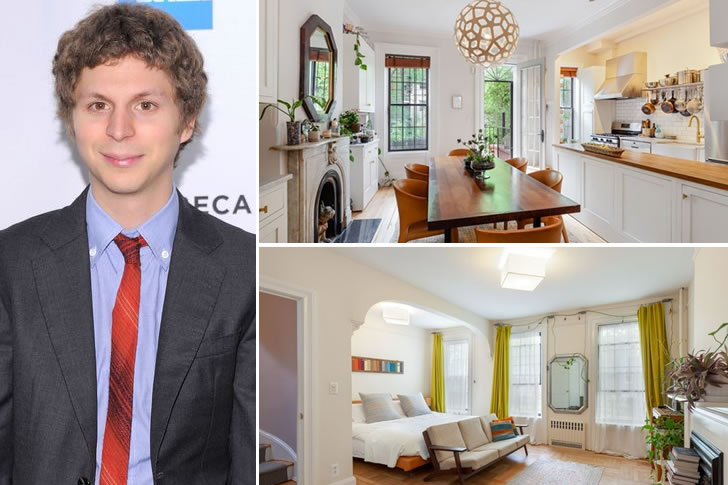 With his flourishing career in Broadway, Michael Cera chose to spend his investment money buying his own townhouse in Brooklyn worth $2.4 million. He sought the help of a liability company to secure the deal. The 32-year-old star secured a contract to buy the property just a few weeks after being put on the market.
Located in the neighborhood of Bedford-Stuyvesant, the house was move-in-ready with its features and amenities. It had four stories, initially built-in 1899, managing to maintain its original details. Its wide plank floors, marble mantles, and mahogany staircase railing and fence are still there. In addition, Cera could use his house as two units. It had an upper triplex with four beds and two baths, as well as access to the landscaped garden through the terrace. It also had an apartment in the garden with one bed and one bath.
ELLEN PAGE – $1.9 MILLION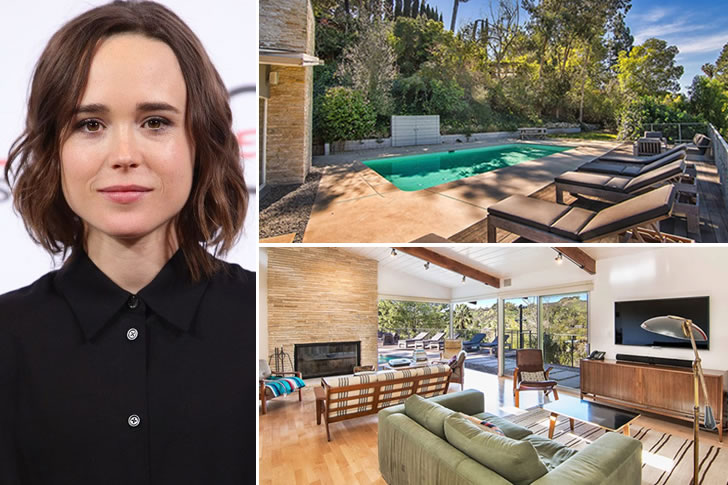 Ellen Page is saying goodbye to her Nichols Canyon home in Los Angeles after putting it on the market for $1.9 million. The actress slash producer's former house has a lot to show. It has three beds and two baths, originally built in the 1950s and formerly owned by Venus Williams. The place carries a post and beam style that she initially bought for $1.7 million.
By the looks of it, Page will have a meager investment return from this estate, given her selling price. However, it might not be a big issue for The Umbrella Academy star. The new owner will surely be a lucky one with the mix of vintage style and contemporary furnishings that Page added here. The pretty house also features an open floor plan with a spacious ceiling, sliding glass doors, and the canyon's stunning views.
KRIS JENNER – $12 MILLION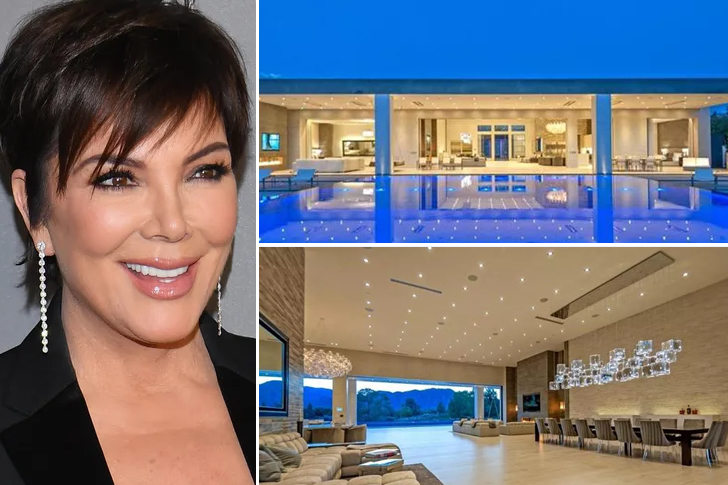 Kris Jenner, the matriarch of the KarJenner family, has successfully made a big name not just for herself but for her whole family. From Kim Kardashian to Kylie Jenner, her kids are now all successful in their own fields. Of course, the famous momager is part of the success, too. With their highest-rated reality TV series, Keeping Up with the Kardashians— not to mention the budding businesses— money is not a problem at all for this family.
So, if Kris decided to buy a home worth millions of dollars, she could freely do so in just a matter of seconds – and she just did. The 65-year-old TV personality bought a lavish $12-million house in La Quinta City, California, with eight beds and eight and a half baths. This is not surprising at all! Knowing she has a vast net worth, Kris definitely doesn't have to opt for any money loan.
DR. DRE – $5.25 MILLION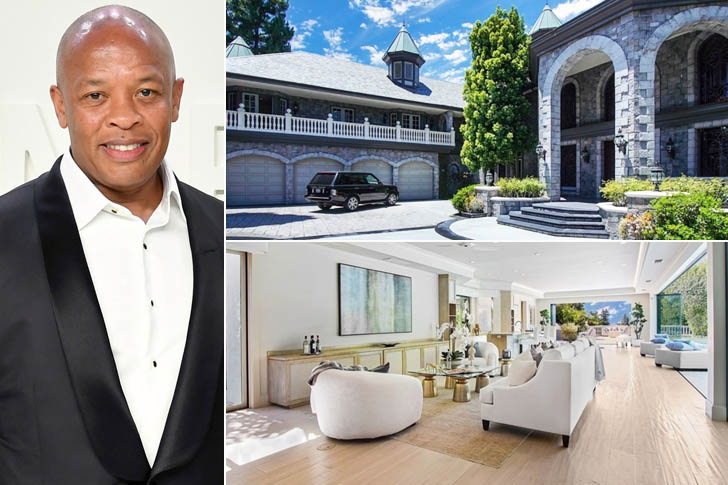 Dr. Dre put his Woodland Hills home for $5.25 million. The music mogul said goodbye to his longtime home, set on more than half an acre of land. The new owner would be sure of their home security, with the property being located inside a guard-gated community.
The 16,200-square foot house carries a French country theme, initially built-in 1987. It featured a grand staircase that linked the house's three floors with eight beds, 13 baths, and two powder rooms. Dre had the home renovated, adding significant features like two kitchens, a wine cellar, an office room, a movie theatre, a paneled dining room, and an elevator. It also had a custom 150-gallon fish tank that anchored the family room. A wet bar and an indoor spa could also be seen on the grand lanai. The new owner of this house will have a beautiful life here.
MATTHEW MCCONAUGHEY – UNDISCLOSED AMOUNT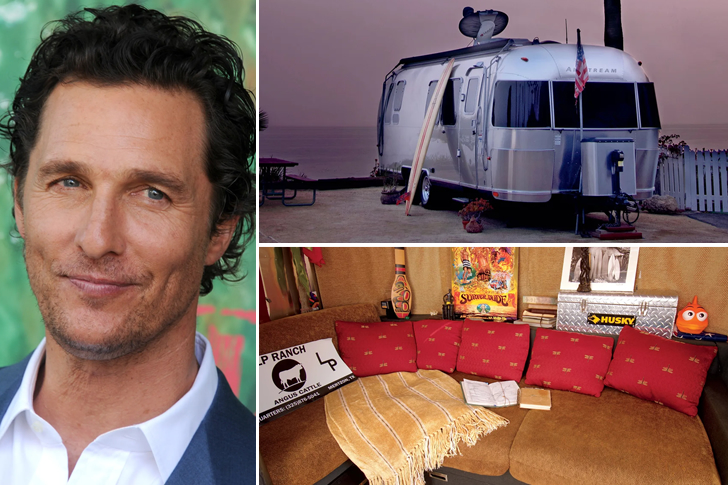 Matthew McConaughey may have owned several properties, but his favorite to live in is his transportable airstream trailer. Yup, you read that right. Despite the big-name he has, the 51-year-old star chose to have a more adventurous life in his trailer. He usually parks this near the beach in Malibu to get it whenever he wants to. Matthew also makes sure it will give him the best comfort, so he made a few additions and upgrades to fit his style and lifestyle.
Aside from his original trailer, Matthew ordered two new Airstreams, a 34-footer, and a 25-footer "Tepee," as he envisions himself building an Airstream hotel or an Airstream compound. Although he is not sure yet where he will create it, it might as well be on the road. Why do you ask? It is because the How To Lose A Guy in 10 Days actor feels guilty when his Airstream is all parked up and not moving, with the axles not spinning and the gas not working. Matthew is certainly one considerate owner!
STING – $50 MILLION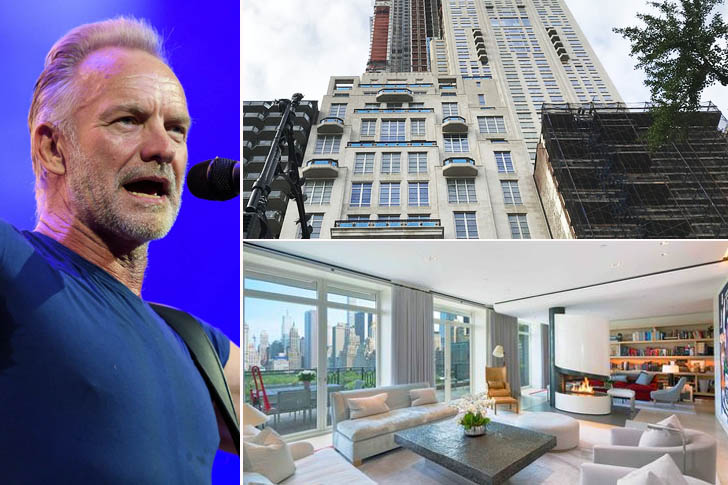 Another famous star who has a property in New York City is Sting. He owns a penthouse in the renowned 15 Central Park West building, and it reportedly outdoes Demi Moore's home. Although it is relatively smaller, with only 5,417 square feet of living space, it has 43 feet of Central Park frontage. Surely, Sting has a relaxing view whenever he hangs out on the terrace or enjoys his floor-to-ceiling windows that give his house natural lighting, saving him some electricity.
The house has other features, like its unique open fireplace, double sculptural spiral staircases, and dual spa bathrooms. His master bedroom also has its own sauna, and with a house like this, you can expect it to have top-of-the-line equipment. It also has a lap pool, fitness center, steam room, screening room, and private restaurant. It seems that this house is very comfortable.
CARRIE UNDERWOOD – UNDISCLOSED AMOUNT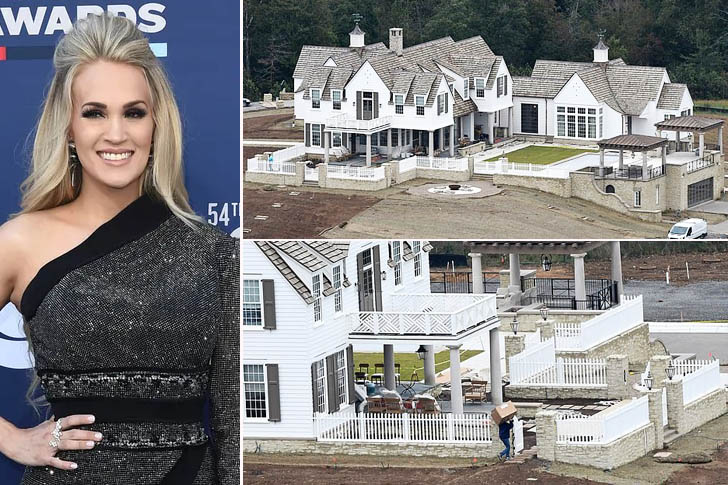 Carrie Underwood was born in Muskogee, Oklahoma in 1983. Carrie Underwood rose to prominence when she won the fourth season of American Idol in 2005. It presented her with a lot of good opportunities. Her Idol days enabled her to achieve the degree of fame and success that she had always wanted. With many hit songs, sold-out albums, and successful tours, she managed to amass a net worth of $140 million that let her buy the things that she wanted, including her own house in Nashville.
Although Underwood hasn't disclosed the amount of her house, it is believed to be worth millions of dollars. The 37-year-old performer, along with her husband, Mike Fisher, bought a farm, boasting 400 acres of plot land. It is complete with an orchard, cows, and several rooms for their horses so that they could go around.
WHITNEY HOUSTON – $1.5 MILLION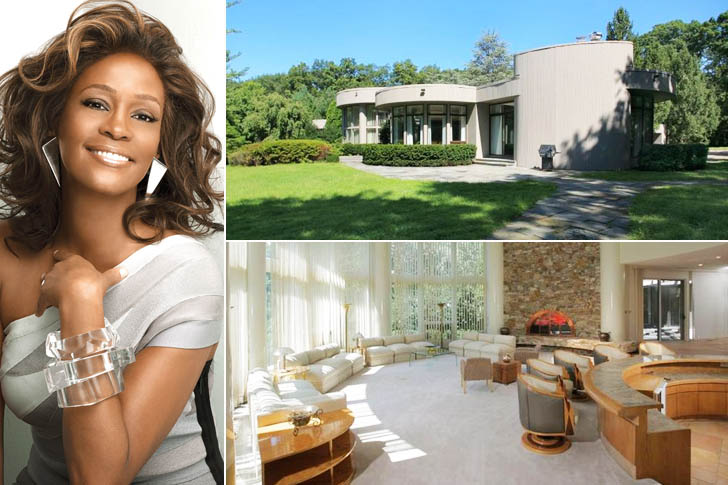 Whitney Houston was born in Newark, New Jersey in 1963. She is well-known for her very infectious mezzo-soprano, and has gradually broken through the bottleneck in her long musical career and achieved great success. Whitney Houston's former house, where she married former husband Bobby Brown in 1992, was put on the market for $1.5 million. The property had been listed several times, starting with the price of $2.5 million, which later changed to $1.75 million until it was finally priced at $1.5 million.
According to reports, it was first up for sale in 2009. Although there were a lot of potential buyers expressing their interest in buying the Queen of Soul's former house to a certain degree, nothing materialized. Originally built in 1992, it had a lot to offer. Aside from being Houston's home, the house was seated in a sprawling five-wood-acre of land. It had five beds and four baths, carrying a modern style that featured an extensive interior.
RACHAEL RAY – $3.25 MILLION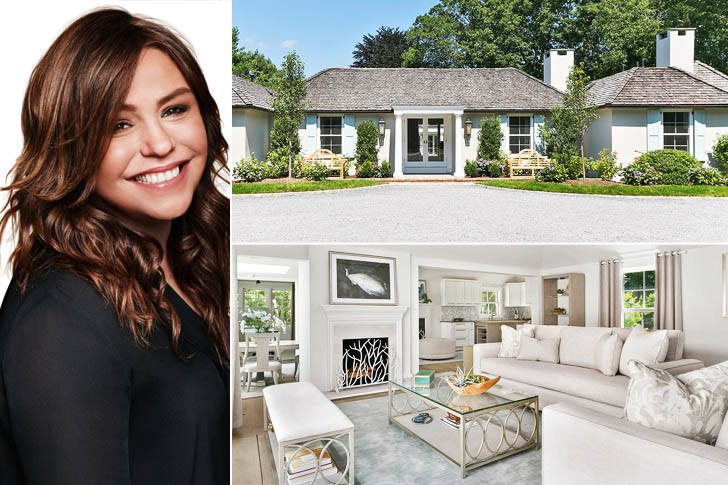 Rachael Ray is now saying goodbye to her lavish home in The Hamptons after putting her Southampton estate on the market for $3.23 million. The renowned celebrity chef got Sotheby's International Realty's help to represent both sides of the deal. Her listing agent was Angela Boyer Stump, while Denise Stephens represented the buyer.
The house boasts 3,000 square feet of living space sitting on about six acres of land, accentuated with lush green lawns and beautiful gardens. Initially created in 1976, the single-story home has three beds and five baths. As something owned by Ray herself, you can expect it to be as "elegant and sophisticated" like her. The new owner can also save a lot from electricity bills with the home's ample natural light. It also features a lot of custom details fit for a star!
ROBIN WILLIAMS – $18.1 MILLION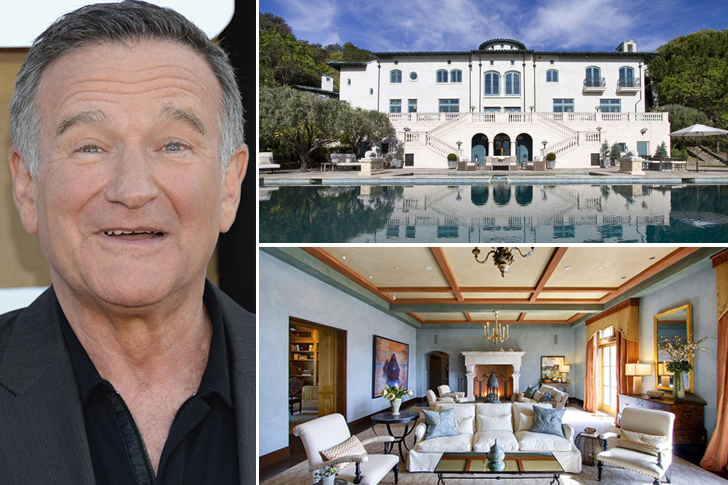 Robin Williams' acting is called a textbook template. Robin Williams had left an incredible mark in the industry, credits to his extraordinary talent in acting. A legendary actor himself, his every movie turned to be iconic as well. Despite earning the title of one of the best comedians of all time, Robin didn't only confine himself to doing comedy movies.
He had a slew of heart-wrenching films, like Good Will Hunting, Dead Poets Society, and more. With his success, Robin had made a huge fortune that let him invest in real estate. One of the fruits of his labor was a house in Napa Valley. It carried a Mediterranean style and boasts of excellent amenities, like a spa, a swimming pool, a tennis court, a horse barn, a pond, and a vineyard. Later on, this house was sold for $18.1 million.
DEMI MOORE – $45 MILLION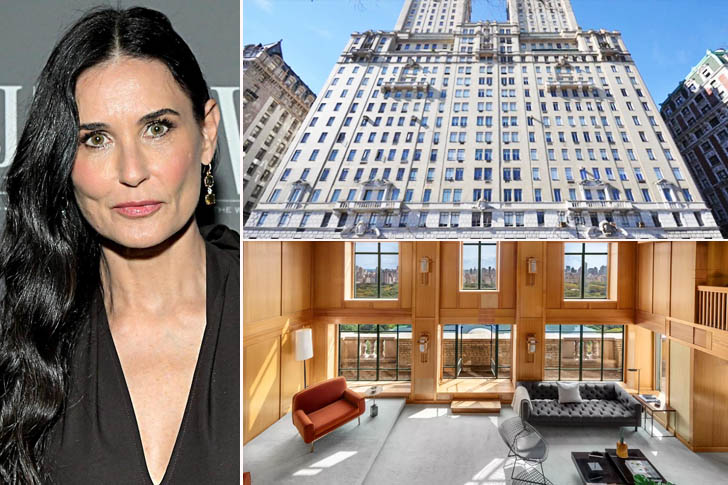 Demi Moore's beautiful eyes once captivated countless fans. Demi Moore has sold her New York City triple for $45 million, and it is just worth it. It is every inch an outstanding property. In fact, its original asking price was $75 million when she put it on the market in 2015. Called the Floating Mansion, the property rises above Central Park. It has 7,000 square feet of living space that features six beds and five and a half baths. It has a unique home security system, located in the historic San Remo complex.
Aside from being formerly owned by an A-list actress like Moore, the house boasts many more things. It has its own projection room, elaborate plaster ceiling moldings, a fireplace with turquoise tile, and another 1,500 square feet stone terrace that goes around the building's top tower.
RICHARD GERE – $36.5 MILLION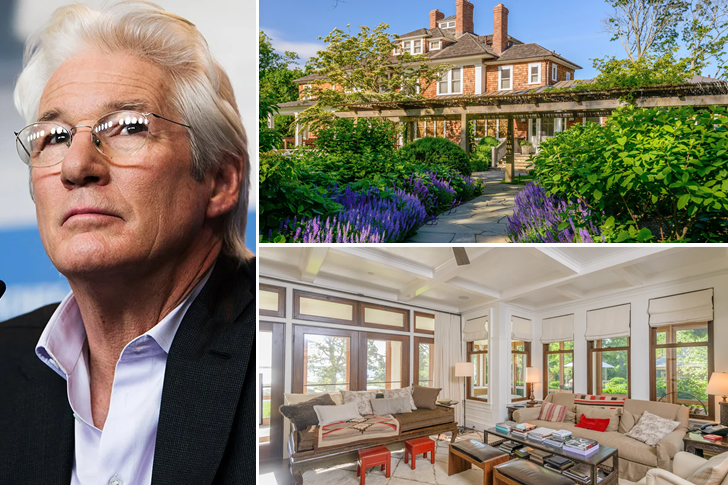 Few people don't know who Richard Gere is. He brings excellent movies or TV shows to the audience almost every year. Richard Gere and his wife of two years, Alejandra Silver, sold their beautiful Hamptons mansion before the latter gave birth to their first child. Its new owner, the former TV news anchor Matt Lauer, is undoubtedly one lucky guy after acquiring the massive home.
For about $365 million, Matt doesn't only have a new house, but a home where an iconic actor used to live. It may have added up to the properties' price, but it is surely worth the investment. The house in question has an enormous 60-foot pool, posh interior design, and lush lawns and gardens, sprawling on 6.3 acres of land. However, according to reports, Matt returned the mansion on the market again. Who knows, he might be planning to get a bigger one.
AMY ROBACH – $9.975 MILLION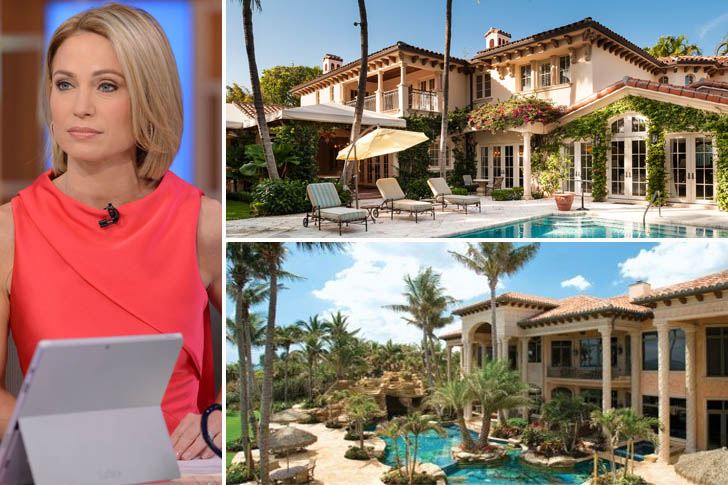 Fans will quickly recognize Amy Robach as a TV presenter for ABC News. She is the co-anchor of the long-running news show, 20/20, and the breaking news anchor for Good Morning America. Aside from ABC News, she also used to be a national correspondent for NBC News, co-hosting Today every Saturday and anchoring MSNBC.
With her success, she managed to buy herself a lavish home worth $11.75 million in Florida last 2008. Surely, she didn't make this alone, having the help of her actor husband, Andrew Shue. They made this home their love nest, where they were with their now-grown-up kids, Ava and Annie McIntosh. However, Robach and Shue decided to put their house on the market for a much lower price of $9.975 million. Sadly, they didn't earn a decent profit from this five-bedroom investment. But don't worry, with the efforts of this couple, they will have a better house.
SIMON COWELL – $29 MILLION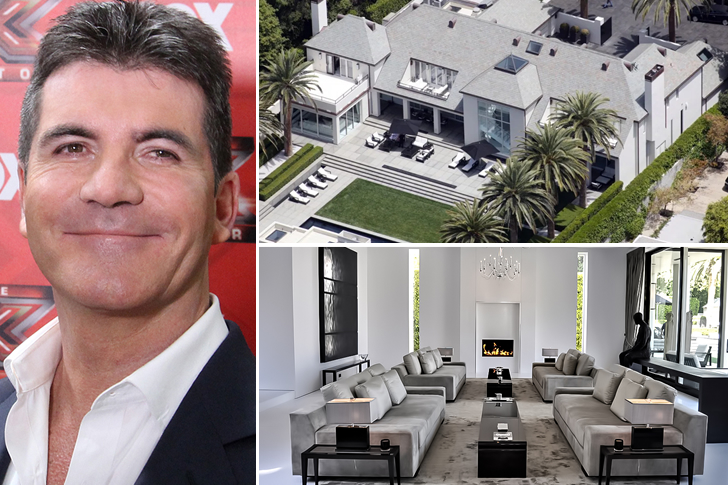 Simon Cowell is well-known as an entertainment manager, record executive, and strict judge on several reality TV shows. He is one of the famous judges of American Idol, The X Factor, and America's Got Talent. Undoubtedly, the 61-year-old personality has made you nervous with his frank comments about aspirant performers one way or another.
However, Simon is not only good at "judging" celebrity hopefuls but also in choosing the perfect home to live in. His house is surprisingly comfortable. The entrepreneur spent $29 million of his investment money in a posh Beverly Hills mansion. The house has an incredible contemporary design, screaming of Simon's expensive style. Don't be surprised, though, if he has installed it with the most modern home security system. He just probably wants to keep him and his family safe.
ALEX TREBEK – $4 MILLION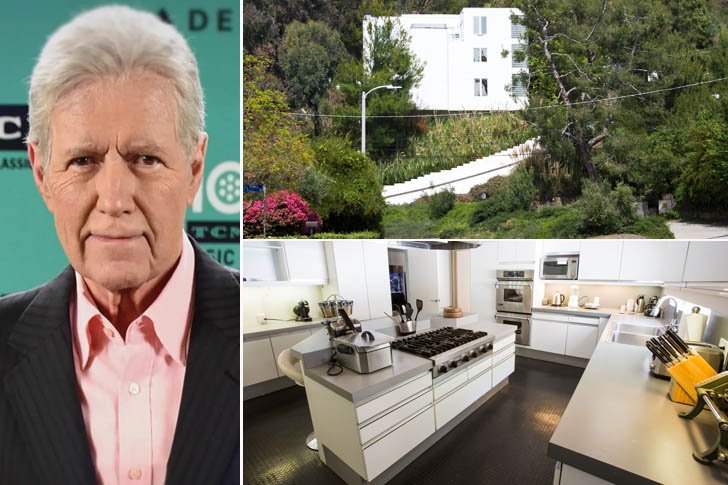 On July 22, 1940, Alex Trebek was born in Ontario, Canada. In 1961, Alex Trebek began his career. In the beginning, he hosted sports and music shows. Jeopardy will never be complete without Alex Trebek. Being the show's host since the 1960s, he has undoubtedly accumulated huge earnings from it that can enable him to buy an entire mountain if he wanted to. So, he spent $1.5 million to build the dream home that he wanted by purchasing a property in the Hollywood Hills in 1990. It has a sprawling 35 acres of land, which is definitely a good steal and investment for its price.
His house has 10,000 square feet of living space, spending another $2.15 million for his primary residence. Aside from this, Trebek also owned a vacation home with 2,595 square feet of living space, which has an overlooking view of Lake Nacimiento in Paso Robles, California.
MEL GIBSON – $29.75 MILLION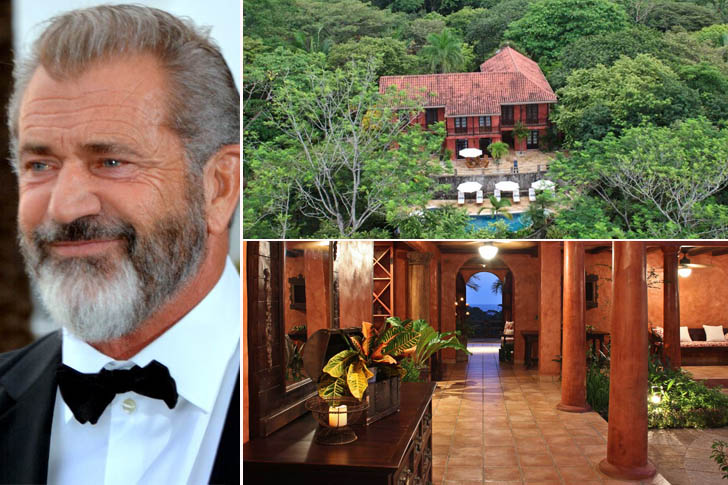 Mel Gibson's success in film has accumulated huge wealth for him. Mel Gibson has a substantial real estate portfolio, proving he is making an incredible deal in this field. But despite owning several properties, it is his Costa Rico home that stands out the best. Also called Playa Barrigona, the mansion sprawls on its 500 acres of land, which is only two miles away from the beachfront. The property boasts three houses and its own jungle that homes different wildlife animals.
It has seven beds and eight baths, featuring coral stones and ornate stone carvings, and Italian and Spanish flooring. It also has several balconies, overlooking the courtyard, pool, open-air dining room, and the commercial kitchen below. Well, these are just the features of the first house! Gibson has two other properties that contain everything that you will need in a home, including its own private pools.
JOAQUIN PHOENIX – $1.391 MILLION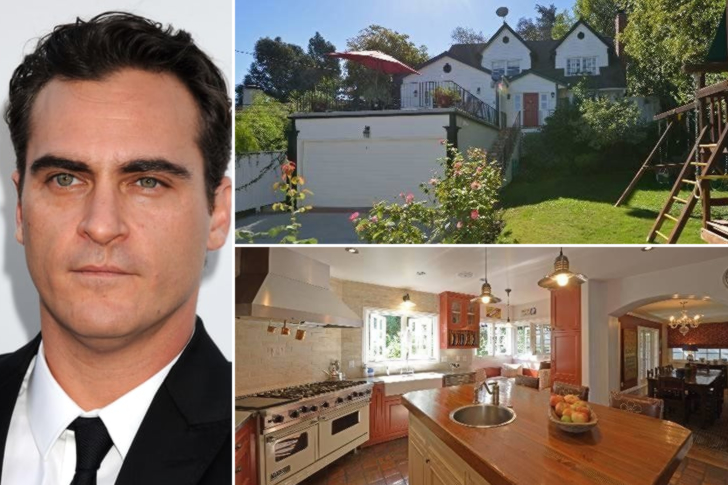 On October 28, 1974, Joaquin Phoenix was born in San Juan, Puerto Rico. His family was very poor when he was young, and he often performed street performances with his brothers and sisters. This experience paved the way for his future success in the film industry. It looks like Joaquin Phoenix is following the footsteps of the ex-lover's Brad Pitt and Angelina Jolie by buying properties near their home to build a massive compound of his own. He bought a 2,511-square-foot house near his home for almost $1.391 million, although it remained to be seen what Joaquin would do here.
The 3,753-square-foot home, alternatively, which he bought for $4.8 million in 2006, remained to be his main abode. Joaquin just added this property to his impressive real estate investments, comprised of houses in Los Angeles. It was described to be a "very special charmer" that was renovated to perfection. It featured a lavish living and dining room with a beautiful landscape of grassy yard that also came with a custom outdoor fireplace and stone waterfall.
BURT REYNOLDS – $3.3 MILLION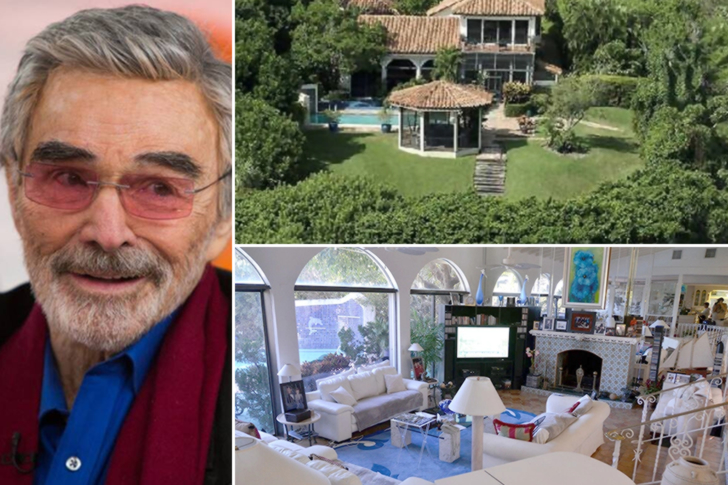 Burt Reynolds put his Hobe Sound, Florida, mansion to Charles Modica for only $3.3 million – a price lesser than its original value – in 2015. It is a good buy for the new owner with its 3.4 acres of land with 12,000 square feet of living space. It also features a separate two-bedroom guesthouse, a pool with the Florida State University logo on its flooring, a dock, and a helicopter landing pad.
What more can you ask for? As a true blue artist, it also comes with a perfect personal movie theatre. Burt used to live here with his wife, Loni Anderson, after buying it in 1980 for only $700,000. He first put it on the market in 2005. But as he found it hard to find a buyer, Charles bought it for nearly two-million cheaper than its actual worth.
TOM CRUISE – $13 MILLION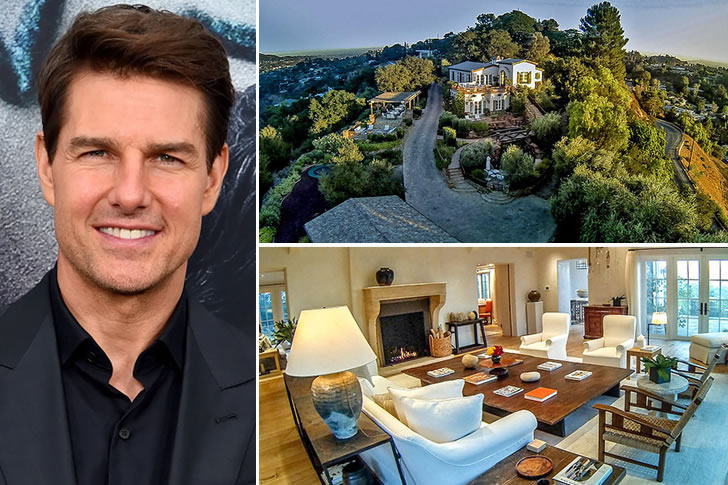 Since Tom Cruise starred in the movie Top Gun in 1986, he has always been the representative image of fighter pilots in everyone's minds. Tom Cruise has been making investments in real estate, including his stunning home in Hollywood Hills, California. The said house is worth a whopping $13 million, and it boasts a lot of luxurious and expensive features.
One of the best features his house has is the beautiful views of the Los Angeles lights. It has seven beds and a four-bedroom guesthouse, ready for anyone who will come for a visit. Although Cruise is a public figure, he still wants to make his personal life private. So, his house is only accessible through a long driveway, which is still protected by a daunting gate. In the living room, guests will be welcomed by vaulted and beamed ceilings with a fireplace that warms up the house.
MARJORIE ELAINE HARVEY – $1 MILLION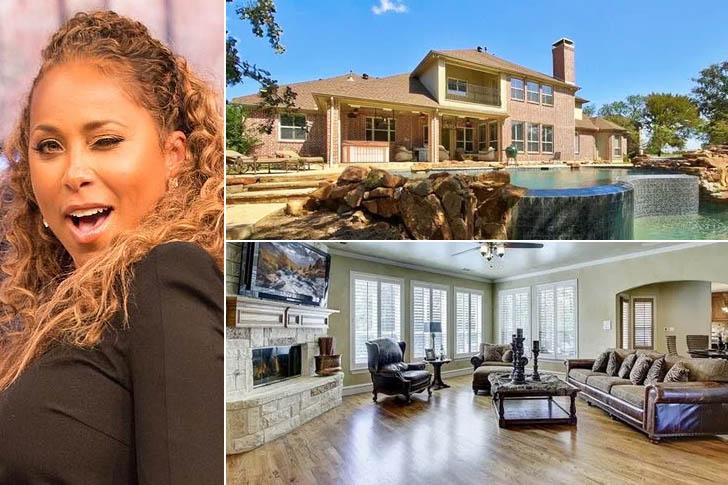 Marjorie Elaine Harvey and her husband, Steve Harvey, own a lot of properties in various estates. Steve is famous for being a comedian and host. In fact, Steve is also known for his massive real estate investments and portfolio. The couple has three properties in Texas alone, including the 7,430-square-foot home in Little Elm.
Originally built in 2003, it boasts 3.67 acres of land with five beds and six baths, and added with a lot of luxurious features. Today, this home is worth $1 million. Aside from this, Marjorie and Steve used to have a house in Plano, which they later sold for $3.5 million in the same year their new Texas home was built. It featured 3.24 acres of land, five beds, six baths, a gourmet kitchen, a game room, a swimming pool, and a spa. They also had a property in Frisco, which they later sold.
BILL COSBY – $250K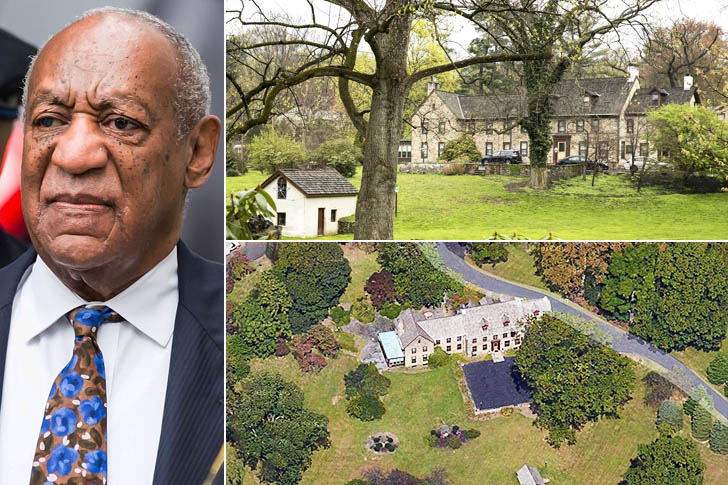 Bill Cosby was born on July 12, 1937. In the 1960s, Bill Cosby started his own business and subsequently succeeded in sitcoms. Bill Cosby bought a property in Elkins Park, Pennsylvania, worth $250,000 in 1983. The house featured 8,940 square feet of living space, sitting on a three-acre land with several auxiliary buildings. Originally built in the 1800s, it also boasted seven beds and six and a half baths.
Cosby lived with his wife, Camille Cosby, here for the past 50 years. They had five kids and three grandchildren. Now at 83, he was mostly spending his time here. Aside from this property, Cosby had a substantial real estate portfolio. With $400 million of net worth, he had made a lot of investments here and there. In addition to his properties, he also had an impressive art collection, which was also worth millions of dollars.
KIM BASINGER – $972,000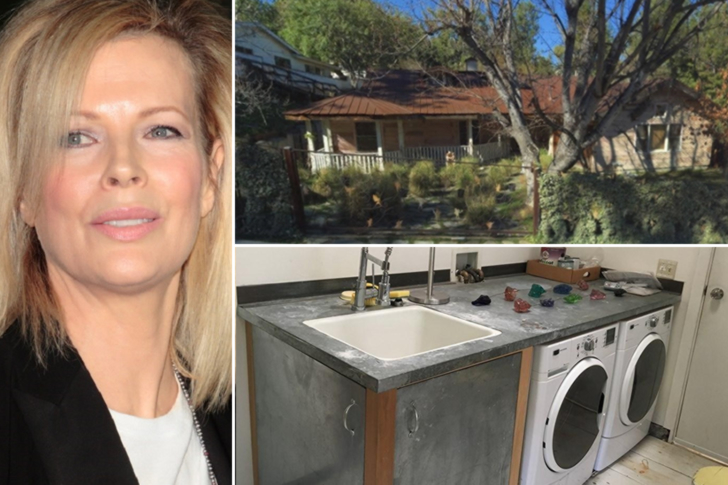 Fans know Kim Basinger as the ultra-glamorous Bond girl, Domino, from the James Bond film, Never Say Never Again. However, behind the glamorous image, everyone came to know her for, is a remarkably modest and elegant artist. Unlike most A-list celebrities who go hard on real estate investments, Kim chose to invest her money in quaint properties like this cozy two-bedroom house in Woodland Hills.
The home is a stark contrast to what we're used to with Hollywood stars. Instead of an imposing facade, Kim's former home boasts a cottage-style exterior. Inside, the home offers large book storages, open-beam cathedral ceilings, dark-stained flooring, a private media room, and a three-zone climate control system. The backyard also features lush wooded surroundings that seem to offer added privacy. The property also doesn't cost as much as other celebrity-owned properties. It is valued at around $974,000 but has been sold at $972,000 in 2017.
PAT SAJAK – $699 THOUSAND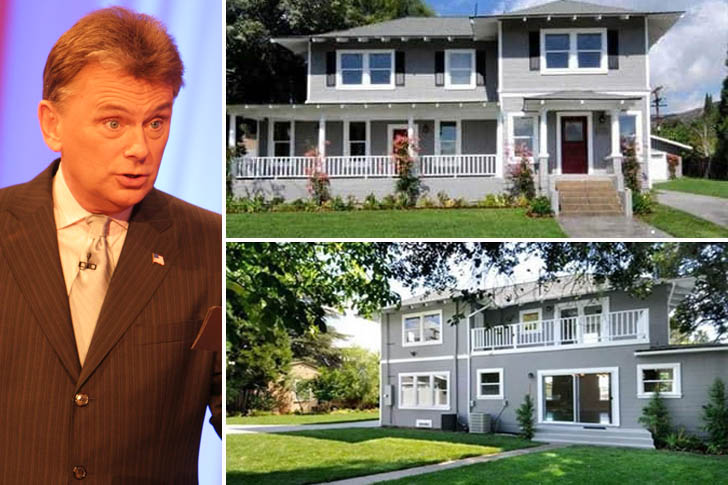 Pat Sajak was born in Chicago on October 26, 1946. Pat Sajak has become a staple in everyone's home, credits to his several game shows. He has been the iconic game host behind Wheel of Fortune, The Pat Sajak Show, The Price is Right, and Pat Sajak Weekend. But before fans started to know him as a host, Sajak used to be a weatherman. With this achievement, he managed to buy himself a gorgeous home with his then-wife, Sherrill Sajak, back in the day.
However, they decided to sell the 2,600-square foot property after an extensive renovation and remodeling. They sold the house for only $699,000. Initially, the house was built in 1911. Sajak intentionally kept its original historic architecture, like the layout of its kitchen. It has four beds, three baths, and a laundry room for the new owner to use.
HARVEY WEINSTEIN – $25 MILLION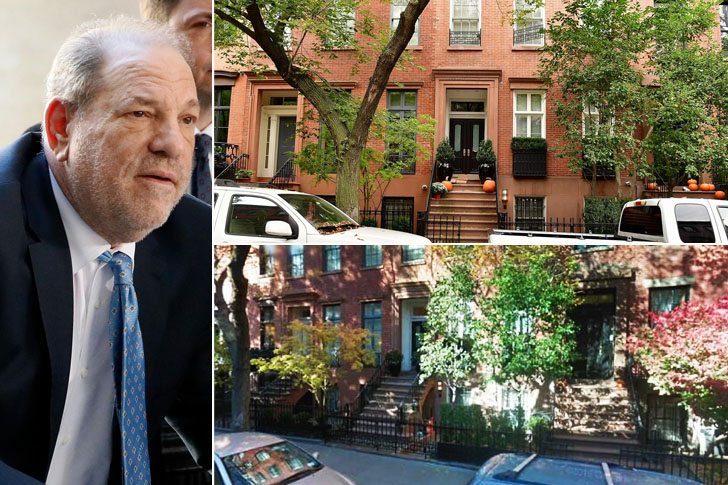 On March 19, 1952, Harvey Weinstein was born in a not wealthy family in New York. In the 1970s, Harvey Weinstein founded a film distribution company. In the 1980s, Harvey Weinstein had already achieved success with movies. American film mogul Harvey Weinstein was said to have had one of the most successful and fastest-moving filmmaking careers in all of Hollywood. And through the course of his glamorous career as a film producer, Weinstein has acquired some of the grandest real estate properties in some of the country's most prime locations.
However, after Weinstein faced personal problems, he started selling some of his prized investments, including his West Village. The house was once shared by Weinstein and his former spouse, Georgina Chapman before it was put on the market for $25 million. The four-story property boasts 5,000 square feet of lavish living space with a high-tech security system and sits in a luxurious prime location in New York City.
JIM PARSONS – $6.95 MILLION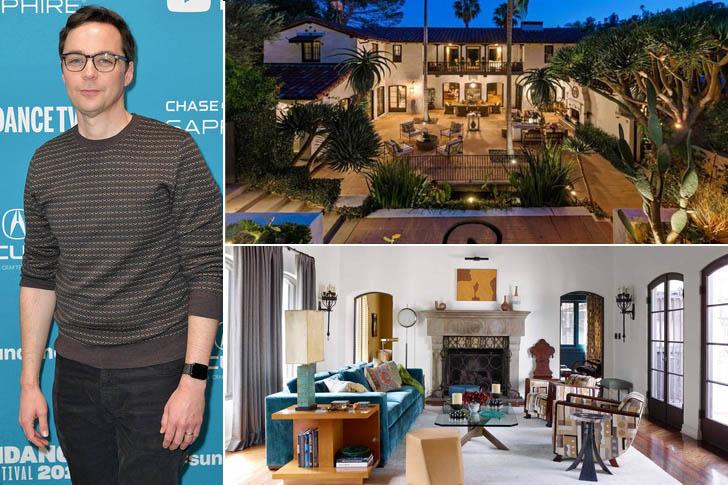 Many fans cannot accept the fact that The Big Bang Theory is over. But fortunately, everyone's favorite characters in the play, including Sheldon Lee Cooper, have a good ending. Jim Parsons added millions of dollars more to his already big, fat bank account. He managed to sell his classic Los Feliz home for a whopping $6.95 million. Built-in 1922, it carried a Spanish Colonial style that featured antique flooring and stonework.
It also has original beams and hand-stenciled ceilings. It has its own den, library, and a formal dining room, boasting French doors, which will lead its new owners to the central courtyard. Its updated kitchen also features its own private dining patio. On the second floor, it has a master suite with a newly-renovated bathroom and dressing area. In total, it has three bedrooms, three and a half baths, and a maid's room, sitting on a 4,000-square-foot of living space.
MORGAN FREEMAN – UNDISCLOSED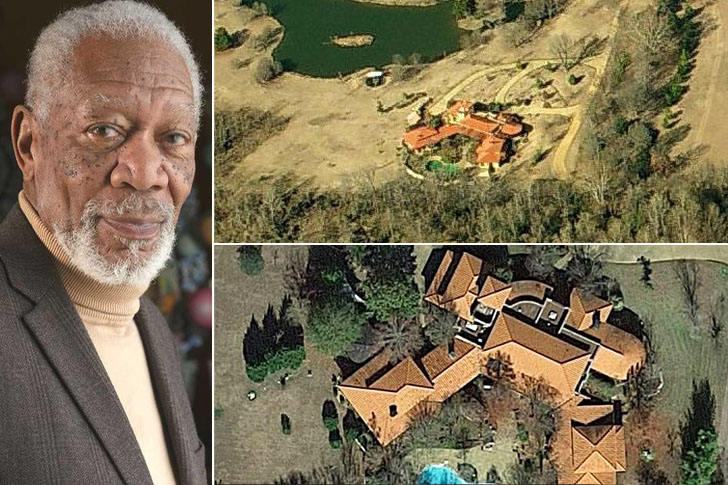 On June 1, 1937, Morgan Freeman was born in Memphis, Tennessee, USA. The first time he showed off his acting skills was to play the leading role in the school's drama performance. In 1964, Morgan Freeman played an important role at the World Expo. This is also the starting point of his acting career. We all love Morgan Freeman, don't we? His 5-decade long career is among the cleanest and well-respected careers in all of Hollywood, so you can't blame us if we love this man to death.
The 81-year-old Hollywood veteran indeed found his way around our hearts through a plethora of award-winning performances. Still, he is now giving us more reasons to love him by converting his 124-acre home in Mississippi into a bee sanctuary. Morgan's initiative of saving the bees instead of investing in more extravagant ventures is definitely a breath of fresh air, given that his credit score could most certainly afford him more expensive hobbies.
LEE PACE – UNDISCLOSED AMOUNT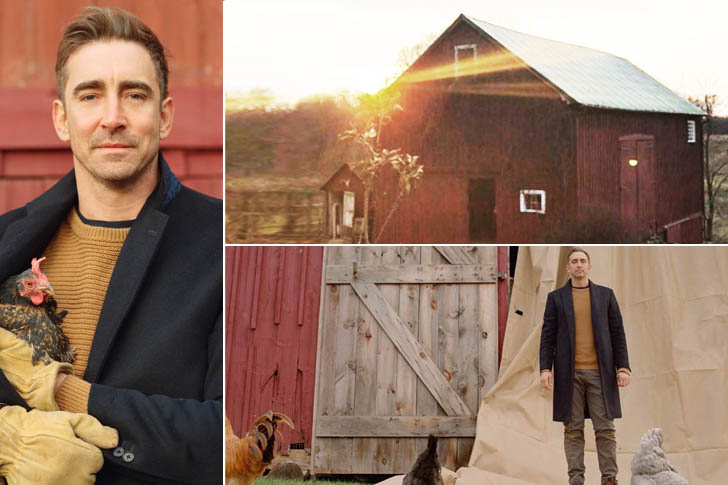 Lee Pace was born on March 25, 1979. He is 41 years old this year. He started his acting career in 2002. Created a lot of contrasting characters. Lee Pace's role in The Hobbit is so amazing that no actor can surpass him in this role. Lee Pace built his own house with the help of YouTube. After he bought a property in upstate New York, he decided to make a house with his bare hands. So, how did he do it?
He found himself watching a lot of YouTube videos, learning how to build soffit, and taking measurements accurately. In other words, he took a crash course in construction through YouTube, like it's an online class. However, as he hadn't done everything perfectly, he ended up buying his neighbor's house, a much bigger farm than his home. The farm in question was a 110-acre lot.
ANNE HATHAWAY – $2.79 MILLION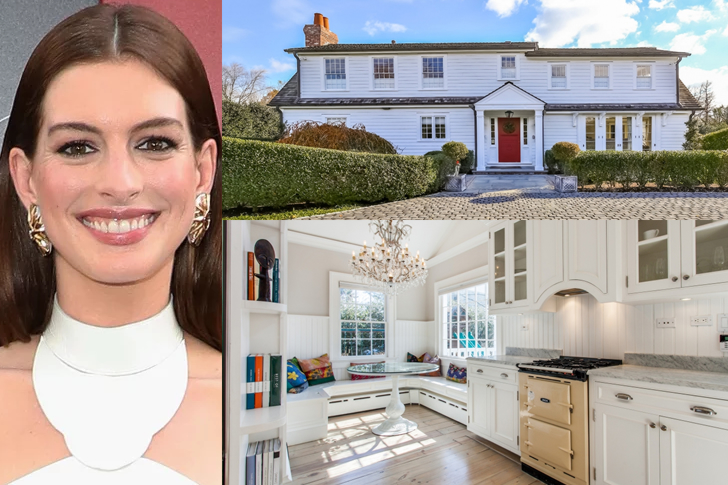 Movie fans are very curious about how the 38-year-old Anne Hathaway has maintained a high level of acting skills in her acting career for more than 20 years. She is also considered one of the highest-paid actresses in the world. Anne Hathaway's farmhouse in Connecticut looks like it came straight out of a fairytale. It's every bit a charmer from the outside and inside. This Oceanside residence covers 4,561 square feet and has kept much of its original New England architecture despite renovations. It comes with 5 bedrooms and 6 bathrooms, with high ceilings that bring in a lot of natural light.
We wonder why Anne would ever want to part ways with this gorgeous residence, but given that she has other property investments, such as her equally stunning hunting lodge-chalet-inspired home in California, it's probably the best move for her growing portfolio.
CHRISTIE BRINKLEY – $29.5 MILLION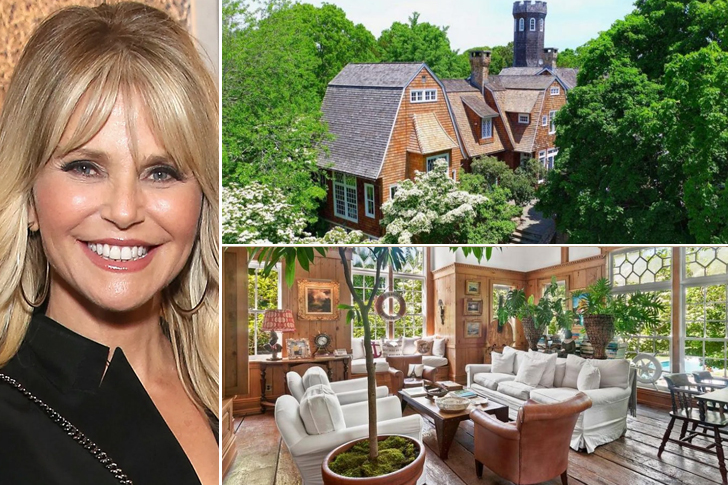 Christie Brinkley has so many occupations that surprise you. She is an actress, illustrator, photographer, designer, and human rights and animal rights. She has been active in her career since 1973 and has accumulated huge wealth. Christie Brinkley joins the list of Hollywood celebrities who are selling off their mansions. She says goodbye to her long-time Hamptons estate, putting it with a $29.5 million tag price. The house boasts 20 acres of land. It is located in Tower Hills.
The house is said to be perfect for Christie and her three kids. But as the kids are now all grown-up, it is no longer practice for her to live in this sprawling house. The 66-year-old model has lived here for a long time. Although she was initially known as a California surfer girl, she was ready to leave this credit, and call Hamptons her home.
KIM KARDASHIAN AND KANYE WEST – $60 MILLION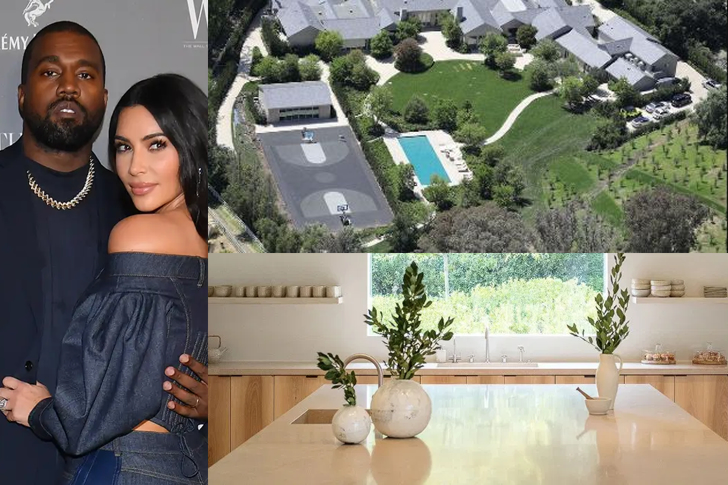 Kim Kardashian and Kanye West may be the most talkative couples in Hollywood. They are often paid attention to by the public because of their family life, which arouses heated discussion. From a grand suburban home to an ultra-minimalist abode, it's always interesting to see the stylistic choices made by power couple Kim Kardashian and Kanye West. You might have already seen glimpses of their "monastery" like home on Instagram and thought it looks very clinical. this couldn't be further from the truth.
The design is unorthodox for domestic households, but it creates lots of space and plenty of natural light. The muted tones don't appear as cold when contrasted with wood and the green in their surroundings. It took 7 years to finish the renovation, but it seems they're happy with their investments.
BILL O'REILLY – UNKNOWN PRICE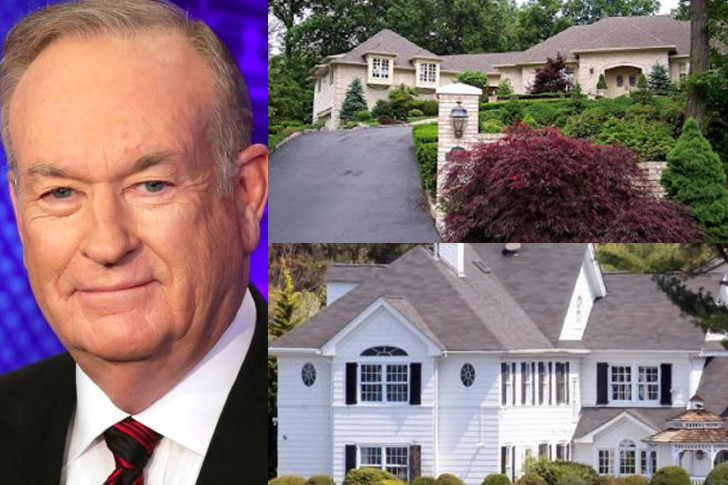 Bill O'Reilly was born on September 1, 1949. The interview video of 71-year-old Bill O'Reilly often arouses heated discussion. He caused a large number of fans to follow because of gentlemen's foreign trade and oppressive questions. Another familiar face in the world of news, Billy has worked with some of the biggest networks on TV including CBS News, ABC News, and Fox News.
He may have gone through a rough patch a few years back, causing his termination from Fox News, but the journalist is certainly far from going into bankruptcy. After all, he has $85 million to his name. He currently lives on Long Island, in an estate he bought during the peak of his career. It's every bit a charming, traditional home—with white wood paneling and surrounded by lush greens. No wonder he fell in love with it!
JUSTIN BIEBER – $8.5 MILLION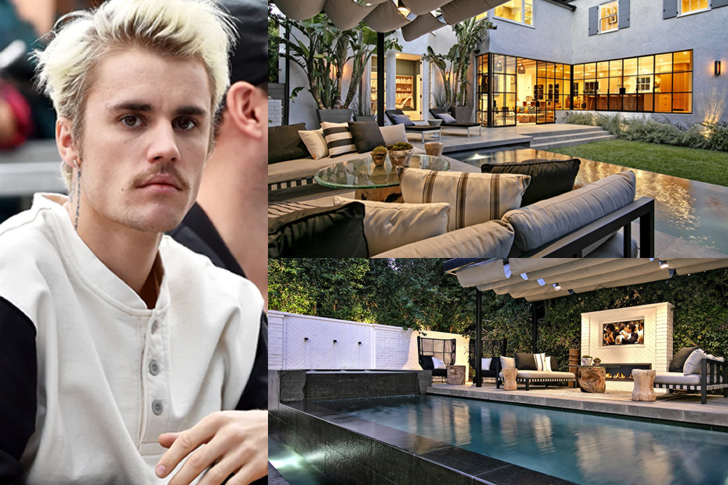 Justin Bieber was born in 1994. Although he is only 26 years old now, he has the strength to enter the Forbes rankings. His musical talent is very remarkable. When Justin Bieber was 16 years old, he released his first album, which caused a re-ranking of the music chart once it was released. He's been renting a mansion on Hollywood for years, but only recently did Justin decide to take the plunge and finally invest in a home for himself and his wife in the famed city of Calabasas.
The 1930's Monterey Colonial he shares with Hailey is a classic but was also recently given a more modern touch by Charles Infante—a renowned production designer. For a family home, it has more than enough space to house their future kids. The residence comes with 5 bedrooms and 7 bathrooms, a library with its original paneling intact, a wine cellar, and windows that draw in the outdoors view.
MATT BOMER – $3.125 MILLION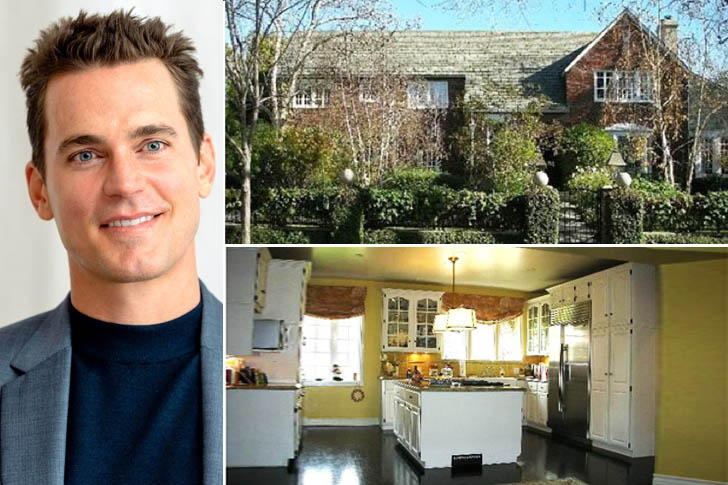 Matt Bomer is definitely one of the most attractive actors in the world. Matt Bomer was born in Missouri, the USA in 1977. In 2001, he obtained a Bachelor of Arts degree from Carnegie Mellon University. In 2005, Matt Bomer starred in Flightplan. This is his film debut. Matt Bomer made a major real estate investment when he bought a $3.125 million at the Hancock Park area of Los Angeles, California. It boasts 4,741 square feet of living space with six bedrooms and four and a half bathrooms.
According to reports, Bomer paid for the house through a trust. It was reportedly a 1922 English Country home with a bedroom and a bathroom that make a staff suite on the ground floor, while the remaining rooms upstairs were converted to a dressing room with built-in shelves, drawers, and hanging bars. It also has a beautiful garden that will surely make Bomer feel relaxed.
JENNIFER LAWRENCE – $8 MILLION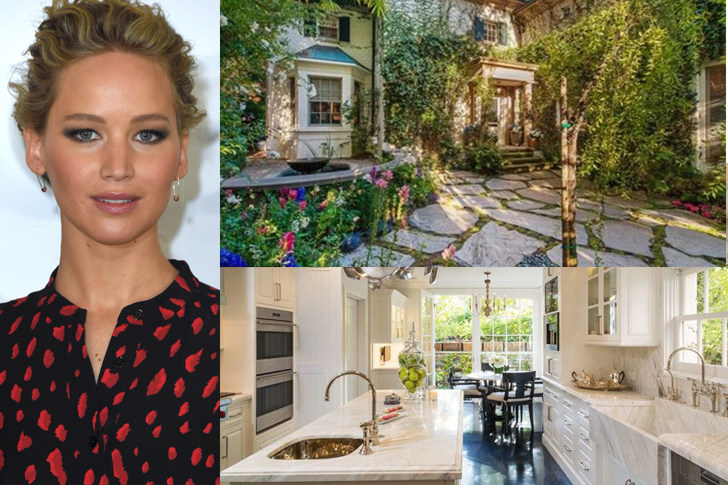 On August 15, 1990, Jennifer Lawrence was born in Indian Hills, Kentucky, USA. Although she has only started acting in movies and active in Hollywood since 2008, Jennifer Lawrence has become one of the highest-paid actresses in the world. Jennifer's still a fairly fresh face when it comes to the industry, having only hit her stride a few years back, thanks to her title role in The Hunger Games. The film didn't just catapult her into fame, it also served as a stepping stone towards other, more serious roles.
Despite gaining much acclaim for her performances, Jennifer remains a fairly simple girl and prioritizes her personal investments over mindless indulgence. In this case, the actress chose a French-inspired residence that boasts of 5 bedrooms and 6 bathrooms. The $8-million home is decorated elegantly, but without losing its French-countryside charm.
LEBRON JAMES – $23 MILLION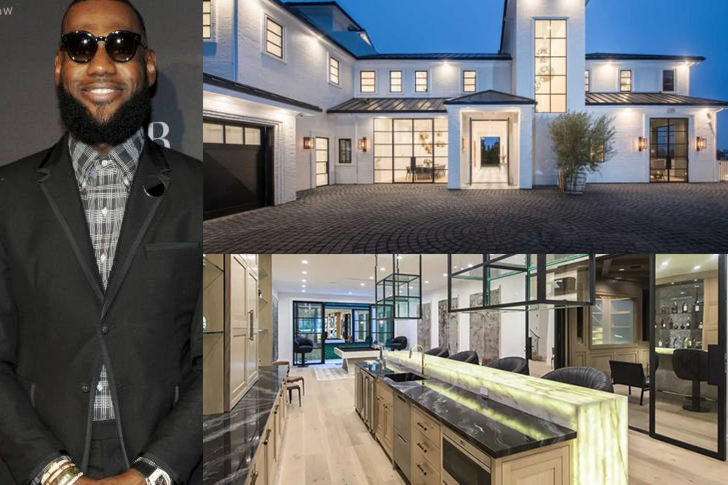 LeBron James deserves to be the best and most handsome star in the NBA in the hearts of fans. If there's an athlete who can easily pay for a $23-million home, it'll be LeBron James. Not only is he currently the top player in the game, but he also rakes in millions from his endorsements alone! The Cavaliers baller fell in love with this 16,000-square-foot property and has since made the necessary renovations to get it up to his standard.
The home has been outfitted with an indoor and outdoor fitness space and a wine cellar. It also comes with 8 bedrooms and 9 and a half bathrooms. LeBron probably had the best home security systems installed to keep everything safe. Fans hope that LeBron James can rest well in this well-equipped house and then achieve better results in the NBA.
BLAKE LIVELY – $5.7 MILLION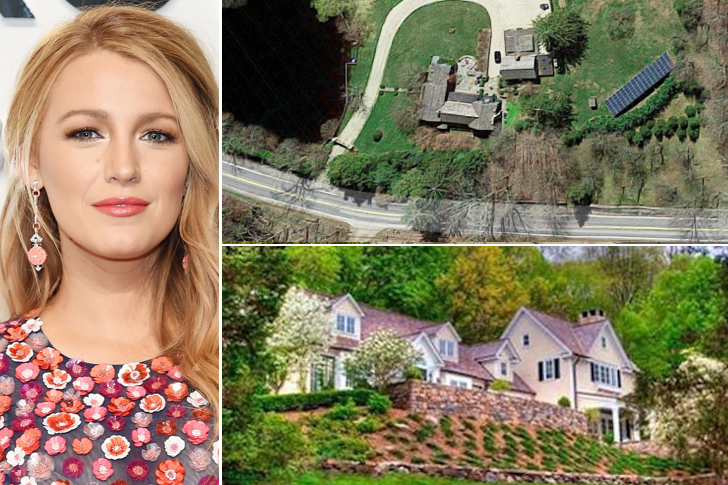 On August 25, 1987, Blake Lively was born in California, USA. She starred in Gossip Girl consecutively from 2007 to 2012 and became a beautiful memory in the hearts of movie fans. In 2012, Blake Lively and Ryan Reynolds announced their marriage. Blake Lively and her husband, Ryan Reynolds, reportedly secretly bought a lavish home in New York City for a whopping $5.7 million.
Built-in 1860, it boasts 8,892 square feet with its own guest house. It also has seven bedrooms and six baths atop 11.65 acres of land. Although there is no much information about their house, sources said it underwent a major renovation after the couple bought it. According to reports, Blake and Ryan are a staple in this community, and the locals even described them as "extremely nice and well-liked." Well, it is a significant credit anyone can ever receive.
 DON LEMON – $3.1 MILLION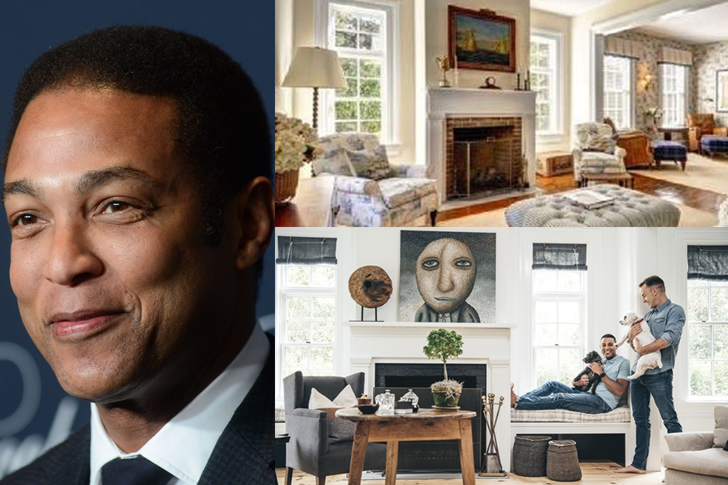 Next on our list is CNN Tonight anchor Don Lemon. He may be one of the younger journos on our list, but don't underestimate him for it. Don Lemon joined CNN in 2006 and has been 15 years since. He is outspoken in his work and publicly stated his position in many important events. This has gained a large number of fans.
Not only is he a capable news reporter, but he has also managed to establish his personal wealth amounting to $10 million! That's thanks to his no-nonsense reporting and his overall work ethic. Don chose a property in Sag Harbor, dropping $3.1 million on the lovely residence. With its countryside appeal and various amenities, including an outdoor pool, it makes for the perfect escape. He probably has invested in a reliable home security system as well!
KEVIN SPACEY – $6 MILLION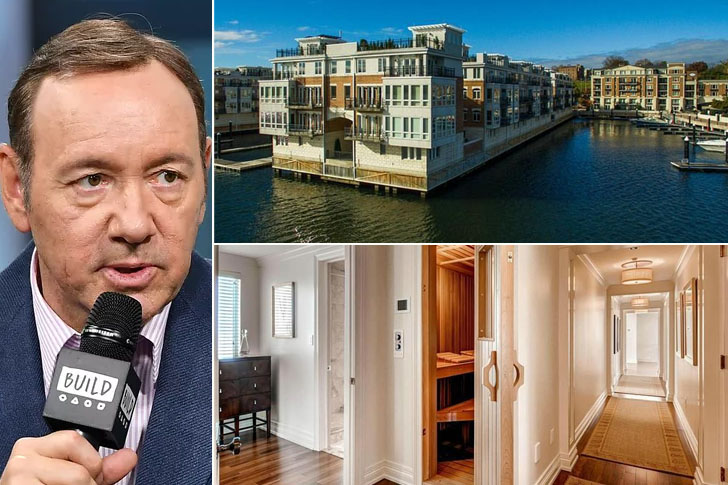 On July 26, 1959, Kevin Spacey was born in New Jersey, USA. In the 1980s, Kevin Spacey started to work on stage plays and got the opportunity to play supporting roles in movies. He kept honing his acting skills and finally won the Oscar in the 1990s. Kevin Spacey has enjoyed his time in the spotlight for over 36 years.
In 2017, Spacey retreated to a secluded $6 million mansion in Baltimore together with his manager, Evan Lowenstein. Spacey's new abode has several luxurious features, including six bedrooms, seven bathrooms, an infrared sauna, 9,000 square-feet living space, a private home theater, expensive wood flooring, and a panoramic view of the Baltimore City skyline, just to name a few. It is also five stories high, giving Spacey and Lowenstein plenty of space to move around and indulge its several lavish amenities and features.
BRIE LARSON – $3.4 MILLION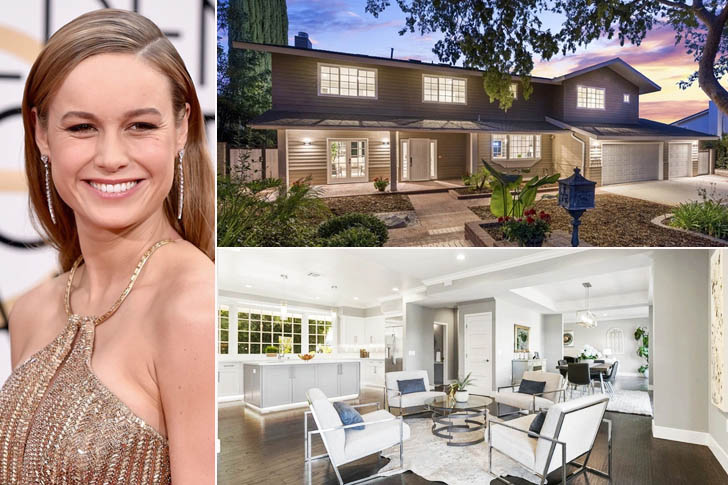 Brie Larson was born on October 1, 1989. At the age of 6, Brie Larson became the smallest student trained in the American Conservatory Theater. In 1998, Brie Larson began his acting career. After selling her Hollywood Hills bungalow, Brie Larson bought two properties at the same time.
One of which is a Malibu mansion worth $3.4 million. The house boasts a good view of the Pacific Ocean, three beds and two baths. It has a master suite that has direct access to the patio, a walk-in closet, and a bathroom with a bathtub. Built-in 1965, the mid-century cottage went through a thorough and "organic-minded" remodeling before it was sold to the 30-year-old actress. It was reportedly owned by an unknown woman and had 2,100 square feet of luxurious living space. To complete the amenities, it may also come with a home security system.
VANNA WHITE – $38 MILLION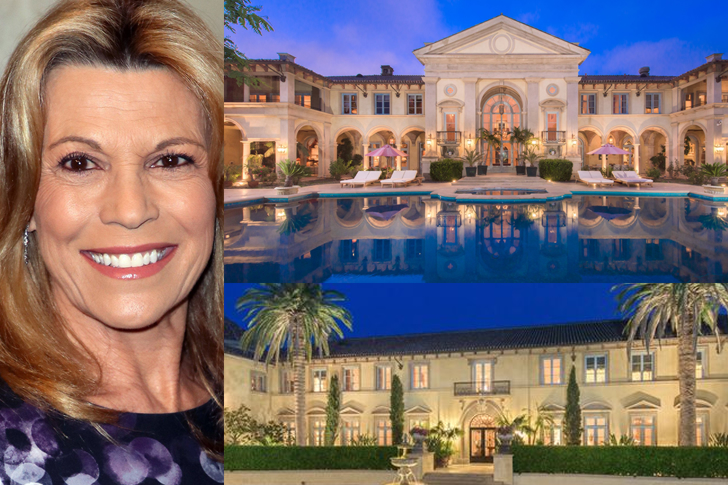 Almost no one does not know Vanna White. Since 1980, Vanna White has been active on the TV screen. Interestingly, Vanna White won the Guinness World Records certificate for applauding the show for many years to encourage players.
Vanna White's palatial Beverly Hills mansion has been listed for a serious amount of cash- $38 million to be exact. The price doesn't come without reason. Located in Beverly Park Estates where some of the richest people in Hollywood live, her 14,554-square-foot property is a sight to behold. Aside from its size, it comes with 8 bedrooms and 10 full baths. The real highlight would be the 3 acres of merlot vineyards located right on the property. This produces up to 150 cases of wine per year—perfect for the home's very own wine cellar. This is a worthy investment for someone who has the cash for it.
SHEPARD SMITH – $3.95 MILLION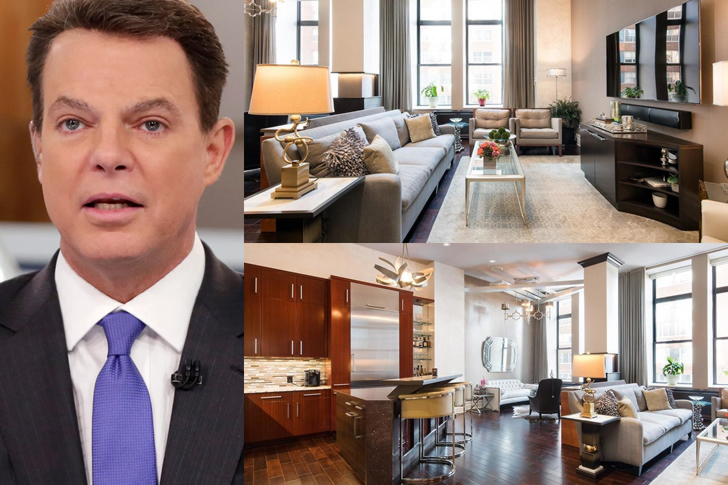 Shepard Smith was born in Mississippi on January 14, 1964. From 1996 to 2019, Shepard Smith worked for Fox News and hosted many shows during the period. Starting in 2020, Shepard Smith chose to switch to CNBC. Only in his mid-fifties, Shepard has certainly made quite a success for himself as a journalist and host. He is well-known across the United States for his work on Shepard Smith Reporting and is an influential figure among certain circles.
It may have taken him a bit of time but his net worth was over $25 million in 2019. Like others on this list, he also chose to make an investment in properties—in particular, a modern condo located in Greenwich Village. He first bought the house for $1.875 before fixing it up and placing it back on the market for $4.9 million.
DENZEL WASHINGTON – $16.5 MILLION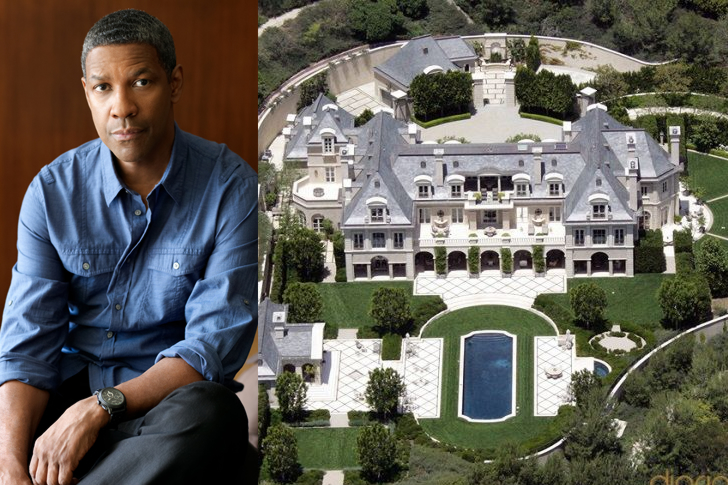 The 65-year-old Denzel Washington is not just an actor, but also an excellent director and producer. In 2020, in the selection of the New York Times, he is considered one of the greatest actors of the 21st century. North Beverly Park is considered by many to be at the higher end when it comes to real estate. It is also home to many of the city's billionaires, including Hollywood actor, Denzel Washington.
His 2.13-acre property is a dream, boasting of neatly landscaped lawns, a sizable outdoor pool, and its own tennis court. The house was bought from Michael Eisner, former CEO of the Walt Disney Company. It comes with 8 bedrooms and 14 bathrooms. His initial investments towards the house amounted to $2.675 million when he first bought it in 1992. Now, the property is estimated to be valued at $16.5 million!
MATT DAMON – $15 MILLION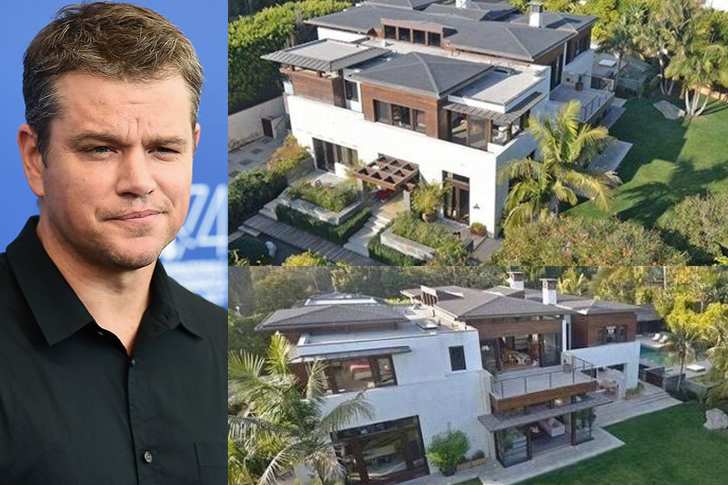 Matt Damon deserves to be a genius. As a good student, Matt Damon worked as an actor in the theater while studying at Harvard. In 2013, Matt Damon received the Harvard Art Medal. By name alone, people can instantly recognize Matt as one of Hollywood's leading actors—not to mention, one of the highest-paid as well. It's only fitting that he lives in style, and in the "Best House" his money can purchase.
The property's name is apt, given its size and overall features. Matt made an investment of $15 million in it, so we won't be too surprised if it is exactly as the name implies. The residence is located in the same street Ben Affleck used to live in. It comes with 7 bedrooms and 10 bathrooms, a huge garage, and swimming pools.
HEIDI KLUM – $24 MILLION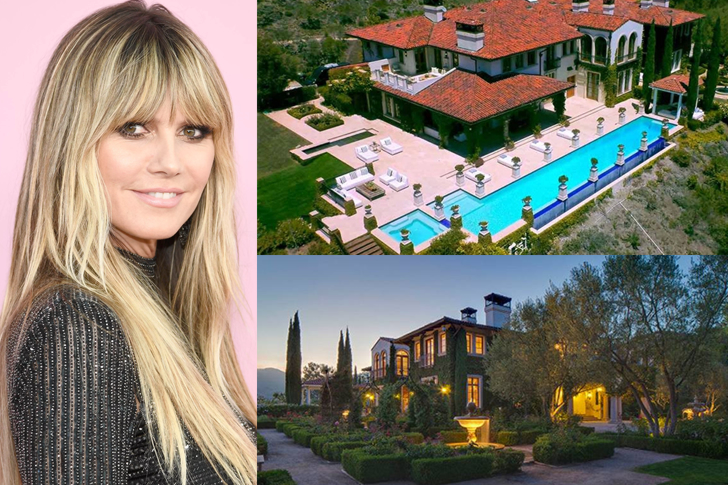 Heidi Klum's success may stem from her family. On June 1, 1973, Heidi Klum was born in Bergisch Gladbach, Germany. Her father works in a cosmetics company and her mother is a hairdresser. If you've grown tired of the ultra-minimalist structures that many celebrity homes are modeled after, then you'll surely enjoy Heidi's residence.
It is a grand mansion that isn't short when it comes to romantic details. The 12,300-square-foot residence comes with fountains and gazebos, a spa, a children's playhouse, eight bedrooms, and a total of ten bathrooms! The outdoors are never too far as well, for it even has its own hiking trail. A feature that we're sure her kids completely enjoy. This Italian inspired villa might be worth $24 million, but you can bet Heidi didn't even need money loans for it!
CHARLIZE THERON – $3.6 MILLION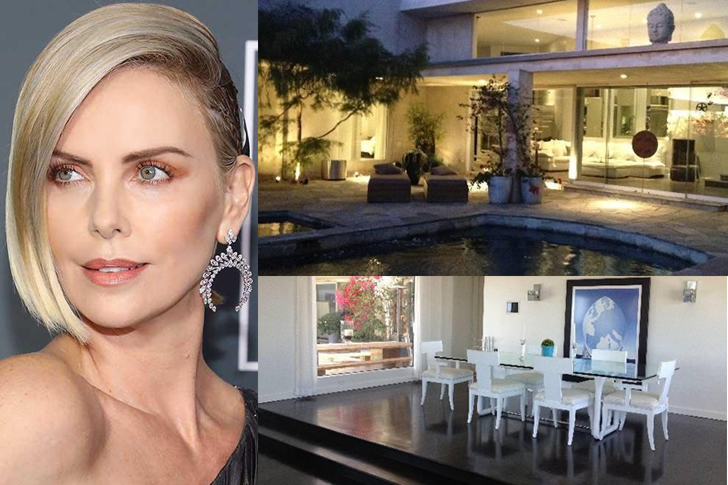 Charlize Theron's perfect facial features come from her family lineage. She comes from a Dutch family in South Africa, and her ancestors include Dutch, French, and German. It's easy to fall in love with Charlize. The actress is not only gorgeous, but she is also known for her charitable work as well.
Spending $3.6 million on a house is lavish, but the home's features are worth every penny. It comes with a library, an outdoor pool, and all-white interiors lending a calming ambiance to the whole house. She did eventually part with her investment, selling it for a mark-up of $3.8 million—which isn't really much considering the renovations she had done to the property during her stay. If we had the means, this is one home we'd love to snap up.
NEIL PATRICK HARRIS AND DAVID BURTKA – $5.5 MILLION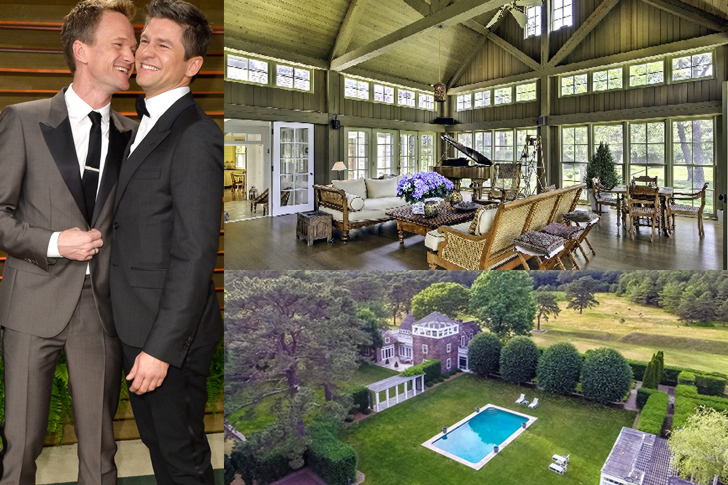 Neil Patrick Harris And David Burtka met in 2004. In 2011, Neil Patrick Harris And David Burtka announced their engagement on Twitter. They completed their wedding in Beautiful Italy in 2014, and many stars have witnessed their love. Neil and David are another power couple whose main investments include real estate properties. That said, it's fairly obvious that among their homes, this East Hampton villa is one of their favorites.
They bought the property for $5.5 million and it features 12.5 acres of land, complete with picturesque views of the surrounding nature. With a focus on creating a cozy home for their family, they chose to include a lily pond at a tea house. The house itself gives off an old-world charm and comes with 4 bedrooms, six bathrooms, a library, and a wine cellar. Making it for a unique but lovely home.
 CINDY CRAWFORD – $7.495 MILLION
Cindy Crawford is really the memory of a generation. In the 1990s, Cindy Crawford was one of the most popular models at the time. She was featured on magazine covers and advertisements at the time. Kaia Gerber's mom may have retired from the runways now, but she's certainly not spending her days lounging around. The supermodel has quite the real estate portfolio and this gorgeous property in Malibu used to be one of their family's retreats, before listing it last year.
The beachfront property was initially bought for $1.85 million, but their investments into the property helped bring its value up to $7.495 million. The Spanish-inspired home comes with 4 bedrooms and 2.5 bathrooms, with views of the ocean. It's located in a gated lane between Lechuza Beach and El Matador State Beach, and in such a secure place, it makes a great family home.
JULIA ROBERTS – $10 MILLION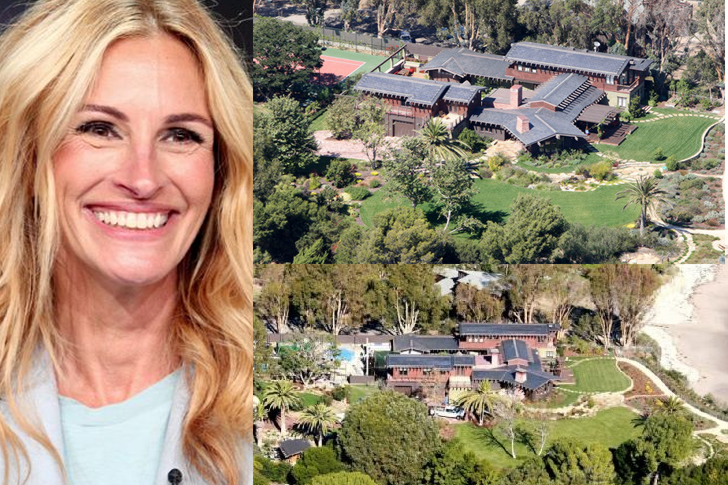 Julia Roberts was born on October 28, 1967. Her artistic achievements are unmatched. Julia Roberts debuted in 1987. Julia Roberts ushered in the peak of her career in 1990. With his performance in the movie Pretty Woman, he won multiple Oscar nominations. The actress is well-known for being an environmentalist and her advocacy for living a natural lifestyle. Whilst some may have questioned her choices before, people are certainly commending her eco-friendly home now.
She bought two adjacent properties, connecting both to expand her $10-million property. It is a beautiful residence, with soothing landscapes and solar panels that power its utilities. In the backyard, there are boat docks—perfect for guests who want to go for a quick ride around the area. We're sure her children enjoy this feature! Overall, it's an idyllic home perfectly suited to the actress's sophisticated preferences.
LUCY HALE – $2.498 MILLION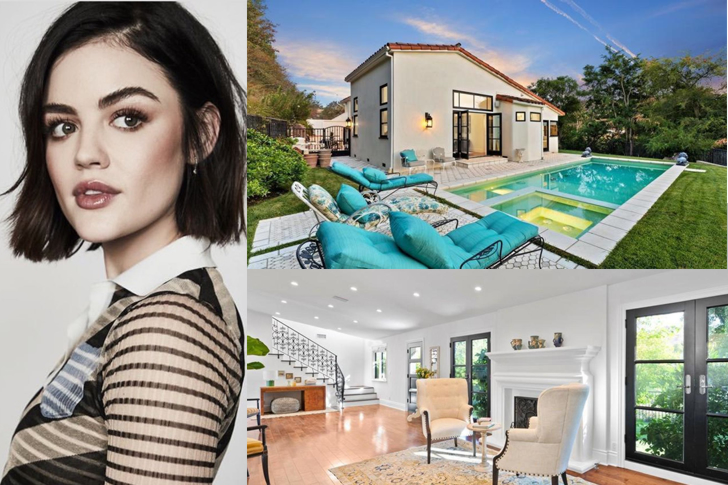 Lucy Hale was born in Memphis, Tennessee, USA on June 14, 1989. She is a very talented actor and also a talented singer. In 2003, she participated in American Juniors and became one of the five winners at the time. In 2008, her performance in The Sisterhood of the Traveling Pants 2 was also highly recognized. It seems 2019 was a year that many celebrities decided that it's time for a change when it comes to their home surroundings. Like many others, Lucy decided to renovate her canyonside abode, located just about famed Studio City, before listing it on the market for close to $2.5 million.
The Spanish villa was initially bought for $1.7 million, but she made investments into it to make it cozier. The home features plenty of living space, a master suite with its own fireplace, a private balcony with a view of the canyon, and even a saltwater pool beside an open-air cabana where guests can relax.v
CHRISTINA AGUILERA – $10.75 MILLION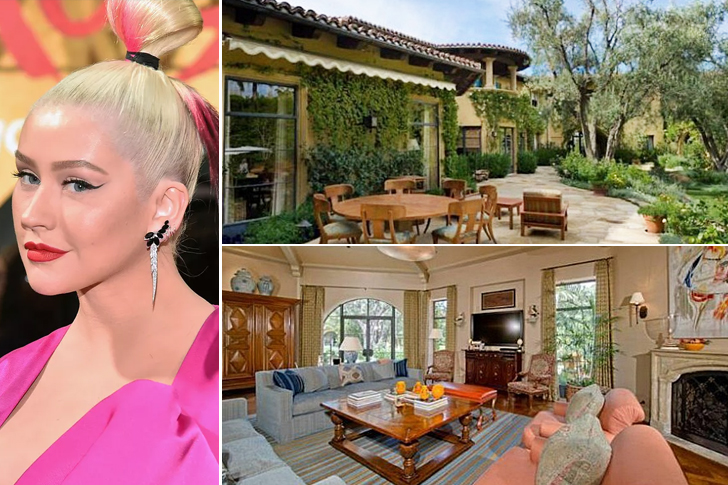 Christina Aguilera was born in New York on December 18, 1980. Although Christina Aguilera's childhood life was very turbulent because of her father's military service, Christina Aguilera did show a talent for singing at a very young age. As a singer, songwriter, actress, and television personality, Christina surely has the funds to buy this kind of property. With a net worth of $160 million, she surely has a good credit report. She is a five-time Grammy Awards winner and also has an accolade from the Latin Grammy Award and even her own Hollywood Walk of Fame.
Christina Aguilera bought his Beverly Hills mansion for a staggering $10.75 million in 2013. Boasting six bedrooms and nine baths, it also features a master suite that has its own fireplace. The house also comes with a patio, an office, a spa bath, a screening room, and wet bars. It also has its own pool and spa.
CYNDI LAUPER – $1.250 MILLION, CONNECTICUT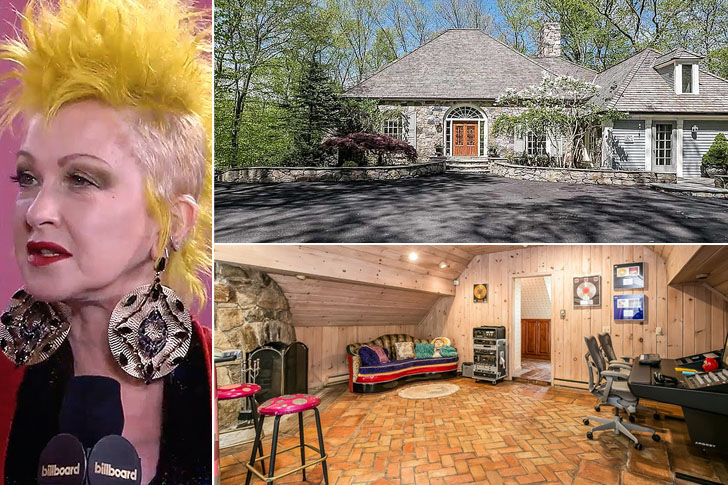 Cyndi Lauper was born in New York on June 22, 1953. In 1977, she started singing in the band, Cyndi Lauper's career has been more than 40 years. In 1983, Cyndi Lauper released her first solo album She's So Unusual. This album made a sensation not only in the United States but also in other countries. Cyndi Lauper and her husband Dave Thornton put their house on the market for $1.250 million.
The couple bought the house in the 1980s from the shoe tycoon Vince Camuto. She used it as her refuge to write music and work in private. In this place, she managed to write five albums and even the Broadway show Kinky Boots. The house features three bedrooms and three and a half bathrooms. Its aesthetic boasts French country architecture, secured on a private road that gives its owner a stunning panoramic view of the nearby lake. Visitors will be welcomed with its 19th-century English manor, while its roofing caries a gorgeous cedar mansard.
MINNIE DRIVER – $2.5 MILLION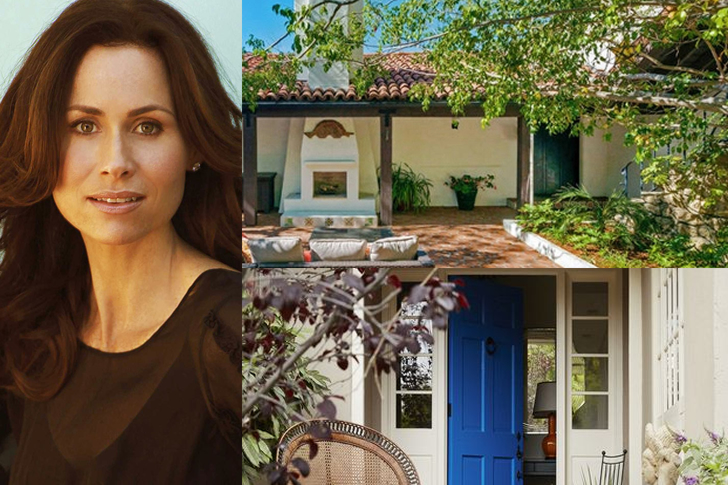 On January 31, 1970, Minnie Driver was born in London. She first appeared on TV because of TV commercials. Subsequently, Minnie Driver appeared on various stages as a singer. In 1997, Minnie Driver's performance in Good Will Hunting made her highly recognized. For this movie, Minnie Driver has been nominated for multiple awards. Minnie Driver is one actress who is never short on charm and wit, this easily reflects in her home as well. It's vibrant and full of color, but never too overwhelming.
In fact, the décor is a callback to her own Gypsy upbringing, featuring prints and fabrics that bring to mind her unique culture and background. Her 2,768-square-foot property was even featured in Elle Décor. On it, she was able to fully showcase how much attention was given to every piece displayed in her home – from the old-fashioned bathtub, the vintage pieces, and the gazebo to her choice of flooring.
JESSICA ALBA – $9.95 MILLION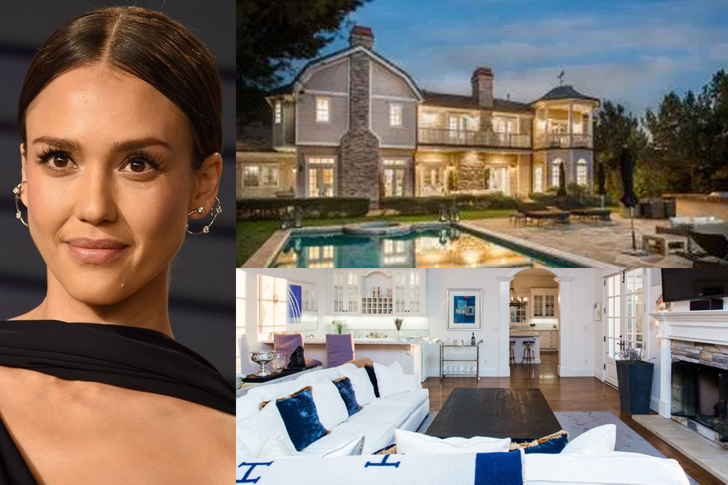 Jessica Alba was born on April 28, 1981, in Pomona, California, USA. Jessica Alba started her career as an actress in 1994. She appeared in the movie Camp Nowhere. In 2000, she became famous for her role in the TV series Dark Angel. We may not see her in movies as much as we used to, but the actress is definitely not one to spend her days lazing about.
Did you know that she owns a very successful business? No wonder her reported net worth is around $200 million! Fans of Jessica know that she isn't one to splurge, however, so purchasing a $10-million mansion must have taken plenty of thought. From what we can see, the 8,829-square-foot residence is well-worth it and her investment planning has certainly paid off. It makes for a lovely family home, tucked away on the hillside allowing ample privacy.
SCARLETT JOHANSSON – $3.8 MILLION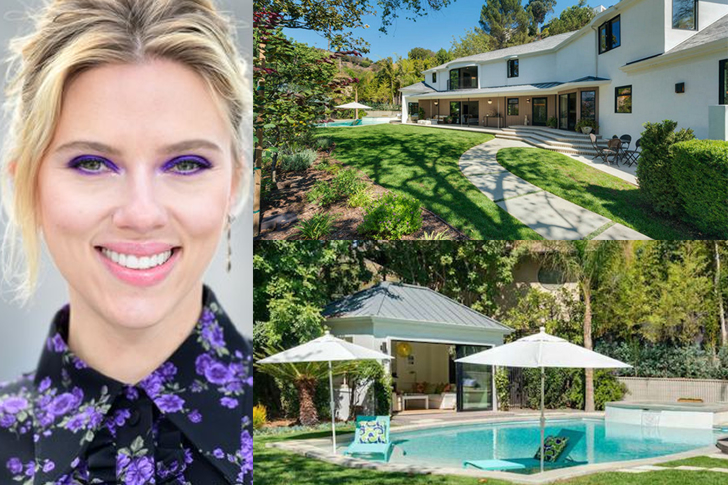 Scarlett Johansson was born in New York on November 22, 1984. Scarlett Johansson showed strong enthusiasm for acting very early, and her performance started on the Broadway stage. In 2003, Scarlett Johansson successfully transformed from a teenage role to an adult role through the film Lost in Translation. Scarlett's the type of actress who can easily transform according to the role she's given.
So it comes as no surprise that she's also one of Hollywood's highest-paid and one of the most in-demand from this generation of talents. With her role in the Avengers movies alone, Scarlett was able to earn millions—giving her more than enough extra for personal investments. With everything working in her favor, the actress took the plunge and bought a $3.8-million home in Los Feliz. It comes with a private spa, romantic views, and a pool house where she can entertain her guests.
JENNIFER LOPEZ – $17 MILLION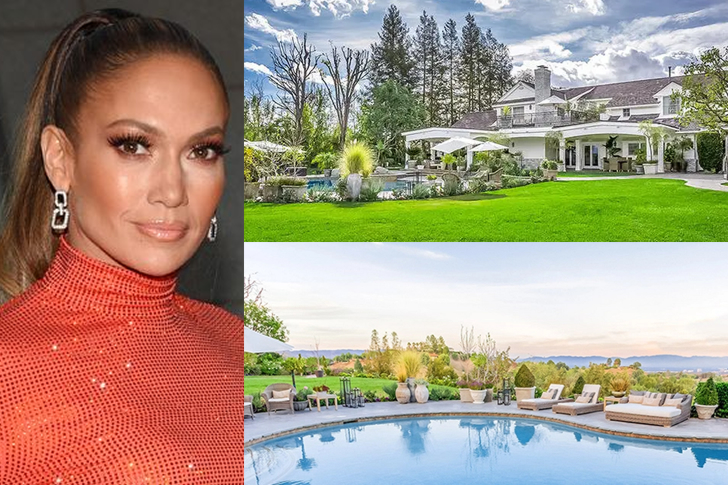 On July 24, 1969, Jennifer Lopez was born in New York. In the last year of high school, Jennifer Lopez starred in a small-cost movie My Little Girl. Jennifer Lopez's film and television dreams were not supported by her parents at first, but she insisted on moving out of her parents' residence and acting as a dancer. Jennifer might remind us all that she's still Jenny from The Block, but when it comes to her living space there's certainly been plenty of changes.
Jennifer Lopez's current home is a $17-million property located in sunny California with aesthetics that mirror her own glamorous style. Did you know she did the decoration and styling herself? The property comes with a total of seven bedrooms and thirteen bathrooms. It even has its own entertainment room, capable of seating 30 people! We're sure she's placed emphasis on home security as well—after all, the safety of her kids is a priority.
BARBRA STREISAND – $11.25 MILLION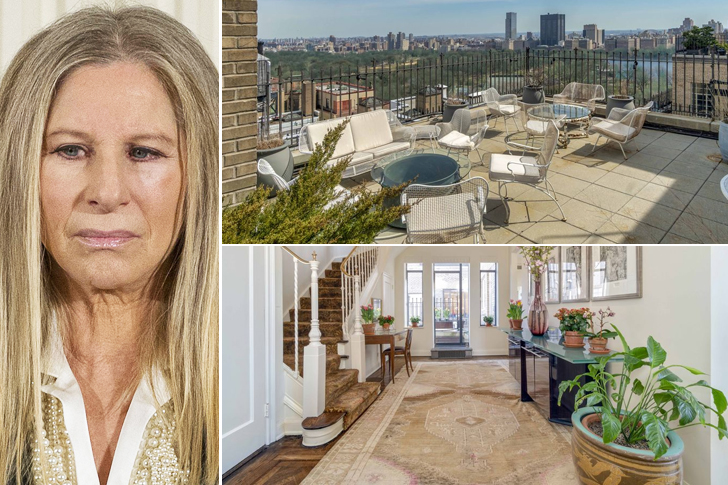 Barbra Streisand, born on April 24, 1942, was 78 years old. Since performing on Broadway in 1960, Barbra Streisand has been active in his career for 60 years. Barbra Streisand has put her lavish Central Park West duplex on the market for $11.25 million. The Hollywood legend used to live here for 30 years, and it's now time to say goodbye. Designed by the famed architect Emery Roth, the house is located in the famous Ardsley building.
It is a duplex penthouse that features 3,670 square feet of lavish living space with a view of Central Park and Reservoir. It also has its own private elevator, a wine cellar, wood-burning fireplaces, and more. As an entertainer herself, this house is suitable for entertaining to a certain degree. It has its own library, a spacious living room, and much more.
KEVIN FEDERLINE – $2.589 MILLION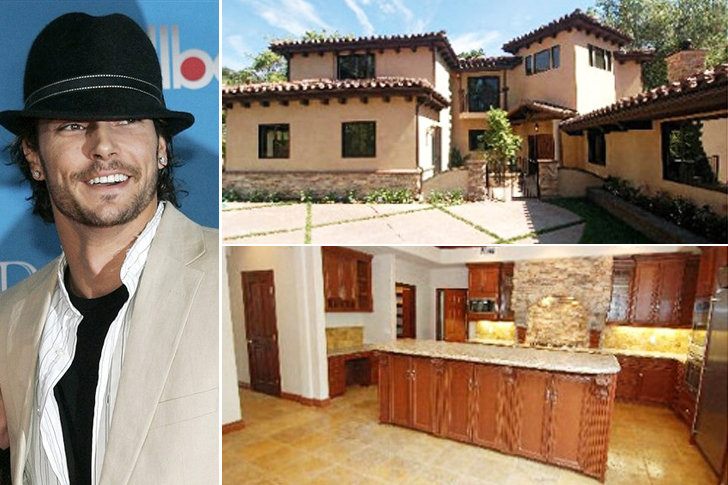 On March 21, 1978, Kevin Federline was born in Fresno, California, USA. Kevin Federline is a dancer by profession. He used to be the back dancer of Michael Jackson. When Britney Spears booted Kevin Federline out of her mansion, he rented the house in front of his ex-wife's home. At the time, Kevin Federline was paying $7,000 a month to lease the abode.
The property's owner, a real estate agent, reportedly bought the house in 2004 for only $750,000. But as he made it his significant investment, he had it renovated and finally completed in 2006. The house was said to be on the market for $2.589 million, a dramatic increase from his original purchase. The home boasts five and four and a half large bonus room with its own theatre, gym, office, living room, family room, five fireplaces, and a gourmet kitchen.
MILEY CYRUS- $2.5 MILLION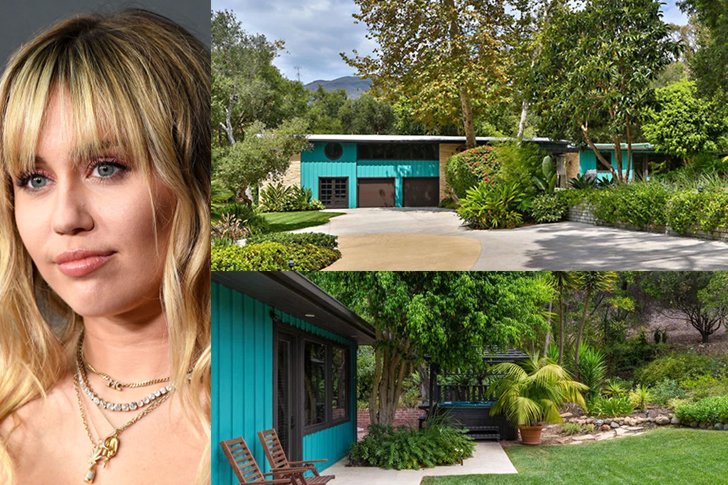 Miley Cyrus was born in 1992. Miley Cyrus, 28, has gained a large number of fans because of his extremely rich musical style. Her music style includes pop music, country music and hip-hop music. Only in her mid-twenties, Miley is one of the richest artists in her generation. She isn't one to let her hard work go to waste either.
A girl who works hard and plays hard, the singer has quite the real estate portfolio to her name. Miley's most recent purchase is a home in Malibu with 4 bedrooms and 4 bathrooms that cost her $2.5 million. At 1,384 square feet, there's more than enough indoor and outdoor space to entertain guests. Located near the old home she used to share with Liam, this new one is surrounded by lush greens and even comes with heated flooring.
TOBEY MAGUIRE – $6.9 MILLION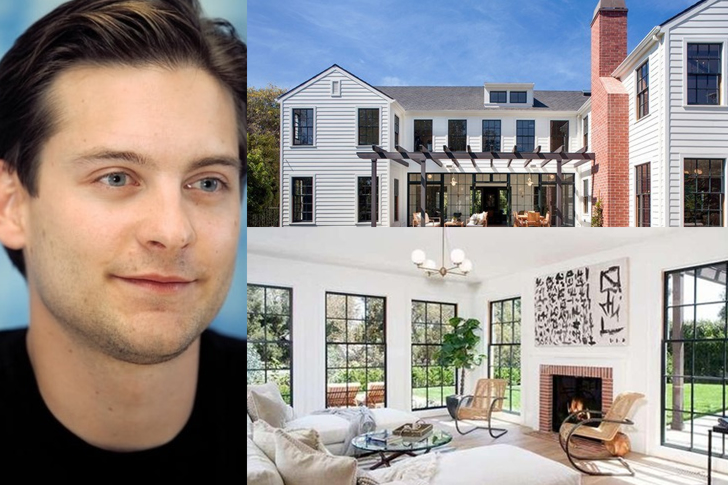 You must have never imagined that 45-year-old Tobey Maguire didn't even dream of being an actor at first. During his childhood, Tobey Maguire's dream was to be a chef. In 1989, Tobey Maguire first appeared on the TV screen and showed great talent in the movie The Wizard. People may poke fun at him for experiencing a career decline after an all-time high as Spiderman, but Tobey is certainly far from bankruptcy. We may see him less on screen, but he has been working behind the scenes, primarily as a film producer.
Unconvinced? Well, just take a look at his $6.9-million Brentwood property. The 4-bedroom property features plenty of open spaces and natural light. It also comes with a fireplace, located centrally between the home's sitting areas. The glass doors not only frame the nature outside, but they also lead to an outdoor patio – understated elegance that's fit for this low-key actor.
BRUCE SPRINGSTEEN – $3.299 MILLION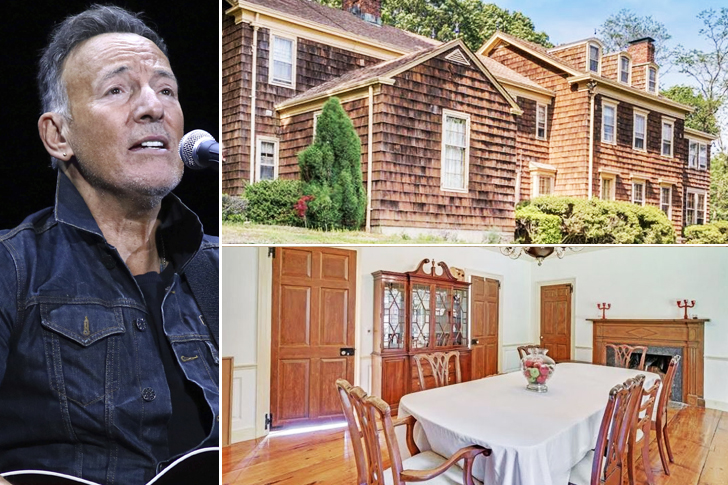 Bruce Springsteen was born in New Jersey, USA on September 23, 1949. He has Dutch, Irish and Italian descent at the same time. In 1964, he started his own music career and received wide acclaim in the 1970s. Bruce Springsteen is also known as one of the most successful rock singers in the 1980s. Bruce Springsteen had sold his 6,000-square-foot Holmdel, New Jersey, house for $3.299 million.
It was a 19-the century farmhouse where he wrote and rehearsed much of his songs from his fifth album, The River. He had lived here for five years. At the time, he was still recording the said album and another one, The Heart of Darkness. Bruce used to have this house for rent for $5,000 a month. It boasts five fireplaces, a historic barn, and an in-ground swimming pool. It also has its own two apartments, located above its heated garage that the new owner could use for their own investment planning.
NICOLE KIDMAN AND KEITH URBAN – $6.5 MILLION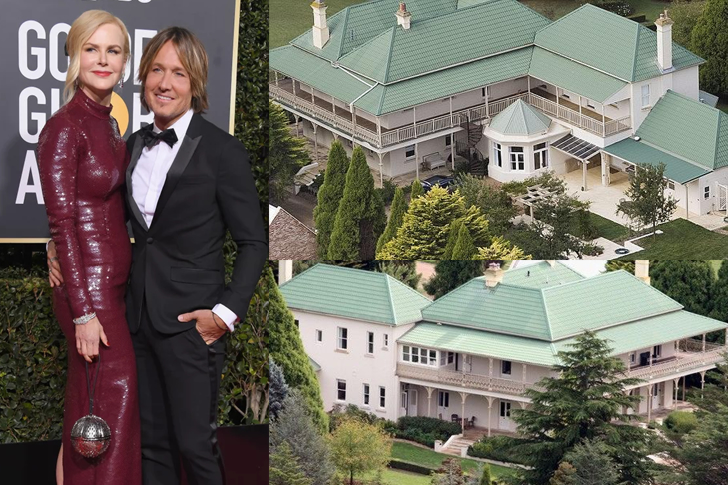 Nicole Kidman, 53, was voted by The New York Times as one of the greatest actors of the 21st century. She first started her acting career in Australia, and later transferred her career focus to the United States. In 2006, Nicole Kidman And Keith Urban announced their marriage. When it comes to investment planning, Keith and Nicole have certainly made some smart choices.
They have a number of properties across the United States, as well as a farm located near Sydney. For their home base, they have a mansion in Beverly Hills that's worth a cool $4.7 million. Given its size and amenities, it's not a bad price at all! Aside from boasting an eye-catching architecture, it also comes with a private library—perfect for the couple and their children, allowing them to spend some time together while learning different topics.
 TERRY SEMEL – $50 MILLION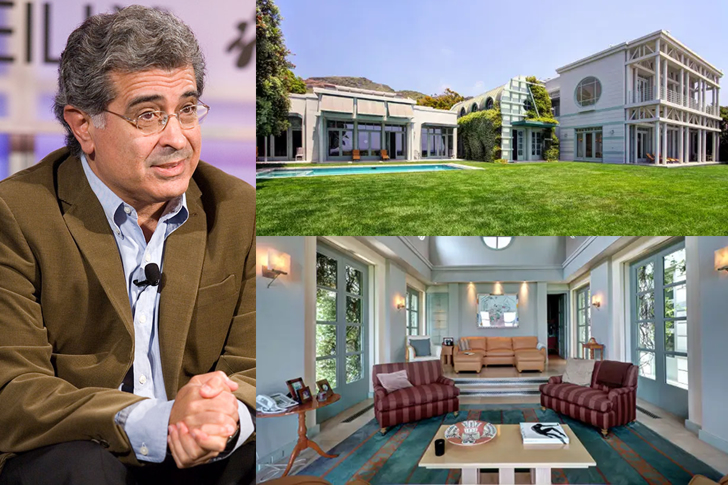 Terry Semel was born on February 24, 1943. He is 77 years old this year. No one can question Terry Semel's management skills. He used to work for Warner Bros. Entertainment Inc. for 24 years and served as Chairman and CEO. As the former CEO and Chairman of Yahoo, Terry Semel has quite the fortune to his name. Thanks to his hard work and contribution to the company, he was able to help—not just himself but Yahoo's many employees as well.
So, where do tech moguls go for retirement? In his case, Terry goes home to his mansion in Malibu. Costing $50 million, this gorgeous residence is a mere 40 feet away from the blue Pacific Ocean. Its picture windows perfectly frame the impressive view, adding to the home's subdued luxury. This, alone, is well worth the investment he put into the home.
TOM BRADY AND GISELE BUNDCHEN – $20 MILLION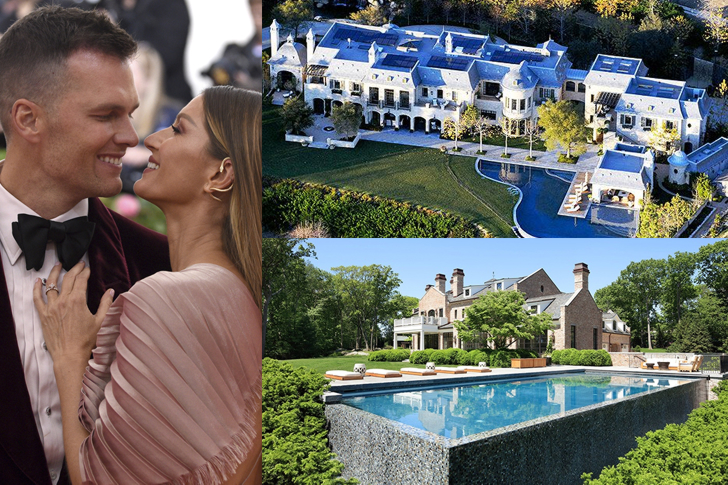 Many people think that Tom Brady is the greatest quarterback of all time. Tom Brady has indeed brought many rugby miracles in his long career. Tom Brady And Gisele Bundchen announced their marriage in 2009. Gisele Bundchen is also very well-known. She has always been one of the world's highest-paid supermodels. We've all seen our fair share of power couples, but rarely do they work with the same chemistry as Tom and Brady.
These two have weathered quite a number of struggles, both personally and career-wise, and yet they remain at the top of their fields. Their combined investment money is more than enough to purchase their 22,000-square-foot mansion in California. The price tag on this? $20 million. It isn't as indulgent as it looks, however. Gisele made sure that the home is as sustainable and eco-friendly as possible, including green solutions such as the use of solar panels and gray-water irrigation.
TOMMY HILFIGER – $27.5 MILLION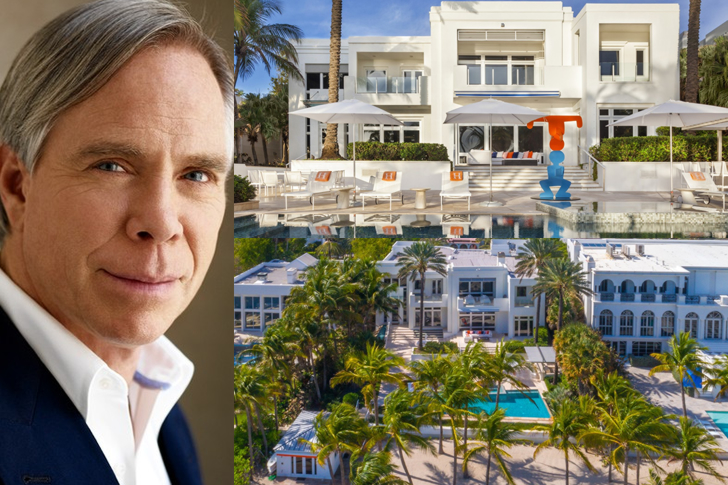 Tommy Hilfiger was very successful in letting the world know his name. In the 1980s, Tommy Hilfiger created his own menswear collection of the same name. Later, the company gradually expanded into womenswear and other directions. When it comes to fashion, Tommy knows best. He is beloved in the industry for his elegant yet fun American designs that often feature bright pops of color. This rings true for the way he has styled his home as well—it is even compared by some to a work of art.
His residence echoes the same pops of color coupled with modern retro furnishings. The home is a balance between being minimal without skipping out on the vivid color palette. His investments aren't just in the interior décor, however. The 14,079-square-foot property comes with entertainment rooms, a gym, and enough space for parties.
EDDIE MURPHY – $85 MILLION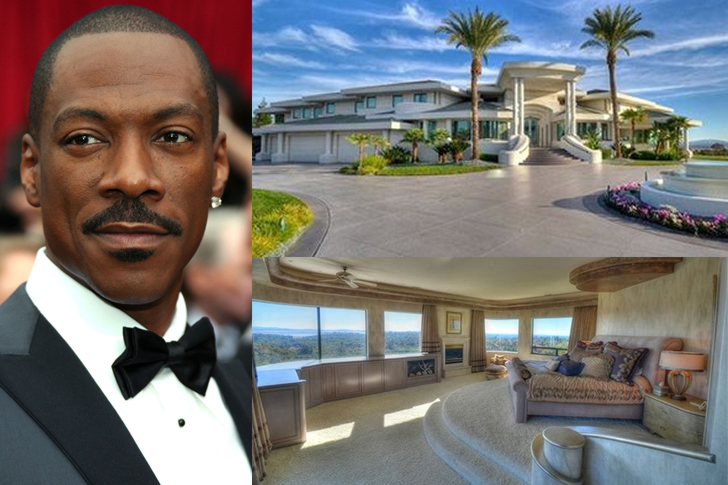 Eddie Murphy was born in Brooklyn, New York on April 3, 1961. In 1976, Eddie Murphy began acting in the Youth Center. He was very interested in becoming a comedian and acting, which was the starting point of his career. Eddie Murphy first bought their family home for around $20 million—quite the bargain considering the property's size and prime location.
Since they have lived in it, though, the family has done plenty of renovations and additions—further raising the value of their home to $85 million! So, what does an $85-million place look like? From a family home, they were able to transform the residence into their very own resort. Their investments included increasing the total number of rooms – 32 in total, including 9 bedrooms and bathrooms and adding features such as pools, spas, and hiking trails.
JOHN RICH – $579,975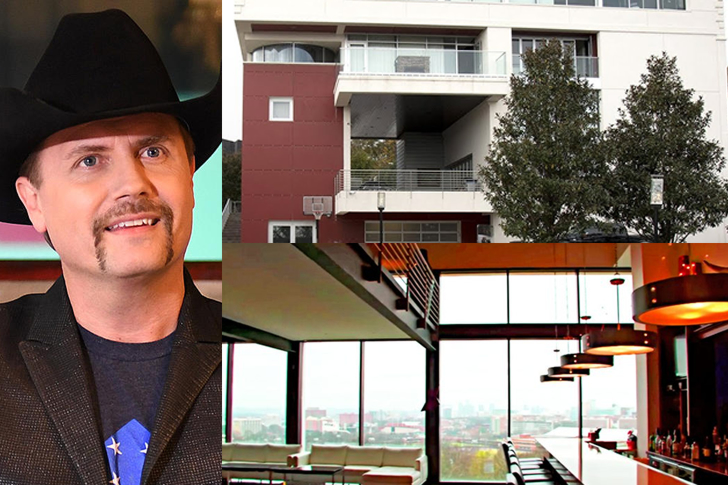 On January 7, 1974, John Rich was born in Dixon, Tennessee, USA. This country sensation is best known for being part of the band Lonestar, before eventually establishing a successful solo career for himself. Throughout his career, John Rich has collaborated with other artists, including Big Kenny.
His current home may not be as expensive as the others, but it certainly rivals all the others with its sheer size alone. It's 'go big or go home' for John. His Nashville mansion comes with 10 bathrooms and 5 bedrooms, an elevator, and a 4,000-square-foot private club. All of that set within 17,081 square feet of land. With his net worth, however, purchasing this likely didn't even dent his credit. In 2008, John Rich and Joan announced their marriage. They will live happily in this house.
JESSICA BIEL – $20.2 MILLION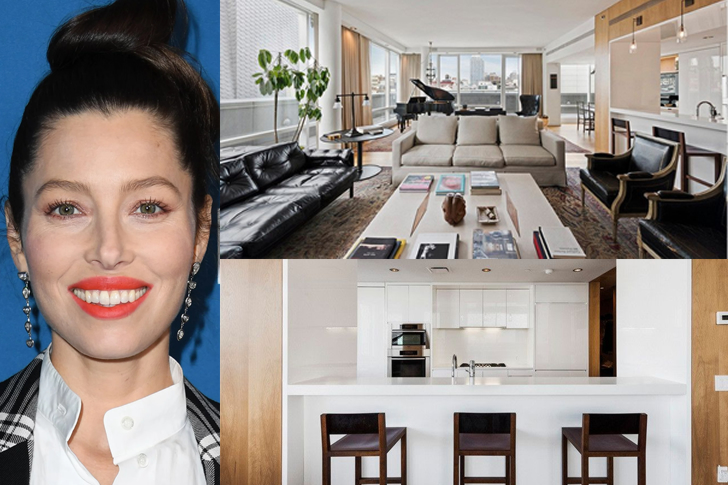 On March 3, 1982, Jessica Biel was born in Erie, St. Louis County, Minnesota, USA. She has French, German, Indian and Choctaw descent at the same time. Jessica Biel used to be a model and later appeared in many movies. Together with her husband, Justin Timberlake, and their son, Jessica lives in a modern NYC penthouse located in Tribeca. This investment cost them a cool $20.2 million and is a prime real estate in the area. Given how expensive properties can be in the city, this hefty amount is still a steal.
Their home is of a distinct style to the area, red-bricked, and highly exclusive. With 4 bedrooms and 6 bathrooms, they'll never feel claustrophobic despite living in a building. The rooftop alone offers stunning views and is landscaped to perfection—it's like having their own garden right in the middle of the busy city.
CLINT EASTWOOD – $5 MILLION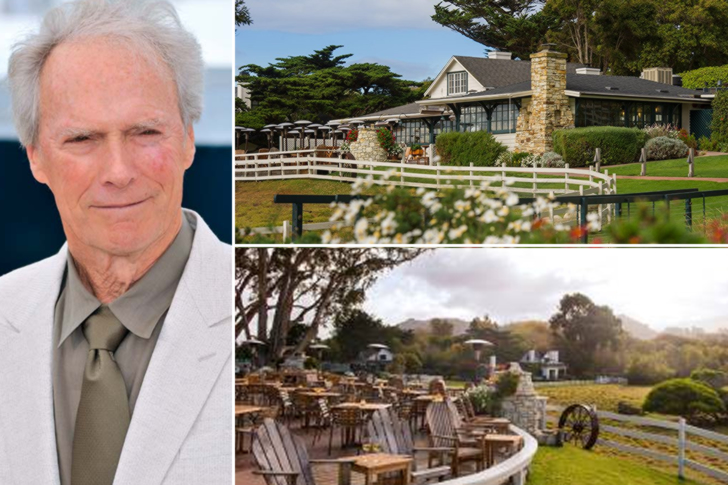 The 90-year-old Clint Eastwood is undoubtedly a legend in the film industry. His film works are extremely rich, and the films directed by Clint Eastwood have won several Oscars for Best Film. In the 1960s, Clint Eastwood participated in a series of western-themed movies. Since then, his images of cowboys and tough guys have become popular. Clint Eastwood was a former Mayor of Carmel-by-the-Sea. He loved the town so much he purchased a beautiful property called The Mission Ranch.
The farmhouse was originally built in the 1850s and was converted into a two-story residence. But Eastwood has a touching story as to why he purchased the property. In 1986, a developer plans to build condominiums in the exact land and the actor came to the rescue. He doesn't want the old property to be destroyed so he bought it for $5 million. Now, he converted it into a bar and restaurant with a scenic view of nature.
VICTORIA PRINCIPAL – $3 MILLION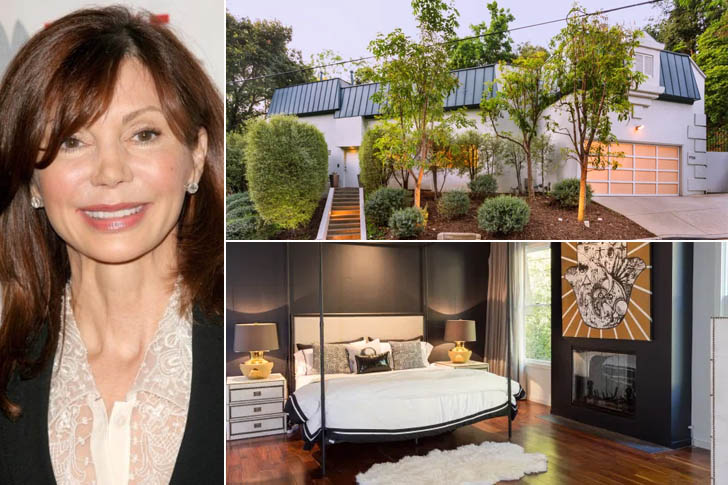 Victoria Principal was born on January 3, 1950. She was active as an actor from 1972 to 2001. Starting in 1987, Victoria Principal has achieved great success as a producer and entrepreneur. Victoria Principal's former home in Beverly Hills was put on the market for under $3 million in 2016. Located on the three-lined Oak Pass Road, the Dallas star's home was nestled into the canyon.
According to the property's realtor, when Principal still owned the property, she had made several cosmetic and system upgrades to make the house more appealing. One of the most significant additions the house had was installing the Bluestone decking surrounding the swimming pool. Credits to this pool, the house started to carry a modern look from the interior to the outside rear yard, giving it an "aesthetically cohesive design style." The home also featured clean architectural lines and warm wood finishes that gave the house a casual look.
ROB LOWE – $42 MILLION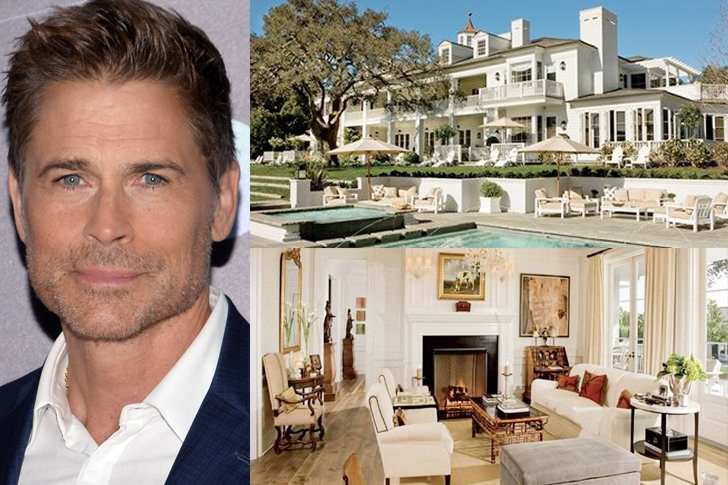 Rob Lowe was born on March 17, 1964, in Charlottesville, Virginia, USA. In 1979, 15-year-old Rob Lowe appeared in the sitcom A New Kind of Family and then appeared in a number of teenage roles. His hard work continues to bring new TV dramas and movies to the audience. Did you know that Rob and his wife invested quite a hefty amount of money when it came to renovating and redecorating their current residence, ultimately turning it into their dream home?
Described as "classic meets modern" this 20-room estate can rival any 5-star resort when it comes to design and amenities. It was even featured in Architecture Digest! The home was first bought for $42 million but after finishing the renovations? The Lowes were able to further raise its value by another $6 million! Needless to say, even if they don't plan on selling, it was worth every penny.
KATY PERRY – $4 MILLION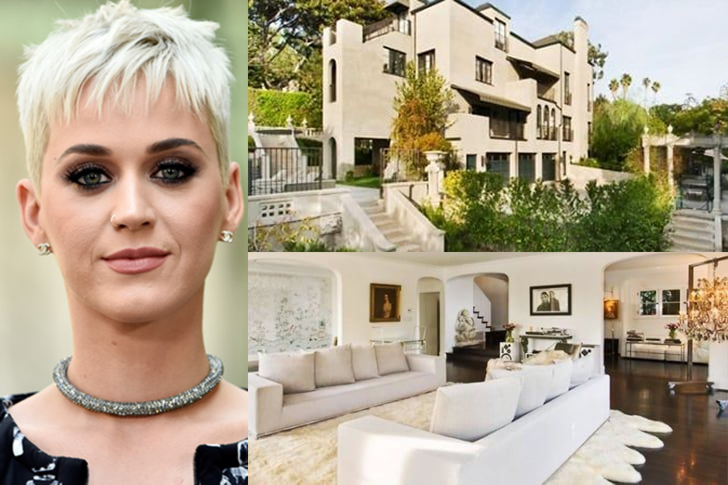 Katy Perry was born on October 25, 1984, in Santa Barbara, California. Her music career didn't go well at the beginning. Her debut album released in 2001 did not achieve good sales. In 2008, her second album One of the Boys brought her into the public eye. Now that she about to be a mom, we wonder what changes Katy will be making to her villa.
The $4-million home already has every luxury the pop singer can dream of, so we can only imagine the degree of child-proofing it will undergo. The 4,700-square-foot residence comes with four bedrooms and five bathrooms, a huge room-turned-closet, and a gorgeous outdoor pool. In our opinion, it is the perfect home for a growing family. Though, we're sure she'll want to make it cozier and might even add to its current security set-up. After all, once she's given birth, safety and privacy become all the more important.
BILLY JOEL – $35 MILLION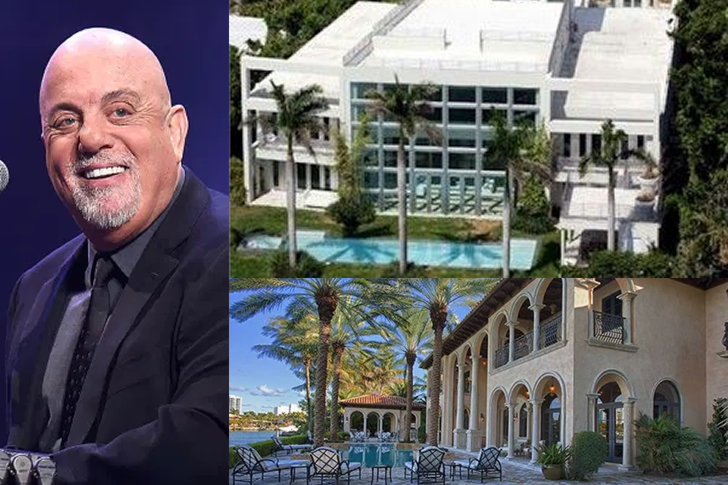 Billy Joel is Ooten referred to as the "Piano Man" after his first big hit and signature song of the same name. Joel has had a good touring career, performing live shows all over the world in which he performs some of his published songs. The legendary Billy Joel once owned this gorgeous 8,881-square-foot real estate located in Miami Beach. He indeed has excellent money management, and true to his style, the home comes with its boat slip, pier, outdoor kitchen, pool, and so much more.
It may have been built back in 2004, but its design is timeless—featuring many eye-catching architectural details. Billy made quite a bit of money off of the house after he sold it in 2013. Having initially bought it for $13 million, he was able to sell it at a mark-up of $1 million to an Italian billionaire. We hope the home has ample home security as well!
JOHN TRAVOLTA – $12 MILLION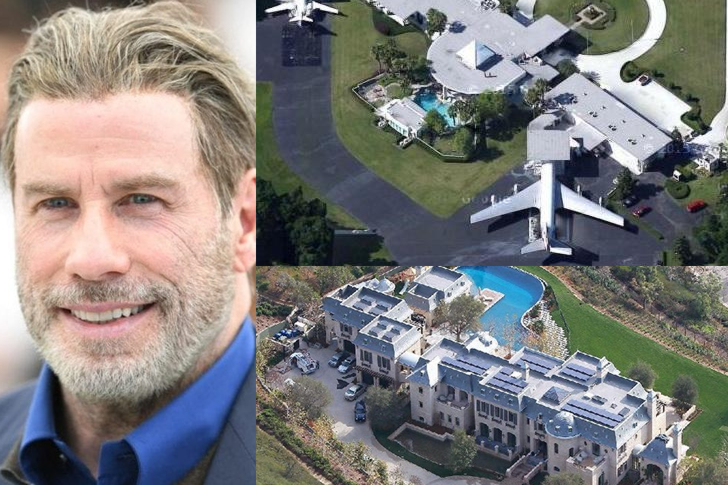 John Joseph Travolta is a singer and an American actor. Travolta has been nominated for the Academy Award for Best Actor for Saturday Night Fever and Pulp Fiction Performances. For his portrayal of the lawyer Robert Shapiro in the film, he also earned an additional Emmy nomination and a Golden Globe nomination.
Since we're moving into some very opulent territory, let's talk about John unique property. What makes it different, you ask? Well, unlike other celebs who invested in huge pools or massive closets, John chose to build a private airport in his backyard. There are even hangars that hold his fleet of planes! For $12 million, we're sure he's pretty happy with this investment. It comes complete with two runways and a landing strip. When he's not flying planes, he can also spend time in one of his pools or tee off with friends. Surprised? John's got his own golf course, too!
DRAKE – $ 7.7 MILLION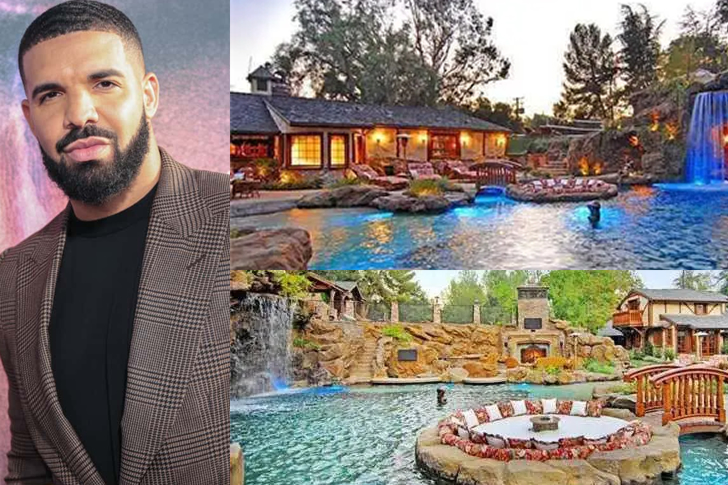 Drake founded the OVO Sound record label as an entrepreneur with long-time collaborator 40 in 2012. Along with other business projects, he has also designed apparel, the most notable sub-label partnership with Nike. We associate rappers with luxury, but not all of them will quickly drop money on the things they want.
Just take Aubrey Drake, for example. He's at the top of the game now, but before purchasing a home in Hollywood's Hidden Hills, Drake waited for the price to fall from $27 to $7.7 million. And boy, did he have significant investment planning for the property. The rapper is known for his "obsession" with pools, and his home has plenty of it. He even got lagoons made to look like the real thing! These investments are pretty hefty, but we're sure Drake's plenty happy with them.
MEGAN FOX – $1.3 MILLION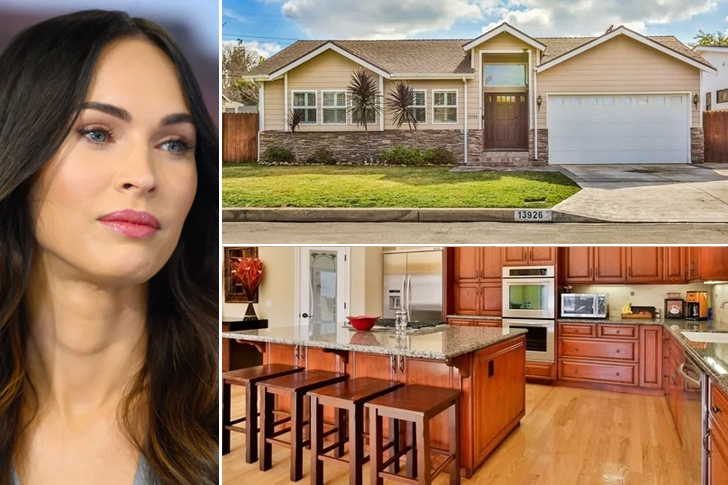 She is an actress and model from America. She starred in the family film Holiday in the Sun, where she made her acting debut. After that, numerous supporting roles in film and television followed this. Megan has a high net worth, and she has earned that sum of money from her professional career. Megan Fox has put her Los Angeles mansion for $1.3 million on the market. Rebuilt in 2007, the three bedrooms and three baths boast 2,494 square feet of living space. It also features a spacious room with the best material roofing, vaulted ceilings, combining the kitchen, living, and dining areas.
Megan originally purchased this Sherman Oaks property for only $900,000 in 2012. Aside from this, the actress and her former husband, Brian Austin Green, have been selling their other properties. Some of the jointly-owned investments they have sold are their Toluca Lake home for $2.6 million and their Los Feliz house for an undisclosed amount.
KATE HUDSON – $5.3 MILLION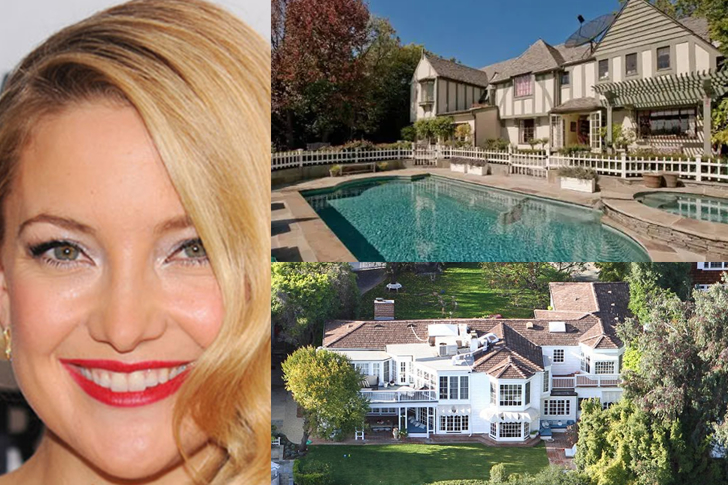 Kate Hudson is an actress, author, and fashion entrepreneur from America. In the film Almost Famous in the year 2020, she received a Golden Globe and was nominated for the Academy Award for Best Supporting Actress, and she rose to popularity for her remarkable performance. Kate Hudson bought a property with her former partner, Matt Bellamy, back in the year 2011.
After they went their separate ways and sought a divorce attorney's help back in the year 2014, their assets were divided between the two of them. This stunning home went to Kate Hudson, which is apt because it reflects her laidback yet sophisticated style. In May of last year, the home was listed in the market for $6 million but has since been taken off of the listings—primarily because the interest for it was actually relatively low. With its stylish interiors and gorgeous landscaping, we're baffled as to why.
KALEY CUOCO – $4.2 MILLION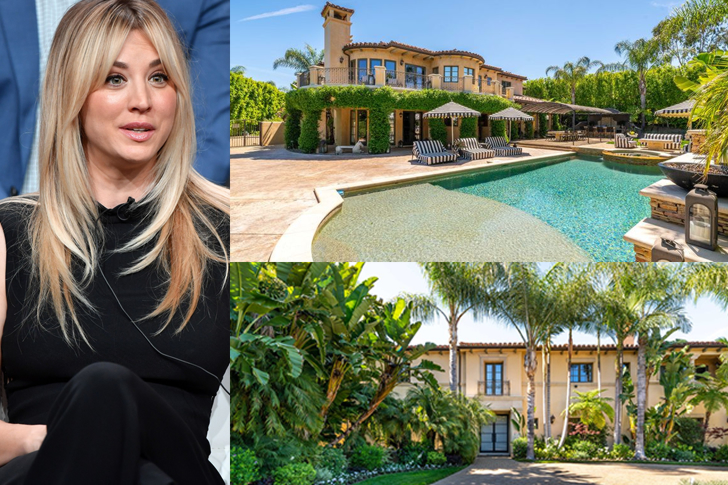 Kaley Cuoco is an American actress and producer. She spent several years as a supporting actress in the television and film industry. The breakout performance of Kaley Cuoco was in the sitcom, "8 Easy Rule". She grew to renown and gave the popular sitcom four years of her life. She has made us roll over with laughter through her antics on Big Bang Theory, but purchasing a home for herself and her family was certainly not a matter of jokes for the actress.
With her $51-million net worth, Kaley could easily invest in any property she wants but went with one that Khloe Kardashian formerly owned. This $4.2-million home is well worth the price and sound investment. It comes with a huge pool and a gourmet kitchen, an outdoor living area, five bedrooms and bathrooms, and more than enough outdoor space to extend the home or host a grand garden party, whichever tickles her fancy!
KIMORA LEE SIMMONS – $25 MILLION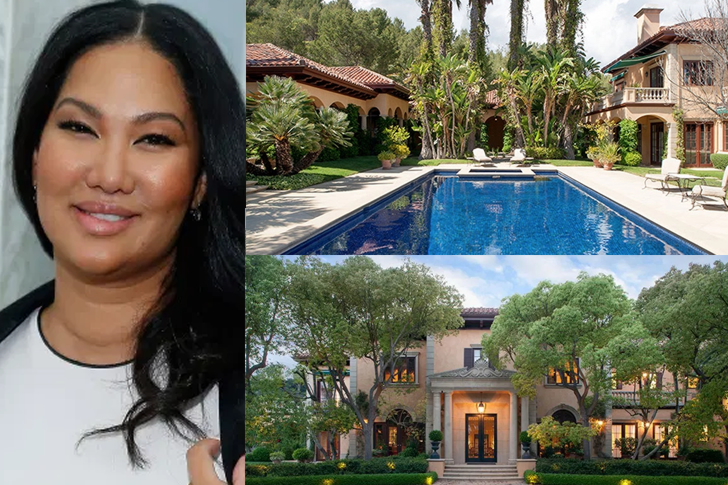 Kimora Lee Simons is an American entrepreneur, fashion designer, author, philanthropist, model, and TV personality. As early as age 13, Perkins signed a modeling contract with Chanel, under Karl Lagerfeld's tutelage, a Chanel designer. Kimora introduced its latest, advanced designer line for women, featuring Italian fabrics and handmade embellishments, KIMORA LEE SIMMONS. The gorgeous supermodel and designer currently live with her husband Tim Leissner, in a $25-million Beverly Hills home.
However, they bought it for much less and simply invested in renovations and additions to make sure it suits their family's needs. The home sits on 20,000 square feet of land and boasts seven bedrooms and 11 bathrooms! The highlight would have to be the twin staircases, which made the place look grander. They also have a library, an office, a home theatre, and a sunken tennis court. From flooring to ceiling, every detail was probably carefully attended to by Kimora and her interior designers.
JOHN CENA – $7 MILLION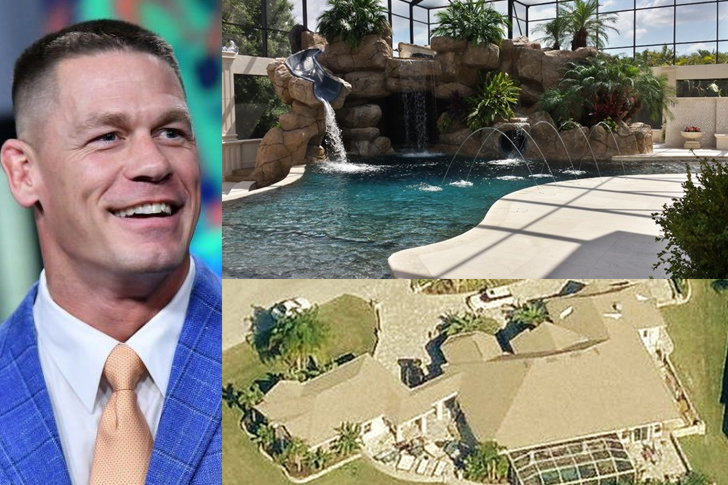 John Cena is an American professional wrestler, actor, and TV host. He is the fourth wealthiest WWE superstar. In 2005, he captured his first WWE Championship, and since then, he has won the WWE Championship 13 times, 5 times won the WWE. United States Championship, 2 times won the WWE Tage Team Championship, once won the Money in the Bank and twice won the Royal Rumble.
From WWE athlete to being one of Hollywood's top actors, John Cena has undoubtedly come a long way. The great thing about this guy is that he never denies his roots—in fact, he is currently a brand ambassador for WWE. His WWE career was just as successful to his credit, winning a title 15 times throughout his career! He might be used to roughing it out, but John's home is anything but. His waterfront property and opulent mansion come with outdoor and indoor pools, a cigar room for guests, and a huge garage for his luxury cars collection.
HARRY STYLES – $8 MILLION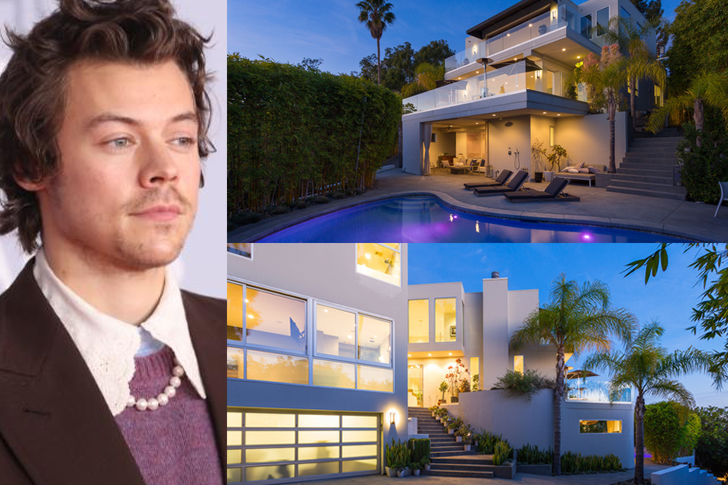 Harry Styles is an English singer, songwriter, and actor. In 2010, his musical career started as a solo contestant on The X Factor, the British pop competition program. Styles has received many honors during his career, including a Brit Award, an American Music Award, two ARIA Music Awards, and a Billboard Music Award.
He is one of music's top artists currently, earning millions with every release. Harry is well-known for his humility, but that doesn't mean he cannot indulge and enjoy the fruits of his labor. Such is the case with this Hollywood home, which he bought back in 2017 for $8 million. The singer ended up putting it back on the market not too long after, realizing that it wasn't the right fit. The mansion sold for $8 million and features a home cinema, an outdoor pool, a gym, and five bedrooms. That's on top of the high-tech home security system offering ample privacy.
CONNIE STEVENS – $2.036 MILLION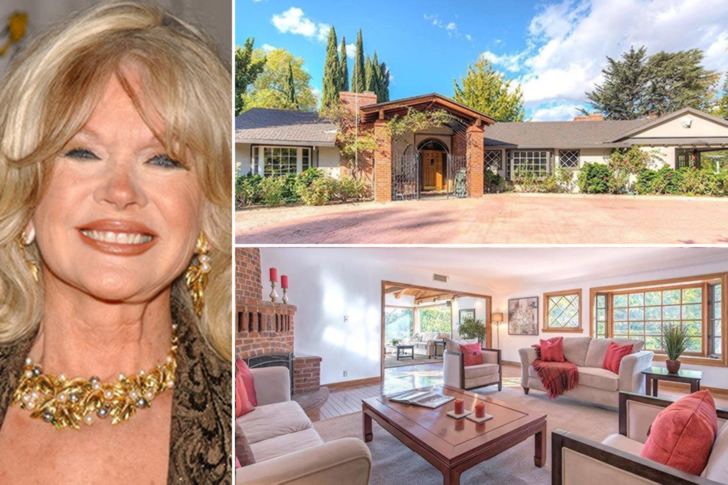 Connie Stevens is an American actor, director, screenwriter, producer, photographer, editor, and singer. She launched her career in 1957, making her Young and Dangerous feature film debut, before recording her debut album, Concetta, the following year. When Jerry Lewis saw her in the latter and proposed her for Rock-A-Bye Baby as the young girl who loves Lewis, made at Paramount, Stevens' big break came. Connie Stevens has reached success in her career as an actress and musician. But she's got more to offer!
She's a businesswoman who launched her skincare line and even a spa. While she earns a fortune, she didn't hesitate to have a wise real estate investment. The gorgeous 1940s ranch-style house can be found in Studio City, Los Angeles. It has 5,300 square feet of California-style and rustic interiors, and she splurged a hefty $2.036 million for the entire property. It has five bedrooms and five bathrooms, and of course, she built a master suite with a lovely walk-in closet!
ALEXANDER SKARSGÄRD – $2.3 MILLION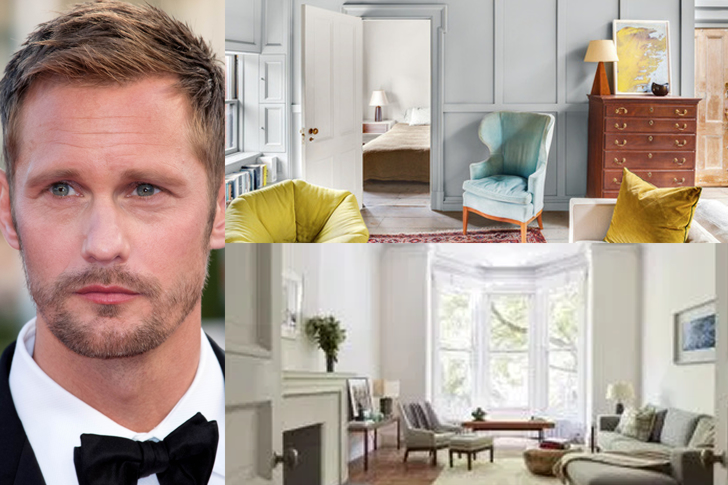 Johan Hjalmar Skarsgård Alexander is a Swedish actor. He gained fame through the HBO series True Blood but has since appeared in a number of prominent film productions—including a starring role in 2016's The Legend of Tarzan and his role as Perry Wright in the television series Big Little Lies year 2017 to 2019 earned him several accolades, including a Primetime Emmy Award, a Golden Globe Award and a Screen Actors Guild Award.
Alex also previously had a home in Los Angeles but sold it a few years back for $3 dollars. His new pad in New York may cost less but certainly doesn't scrimp on all the luxuries. Parker Posey previously owned Alex's fixer-upper with modern interiors and featured tall ceilings, panoramic windows, a home security system, and that signature red brick commonly seen in many New York City townhouses. He has made his careful investments towards renovations of his pad, further enhancing the space's charm.
MICHAEL JORDAN – $15 MILLION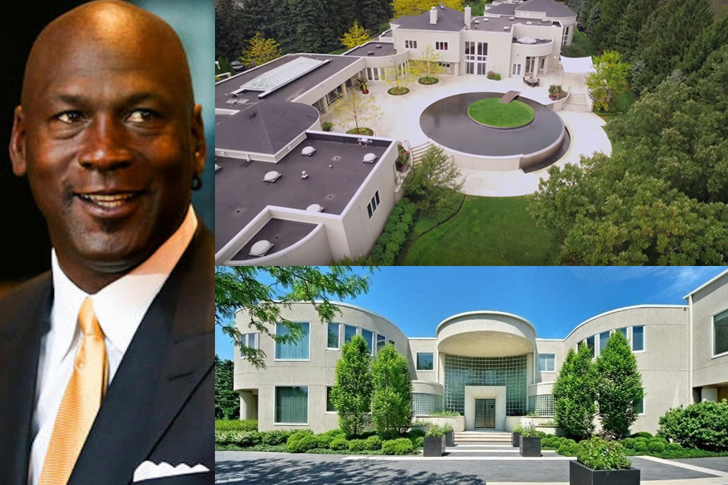 The man with the iconic number 23 jersey known with initials MJ, Michael is more than just a legend in the NBA. He's become a cultural phenomenon with legions of loyal fans ready to buy merch with his name on it. From the Air Jordans to copies of his former basketball jersey, we're sure that this former baller is still raking in the investment money despite being retired for a while now.
Jordan is now known for his endorsements of the brand. He fuelled Nike's Air Jordan sneakers' popularity, which was released in 1984 and is still popular today. He's currently living the good life in a 9-bedroom, five full baths, four half baths, and a 14-car garage mansion that features a wine cellar, a basketball court, and a large gym. Outdoors, you'll find a tennis court, a spacious workout room, a cigar room, and swimming pools surrounded by greenery.
PATRICK DEMPSEY – $14.5 MILLION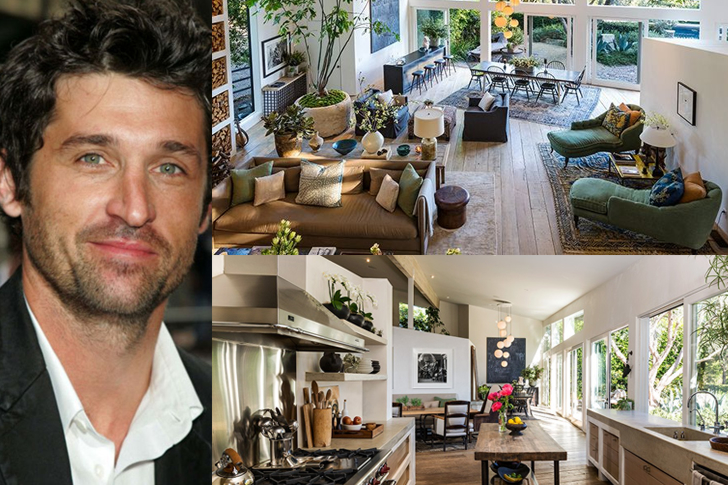 Patrick Galen Dempsey is an American actor and race car driver. In 2014, at the Hockenheimring help paddock at the German Grand Prix, Dempsey told Reuters that motor racing was not only a sport and that it had been as much a part of who he was as acting. Dr. McDreamy—who can forget that charming smile of his? Patrick found fame through Grey's Anatomy, and many were truly saddened when he exited the show.
Post-Grey's Anatomy, the actor decided to take things slower, opting for a show with fewer episodes to spend more time with his kids. Of course, that also means he gets more time to focus on racing. As for their home, he made an investment in a stunning property located in Miami. It gives off a relaxed vibe with lots of open space—perfect for anyone looking to unwind. Decorated tastefully, it's an outstanding balance between minimalism and maximalism.
HUGH LAURIE – $3.8 MILLION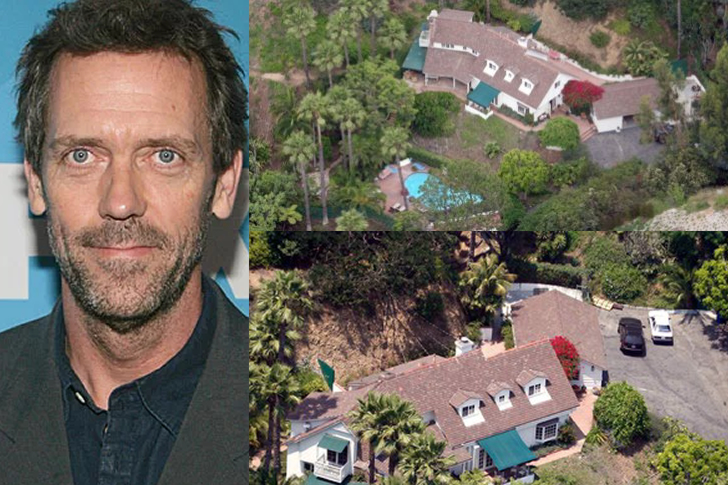 James Hugh Calum Laurie is an English actor, producer, singer, guitarist, comedian, and author. In the 2011 Guinness World Records, he was listed as the most-watched leading man on television and was one of the highest-paid actors in a television drama. Hugh has always been a familiar name in British films and television shows, but we have to credit the medical show House for really making him a household name outside of the UK.
Given his sudden popularity in Hollywood, we're not too surprised that the actor decided to move closer to it—purchasing a California property for $3.8 million. He probably didn't need home loans to make that happen! The mansion features luxurious amenities such as an outdoor pool and its private gym. We have to say. It's the gorgeous views of the city that sells this property. In addition to this, Hugh also has luxury vehicles and assets that serve to boost his net worth effectively.
THE WEEKND – $20 MILLION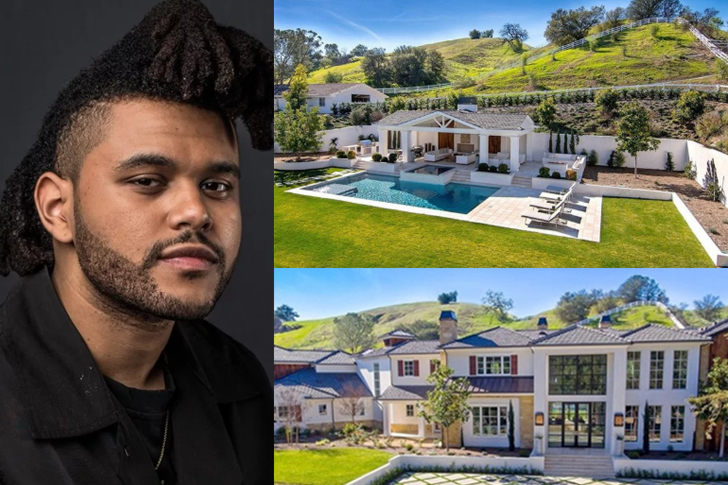 Abel Makkonen Tesfaye, known professionally as The Weeknd. A Canadian musician, songwriter, and record producer. Noted for his falsetto and quirky music style, Tesfaye is credited for influencing contemporary R&B and inspiring numerous musicians. Michael Jackson, Prince, and R. are quoted by Tesfaye Kelly as his primary influence for music. Like many celebs on our list, the renowned singer also owns a home in Hollywood's Hidden Hills.
It's a gated community that offers privacy to those looking for it. His $20-million property is fitted with all the modern amenities according to his taste. It's got nine bedrooms and 11 bathrooms, a music lounge, a cinema theatre, wine cellar, and a recording studio. Needless to say, he can easily make new music right in the comfort of his own home. We hope his real estate portfolio also considered home security systems—it may be an exclusive community, but it's always better to be safe than sorry!
CHRIS EVANS – $3.5 MILLION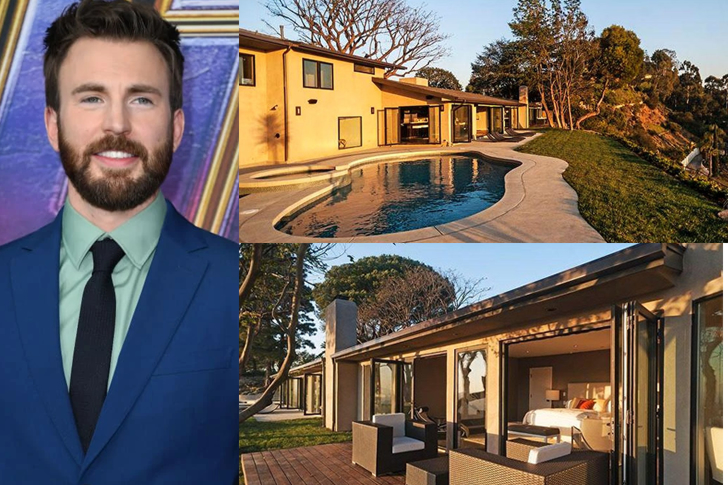 Christopher Robert Evans is an American actor in the Marvel Cinematic Universe series of films, better known for his appearance as Captain America. Evans started his acting career by performing in school plays and community theaters. Steve Rogers may prefer the simpler things in life, but the actor who plays him in the Avengers films certainly likes something more luxurious.
He has made some amazing investments in the past few years, including a beautiful house with a jaw-dropping view. Just take his $3.5-million mansion located in the Hollywood Hills. Did you know that Chris is actually fond of cooking? Unlike most bachelor pads, in this home, it's the kitchen that's the highlight. Aside from the gorgeous kitchen, his property's outdoor area also features a pool and a spa where he can relax after shooting. It cost him a pretty penny, but it probably didn't do much damage to his wealth.
KATE UPTON – $5.5 MILLION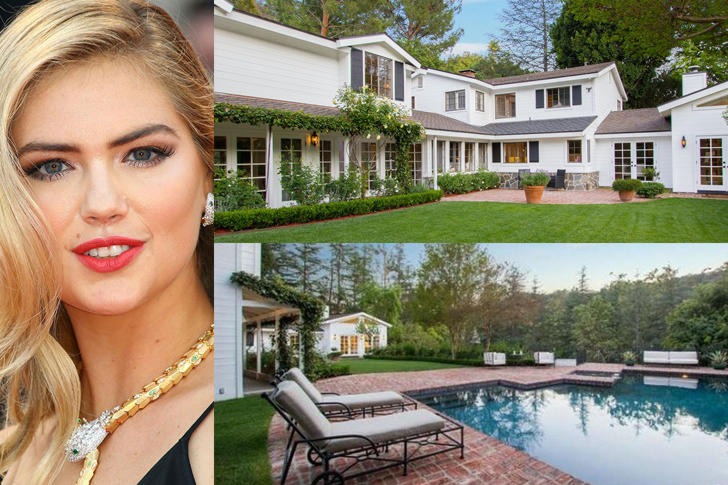 Kate Upton is a model and actress from America. She appeared first in 2011 in the Sports Illustrated Swimsuit Issue and was the cover model for the issues of 2012, 2013, and 2017. When it comes to supermodels, you might imagine their homes to be sleek and modern. It was even reported that it's only one of the world's largest paying models. Something leaning towards minimalist since they're always jetting around the globe instead of spending a lot of time in it.
In Kate's case, now that she's settling down with her partner and their child, her home reflects this change in her life. The property located in Benedict Canyon covers 5,706 square feet and comes with all the features the small family might need. This includes a home office, a gourmet chef's kitchen, a swimming pool, and even a tennis court. It probably comes with a top-notch home security system as well!
JON BON JOVI – $20 MILLION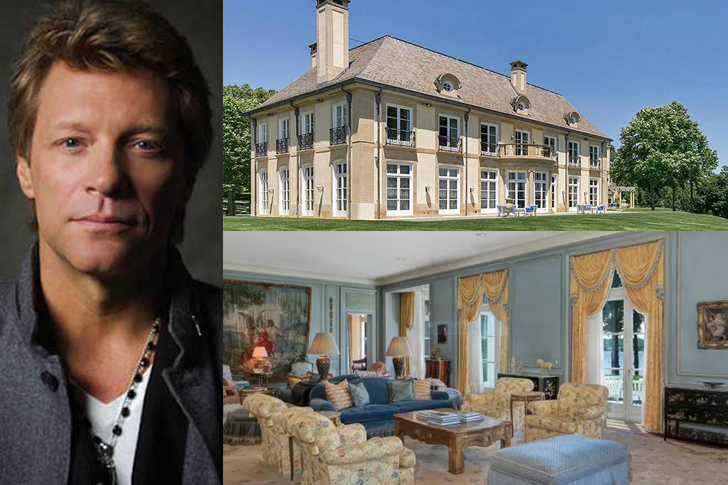 John Francis Bongiovi Jr is an American singer-songwriter, record producer, philanthropist, and actor, and he is professionally known as Jon Bon Jovi. In 1975, at the age of 13, Jon Bon Jovi started performing music, playing piano and guitar with Raze, his first band, and the rest is history in his successful career. He has an outstanding investment, and it's a French chateau located in New Jersey—not the most familiar sight, but certainly eye-catching.
The property's architecture is a nod to Bon Jovi's romantic side, which his fans are familiar with. Located an hour outside of New York City, this 15-acre residence is undoubtedly a beauty, and we have Robert A.M. Stern to credit for that. Inside, there are 6 bedrooms, 7 full bathrooms, and 2 partial baths. Move up to the first floor, and you'll find high ceilings matched with a fireplace, lending the space a truly grand feel. Since February of this year, it's on the market for $20 million.
ADAM LEVINE – $33 MILLION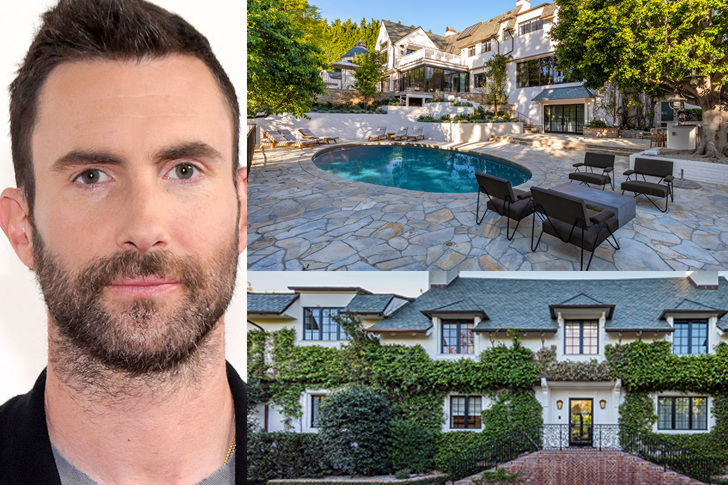 Adam Noah Levine is an American singer-songwriter, record producer, and pop-rock band Maroon 5's lead singer and occasional rhythm guitarist. Levine is a tenor with a vocal range of 3-and-a-half-octave, and his falsettos have been noted. His house was on the market just last year but was quickly snapped up by Ellen DeGeneres. We can understand why. However, before changing owners, Adam and his wife Behati Prinsloo bought the property for $34 million.
Not bad for the already opulent 10,000-square-foot home! They have made significant renovations and upgrades, including outfitting the chef's kitchen in stainless steel for a more modern touch. With all the investments put into it, they could sell the house for a mark-up of over $13 million. Needless to say, they made a smart decision with this one! Meanwhile, In July 2020, in response to the pandemic, Levine and Prinsloo partnered with Ferrari and Save the Children to collect funds to support U.S. school services.
BILL HEMMER – $1.75 MILLION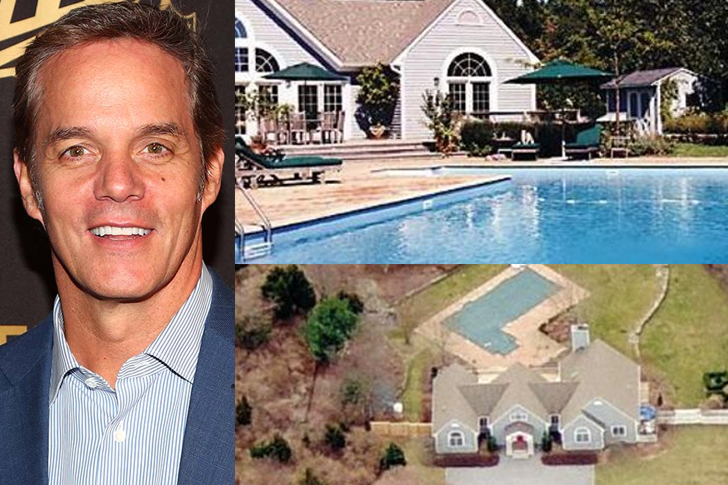 He is an American journalist, host of the Bill Hemmer Reports TV show and Chief Anchor of the New York City-based Fox News Channel. One of his significant works is In September 2001, in the wake of the September 11, 2001 attacks, Hemmer reported from the World Trade Center in New York City for a month. This year, he became the host of the Bill Hemmer Reports, and while the anchor's move from CNN to Fox may have been a controversial one, it has certainly paid off.
This isn't just in public recognition and reputation, but also in his finances. Throughout his years as a host, Bill has managed to set aside a significant amount of wealth, currently living a luxurious lifestyle, and make investments towards his current Sag Harbor residence. His getaway sits on about 2-acres of land and is surrounded by nature on all sides. It features four bedrooms and a grand pool, making for a perfect home design.
REBEL WILSON – $3 MILLION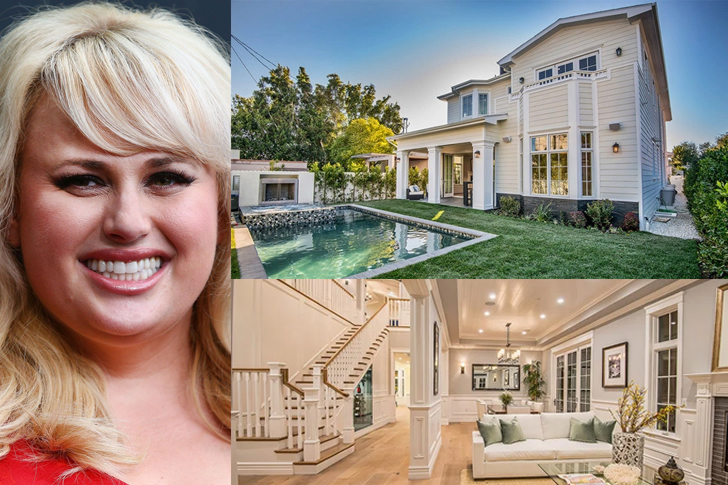 Rebel Melanie Elizabeth Wilson is an Australian actress, comedian, actor, and producer. In 2009, for her part in the short film Bargain, she won the Tropfest Best Actress Competition and made a guest appearance in the City Homicide drama series. She's currently one of the most popular comedians of this generation, getting us all red in the face with her witty punchlines and hilarious roles on film. She has worked tirelessly in the industry to hit the top and make a spot for herself.
When it comes to Rebel Wilson's home, she's all about what's chic—choosing some elegant décor pieces to complement her Tribeca abode. She's focusing on her diet these days, so it wouldn't be surprising to find that she's probably made plenty of investments when it comes to building her kitchen. The 1,343-square-foot property comes with two bedrooms and two bathrooms, and a large dining space for entertaining guests.
ALICIA KEYS – $20.8 MILLION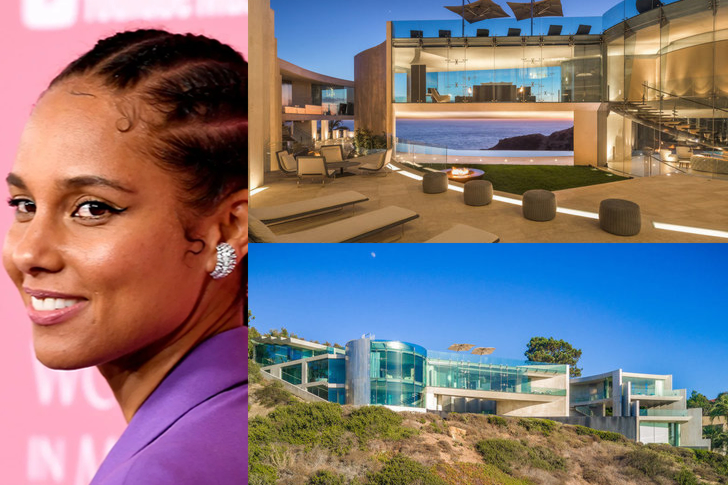 Alicia Augello Cook known professionally as Alicia Keys is an American singer-songwriter. By the age of 12, Keys started writing songs and was signed by Columbia Records at 15 years old. She is a classically trained pianist. In her profession, Keys has won many accolades. Talking about her property? It's an ultra-modern home straight out of Iron Man. Alicia and her husband, Swizz Beatz, have a new property cited as the inspiration for Tony Stark's Razor Point home in the films, and it's easy to see why.
The architecture alone is an art in itself, a mixture of glass and concrete, with smooth curving lines further enhancing the mammoth structure's size. Located just north of San Diego, Razor House (as it has been aptly named), overlooks the Pacific and provides a panoramic view of the vast ocean. It comes with flooring to ceiling windows, six bedrooms, a floating staircase, a library, and a movie theatre.
JOSH HUTCHERSON – $1.9 MILLION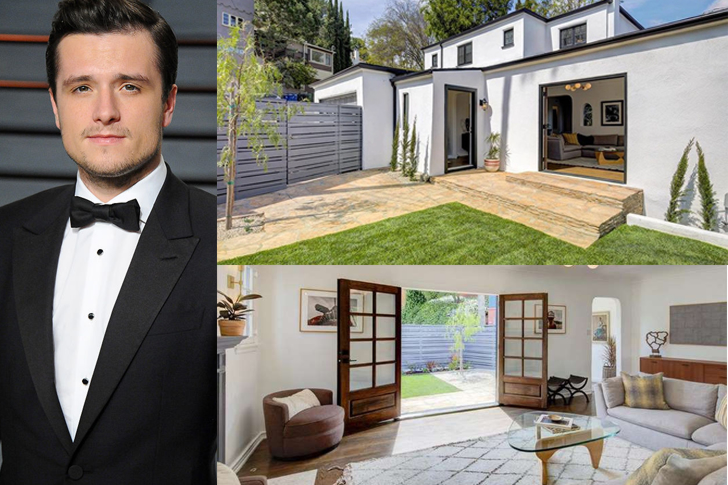 Josh is an American actor and producer. Hutcherson showed an interest in directing and producing throughout his career. He earned eight Young Artist Award nominations during the first period of Hutcherson's acting career, four of which he won. Hutcherson currently lives in Los Angeles, California. After finalizing the sale of his old home in the Hollywood Hills, Josh has been busy making investments in a newly remodeled $1.9-million property in Silver Lake.
It must have been love at first sight since he was willing to pay higher than the original asking price of the property, $1.6 million, to secure the home for himself. At about 2,000 square feet, the Spanish-revival features three floors of living space. It comes with three bedrooms and two and a half bathrooms. Similar to his old home, this one also has a large deck surrounded by tree-tops, along with a cozy den for entertaining guests.
VANESSA HUDGENS – $3.15 MILLION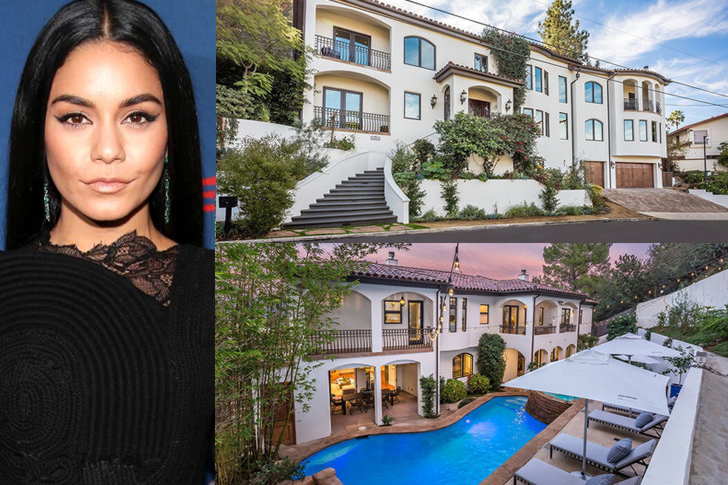 Vanessa Anne Hudgens is an actress, musician, and producer from America. Vanessa Hudgens soared to fame after making her feature film debut in Thirteen in 2003, playing as Gabriella Montez in the High School Musical movie series from 2006 to 2008, which earned her massive commercial success. Vanessa's studio home in Los Angeles is a Mediterranean-inspired property situated on prime real estate. No wonder it was picked up within just months of being listed in the market last year.
Before the sale, Vanessa has been living in residence since 2008—her first major purchase after High School Musical's success. The home comes with a big and elegant kitchen and features a marble breakfast island. There's a formal dining space, along with a breakfast room and a small desk area. Charming French doors lead the eye to the greenery outside. It's got the actress's signature touch as well, from flooring to ceiling.
BLAKE SHELTON – UNDISCLOSED AMOUNT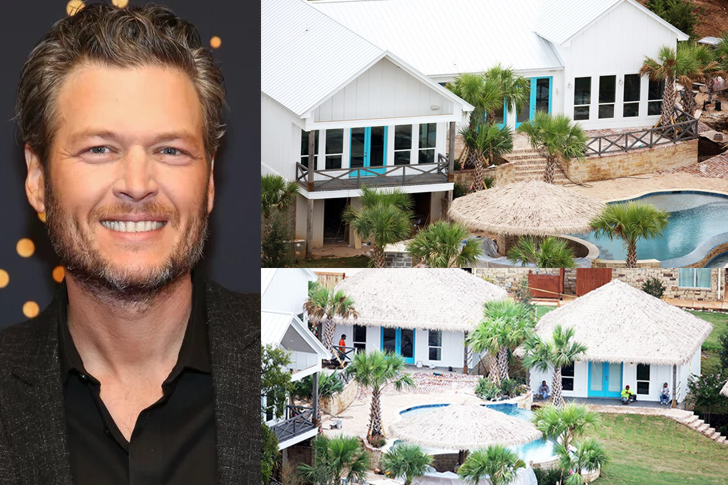 Blake Shelton is a singer and television host in American country music. He made his debut in the year 2001 with the single "Austin" which stayed five weeks being number one on the Billboard Hot Country Songs chart. Blake reportedly constructed this home especially for his fiancée, Gwen Stefani. A grand gesture of love that's, perhaps, better than any ring on her finger.
With its eye-catching all-white exterior and location beside Lake Texoma, it is every bit a dream home. The beloved country crooner's Lake House is indeed a slice of heaven. Its resort-style design is not only pleasing to the eyes but also comes with a sizable pool and its own tiki bar! To further amp up the beach vibe, there are also three hut-style guesthouses. Out of his properties comes from the fruit of his work, this is just one of his real estate investments, but it is a favorite for their family.
ANDERSON COOPER – $3.1 MILLION (ESTIMATED)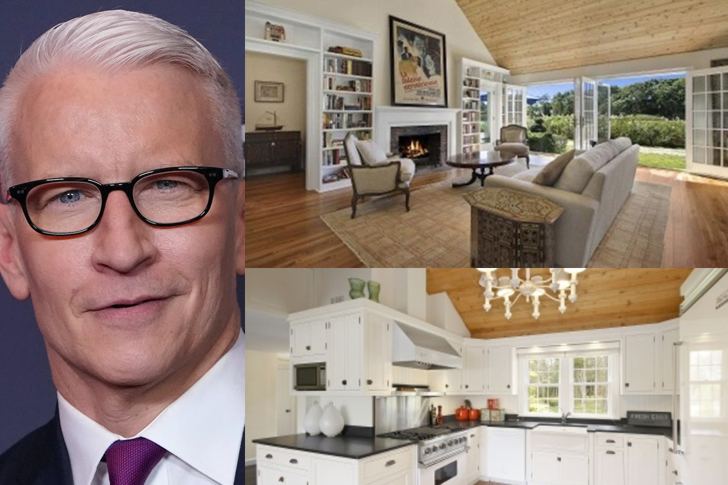 Anderson Hays Cooper is an American journalist on television. He is the lead anchor of the Anderson Cooper 360 ° CNN news show. Anderson Cooper is also a freelance journalist, has published a series of articles that have appeared in several other publications, including the Details magazine. The journalist's years of reporting on stories from around the globe have certainly helped him acquire a sizable portfolio of real estate properties across the US.
This one in the Hamptons, in particular, is just one of his homes and was also listed in the market for an undisclosed price. The home was built back in 1936 and comes with five bedrooms and five and a half bathrooms. Renovations were done by his designer mother, the iconic Gloria Vanderbilt. She changed many of its features, from the peg wood flooring to the granite kitchen counters, lending a subdued elegance to the home's cottage style.
RANDY JACKSON – $2.349 MILLION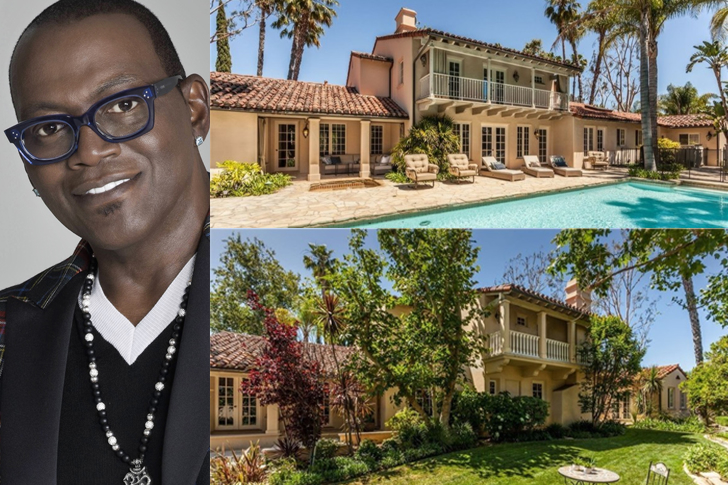 With several well-known artists and bands, ranging from Mariah Carey, Jackson has recorded, produced, or toured; he has collaborated with her throughout her career for many of her tours as her musical director. Jackson also hosts a radio top 40 countdown known as Randy Jackson's Hit List, which is syndicated by Westwood One. Before he became one of the most memorable judges on American Idol, Randy was already a renowned singer and bassist, with quite a net worth to his name.
His former home in Tarzana reflects this. Initially bought for a hefty $1.9 million, he recently listed it on the market for almost double the amount! The property comes with five bedrooms, 7.5 bathrooms, a pool, a spa, and even a guest house. Covering 5,878 square feet, anyone who has ample credit for it will surely love the elegant Spanish architecture of the residence that is prevalent from the outdoors all the way to the indoors.
KELLY CLARKSON – $7.499 MILLION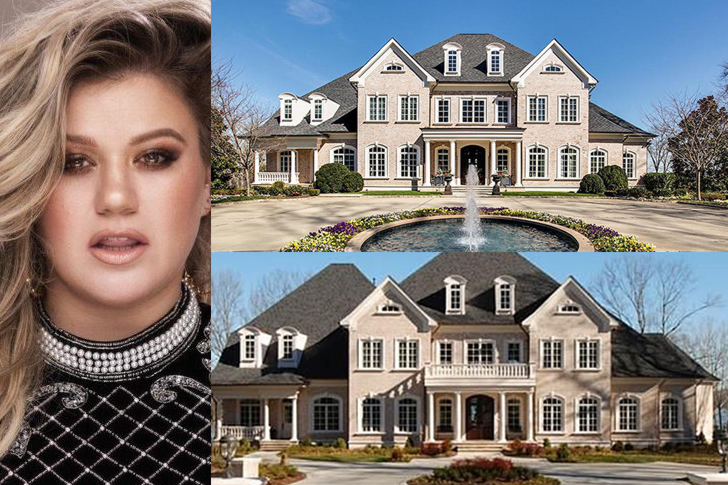 Kelly Clarkson is an American singer-songwriter, actress, author, and a top-notch celebrity. After winning the first American Idol season, which secured her a record contract with RCA Records and she rose to fame within the same year. As a reward for herself, Clarkson opted for a dreamy property in strategic places such as her gorgeous house that's been listed in the market and for a pretty sweet discount, too. The American Idol alumni should know a thing or two about living luxuriously—she has put out numerous chart-toppers during her peak. She is still quite active in the industry.
Her real estate investment in Tennessee was initially being sold for $8.75, but that price was reduced to $7.499 Million! This 20,000-square-foot property is stunning in its beauty. It features seven bedrooms, three half bathrooms, and eight full ones. The property has other amenities that include a pool table, marble flooring, as well as formal dining and living rooms. It even comes with a gorgeous water fountain!
HOWARD SCHULTZ – $33 MILLION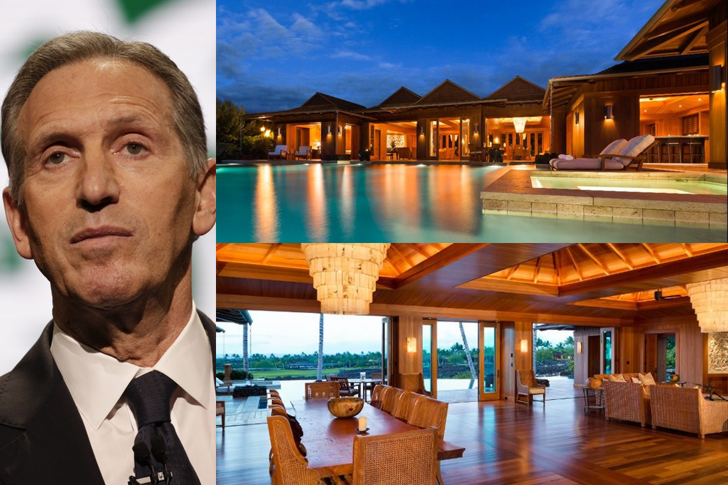 Howard D. Schultz is an American entrepreneur who served as the Starbucks Coffee Company's chairman and chief executive officer (CEO). Howard and Sheri Schultz co-founded the Schultz Family Foundation in 1996, which funds Onward Youth to foster opportunities for young people between the ages of 16-24 who are not in school and who do not work.
Please put down your Starbucks coffee lest you drop it after seeing this $33-million property owned by the coffee chain's CEO. With its size alone, you can easily mistake this for an exclusive resort. From the different buildings' design to the water features, it is every bit his getaway. Located in Hawaii's famed Four Seasons estate, the opulent residence comes with all the perks his investment can afford. From golf courses, beach clubs, and all teak-wood floors, the 8-bedroom home is also the biggest amongst all the other properties in this locale! Howard definitely likes living grand!
ANTHONY GEARY – $950,000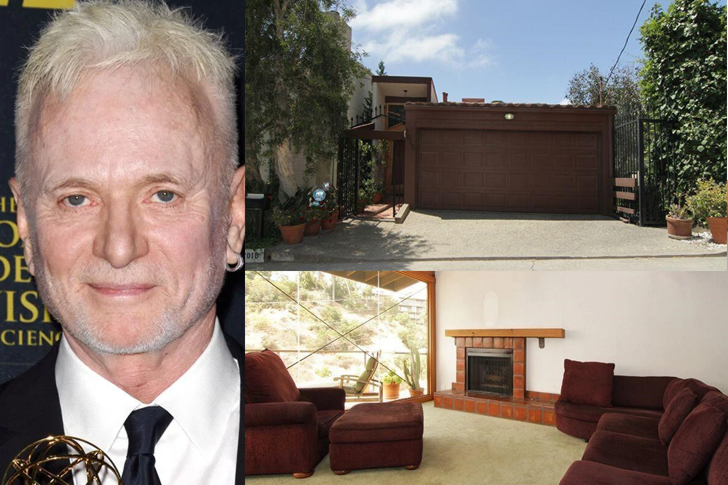 Anthony Geary is an American actor. In the ABC daytime drama General Hospital, he is known for portraying the part of Luke Spencer. You might remember him best for portraying Luke Spencer his excellent performance in the said show. He was nominated for the Soap Opera Digest Awards for Best Lead Actor for that movie. He has likely acted in over a hundred different television roles, as well as in the film.
This award-winning actor has won 8 Emmys—no wonder he's got the net worth to show for it, too. Since moving to Amsterdam, Anthony has listed his home in Los Angeles for $950,000, a significant increase from his initial investment of $262,000. The price might seem steep, but this gorgeous minimalist home is worth every penny. Its open-plan design lets in plenty of light and the wood accents all throughout create a cozy, cabin-like feel. When it comes to design and function, this house provides.
JANE FONDA – $8.5 MILLION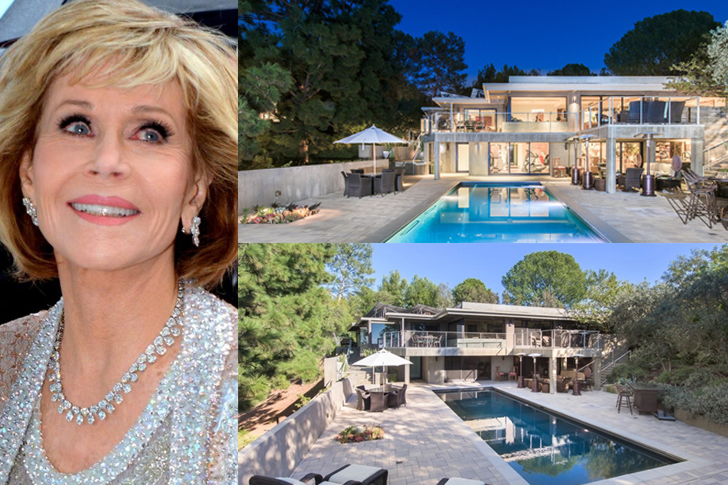 Jane Seymour Fonda is an American actress, civic activist, and aspiring fashion model. She has won numerous honors, including two Academy Awards, two BAFTA Awards, seven Golden Globe Awards, a Primetime Emmy Award, the AFI Life Achievement Award, and the Golden Lion Honorary Award. With a long career under her belt, Jane Fonda is one of Hollywood's finest–a fact that is proven, not just by her film resume, but also by her net worth and assets.
Of particular interest is her Beverly Hills mansion. It may have been put up for sale after her split with Richard Perry back in 2017, but even this does not tarnish the beauty of the property. What does an $8.5-million investment get you? The home comes with 4 bedrooms and 7 bathrooms, a gorgeous outdoor pool with more than enough lounging space, panoramic floor to ceiling windows, and a walk-in closet fit for a star.
MIKE TYSON – $1.5 million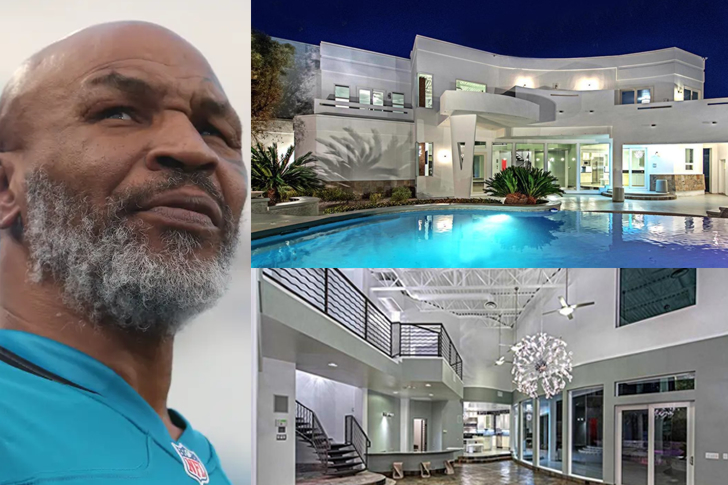 Michael Gerard Tyson is an American former professional boxer who fought from 1985 to 2005. Tyson is considered one of the greatest heavyweight boxers of all time, dubbed "Iron Mike" and "Kid Dynamite" in his early days, and better regarded as "The Baddest Man on the Planet". His former Ohio mansion may have since fallen into disrepair after selling it, but Mike's new digs are far from look disheveled.
The ultra-sleek property located in Las Vegas features a contemporary industrial design, dominated by marble, wood, and steel. It is located in a quiet, upscale neighborhood—perfect for families. Perhaps this house comes with a high-tech home security system, too. The 5,800-square-foot home was listed in the market for $1.5 and came with five bedrooms, six baths, and three fireplaces. The outdoor area features a waterfall and pool, as well as two spas. While Las Vegas is known for being loud and glitzy, this is a peaceful retreat for those who can afford it.
MICHELLE YEOH – UNDISCLOSED AMOUNT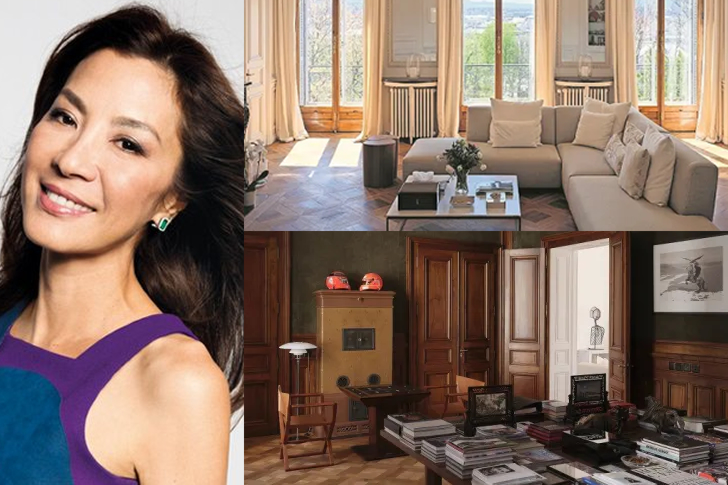 Michelle Yeoh Choo is a Malaysian actress who rose to fame in Hong Kong action movies in the 1990s. She is best known globally for her roles in the James Bond film Tomorrow Never Die and the martial arts film Crouching Tiger, Hidden Dragon, and recent foreign English films and shows. The actress certainly knows a thing or two about being a Crazy Rich Asian. After all, she lives a luxurious life.
Together with her partner, Jean Todt, they live in an 18th-century mansion in Geneva—redesigned by French architect Jean-Michel Wilmotte. The structure still retains most of its original design, however. The property comes with its square courtyard, converted apartments, and a back garden. From the outside, it is an imposing grey structure, but the interiors are a different story. The couple's investments included making the living space light and airy and including modern amenities that the mansion didn't initially have.
OZZY OSBOURNE – $10 MILLION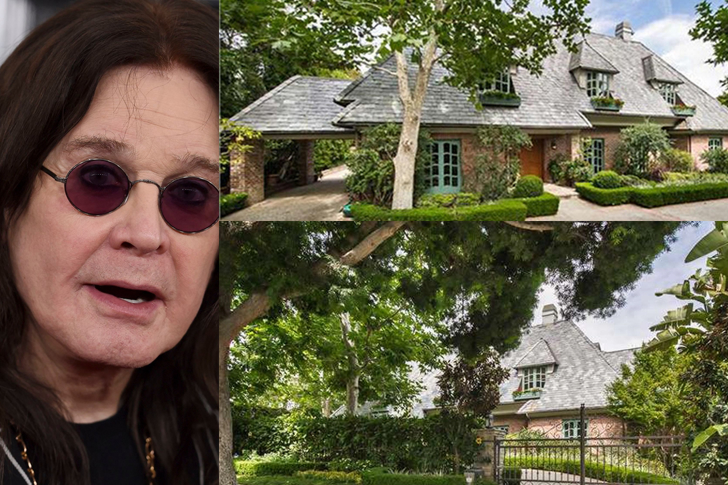 The English musician, songwriter, and television host is John Michael Osbourne is known as "Ozzy". As the lead vocalist of the heavy metal band Black Sabbath, he came to fame during the 1970s, during which time he acquired the moniker "Prince of Darkness". To his credit, Ozzy only appears scary onstage when performing. We've seen how adorable he can be around his family through their reality TV show from some years back.
Now that his children all grown up and lives on their own, his life is certainly quieter than before. Contrary to his stage theatrics' doom and gloom image, Ozzy actually lives in a spacious and natural light-filled home in Los Angeles. However, it isn't without its share of quirky décor and style, but it all adds to the charm of their abode. It comes with six spacious bedrooms and ten tidy washrooms, as well as a chef's kitchen.
ANN COULTER – $577,000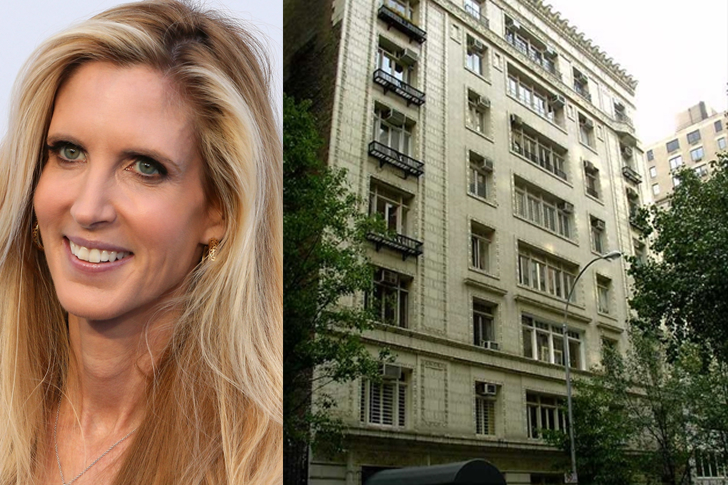 Ann Hart Coulter is a conservative media analyst, best-selling author, syndicated columnist, and lawyer from the United States. After she was employed as a legal reporter by the then-fledgling network MSNBC, Coulter made her first national media presence in 1996. She also appeared on CNN and Fox News. Ann is a successful columnist and a best-selling author who has published 12 books under her name. With all of that, she's certainly earned a fair bit of investment money that she put into this Upper East Side residence.
We say the property is quite a steal for $577,000, given its 1,400 square feet of space. She's put thought into the design as well, creating a peaceful all-white oasis in the middle of the bustling city. Her real estate assets don't stop here, however. Ann also owns another home in this area worth $1.5 million that is currently being rented out for $1,600 a month.
JUDGE JUDY (JUDY SHEINDLIN) – $9 MILLION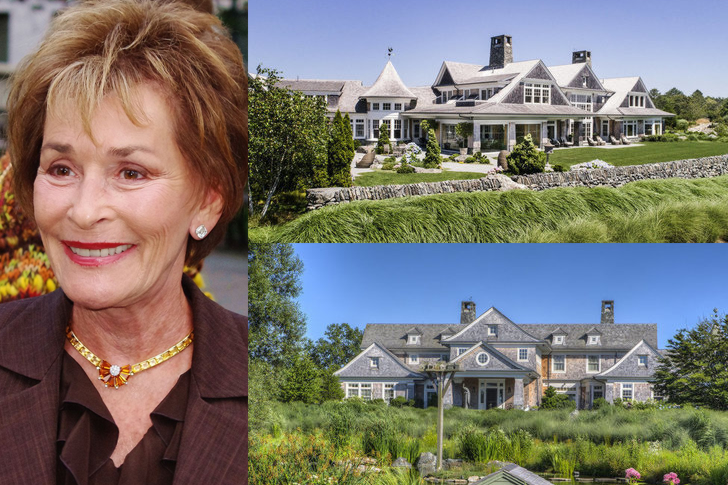 Judge Judy is an American arbitration reality court program chaired by Judy Sheindlin. In a virtual courtroom set, the show shows Sheindlin adjudicating real-life small-disputes. In both the family court and broadcast court, lawyer and judge Sheindlin had developed a reputation for her stern judicial style, often known for her no-nonsense fact-finding, restive temperament, and incisive impositions disregard attempts at dialogue.
Even the new generations know and love Judge Judy—no wonder she's raking in money in the millions as she is one of the highest-paid stars on daytime television! With her popularity comes plenty of perks, including a $9-million Rhode Island mansion, which she bought back in 2018. Known as the Bird House Estate, it was formerly owned by Campbell's heiress Dorrance Hill Hamilton. The 9,179-square-foot property comes with six bedrooms and eight bathrooms and is located on Newport's highest point. This prime spot means it gets some of the best views that the island has to offer—certainly worth the hefty price tag.
TROY AIKMAN – $24 MILLION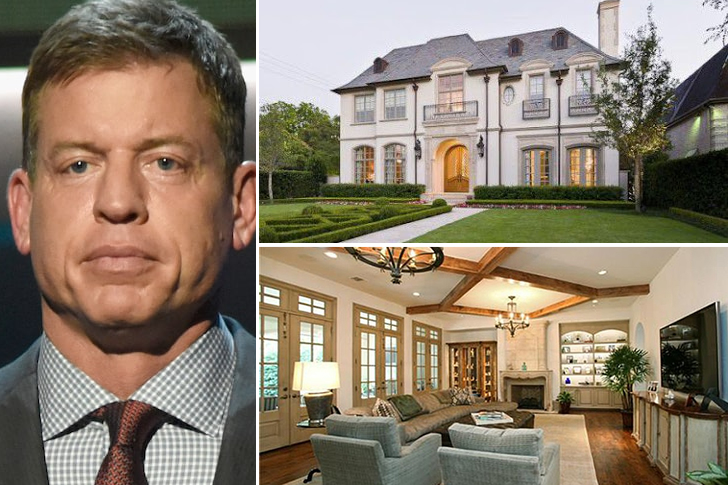 Troy Aikman rose to prominence for being the former Dallas Cowboys quarterback. He didn't only make a successful name in this field but also made records. He was the Most Valuable Player for Super Bowl XXVII and a six-time Pro Bowl selection that paved the way for his team to win three times. Troy Aikman joined Fox's NFC telecasts as a color analyst for the year 2001 season following his retirement from professional football as a player.
Troy Aikman didn't only find success as a sportsman but from making investments, too. He wisely decided to put his luxurious Highland Park mansion on the market for a whopping $24 million. The house boasts five beds and six and a half baths, sprawling on the three-story building, carrying a Mediterranean style. The high price comes with vast land, too, spanning more than 10,500 square feet sitting on a 1.45-acre on the land.
TOM JONES – £2.6 MILLION
Tom Jones is a Welsh vocalist. In the mid-1960s, his career started with a series of top ten singles. Pop, R&B, show tunes, country, dance, soul, and gospel became his performing scope. His voice, which has enthralled many, has been described as a "full-throated, robust baritone." Tom put his remaining mansion in Wales for £2.6 million with all of his hard-earned money. The house is complete with its own tennis court, set in acres of farmland.
The property is said to have its own leisure center, meadows, and woods within the grounds. The house is secured with a great home security system with a 24-hour surveillance system. It also boasts its own game room, complete with wooden beams across its ceiling that give it a classic countryside aesthetic that can also be seen in its private bar. Its living rooms and bedrooms carry a modern style, even the plush fitting of its bathrooms.
PHIL ESPOSITO – $2 MILLION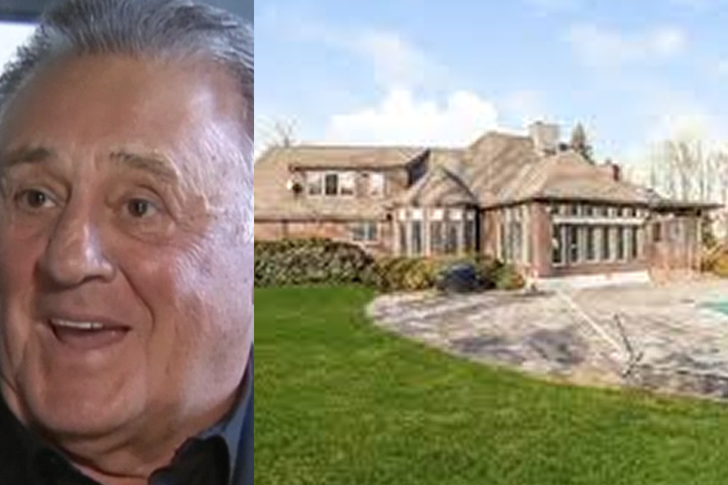 Philip Anthony Esposito is a retired professional ice hockey executive, coach, and player. He is also a Canadian broadcaster. A Hockey Hall of Fame member, he played with the Chicago Black Hawks, Boston Bruins, and New York Rangers in the National Hockey League for years. Currently, the lavish home is listed on the market, and for sure, anyone would be excited to buy a property that once belonged to the legendary Phil Esposito.
Phil has played 18 seasons for the NHL and remains a fan favorite, even after his retirement back in 1981. His former home in New York, specifically made for him in 1985, mixes contemporary and traditional design elements. The panoramic windows that frame the nature outside add a degree of coziness to the home. It's got a beautiful stone fireplace, four bedrooms, seven bathrooms, a relaxing landscaped garden, a pool, and an outdoor lounging area for guests.
VON MILLER – $8 MILLION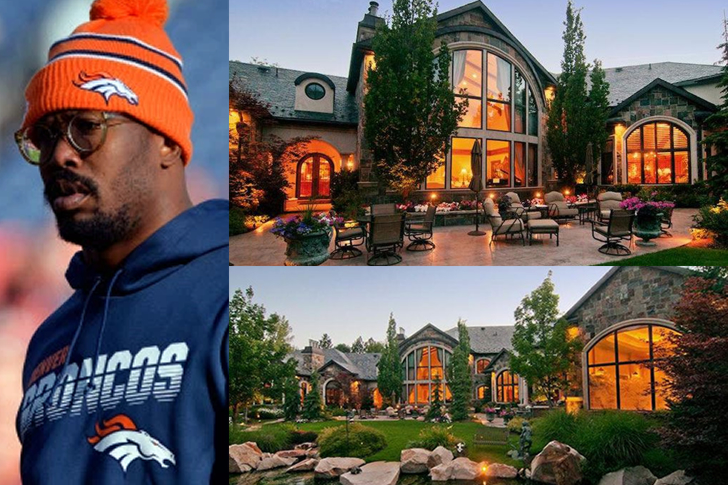 Von B'Vsean Miller Jr. is an independent American football linebacker for the National Football Leagues of Denver Broncos. He is an eight-time Pro Bowl starter and is considered among the top linebackers in the league, earning second-team All-Pro honors as a rookie. He was selected in the 2011 NFL Draft by the Broncos second overall. Von Miller has also invested his hard-earned money into some prime real estate for himself and his family.
The residence comes with seven suites and six bathrooms, an outdoor pool, and a huge walk-in closet housing all his designer gear. Von gets his bit of Zen through the gorgeous garden he had built, with a man-made pond right at its center. As for the home's interiors, it's clear to see how much thought went into designing the place. From the flooring to the ceiling, everything is tastefully decorated and maintained. It is, without a doubt, an impressive property.
TUCKER CARLSON – $2.9 MILLION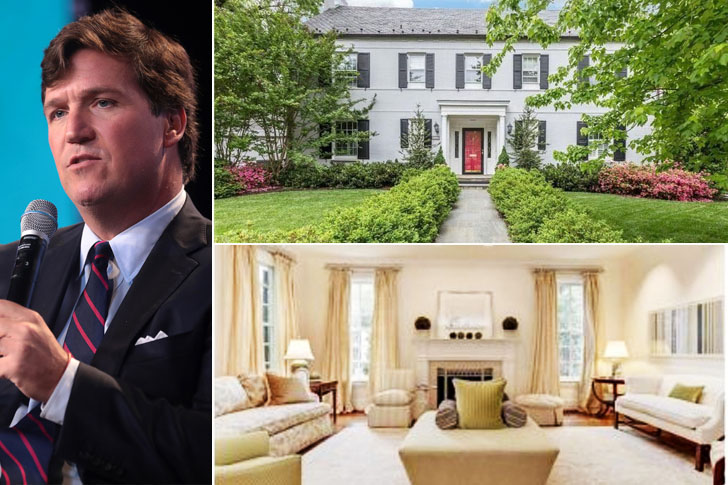 Former Fox News political commentator Tucker Carlson has left his DC life behind after a slew of protests targeting him took place in front of his then $3.95 million abodes. He traded his Washington home with a $2.9 million property in a secluded community in Florida earlier this month. That shows that he cherishes private living rather than living in the more expensive property.
We can also see a sound home security system installed within the vicinity from the looks of things. The fancy home reportedly features a comfortable 3,000-square-foot living space with lavish terrazzo cypress wood flooring and high tech amenities and smart home systems. The famous modernist architect Ralph Twitchell originally designed Carlson's 1960s home. The property also sits in the center of a lush courtyard with a panoramic view of its well-manicured surroundings. It looks like a perfect place to relax and enjoy the company of his family without having to worry about the public.
GWEN STEFANI – $35 MILLION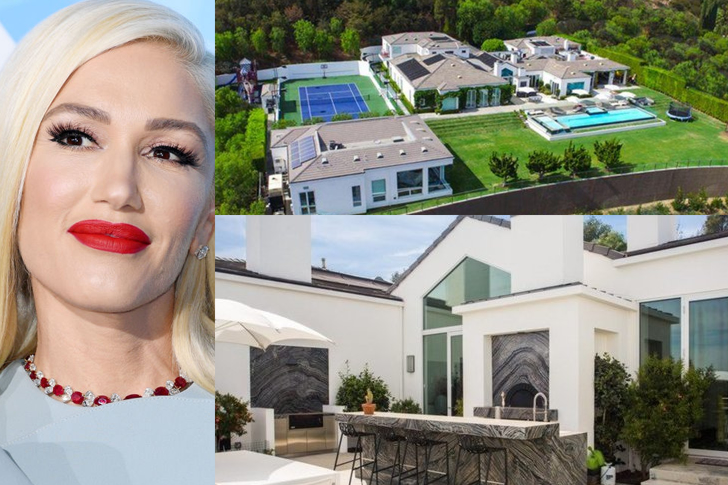 No Doubt and their frontwoman, Gwen Stefani, gave us some of the most memorable music during the late 1990s. Some fans even go as far as saying that she became one of their influences in their life. Even after she went solo, Gwen kept on delivering the catchiest tunes and kept topping the charts worldwide. Her singing style evolved to something posher and put-together, with a signature motif, and became a massive hit to many modern music lovers.
That very same style extends to her $35-million mansion. The floor is a mosaic of black and white tiles, lending an edge to an otherwise ultra-glam home. She's also made an investment in a gorgeous infinity pool and personal tennis court, which is a perfect place to unwind and conduct a small outdoor gathering with a small group of friends and family members. Judging from the way she put up her house, she really knows her stuff.
WHOOPI GOLDBERG – UNDISCLOSED AMOUNT, NEW JERSEY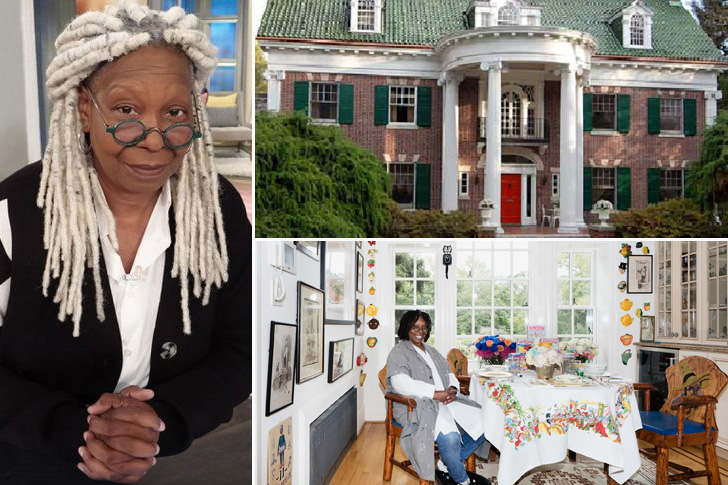 As one of the most famous and accomplished stars in Hollywood, Whoopi Goldberg has all the rights to live in a massive mansion in New Jersey. Though she is a public figure, being a co-host of the TV show The View, the 65-year-old chose to live in one of the most private neighborhoods that you can see—inside a gated community. To make sure of her and her family's security, Whoopi may have her Georgian Colonial-style mansion installed with the most updated home security system.
The Sister Act star bought this house in 2009 for an undisclosed amount. Built in 1927, the home in question brags 9,486 square feet of living space. Out of its 23 rooms, there are eight beds. Though the number of bathrooms is not revealed, it reportedly has unique floor-to-ceiling tiles. It also comes with a luxurious kitchen, an indoor gym, a pool, and an outdoor patio.
RENEE ZELLWEGER – $1.32 MILLION, CONNECTICUT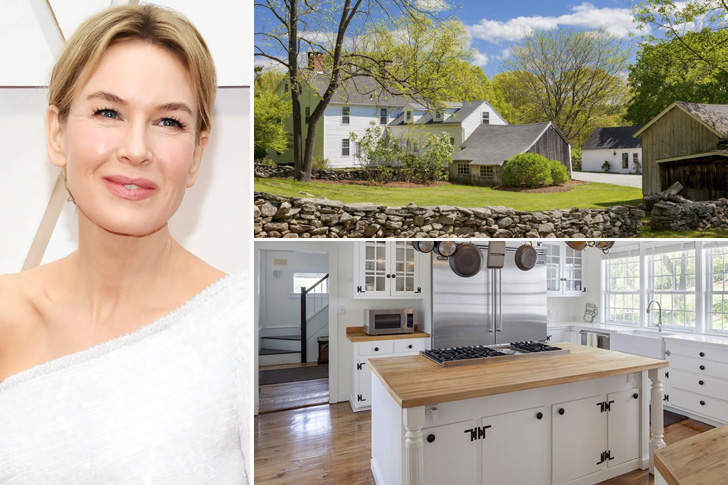 Renee Zellweger chose to live in the countryside of Connecticut for some peace, calm, and serenity. Located in the Pomfret Center, she owns a three-story colonial building, boasting 3,463 square feet of living space and sprawling on an endless 38-acre land. Would you believe she only bought this for $1.32 million in 2004? It is an excellent investment, indeed.
Aside from being owned by Renee herself, the house has the right to be proud of being a significant part of the town's history, being built circa-1770. The 51-year-old star has retained the abode's original architecture and other old-fashion features to maintain its vintage quality. It has a vast, open country kitchen with granite countertops, filled with stainless-steel appliances, and a master bedroom with a stunning ensuite and dressing area. Renee's house has seven fireplaces, a wood-paneled library, a guest cottage, and a recreation barn to top it all off.
MARSHAWN LYNCH – $3.3 MILLION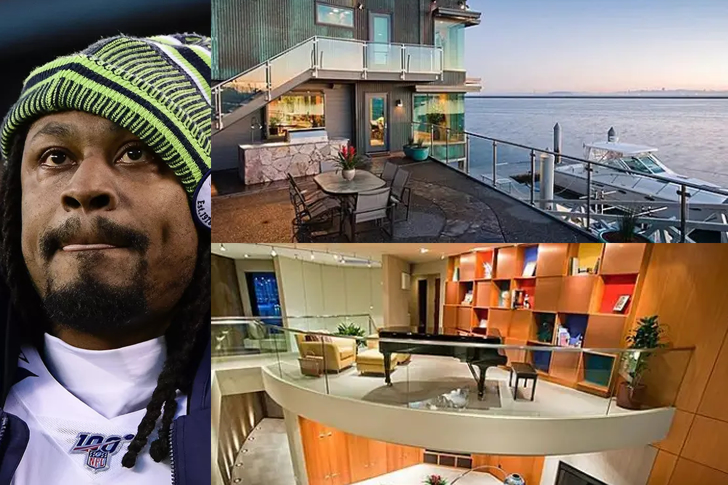 Many professional athletes really do have it good in life, thanks to their lavish choices in cars, lifestyle, and real estate. Marshawn Lynch is proof of that. Because of his hard work and skill as part of the top teams in the NFL, he has managed to purchase a stunning home for himself—probably as a reward after a couple of grueling seasons, which put his body to the test.
Worth around $3.3 million, the property is located in Richmond and offers comfort and tranquility. Perfect for when he wants to chill after a tiring game. The home also gets gorgeous views of the San Francisco Bay. It would be an ideal fit for a small group of guests or a couple of family members with five spacious bedrooms and six baths. The large dock attached to the property is simply considered cherry on top of this cake. Definitely a worthwhile investment.
You've Reached The End